Kazakhstan Remains Vietnam's Second Largest Trading Partner in EAEU
Two-way trade turnover between Vietnam and Kazakhstan increased by about 3 times compared to the time before the Free Trade Agreement between Vietnam and Eurasian Economic Union (EAEU) was signed.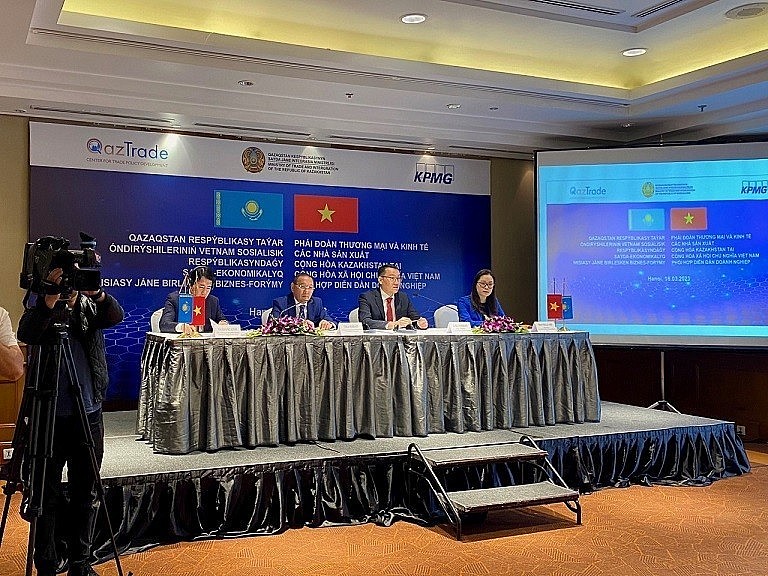 Business meeting between Vietnam and Kazakhstan within the framework of the visit and working session of the trade-economic delegation, Kazakh manufacturers in Vietnam (March 15-17, 2023). Photo: congthuong.vn
Vietnam and Kazakhstan established diplomatic relations on June 29, 1992. Vietnam and Kazakhstan officially established diplomatic relations 31 years ago (June 29, 1992-June 29, 2023).
The current friendship and good tradition of the two countries, inherited from previous generations, has always been deepened and constantly put into practice.
Vietnam and Kazakhstan maintained regular exchanges of delegations at all levels, including high-level ones, on all channels of the Party, the National Assembly, and the State. They also supported each other at multilateral forums and international organizations.
Although geographically distant, Vietnam and Kazakhstan share many things in common, as well as favorable conditions for the development of bilateral relations. The two countries are gateways to ASEAN and Central Asia, receiving many cooperation opportunities from the Vietnam-Eurasian Economic Union (EAEU) Free Trade Agreement, while Kazakhstan is a member of the EAEU.
Kazakh Ambassador to Vietnam Yerlan Baizhanov emphasized that the economy is an important pillar in Vietnam-Kazakhstan relations. In 2022, trade turnover between Kazakhstan and Vietnam reached nearly US$600 million. Which, exports from Vietnam to Kazakhstan reached US$525 million, and imports from Kazakhstan to Vietnam reached US$60 million.
On the basis of the trusting political relationship cultivated by generations of leaders of the two countries, bilateral cooperation developed in many fields, especially trade.
In particular, the Vietnam-EAEU Free Trade Agreement that took effect in 2016 created a driving force to promote trade exchange between the two countries. The establishment of the Vietnam-Kazakhstan Intergovernmental Committee on economic-commercial and scientific-technical cooperation is also an important basis for strengthening bilateral relations.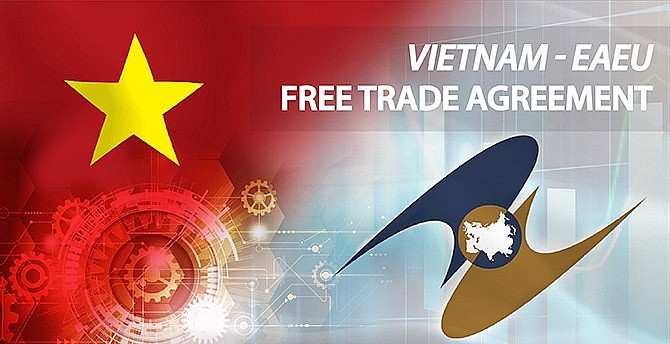 Photo: vietnam-briefing
Two-way trade turnover increased by about 3 times compared to the time before the Vietnam-EAEU Free Trade Agreement was signed.
Vietnam and the Eurasian Economic Union (EAEU) of which Kazakhstan is a member, signed a free trade agreement in 2015. Since then, bilateral trade turnover developed positively, averaging about 28 %/year.
Kazakhstan is a Central Asian country with an area of more than 2.7 million square kilometers and a population of more than 19 million. This is an important transshipment center for goods by road from Asia to Europe. Kazakhstan is Vietnam's second-largest trading partner in the EAEU.
Regarding investment, Kazakhstan has 5 FDI projects in Vietnam, with a total registered capital of about US$500,000. Currently, many Kazakh entrepreneurs consider Vietnam an attractive destination to seek new business opportunities and investment cooperation.
In addition, the establishment of a direct flight route between the two countries by 2022 contributed to facilitating the exchange of delegations as well as promoting bilateral cooperation in potential fields such as tourism and transportation. Vietnam becomes an attractive destination for many Kazakh tourists.
The Kazakhstan side wishes to cooperate and invest in Vietnam in the fields of high-tech clean agriculture and renewable energy. Economic cooperation between the two sides still has a lot of room for development, especially in the fields of agriculture, tourism, clean energy, and high technology.
Along with that, the good relationship that the leaders and people of Vietnam and Kazakhstan built is the foundation to further promote cooperation between the two countries in the coming time. Most recently, Vice President Vo Thi Anh Xuan visited Kazakhstan in October 2022, and Deputy Prime Minister and Foreign Minister of Kazakhstan Mukhtar Tileuberdi also visited Vietnam in August 2022.
Overcoming all historical ups and downs and geographical distance, the traditional friendship and cooperation between Vietnam and Kazakhstan witnessed new developments, bringing benefits to both peoples.