Kickflip into the Gallery: HCMC's Art Scene Embraces Skateboard Culture
Hosted by the French Institute in Ho Chi Minh City and Superposition in Lyon City (France), the exhibition features the unique art of skateboards and graffiti.
On the evening of Mar. 4, Spraying Board Vietnam, the first ever exhibition on skateboard art in the country, has opened in HCM City.
Photo: Instagram/ Vanhoaduongpho
Organised by the French Institute in HCM City and Superposition, an association for the promotion of urban cultures in Lyon, France, the event aims to bring the skateboard culture and urban art to local connoisseurs.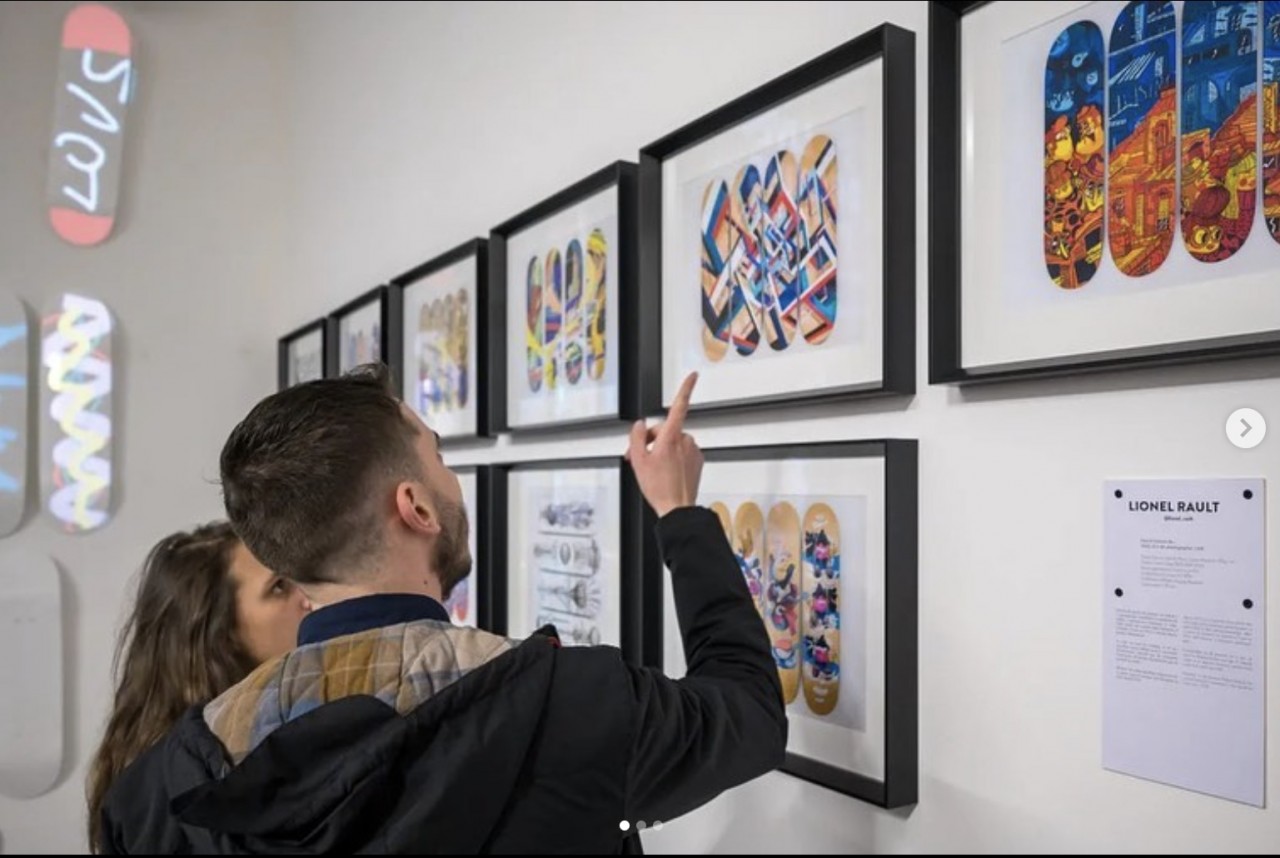 "Spraying Board Vietnam" is the result of cooperation between the French Institute in Vietnam and the Superposition Association in Lyon (France). Photo: Instagram/ Vanhoaduongpho
It has featured 40 works created by 6 French street artists Bouda, Bambi Bakbi, Don Mateo, Le Monstr, Babs, and Dodo Ose.
It has also showcased works of 4 Vietnamese artists, Amm Banhmi, VuiQá, Cresk, and Daes, who will take part in an art residency at Superposition in Lyon in June.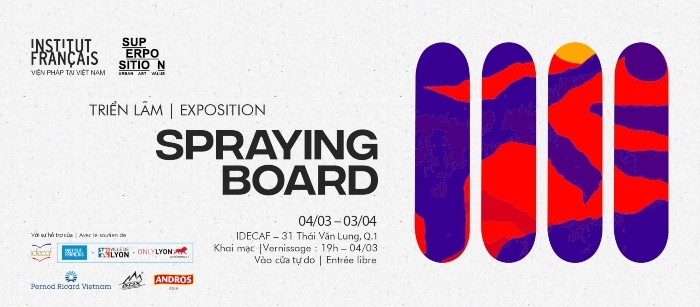 Photo: IDECAF
The French Institute is a cultural, educational and cooperative agency under the French Embassy in Vietnam. Over the years, the French Institute has organized many art programs, promoting cultural exchanges between the two countries. The opening ceremony included live art presentation of Vietnamese-French artist Bouda and skating performances by Vietnamese artists.
Graffiti honors Vietnamese culture
40 skateboards have been transformed into unique works of art by 4 Vietnamese and 6 French artists. They use brand new skateboards covered with white, curved surfaces, uncommon materials, narrow and long... to create new and unique works.
The combination of skateboarding and painting is an unprecedented surprise of Vietnamese art. The art born from skateboards is a gift for young people, especially students who are passionate for skateboarding and fine arts.
Let's get to know the artists featured in the exhibition!
BABS, French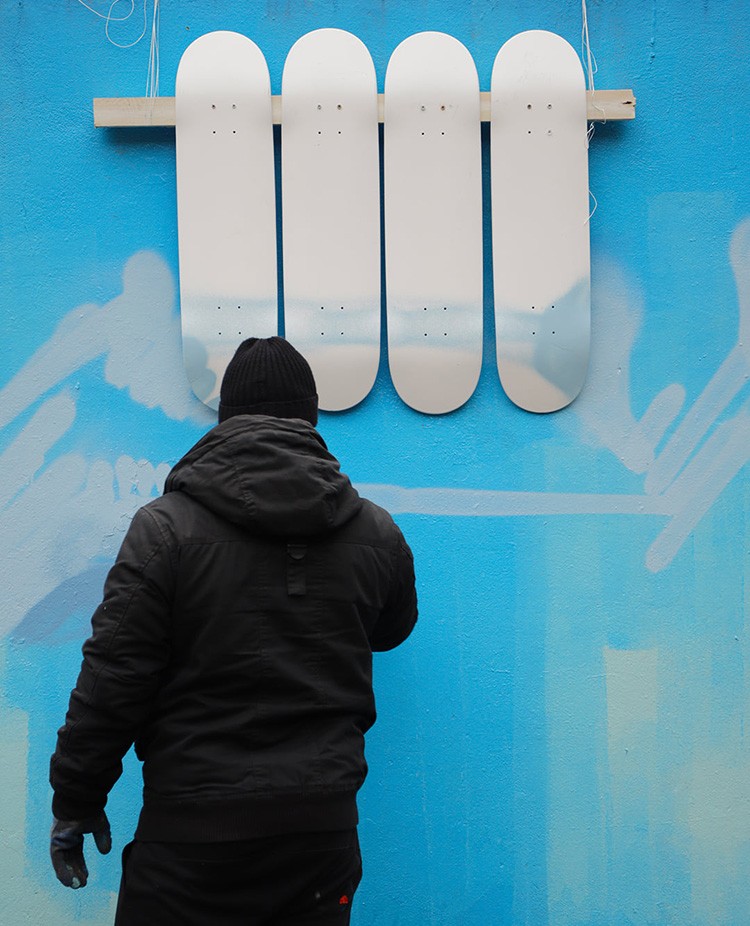 The artists use shapes, lines and bright colours to transform white skateboard decks into unique works. Photo: Vietnamnews
BABS, born in 1975, has been very interested in comics and graffiti since young age.
At the age of 11, he began to explore the streets of his hometown, Vitry-sur-Seine, and the surrounding suburbs in the south of Paris.
As a self-taught artist, he is known as the face of the French "wildstyle" - a style of graffiti drawing with stylized, interlocking and blocky letters.
Bouda, French-Vietnamese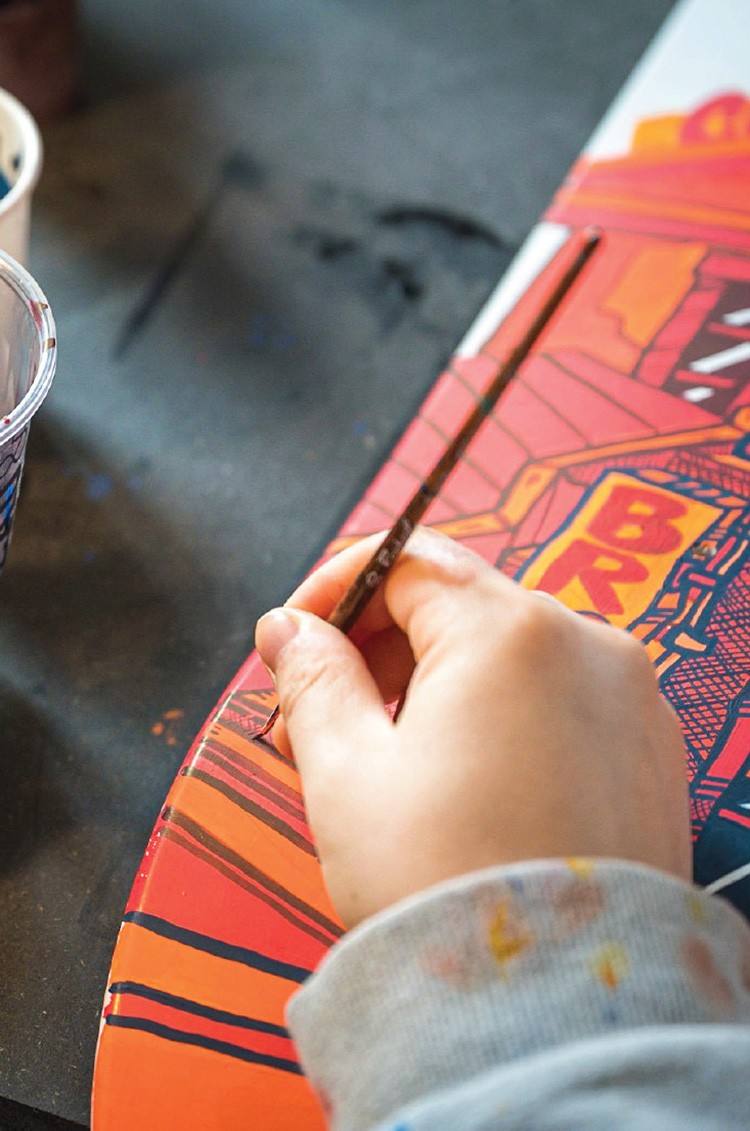 Photo: Song Dep
Bouda, 28, was born in HCM City and now lives and works as an artist, illustrator and painter of murals in Paris. Her creations revolve around urban life and are inspired by the lifestyles and cultural diversity of countries she has visited.
Bouda - a French-Vietnamese painter (born in 1994) specializing in mural painting and illustration in Paris.
Passionate about visual arts and comics from an early age, she developed a liberal and direct style, with sharp black outlines. Bouda paintings are especially inspired by the abundant energy of big city life.
Color is the major element in her work. Urban themes are hallmarks of Bouda's paintings, and characters with rounded strokes and distinctive faces are hightlighted.
Bambi Bakbi, French
Bambi Bakbi, who resides in the Superposition gallery, Lyon (France). He used to be a b-boy dancer, so hip-hop culture occupies an important place in his later art.
The world of Bambi Bakbi is a mixture of extremely rich experiences, which are constantly being built up. In 2020, he made a solo exhibition in Lyon - about the rich world of plants and tropical creatures.
Don Mateo, French
After studying art in France and Spain, he moved to Lyon and created a new playground. He made a big splash when he painted portraits on the walls. Those are the characters that evoke emotions and inspire the public. Don Mateo's drawings show many vibrations, surprise and create a new light. The portraits straddle the boundaries of painting and sculpture, helping him create and share new perspectives on the city.
Le Monstr, Canadian- French
The Canadian-born artist Le Monstr specializes in illustrations. This artist is always looking for ways to show the stoppage of time. Through the images expressed in the works, he separates the subject from the daily urban rhythm of life.
Amm Banhmi, Vietnamese
Amm Banhmi is often inspired by Japanese manga, animation and even manga. Currently, she is experimenting with organic painting materials such as oil pastels, acrylic paints and focusing on female characters.
VuiQá, Vietnamese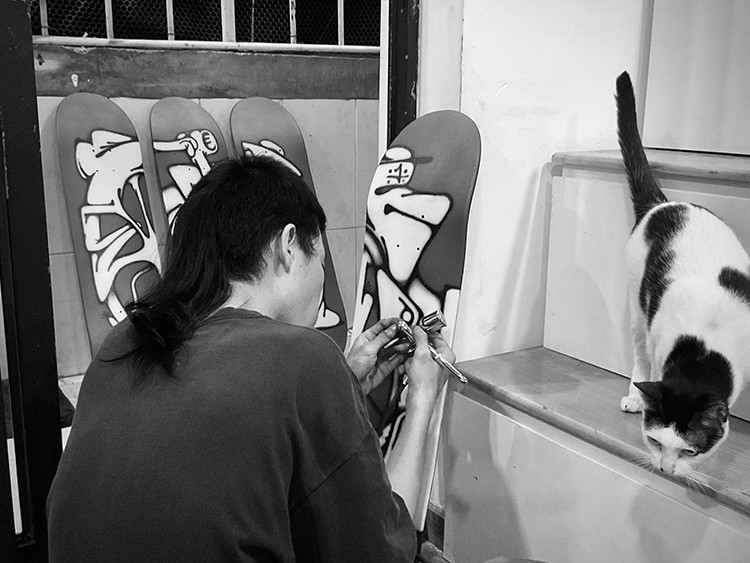 Photo: Vietnamnews
Vietnamese artist VuiQá (Dinh Nhat Khang) currently practices visual arts and is an illustrator. He came to graffiti in 2017, and has always considered composing an important part of his life and artistic activities.
Khang's compositions show a vibrant life, derived from real experiences inspired by Eastern spiritual and cultural life.
Cresk, Vietnamese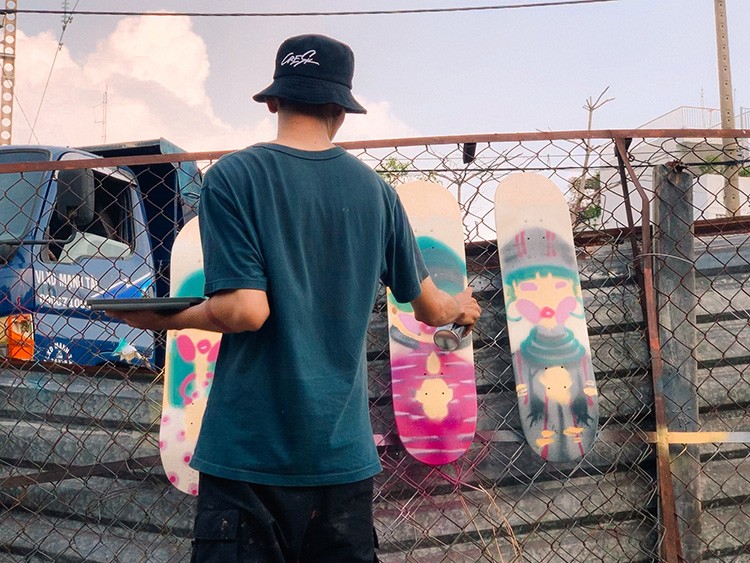 Photo: Vietnamnews
Cresk (Nguyen Tan Luc) is the co-founder of the "Graffiti Wallovers" group and just graduated from Ho Chi Minh City University of Fine Arts in 2020. He is known in the Vietnamese graffiti community for his works that express unique and colorful ideas. strong contrast.
Tan Luc believes that graffiti is a peaceful refuge amidst the chaos of life, in contrast to the wild nature of street art. Besides reflecting realistically on life and honoring traditional Vietnamese culture, he always integrates positive messages into his works.
In 2021, Tan Luc won the second prize in the competition "Vietnam Urban Arts - JAM", organized by the French Institute in Vietnam.
Daes, Vietnamese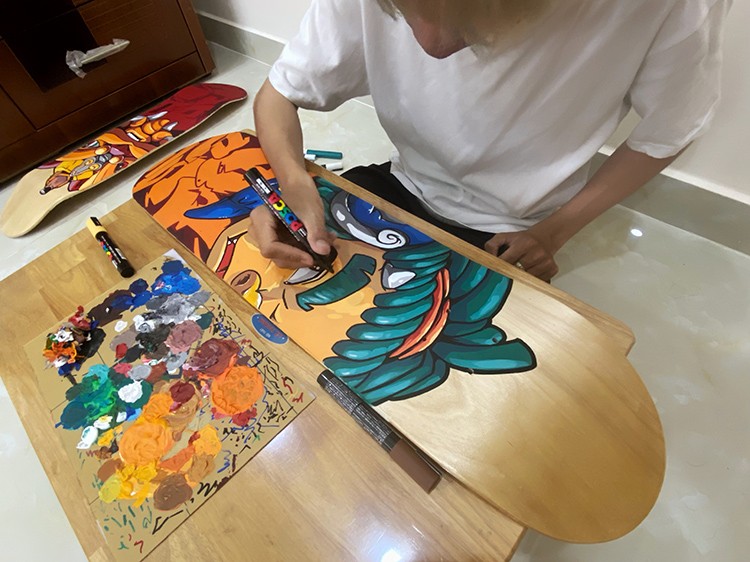 Photo: Song Dep
Daes (Luu Doan Duy Linh) first learned about graffiti in 2013. This art quickly became a great passion for him, even though he was studying Biotechnology at the time.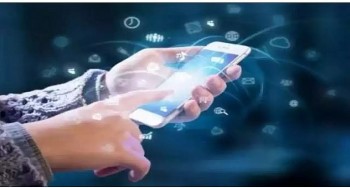 World
The Indian government has blocked as many as 232 apps operated by foreign entities, many of them Chinese, for being involved in betting, gambling and unauthorised loan services.