Kien Giang Friendship Union Mobilizes Fund For Local Brigdes
A bridge can make a huge difference for a community.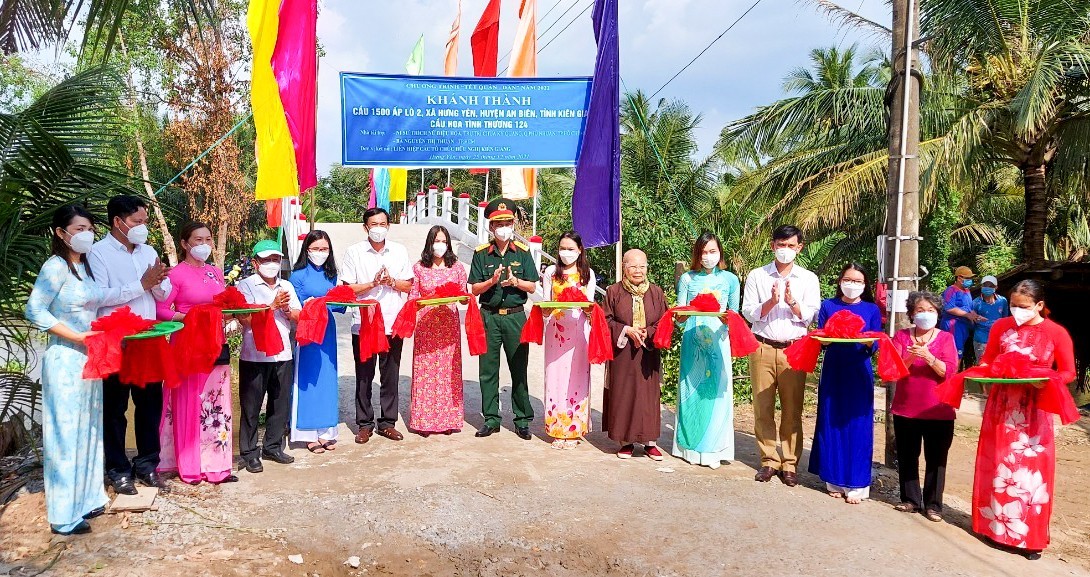 At the inauguration ceremony.
The Union of Friendship Organizations of Kien Giang Province on Dec. 25 cooperated with representatives of local authorities to organize the inauguration of a bridge at Lot 2 Hamlet, Hung Yen Commune, An Bien District, the Mekong Delta province of Kien Giang.
A gateway to An Bien district, Hung Yen commune has many interlaced rivers and canals, which often causes difficulties with traffic flow, especially during the rainy season.
Speaking at the ceremony, Tran Chi Dung, president of Kien Giang Union, said that despite the complicated Covid-19 situation, Kien Giang Union still tried to participate in campaigning to build three rural traffic bridges and give 150 gifts to the needy. This is a small joy that Kien Giang Union brings to people in Hung Yen commune, he added.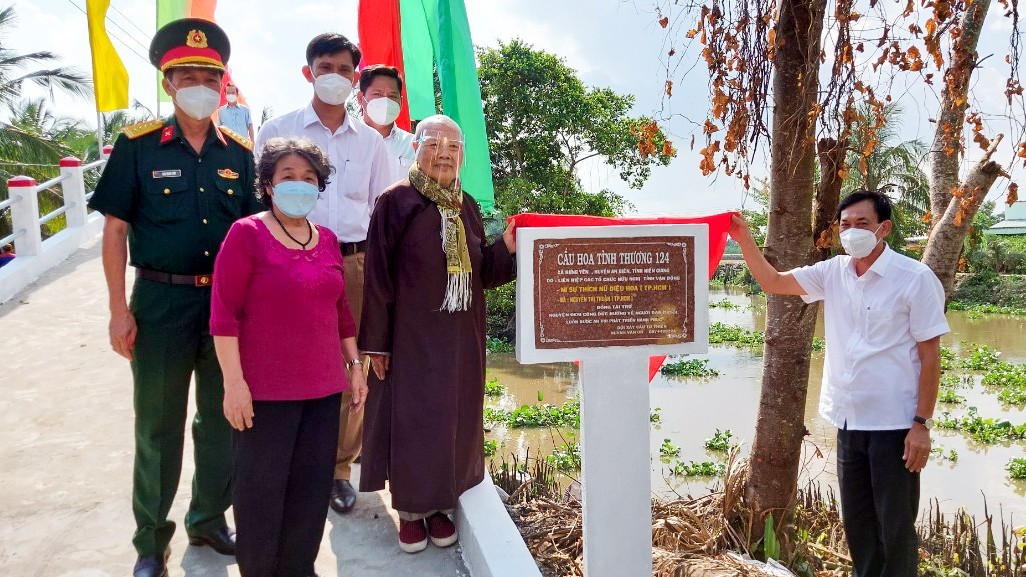 The bridges help people move around easier, and bring happiness to children who can commute to school daily without dangers or fears.
Among the three bridges, the 1500 Bridge is the first that has been completed, while the remaining two are under construction.
Kien Giang Union hopes that benefactors will continue to support the completion of these works soon, to help people move around easier, offering opportunities for those in need to better their lives, thereby developing the region.
The bridge is 24m long and 3m wide; designed and built with reinforced concrete, with a total investment of VND 216 millionby Nun Thich Nu Dieu Hoa, abbot of Ky Quang Pagoda, (Phu Nhuan District, Ho Chi Minh City).
Nguyen Thi Thuan, a resident of HCM City donated VND 150 million, the rest was mobilized by Kien Giang Union.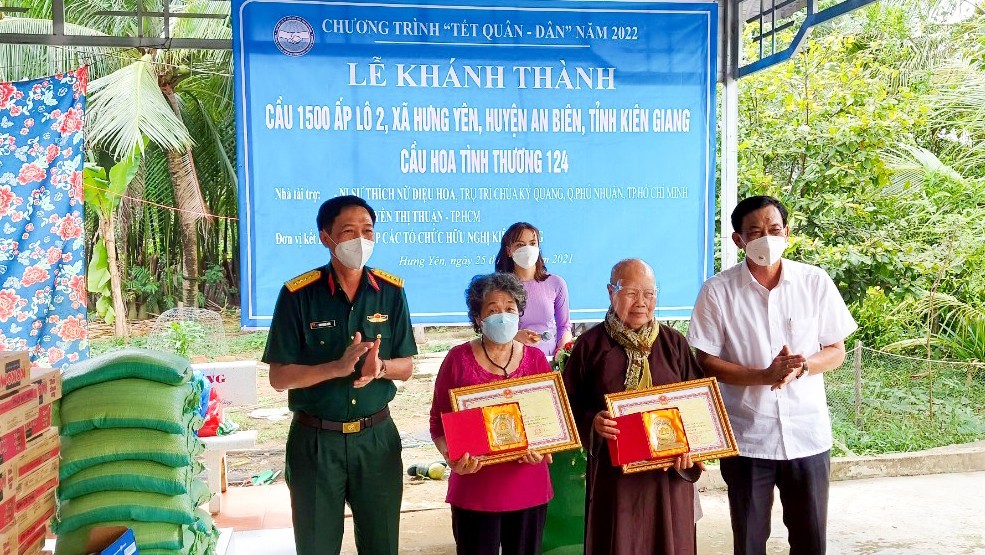 Leaders of Kien Giang Union awards the certificate of merit from the People's Committee of Kien Giang province to the sponsor.
According to Tran Thanh Dien, vice chairman of An Bien District People's Committee, the construction of the 1500 Bridge on Canal Road 3000 makes an important contribution to solving the urgent need of all people in Lot 2 and neighboring hamlets nearby, creating conditions for smooth traffic between hamlets in Hung Yen commune.
At the same time, the work contributes to the implementation of the criteria for building a new rural area to promote socio-economic development in the commune.
On behalf of the local government, Dien thanked all the involved parties, Kien Giang Union and sponsors for their interest in mobilizing funds for Hung Yen commune to build successfully built this meaningful project as the Lunar New Year, the country's biggest festival, is approaching.
On this occasion, they distributed 100 gifts to policy beneficiary families and households in difficult circumstances; and 40 scholarships and gifts to studious students in the area.
Among these gifts, Phuoc Thien Hoa Tinh Thuong Association - Ky Quang Pagoda and Nun Thich Nu Dieu Hoa funded 100 gifts and 30 scholarships while Kien Giang Union sponsored 10 scholarships.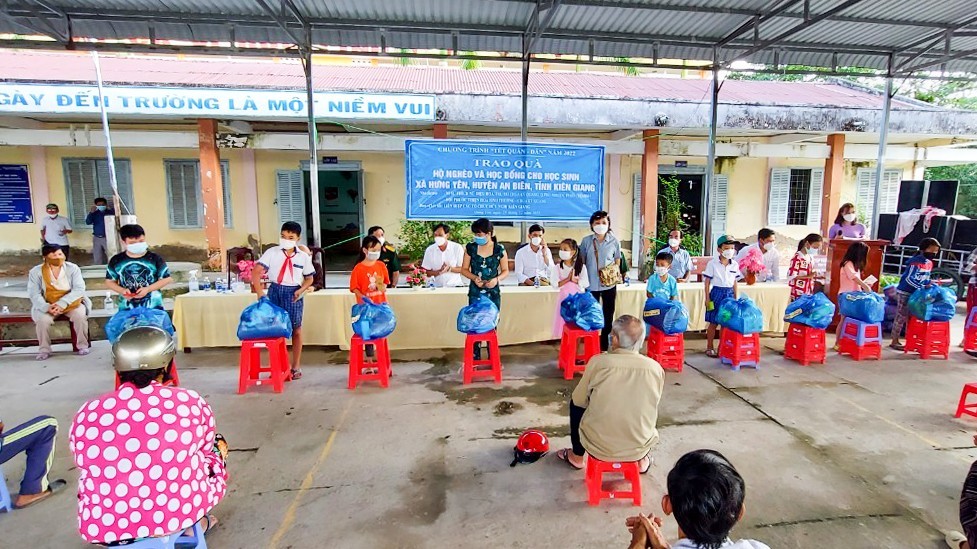 40 scholarships and gifts were given to students in the area.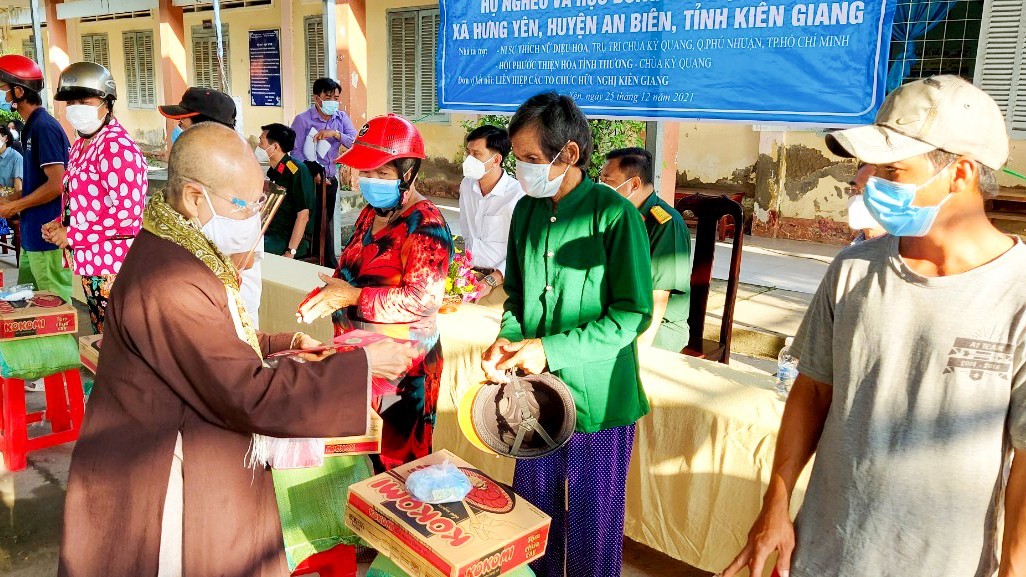 Handing over 100 gift packages to needy households.
The traditional lunar New Year festival, Tet, is of great spiritual importance to the Vietnamese people. However, not everyone can enjoy a proper Tet holiday. Various efforts are underway across Vietnam to ensure a happy Tet for disadvantaged people.
Taking care of the needy has become an indispensable part of Tet in Vietnam, reflecting Vietnam's fine tradition of "the haves helping the have nots."