Korean man caught for killing Vietnamese wife
A Korean man is being held for allegedly killing his Vietnamese wife and burying her body, police said, Monday.    
According to Yangju Police Station in Gyeonggi Province, the man, 57, identified by his surname Shin, stabbed his wife, 29, multiple times at their home Saturday, and took her corpse to his hometown region of Wanju County in North Jeolla Province, where he buried the body in a field of persimmon trees.
A Vietnamese acquaintance, who had arranged to meet the wife later in the day, reported her missing to police when she failed to show up. The police, suspicious of the husband's cell phone being turned off, traced the location of his car and apprehended Shin the following day. Police also recovered the body.
The man initially denied the killing, but police said he confessed under further questioning.
"They often had domestic trouble, and after they exchanged words, the wife said she would leave him, which led him to kill her out of anger," a police officer said.
The police added that the couple often bickered about living expenses.
Shin, a fabric broker in Yangju and Pocheon, Gyeonggi Province, married his wife in 2017 and they lived in the Southeast Asian country before coming to Korea three months ago. They had no children.
Police have ordered an autopsy to find out the exact cause of death, after which they plan to seek an arrest warrant.
Domestic violence between Korean men and migrant wives has emerged as a serious social issue here.
Last July, a video clip showing a Korean man violently assaulting his Vietnamese wife went viral, enraging Vietnamese people and Koreans alike. Prime Minister Lee Nak-yon later expressed his deep regret to Vietnamese Minister of Public Security To Lam.
Korea Times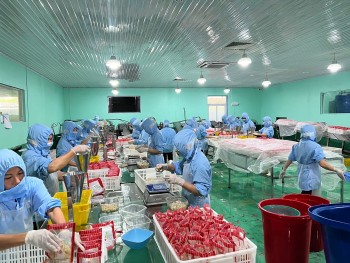 Focus
Not only agricultural products, traditional dishes of Vietnam also penetrate into difficult markets, bringing great revenue to businesses and people.