Vietnamese Lady Found Her True Love via Online Dating App
Before knowing Porithosh Shetty, Y never thought she would marry an Indian. However, exactly 1 month after their first meeting, she was at her boyfriend's house in India.
Overwhelmed when being in India
In October 2019, Porithosh Shetty (44 years old) traveled to Da Nang. While transiting in Ho Chi Minh City, he found Do Thi Y (36 years old) on a dating app.
Curious about the photo of a Vietnamese girl with a friendly smile, Porithosh texted her, but his message sent that day was not answered.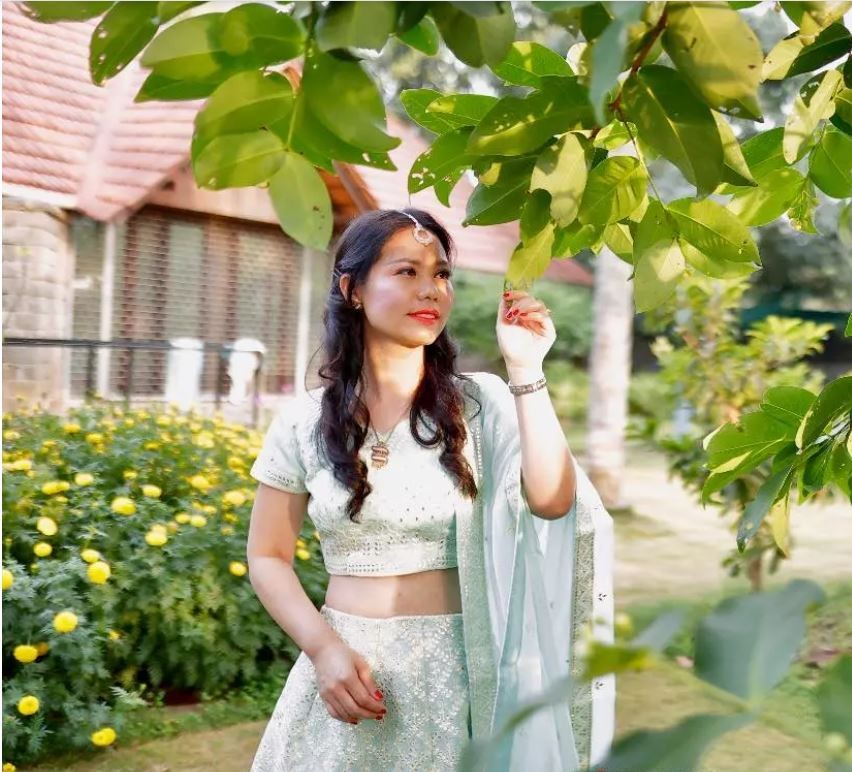 Y found Porithosh on a dating app. (Photo: VietnamNet)
Arriving at home in India, he kept sending messages, asking if she does not like Indians. The lady from Hanoi politely replied: "I don't care where you are from, what your nationality is, what color your skin is. I am looking for a sincere, serious person to get married to because I am no longer young. If you just want something fun, then don't waste my time."
Porithosh Shetty said that he is also looking for a serious relationship. So from that day on, the two talked to each other every day.
When they became close, Porithosh video called her. The moment Y first saw him in the video, she felt closeness and trust. So when Porithosh invited her to India, she agreed immediately.
"Perhaps because he looks kind and decent, I feel that he is a sincere person", she explained with a smile.
The day Y set foot in India, Porithosh picked her up at the airport. That was also the first day they met in person. At that moment, both were shy and did not dare to embrace and kiss like other couples.
"He looks very tall compared to the imagination. He is actually 1m80 tall and weighs nearly 100kg. And his skin color is also brighter than in photos and videos", Ms. Italy recalled her first impression.
Then, Porithosh said that he wants to bring her to his home in Bangalore.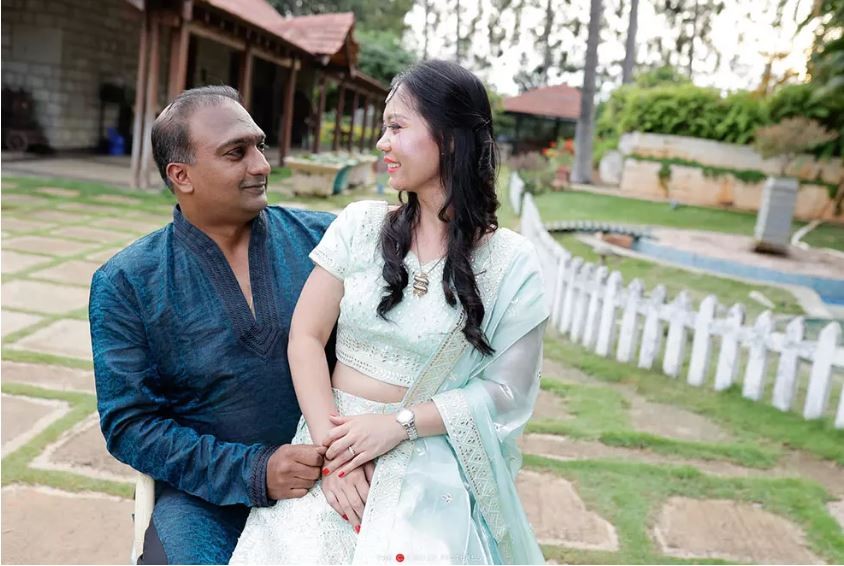 The couple took a photo in the family resort. (Photo: VietnamNet)
Bangalore is the third largest city in India. This place is also called the silicon valley of Asia, so Y is very excited about her trip.
When they arrived, she was really shocked because his home was a large resort. In the family garage, there are nearly a dozen of expensive cars and motorcycles. The family has many domestic helpers. Every time they see her, everyone bows and steps aside.
"His house is 20,000 square meters, and his family lives in half of the space, while the other half is used for wedding business", said Y.
After several days of living at her boyfriend's house, she knew that besides this resort, Porithosh's family also owns a private hospital, an old house that is nearly 150 years old in the coastal city and 100 acres of coffee plantation.
"His father was a good doctor and he established a private hospital with more than 100 beds. After his death, Porithosh and his younger brother, who is also a doctor studying in Australia, manage the hospital".
The grand property and the secrets of her boyfriend's family are gradually revealed, making Y feel like she's dreaming. "Because before going to India, he always said that he was an ordinary man who was neither rich nor poor. He made just enough money to afford a simple life for his family".
Diamonds as wedding gifts
Y is 8 years younger than Porithosh. Before that, both had experienced failure in their marriage.
Porithosh used to have an arranged marriage. His bride at that time was a very good person to the family. However their marriage was not happy, and they divorced in 2014. Y got married at the age of 21, 2 years later, because she could not find a common voice, she broke up.
Before meeting Porithosh, the lady from Hanoi also experienced several relationships. However, she never intended to marry an Indian man.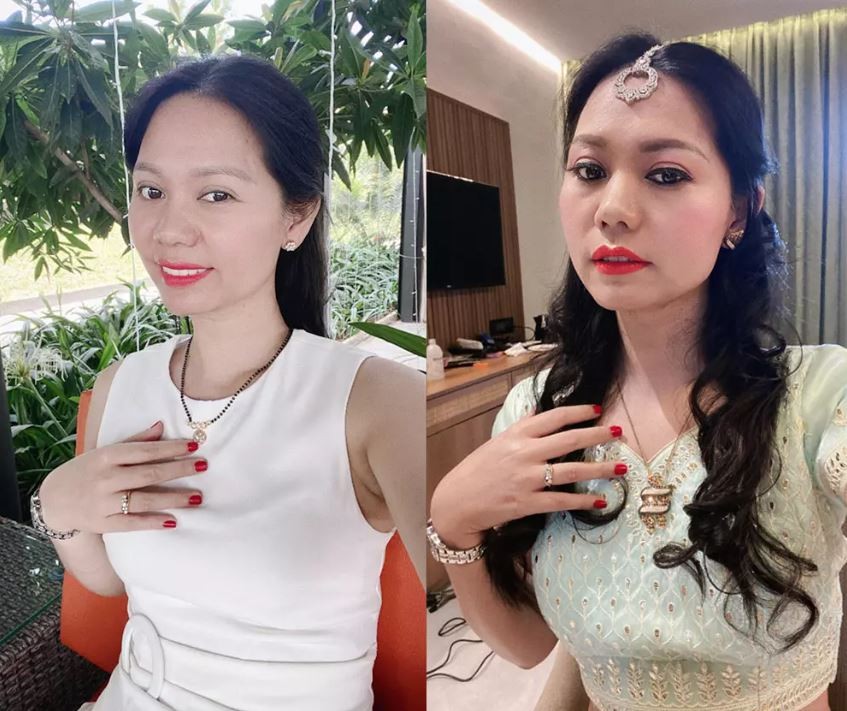 Y was gifted with many diamond jewelry by her mother-in-law. (Photo: VietnamNet)
"India is a country with a rich and diverse cultural and religious heritage, some religions have restrictions on typical kinds of food, while I do not avoid any food", she explained. But ever since she first talked to Porithosh in the video, although she didn't know about his background, she thought, this man would be her husband.
The day Porithosh brought her home, they were both worried that his mother wouldn't agree with their relationship because in India, not many women want their son to marry a foreigner.
However, when the mother met the Vietnamese lady, she immediately liked Y. One day, she even called Y to her room and said that she can comfortably dress as she pleases.
Y confided that perhaps because his first marriage was arranged so now she thinks that he has the right to love and choose the one he likes.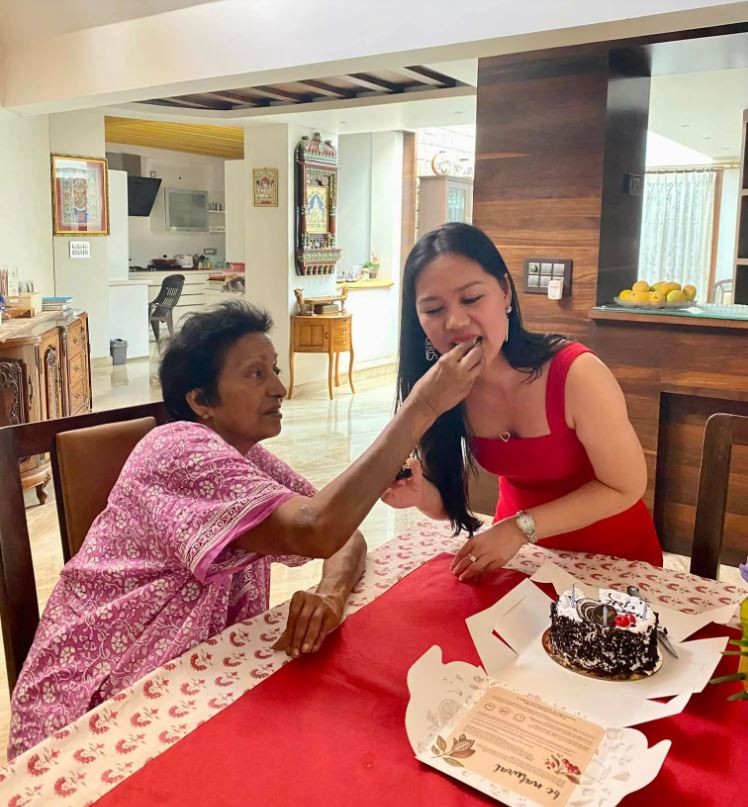 Y and her mother-in-law get on very well. (Photo: VietnamNet)
After more than 2 years of dating, this April, Porithosh and Y officially received a marriage certificate.
In Indian tradition, when a woman returns to her husband's house, she must bring a dowry. But at Porithosh's house, it's always different. The bride doesn't have to bring anything.
A few days before the wedding, her mother-in-law also called her to her room to give her diamond earrings, rings, and necklaces.
"My mother took out a diamond jewelry box and let me choose things I like. My husband's grandmother also gave me gold", said Y.
On April 23, the couple's happy wedding took place at the family resort. After the party, Y officially became the bride of a noble family, experiencing consecutive surprises in a foreign country.
(to be continued)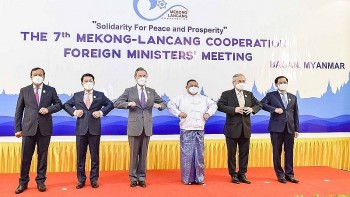 National
Foreign Minister Bui Thanh Son led a Vietnamese delegation to the seventh Mekong-Lancang Cooperation (MLC) Foreign Ministers' Meeting that was held in Bagan, Myanmar on July 4.