Korean Woman Shares Firsthand Account of Student Life in Vietnam
Although in Vietnam for a short period of time, Kwon Jayoung quickly accumulated to life in the S-shaped Land.
Wanting to learn Vietnamese, Jayoung went to Vietnam alone to study. She has just graduated from International Studies, University of Social Sciences and Humanities, Vietnam National University, Hanoi.
Kwon Jayoung was born in 1996 in Gyeryong city, the Republic of Korea (RoK)'s Chungcheongnam-do province. When speaking with Tien Phong newspaper's reporter, Jayoung said that in Vietnam, she not only completed her studies, but also learned lessons about kindness, friendship, and overcame all barriers of language or nationality.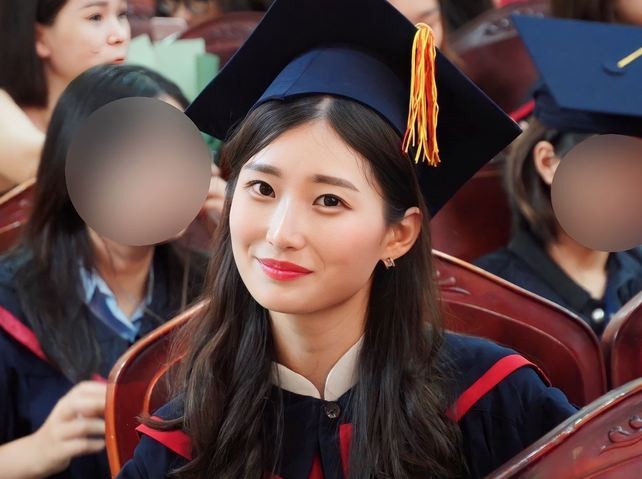 Kwon Jayoung shines on her university graduation day. Photo provided by Kwon Jayoung
Dr. Nguyen Van Dap, lecturer at the Department of International Studies and class teacher of Jayoung, commented that she is an intelligent and energetic student. She received the school's scholarship for two semesters and is the first foreign student in more than 25 years since the establishment of the faculty to achieve this achievement.
Dr. Dap said, Jayoung graduated on time in early August 2023 and got good grades. Although her Vietnamese language proficiency level is modest, she has adapted and integrated well during her time studying and living in Vietnam. This is not only reflected in her academic results, but also in the fact that she has close friends and participates in many activities together.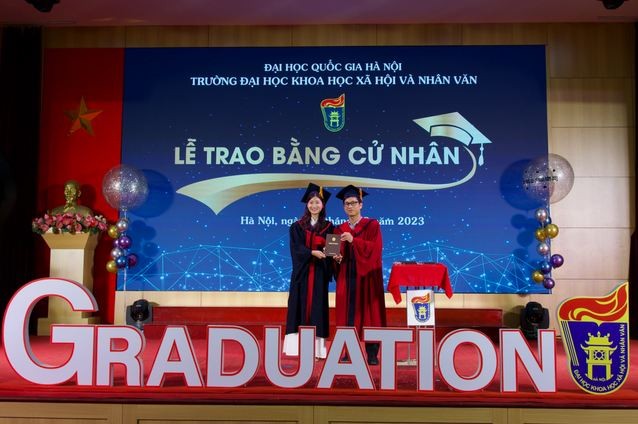 Kwon Jayoung received her bachelor's degree at the graduation ceremony on August 5, 2023. Photo provided by Kwon Jayoung
Studying in Vietnam alone
Before coming to Vietnam, Jayoung was a student at the Faculty of English Language and Literature of a university in the RoK. Later, she realized that English is a universal language, so she needed to learn another foreign language or area of expertise. She found that Vietnam currently has a high economic growth rate, many Korean companies actively invest in Vietnam and the relationship between the two countries is also good. So learning Vietnamese can bring many new opportunities in the future.
At that time, there was no suitable place to learn Vietnamese in the RoK, so Jayoung decided to go to Vietnam. When expressing their intention to the family, the whole family approved and fully supported her. Meanwhile, her friends were surprised when she chose to learn Vietnamese - a foreign language that few Koreans learn.
In 2018, Jayoung came to Vietnam and decided to choose Hanoi to stay. Instead of the Vietnamese program for foreigners, she enrolled in International Studies at the Hanoi-based University of Social Sciences and Humanities. In the fall of 2019, Jayoung became the only foreign student in the class with the program taught mostly in Vietnamese.
"Instead of studying with foreign friends, here, I can study in the same class and subject as Vietnamese friends. I get to experience Vietnam firsthand. That helped me understand more deeply about life here."
The first semester with general subjects was a challenge with Jayoung's limited Vietnamese at that time. Sometimes she feels lost and self-pitying because she can't keep up with the content of the lecture or misunderstand the assignments.
In a general subject, she was discouraged because she was the only one in her class to receive a 0 in the middle of the term. The teacher sternly reminded Jayoung to work hard to learn Vietnamese well if she wanted to improve her grades.
"Every time I go through something like this, I feel downhearted. I lose my spirit every time I do group exercises because I know I can't keep up with fellow students. I also didn't dare to voice an opinion because I was afraid that saying the wrong thing would affect teammates," she recalled.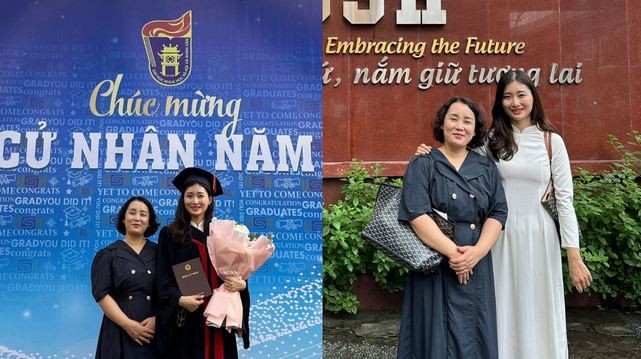 Jayoung and her mother at the University of Social Sciences and Humanities, Vietnam National University, Hanoi. Photo provided by Kwon Jayoung
After the first semester, Jayoung had to switch to online learning because of the Covid-19 outbreak. Her family is very worried when their daughter is alone in Vietnam and wants her to come home quickly. However, private flights were too expensive at the time and she didn't know when school would be rescheduled, so she chose to stay until the end of her sophomore year. In the third year, when the situation became more stressful, her parents brought her back home for about half a year.
Online learning turns out to have some advantages for Jayoung. She easily takes pictures of lecture pages to review before each exam. It helps her to easily grasp the requirements of the topic.
The graduation thesis was written in English by Jayoung with the topic titled "Labor Migration from Vietnam to Korea". This is a topic that she was suggested and encouraged by a lecturer at the International Studies Faculty. To complete the thesis, she has carried out various research on politics, diplomacy, and economic development through human exchange between Korea and Vietnam.
Culture shocks
According to Jayoung, Vietnam and Korea share the same Confucian culture, so although there are many similarities, the she encountered many culture shocks in the first days of coming to Vietnam.
One of the things that Jayoung shocked her the most is traffic in Vietnam. In addition, because individualism is widespread in Korean society, it is very rare to exchange, make friends or even get to know your neighbors. However, the Vietnamese friendliness towards her is a positive culture shock. Once, seeing her crying in panic because her room had cockroaches, kind neighbors ran over to help.
The best thing for Jayoung during her time studying abroad in Vietnam is the friends who are willing to help her in both her studies and private life. When she needed to deal with administrative procedures, they came along to assist her at the school office.
"I've been helped by so many people that I think I'm the most blessed Korean in Vietnam. I will miss my friends," shared Jayoung.
She also want to thank the lecturers of the Department of International Studies. If she hadn't chosen the Faculty of International Studies and met students and teachers here, she would have left Vietnam a long time ago.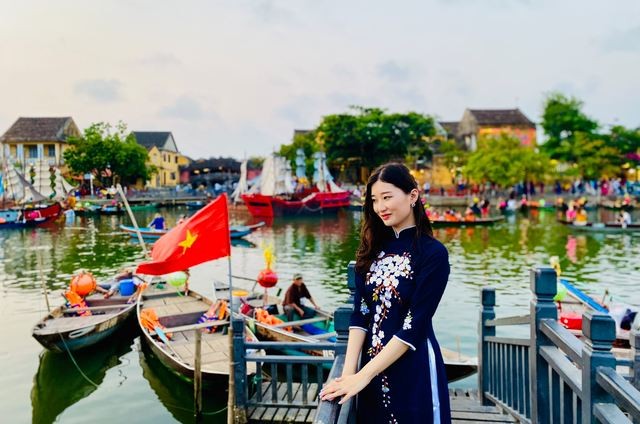 Jayoung travels to Hoi An town. Photo provided by Kwon Jayoung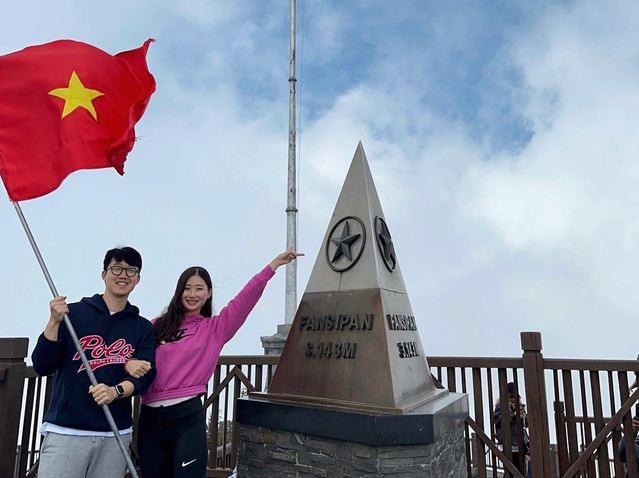 Jayoung and her boyfriend travel to Fansipan peak in Sa Pa township in the northern mountainous province of Lao Cai. Photo provided by Kwon Jayoung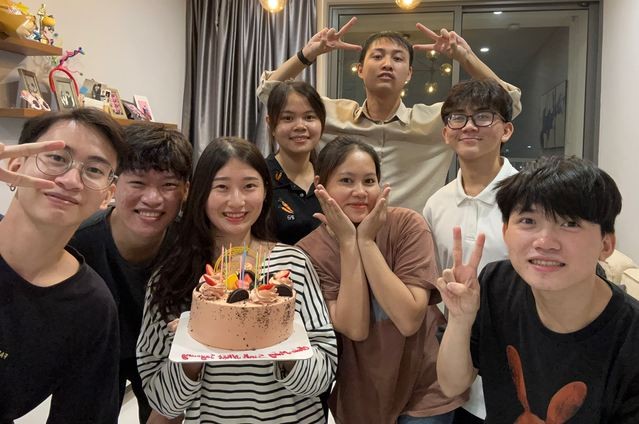 College classmates celebrate Jayoung's birthday. Photo provided by Kwon Jayoung