International Youth Build Houses for Vietnamese Families
International youth joined volunteer activities in several provinces of Vietnam.
In the summer of 2023, many international youth volunteer groups participated in many volunteer activities in Vietnam such as building houses of love to support poor people, guiding students to sort garbage, painting murals, and doing performances for local people.
Volunteers joining a voluntary program of the French non-governmental organization Les Enfants du Dragon (Children of the Dragon) participate in the project titled "Spiruline Hau Boi - phase 5" in Soc Trang province.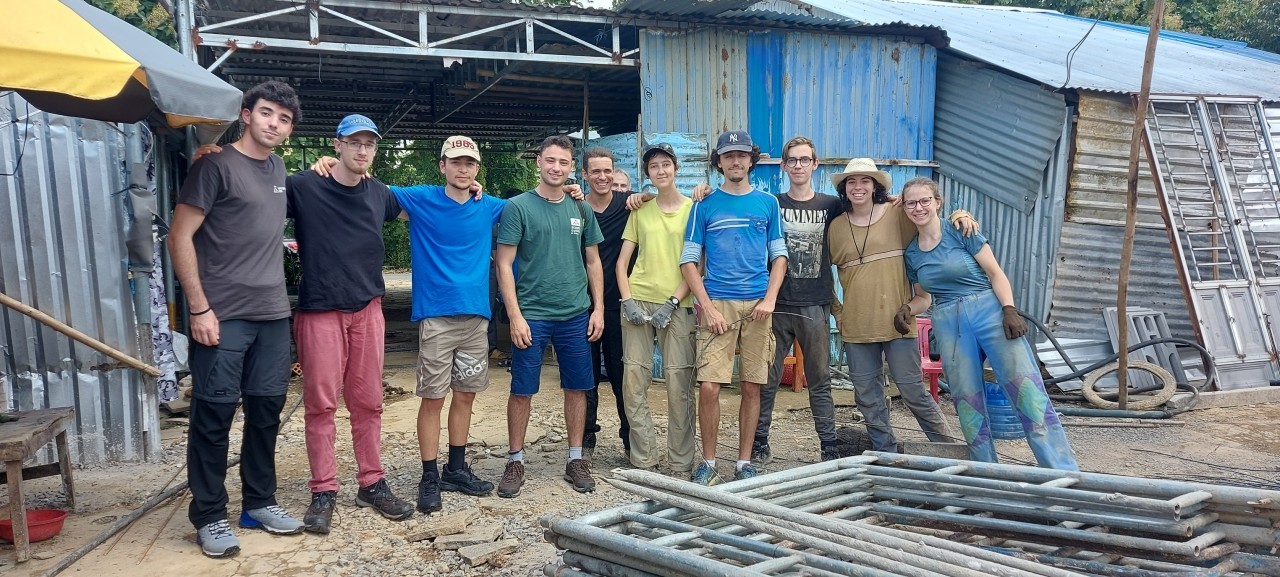 Volunteers joining a volunteer program of Les Enfants du Dragon. Photo: Les Enfants du Dragon
Members of the volunteer group have directly participated in a number of stages from mixing cement-sand mortar, concrete, building brick walls, to teaching martial arts in Vietnam.
With the contribution of French volunteers, the houses were completed and donated to disadvantaged households in the Mekong Delta province of Soc Trang.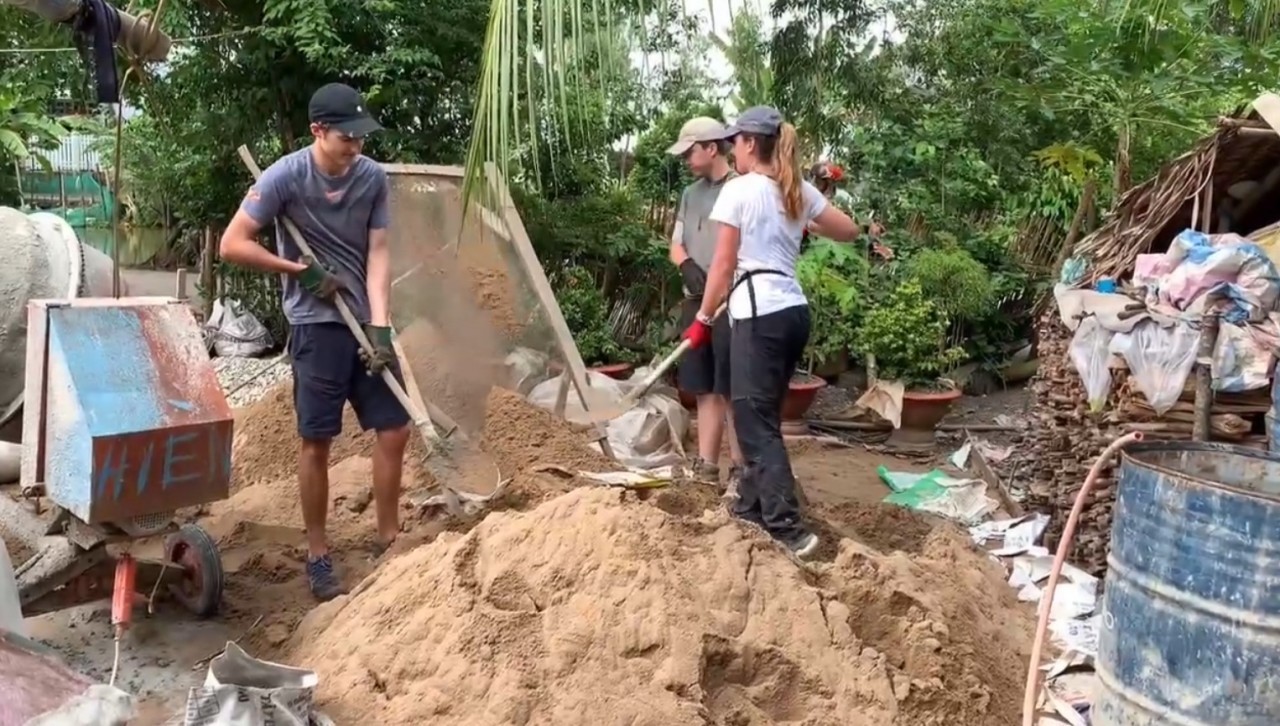 Photo: Les Enfants du Dragon
Les Enfants du Dragon is a French NGO founded by Marc De Muynck in 2009 with the main objective of financially and materially supporting Vietnamese children and the poorest people.
His organization conducted humanitarian projects for children and deprived families in four provinces of Dong Nai, Soc Trang, Long An, Dong Thap, and Ho Chi Minh City.
At the ceremony, there were the attendances of representatives of local authorities and Les Enfants Du Dragon. Photo: Les Enfants du Dragon
Responding to the activity "Volunteer soldiers drink water, remember the source - Ensure social security" in 2023, in July, Lao students studying in Ho Chi Minh City participated in painting and repairing houses for disadvantaged families in hamlet 3, Phuoc Loc commune, Nha Be district.
The Green Summer soldiers are Lao students studying in Ho Chi Minh City renovate the playground for children in Hamlet 1, Phuoc Loc Commune, Nha Be District.
24 youths and students from the Republic of Korea (RoK) from Wonju Jeil Church and Global Vision organization, joined in volunteer activities in Mo Cay Bac district, the Mekong Delta province of Ben Tre, on August 7-8.
The Korean volunteers presented bicycles to poor and outstanding students, taught local students simple Korean, engaged in cultural and sports exchanges, created artwork on fabric bags to encourage environmentally-friendly habits, and held traditional games for over 100 students at Hoa Loc elementary school.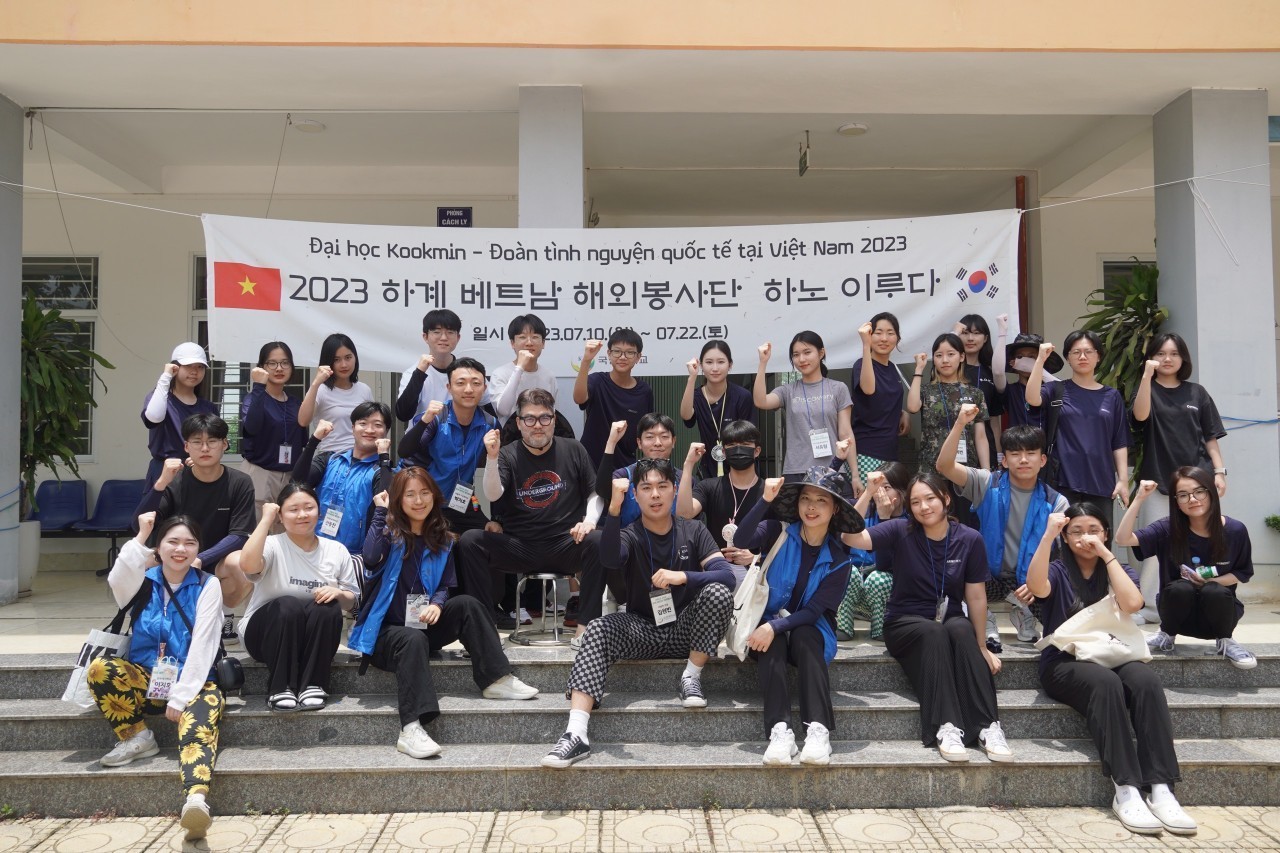 The volunteer campaign created a chance for local young people to learn more about Korea.
Together with 24 local volunteers, they also contributed nearly 400 hours of labor and funded the construction of houses for two poor families, each worth VND 38 million (USD 1,650).
Earlier, from July 10-18, the Korea Cultural Exchange Center (KCCC) in collaboration with the international volunteer delegation of Kookmin University conducted a summer volunteering program at Tan Hoa Primary School, Hanoi's Quoc Oai district.
Korean volunteers taught Vietnamese students how to sort household trash, learn about Hanbok - Korean traditional clothing, paint murals, clean classrooms and perform Taekwondo.