Korean Woman Spends 11 Years Helping Vietnamese People with Disabilities
A Korean woman practices love without borders.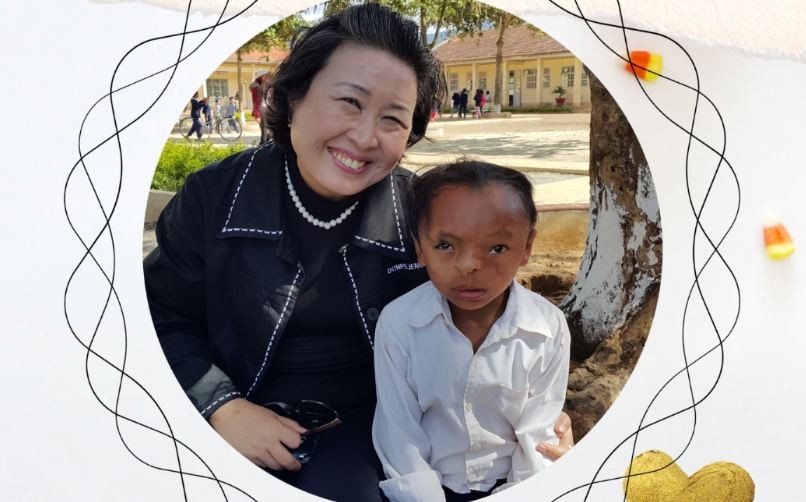 Choi Young Sul. Source: Korean Cultural Center in Vietnam.
2022 is a meaningful year for both Vietnam and the Republic of Korea (RoK), as the two countries jubilantly celebrate the 30th anniversary of the establishment of diplomatic relations between RoK and Vietnam.
During the past 30 years, there have been many touching stories about humanity, compassionate and friendship between the two countries.
Vietnam Times would like to introduce to you a touching story about the love of a Korean person and her mission to provide for disabled people in Vietnam. That is the story of Choi Young Sul, a woman who has spent her 11 years helping people with disabilities in Vietnam.
Attachment to Vietnam
Choi's predestined relationship with Vietnam began 17 years ago when she volunteered for a trip in January 2005.
During the trip, Choi, who studied special education in Korea and has over 20 years of teaching experience in schools for the disabled, had visited the Lam Dong Hearing Impaired School.
The teachers are very nice but still seems to be missing something to create a special education here, she recalled.
Two years later, she went to Cambodia to volunteer and in 2007 revised the learning curriculum and returned to the Lam Dong Hearing Impaired School. Here, she have guided local teachers in educating and teaching deaf students.
After that, with the support of the school principal as well as the leader of the Department of Education, she continued with various training programs in 2008, 2009 and 2010.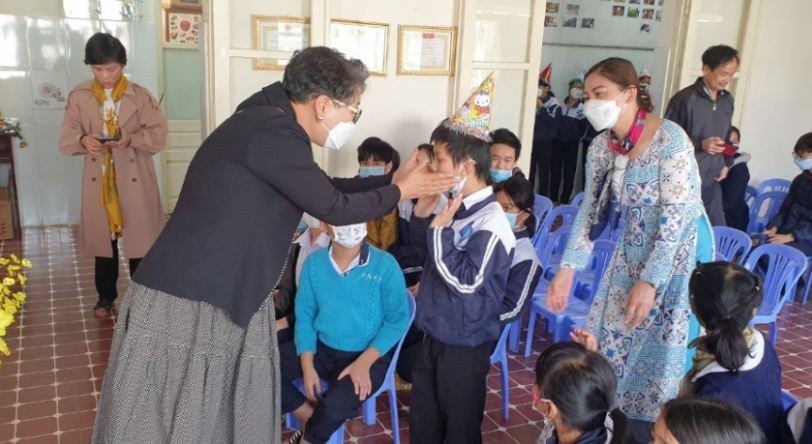 Choi Young Sul at a birthday party for children at Lam Dong Hearing Impaired School. Source: Korean Cultural Center in Vietnam.
In January 2009, after finishing her volunteering trip, on the flight back to the RoK, she talked to her husband about the wish to apply for early retirement and spend time to volunteer for those with disabilities in Vietnam.
"Fortunately, my husband agreed with my intention. And so, shortly after returning home, we applied for early retirement and in February 2010 we officially retired. After a year preparing, we came back and have been living in Vietnam."
Before that, we had made a list of things to do in Vietnam, developed a plan to support the development of special education in Vietnam in the next 10 years, learned the essentials when living here, and at the same time took exams and get certificates in the field of horticulture - an area that Choi considered essential when living in Da Lat.
"We arranged everything in Korea to come to Vietnam with the intention of long-term commitment. In February 2012, a 20-foot container carrying textbooks and tools for special education along with one pressure cooker arranged by us, had been sent to Vietnam. We left letters for our only son and daughter-in-law then flew to Vietnam. Ever since, for 11 years, she have lived in Vietnam in a rental house. Everyone in the host family is like my actual family," Choi said.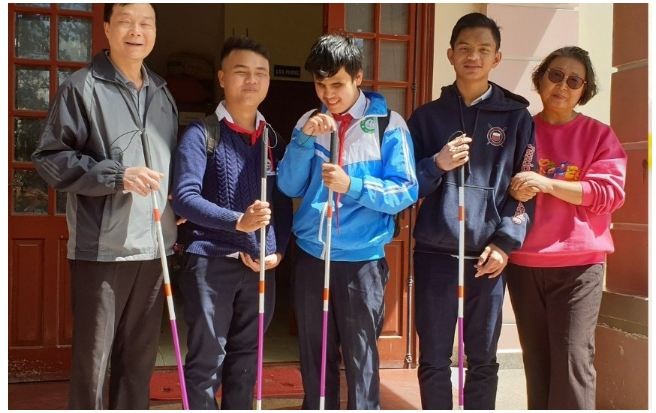 Choi Young Sul handovers white cane to the blind. Source: Korean Cultural Center in Vietnam.
In her mind, Vietnam is a country where people are friendly and full of compassionate, at the same time open-minded and share the same common ground in the "caring" culture of Korean culture.
"Da Lat here is very tolerant and friendly. After knowing I volunteer to come to work at Vietnam's disabled schools, my landlady reduced my rent, to the point that it now is only half of other houses around. Giving us fruits, gifts in new year, helping us whenever she can. Thanks to her, our life here is comfortable and secure," Choi shared.
"Recently, we are running a project in a new place, called "House of Love and Sharing" to support the development of special education in Vietnam, and every time things like utensils, washbasin, water line, heater, door lock, are broken, the landlady always comes and helps us repair."
Just like that, 11 year went by. Every Lunar New Year, the landlady would invite Choi to her house as the first guest to step into their home.
According to traditional belief, what starts well will end well, so the first guest to enter the house after midnight on the Lunar New Year's Eve is believed to have a bearing on the family's fortune throughout the year.
Every time, Choi and her husband would come, wearing Korean traditional costume Hanbok, exchange lucky money, eat and drink together, and perform traditional Korean worship ritual on New Year's Eve.
"House of love and sharing"
Students at Lam Dong Hearing Impaired School often call Choi "Miss Choi", but the teachers here call her "Mother".
During the past time, Choi has shared experiences with the teachers, tried new teaching methods, exchanged opinion on methods and strategies to address the distinctive learning needs of special needs students. However, Choi always tells everyone that they need to prepare for a day without her. That day may not be far away, so everyone should build up their strengths can reach their highest potential, Choi said.
Since 2020, to support the development of special education in Da Lat, Choi and colleagues have built a special education development support center named "House of love and sharing".
"Here, we support early intervention development for children with disabilities from 0 to 5 years old and vocational training for deaf children from 14 years old of Lam Dong Hearing Impaired School.
For children with disabilities, early intervention is very important. Therefore, we conduct training for teachers based on that theoretical foundation. From there, children can judge, perceive, control their actions according to the development of their bodies, control their own language and play activities. Along with that, we guide their parents, ensuring the children's right to education, thereby achieving the goal of integrated education.
For the students who study vocational training, every 2 weeks they will come to the center to learn drawing, box making, farming, crafts so that they can be independent in the society later," Choi stressed.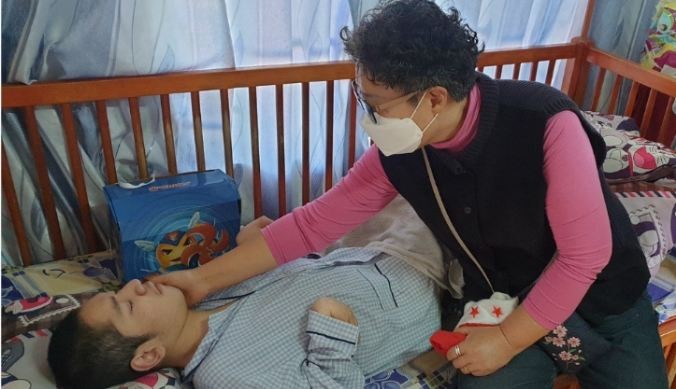 Choi Young Sul visits a boy with cerebral palsy. Source: Korean Cultural Center in Vietnam.
On Choi's birthday this year, the teachers in the "House of Love and Sharing" gave her a birthday gift with the message "Love from your Vietnamese daughters", that made her extremely happy.
"As a mother with only one son, I'm rejoiced to have so many daughters.
But along with that joy, I am always aware that I need to guide and help them to become better at their jobs. I made a promise to myself that I would definitely work with my daughters to contribute to the development of special education in Vietnam.
I do not work with the mindset that I am professional or experienced, but I always work in humility, with respect for those people and how to work effectively and help each other."
"When came to Vietnam, my hair was still black, but it is turning gray, has fallen a lot and much thinner now," Choi shared. "But I am still the same, I still love Vietnamese people very much."
For the 30th anniversary of the establishment of diplomatic relations between Vietnam and RoK, she is planning to establish a center to support children with disabilities in Hanoi.
"In the future, I will do my best to support the development of special education in Vietnam. As much time as I possibly can."
The article was translated from "My Vietnam's story" column of Korean Cultural Center in Vietnam.
Experiencing Korean Culture in Vietnam

The participants of the program learn Korean etiquette, parenting skills, Korean history, geography and Vietnam-South Korea relations, health care, and cooking Korean dishes.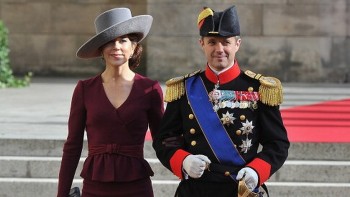 Friendship
Denmark's Crown Prince and Crown Princess will visit Vietnam to celebrate 50 years of diplomatic relations and promote green solutions.