The Enchanting World of Ta Xua Fairy Forest
Located at a height of over 2,800m on the highest peak of Ta Xua Mountain, Ta Xua Primeval Forest looks mysterious and mesmerizing in the clouds. Let's explore the impressive beauty of Ta Xua Primeval Forest through the lens of Vietnamese photographers.
A sea of clouds covers Ta Xua Mountain. Photo Tran Van Linh
A sea of white clouds floating around mountains is a common scene anyone who has been to Ta Xua Forest can easily admire and fall in love with.
The forest is located in the northern mountainous border of Tram Tau, Yen Bai Province and Bac Yen, Son La Province.
Trekking though the forest, Tran Van Linh, a 27-year-old freelance photographer captured the beauty of Ta Xua Forest at different moments of the day.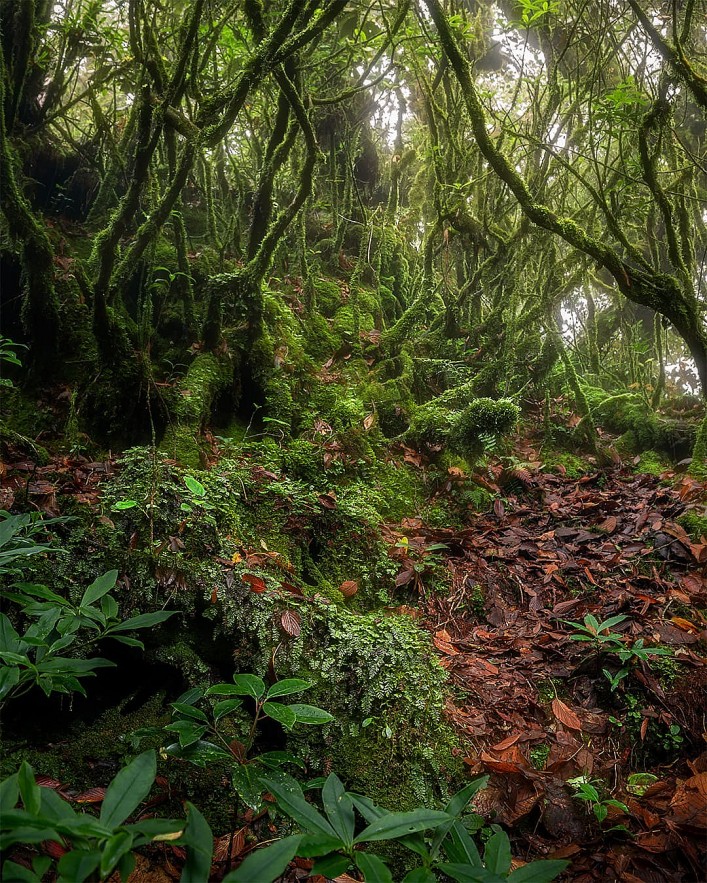 Photo Tran Van Linh
Upon her first steps in the forest, Linh took a photo of sunlight shining though ancient trees, making everything around mysterious like in a fairy tale.
Linh said the main purpose of this trip was to capture soulful photos featuring natural beauty of Ta Xua Primeval Forest. He hopes he can inspire everyone, both in Vietnam and overseas, about nature photography trips in Vietnam.
The forest looks more mysterious during darker autumn days. Fern leaves have turned yellow and red in this season. Visiting Ta Xua in November, the photographer can capture yellow and red colors mixed together of the autumn in the middle of green color of the moss.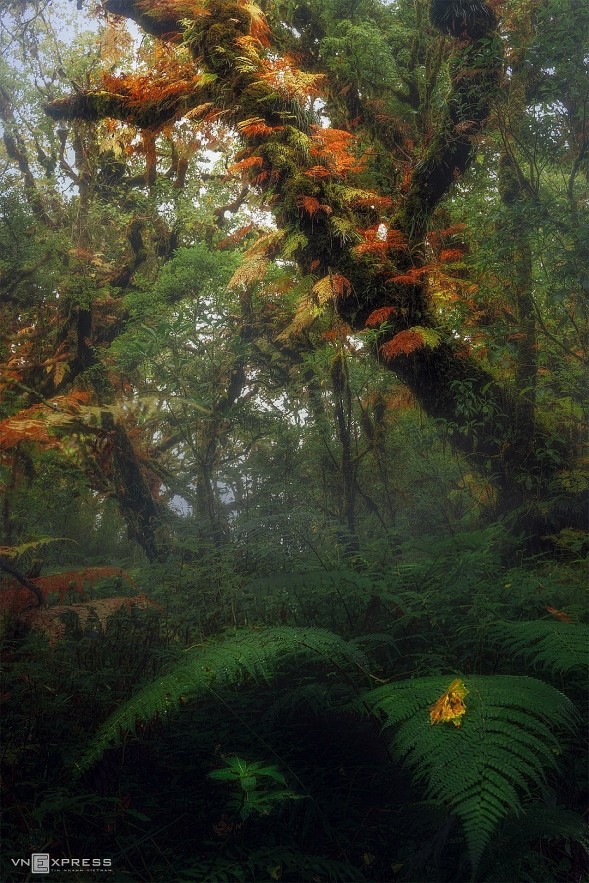 Photo Tran Van Linh
Taking soulful photos is not easy in a narrow space of the forest.
Linh said the forest was located at the height of nearly 3,000m so wind can easily make leaves and trees moving.
"The sunlight in the forest is so dim that photographers need to know how to adjust the exposure to have quality pictures," he said.
Like a happy wedding in a fairy tale, Linh burst into tears when he reached the highest point of the forest at 2pm of the third trekking day.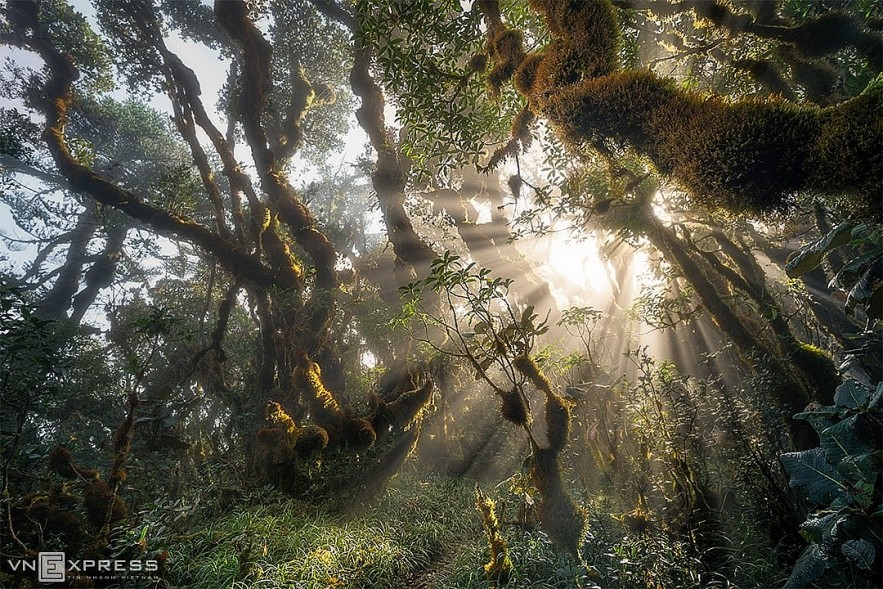 The fairy tale land with bright sunshine was like a present for the young photographer after conquering a long trip. Photo Tran Van Linh
Kingdom of Moss
Ta Xua is among top 20 highest peaks in Vietnam with majestic natural landscapes, especially the mysterious kingdom of mosses.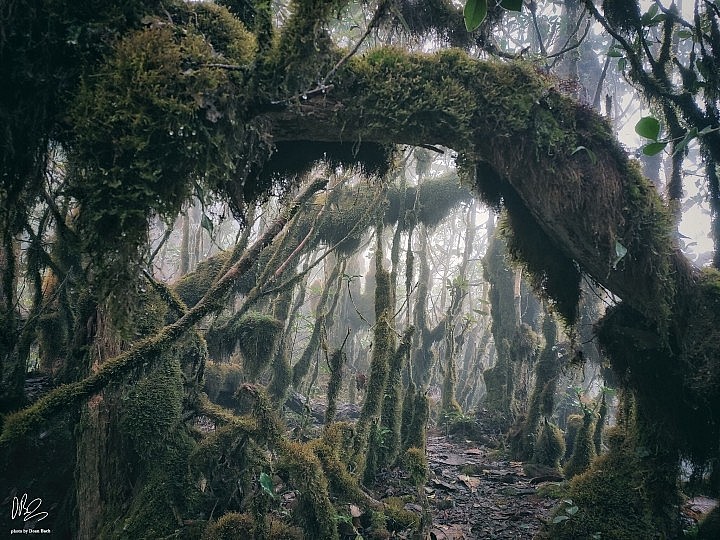 Moss is all around. Photo Doan Bach
Visitors will admire with their own eyes moss carpets covering every corner, from the ground to the tall tree branches. Moss with green, dark or yellow color dominates the space. Many mossy passages cling to tangled vines, creating an extremely mysterious space.
Photo Hai Le Cao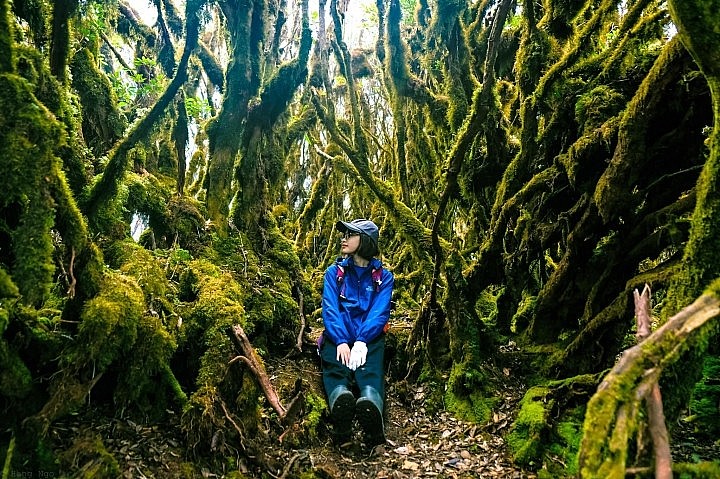 Moss is an ideal background for photo lovers. Photo Hang Bap
No one knows since when thousands of trees here have been surrounded by moss. Visitors are so impressed with a great amount of moss that they name it 'Moss Forest' where ancient tree trunks covered with dark green moss for thousands of years look like giant monsters in the green forest.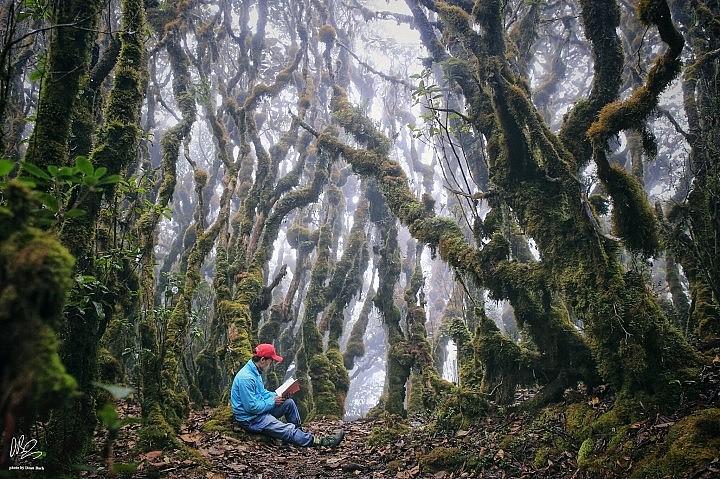 People look tiny sitting next to giant trees covered with moss. Photo Doan Bach
Taking a nap in the quiet mos forest. Photo moclago
Tips to explore the kingdom of moss in Ta Xua Primeval Forest:

-Before the journey, you must practice physical exercises such as climbing stairs, walking.

- A porter or a guide is required because he knows the weather and terrain.

- Don't forget to prepare all necessary items in your luggage such as jackets, raincoats, backpacks, trekking shoes, insect repellent and navigation devices.
Travel to Ta Xua mountain peak

Ta Xua, a 2,800-meter-high mountain range in Ta Xua commune of the northern mountainous province of Son La, is hot spot of travellers and tourists ...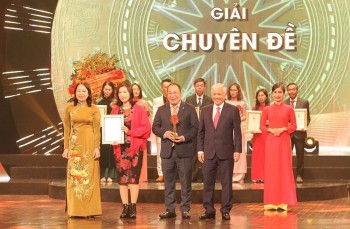 Overseas Vietnamese
VietnamTimes (Viet Nam Union of Friendship Organizations) is a reliable address for overseas Vietnamese to quickly and objectively update political, economic, cultural, and social news. The agency has created a helpful forum and connection between expatriates and the motherland.