Laotian Doctor Joins Anti-pandemic Force in Ho Chi Minh City
Khamsouk, a Laotian doctor who came to Ho Chi Minh City in March 2021 to study, joined Cho Ray Hospital's doctors to fight the pandemic.
Right after his shift, Khamsouk Luangphommasen, a 29-year-old doctor, received a message from his family in Laos: "Keep fighting, son!"
Khamsouk has not visited Laos for the last three years due to his busy work and study schedule in Vietnam. When the pandemic broke out in Ho Chi Minh City, the doctor registered to participate in the anti-pandemic group in Cho Ray Hospital, where he was studying.
"After nine years living in Vietnam, the country has become my second homeland. I want to join my colleagues to control the pandemic and cure the patients," he said.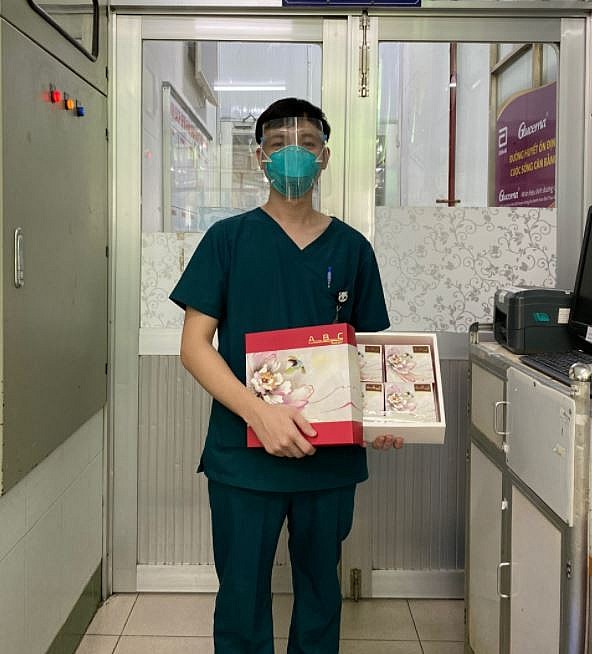 Khamsouk Luangphommasen (Photo: Zing News)
In an interview with Zing, Khamsouk said that he came to Vietnam in 2012 to study Vietnamese in Thua Thien Hue College of Education, then moved to Hue University of Medicine and Pharmacy to pursue his wish of becoming a general doctor.
"When I first came to the country, I was homesick and sad. I encouraged myself to try harder every day to follow the passion of medicine," Khamsouk said.
Graduating in 2020, Khamsouk was confused about his career path. He then enrolled in an 18-month course in Cho Ray Hospital to gain further knowledge and experience.
To study in the hospital, he moved to Ho Chi Minh City in March 2021. However, only a month later, the city was hard hit by the pandemic. Bearing no hesitation, the young doctor joined the hospital's group to fight the pandemic.
"I am living and studying in HCMC, so I cannot ignore when the city needs me. Therefore, I registered to work for the emergency department in the hospital to support the front-line force," he said
According to the Laotian, his family was worried about his decision, but he could eventually persuade them to support his choice.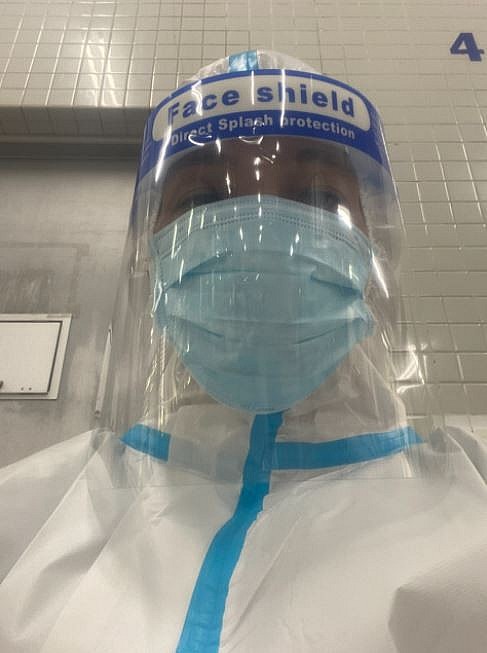 For Khamsouk, supporting the frontline forces was more challenging than he had imagined. (Photo: Zing News)
Before working at the emergency department, Khamsouk and his colleagues had to undertake a training course to equip themselves with knowledge about Covid-19, treatment methods, and learn practical experiences from doctors.
He said that the department would receive Covid-19 patients for screening, assessing, and classifying according to their infection seriousness. In addition, doctors have to give advice and explain the patients' situation to their relatives.
For Khamsouk, supporting the frontline forces was much more challenging than he had imagined. Late July and early August was the period when the department received the largest number of Covid-19 cases.
Doctors at the department had much more work to do.
"We had to work continuously. We did not chat much, doctors and nurses wore protective clothes all the time, which was so hot. We sweat a lot but still tried to hold on," he said.
Khamsouk said sleep was a luxury for medical forces at that time. They were always ready to rush to work, regardless of time.
Sometimes he was even too tired to eat. For him and his colleagues, that hardship disappeared when seeing patients recover, be discharged from the hospital, and return to their families.
"Many patients could not recover even though we tried our best. It was sad to see them pass away. We could only hold their relatives' hands and say words of condolence," he said.
Khamsouk and four other doctors were assigned to support the Covid-19 Resuscitation Hospital in Thu Duc City after two months of working at Cho Ray Hospital.
He said the number of serious patients and deaths was decreasing, which was a good sign. Doctors' workloads are currently less stressful, so he has time to call his family more often.
"If the pandemic did not break out, maybe I could go home earlier. I often call to ask my family to pay attention because the pandemic in Laos is still complicatedly developing. When I listening to my parents' voices, I feel more confident," said Khamsouk.
He and other medical staff are currently trying to treat patients, hoping the pandemic end.
"When the pandemic is over, I will continue to study for 18 months at Cho Ray Hospital. I hope to have a chance to treat and support more Vietnamese people and visit home as soon as possible," he said.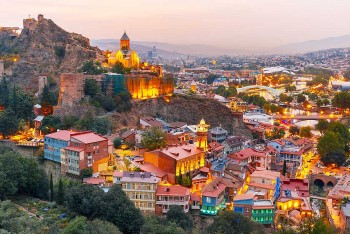 World
When we think of wine, Italy, France or Spain will come in mind, but its birthplace, according to a lot of researches, it's in Georgia, the tiny Caucasian nation that's been making wine longer than anywhere in the world.