Laotian Schoolgirl Shares Her Admiration Of Vietnamese Border Guards
Ho Thi Nghin - a 10th grader at H.Sa Muoi High School (Laos), Salavan province (Laos) won the third prize and the Impression prize in the "Storytelling memorabilia" contest thanks to her article named "The bicycle of my Border Guard foster fathers".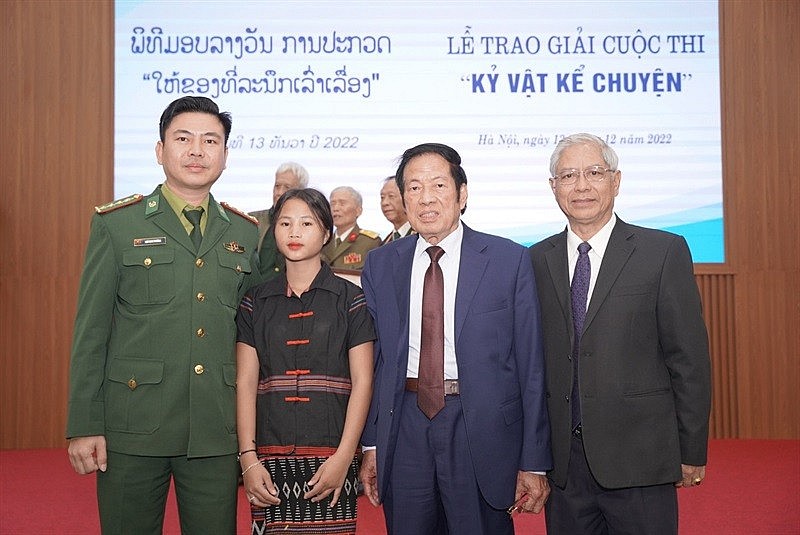 Ho Thi Nghin and her "foster fathers" Captain Ngo Minh Truong - Officer of La Lay International Border Guard Station at the award ceremony. Photo: Vietnamtimes
The contest "Telling memorabilia" is organized by the Vietnam Times (an agency of the Vietnam Union of Friendship Organizations), the Embassy of the Lao People's Democratic Republic in Vietnam, the Vietnam - Laos Friendship Association, and Laos - Vietnam Friendship Association. This contest was created on the occasion of the 60th anniversary of the establishment of diplomatic relations between Vietnam and Laos on September 5 (1962-2022) and the Year of Friendship and Solidarity between Vietnam - Laos, Laos - Vietnam 2022. It has been 45 years since the signing of the Vietnam - Laos Treaty of Friendship and Cooperation on July 18 (1977 - 2022).
The story told by Ho Thi Nghin (resident of La Lay A Soi village, Cluster II, H.Sa Muoi) begins with her family's special circumstances. Nghin's parents gave birth to 6 children. Her father suffered from chronic Parkinson's disease, so he was very weak. As for the mother, because she gave birth to many children under poor conditions, her health was even worse than that of her husband. Her family lived by farming rice and cassava, but due to poor health, they could not grow much. In the harvest season, Nghin had to ask her teacher to leave school to bring the basket to the fields with her parents. Healthy adults can usually carry 50-60 kg, but Nghin's parents can only carry 20kg, and she can only carry 10-12kg. Therefore, life was hard all year round.
Due to poverty, Nghin's first sister had to drop out of school halfway to get married. Her second sister died at a young age because she got sick, and couldn't afford to buy enough medicine. In 2017, while in grade 4, Nghin was in danger of having to drop out of school. Fortunately, the Border Guard Command has launched the program "Supporting children to go to school." Afterwards, the staff of La Lay International Security Bureau conducted a survey and learned about Nghin's situation, and sponsored her until she graduated from high school. The monthly support amount is VND 500,000 ( USD 21.10).
Witnessing with his own eyes that his daughter was given many books, clothes, and money by the Vietnamese Border Guard, Ho The couldn't help but shed tears of joy. In addition to these gifts, the Vietnam Border Patrol soldiers also gave her family instant noodles, confectionery, blankets, utensils, and rice. Thankfully, Nghin's family is no longer hungry.
Nghin went to secondary school in 2019, the way to school was very far, but the school did not organize day boarding, so her studies were once again in danger of being unfinished. Knowing this, the Commanding Board of La Lay International Security Guard Station deducted the unit fund to buy her a new bicycle so that she could go to school.
However, the road to Nghin's class has many steep slopes. In 2021, her bike is no longer usable due to weather conditions. In 2022, Nghin started high school at H. Sa Muoi center, and the distance from home to school was even further. And once again, the Vietnamese Border Guards bought her a new Asama bicycle.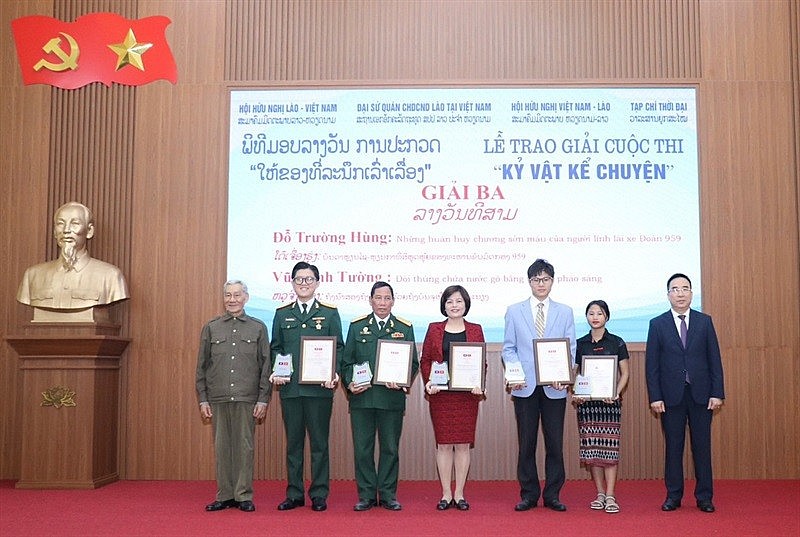 Ho Thi Nghin (2nd from the right) received the third prize for "Bike of the Border Guards foster fathers" at the awarding ceremony. Photo: Vietnamtimes
Each month, Nghin continues to receive an amount of VND 500,000 and her family receives rice, instant noodles, and salt every three months. At the beginning of each school year, she is given a new shirt, pants, bag, book, and notebook. This is a great source of encouragement for Nghin. At the end of her entry, Nghin encapsulated all her love in it: "My adoptive fathers are Uncle Ho's soldiers".
Nghin shared: "I am very happy to hear that I have been able to go to Hanoi, the capital of Vietnam to receive the award. After finishing high school, I will go to Vietnam to continue my studies. I would like to study to be a doctor or a Vietnamese interpreter. These are also the suggestions and guidance from my "foster fathers".
There are 6,215 entries in the "Telling memorabilia" contest. Ho Thi Nghin excellently won the third prize and the prize for being "The youngest person to participate in the contest".
Lieutenant Colonel Nguyen Xuan Linh, a Politician of La Lay International Border Guard Station, has no plans on giving up on the student. "The unit will continue to monitor the growth of Ho Thi Nghin to promptly help her and her family. We want to help the adopted daughter have a bright future and be a bridge to further cement the solidarity between Vietnam and Laos."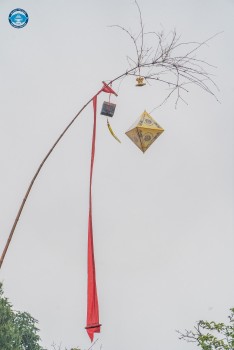 Viet's Home
In the past, the Neu pole (a tall bamboo pole with red garment strips used to ward off evil spirits during the lunar New Year) lowering ceremony at the royal palace of the Nguyen Dynasty was performed to mark the end of the New Year holiday and prepare to enter a new working year.