Vietnam, Cambodia Strengthen Measures to Control Cross-Border Drug Crime
The two sides agreed to work with each other to enhance the effectiveness of their joint efforts to fight cross-border drug crime.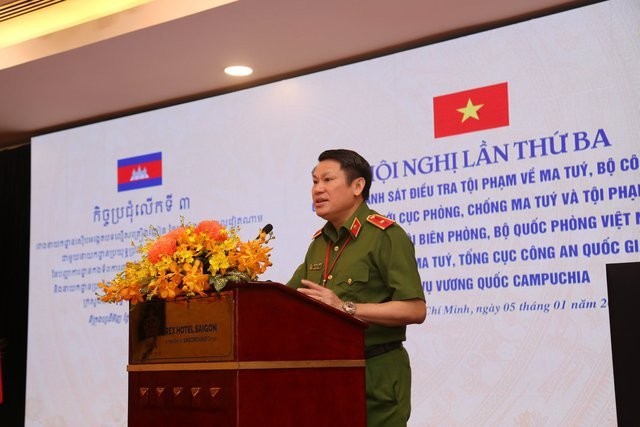 Major General Nguyen Van Vien, director of the Counter-Narcotics Police Department (C04) ) under the Public Security Ministry. Photo: VNA
Vietnamese and Cambodian anti-drug forces gathered for their third meeting in Ho Chi Minh City on January 5, VNA reported
Addressing the event, Major General Nguyen Van Vien, director of the Counter-Narcotics Police Department (C04) under the Public Security Ministry, said the cooperation between Vietnam and Cambodia has been fruitful.
Last year, the C04 coordinated with the Anti-Drug Crime Department under Cambodia's Ministry of Interior to raid four major drug trafficking rings. Police in 10 localities along the Vietnam-Cambodia border detected more than 2,000 other cases involving more than 3,000 persons.
Lieutenant General Khing Sarat, director of the Anti-Drug Crime Department, highlighted the efficiency of information exchange between the two sides at national and local levels in recent years. As a result, Cambodian authorities conducted a spate of successful raids, arrested suspects, and seized a variety of elicit drugs.
He said that in order to further the effectiveness of anti-drug crime activities along the Vietnam-Cambodia border, the Cambodian side will continue to focus on fine-tuning investigation into major cases to hunt down ring leaders. They will also endeavour to strengthen measures to control the import and trading of precursor chemicals to elicit drugs.
An overview of the conference. Photo: VNA
Major General Vien said that the two should increase the exchange of drug-related information in a regular, accurate and timely manner through hotlines between the two countries and Border Liaison Offices (BLO) in border localities.
In the time to come, the C04 will coordinate with Cambodian police to conduct joint anti-drug operations and arrest criminals, he said, adding that currently, 16 such criminals are on the run in Cambodia.
Regarding the situation in Ho Chi Minh City, Colonel Hoang Tam Hieu, Deputy Director of C04, said that the main source of drugs in the city is from the "Golden Triangle" area through Cambodia and smuggled across the border into Vietnam to be sold inside the country, especially Ho Chi Minh City, and transported to third countries and territories such as Australia, Taiwan (China) and Japan.
He said that recently, many foreigners, mostly Taiwanese, have abused Vietnam's openness and loopholes in entry-exit and import-export management to form fake companies to produce and smuggle drugs.
The conference focused on assessing the situation and results of cooperation in drug prevention and control and the current situation, as well as identifying the challenges and difficulties that are posed to drug prevention and combat; proposing possible solutions to improve the effectiveness of the fight and prevention of this type of crime in the coming time.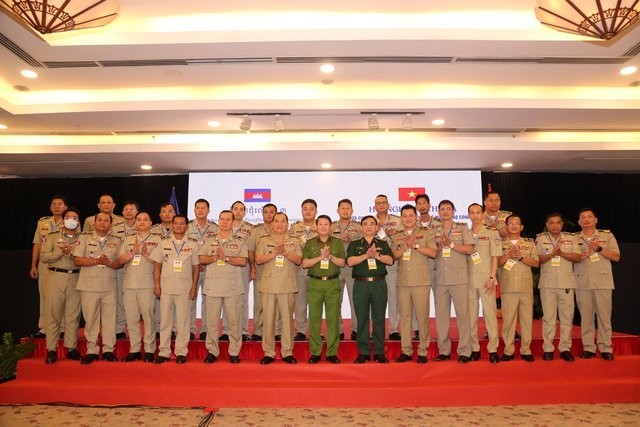 Delegates from Counter-Narcotics Police Department (Ministry of Public Security of Vietnam), Drug and Crime Prevention and Control Department (Border Guard Command, Ministry of National Defense of Vietnam) and Anti-Drug Crime Department (General Department of National Police, Interior Ministry of the Royal Government of Cambodia). Photo: VNA
All sides agreed to focus on fighting new methods and tricks of drug crimes such as buying and selling drugs, transporting drugs by air, post, sea, and through the Internet; cooperating in investigating and handling drug-related criminal organizations hiding in the form of companies and enterprises within the territories of the two countries.
At the same time, coordinating to strictly control lawful activities related to drugs; proactively prevent, detect and thoroughly handle acts related to the cultivation of drug-containing plants and illegal production, especially synthetic drugs.
Maintain and effectively implement the Peak Plan on propaganda, attack, and suppression of drug crimes on the Vietnam - Cambodia border; bordering provinces and districts continue to organize propaganda activities on drug prevention and control for people in border areas; build these areas into drug-free hamlets - communes - districts - provinces; support capacity building, professional qualifications for officers in charge.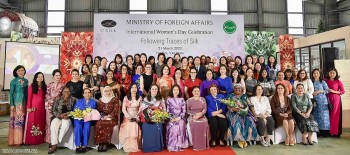 Friendship
Female ambassadors, representatives from diplomatic corps and international organizations, along with spouses of diplomats in Vietnam gathered together to find about more about silk weaving and silk products in Vietnam.