L'Espace to present Christmas movie week
Wrapping up the year 2019 with spectacular movies, the French Cultural Centre (L'Espace) in Hanoi will bring you an amazing, diverse movie screening programme.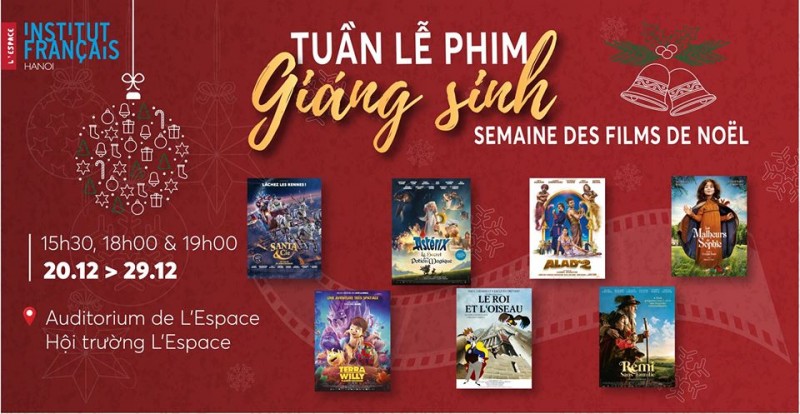 L'Espace in Hanoi will bring to audience an amazing, diverse film screening program
The last movie week of the year will be the time to have fun and enjoy relaxing moments in this festive season with friends and family.
L'Espace will present seven screenings of the French movies and animations including Santa & Cie (Dec 20 & 22); Astro Kid or Terra Willy: Planète inconnue (Dec 22); Asterix: The Secret of the Magic Potion (Dec 23); The King and the Mockingbird (Dec 24); The Brand New Adventures of Aladin (Dec 26); Remi, Nobody's Boy (Dec 27 & 29); and Sophie's Misfortunes (Dec 29).
Asterix: The Secret of the Magic Potion is an animated adventure of three druids Panoramix, Asterix and Obelix while searching a talented young druid to transmit the Secret of the Magic Potion.
Les Malheurs de Sophie (translation: Sophie's Misfortunes) by director Christophe Honoré tells the adventures of the five-year-old girl Sophie before she becomes an orphan and experiences the cruelty of the real world is funny, heartbreaking, cruel and gentle – all at the same time.
"Remi, Nobody's Boy," is a film adaption of Hector Malot's classic 1878 novel "Sans Famille." Titled "Remi sans famille" in French, the 2018 film tells of the adventures of young orphan Remi and a traveling showman as they journey through 19th century France.
The movie will be presented in French with Vietnamese subtitles or dubbings. Ticket costs VND50,000-60,000 and are available at L'Espace, 24 Trang Tien Street./.
Economy
German Prof. Rainer Zitelmann said that Vietnam has the opportunity to become one of the leading economic powers.