Letters from a Frenchman Inspire Vietnamese Mountain Girl
Lang Thi Ngan (2002) grew up in Tu Do mountain commune, Quang Hoa district, Cao Bang province. Due to difficult living conditions, studying is therefore not a priority, especially for girls like Ngan. When these ethnic minority girls grow up, they are often expected to get married early, become farmers, or work far away from home. This has gone on for generations, but Ngan had a different plan.
The turning point
The support and letters from Jerome, a French sponsor, have helped change Ngan's outlook on life. Ngan shared: "Thanks to my participation in the Child Fund's program, I have changed a lot, from being a shy, timid girl to being more courageous."
From the sponsor's letters, a mountain girl like me was able to cross the village's bamboo ramparts to know how big and beautiful the world out there truly is, even though it's only through paintings, pictures, or the simple descriptions of the sponsor. Since then, I have had more motivation so that one day I can also go out to that world to experience the culture and see beautiful landscapes like on TV. That is also a great motivation for me to be able to go to university without having to finish high school to work as a worker like my peers."
During the nine years of connecting with the sponsor, the little girl has always felt motivated and loved. Ngan recalls: "Like many other children, I also really enjoy receiving gifts, even if it is just small gifts such as books, crayons, water bottles, but every time I receive Child Fund's annual gifts, I feel very touched. I feel very appreciative and grateful to the Sponsor and the care that the people who created this Program have been giving us."
The Child Fund not only helps Ngan pursue her academic dreams, but also helps bring about lasting and meaningful changes to children, families, and the community in Ngan's hometown.
She excitedly shared: "From a poor rural area with extremely difficult economic conditions, people's knowledge is relatively limited because they rarely have contact with advanced programs, now thanks to ChildFund's programs and practical support such as training sessions to support livestock, propaganda on child protection, support for livestock breeding, and instructions to build toilets and barns that my hometown has really developed significantly".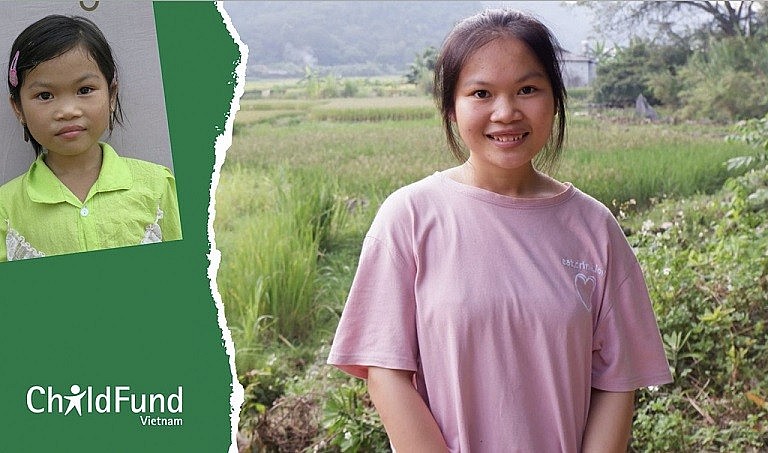 Thanks to support and letters from Jerome, a French sponsor, Ngan's life has changed. Photo: NVCC
Continuing the journey of kindness
Ten years have passed since Ngan started receiving funding. Ngan is now a second-year student majoring in Social Work at the University of Social Sciences and Humanities, Vietnam National University, Hanoi. The kindness and sharing spirit from a stranger for nine years has contributed to forming the person Ngan is today. She wanted to continue the journey of kindness that Jerome had gone through.
Ngan said: "I really hope that when I finish my studies, I can bring my knowledge, experience, and enthusiasm to help my hometown. That is also part of the reason I chose the field of Social Work."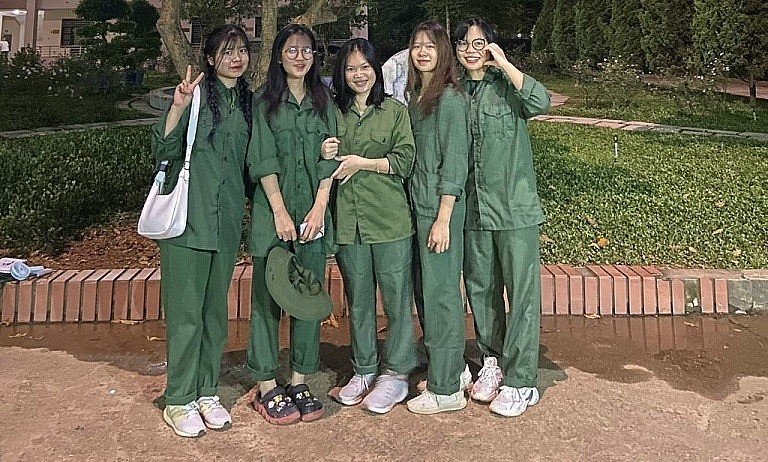 Ngan (in the middle) and her friends participated in military training. Photo: NVCC
Currently, Ngan works as a Childfund volunteer in the Hanoi office with the main job of handling mail. The Child Fund program not only helps bring about positive changes in children's lives, but also builds strong connections, giving them hope, motivation, and faith in kindness and good things in life.
This program has started community development activities in Cao Bang since 2010. More than 6,700 children and families have benefited from the community development programs supported by ChildFund in recent years.
Correspondence helps form and bond friendships, builds confidence and improves children's writing and speaking skills, and builds strong relationships with sponsors who follow and support them. A round of correspondence usually lasts about 16 weeks and ChildFund is supported by a team of volunteers at the village level in receiving and delivering mail to children.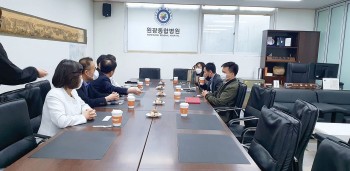 Overseas Vietnamese
A meeting was organized at the Wonkwang Hospital on the provision of medical support for the Vietnamese community in Korea in accordance with the signed cooperation agreement.