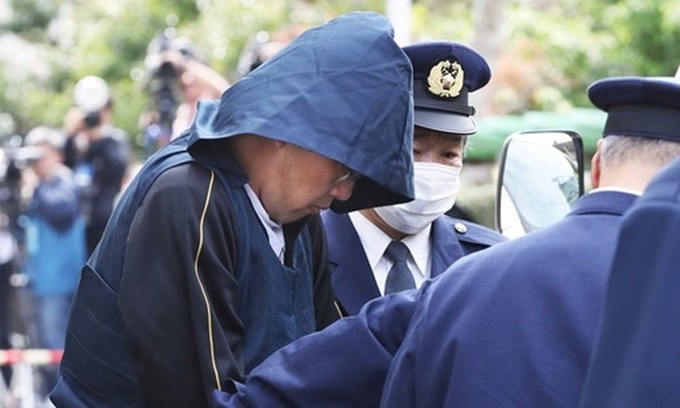 Yasumasa Shibuya has received life imprisonment for murdering a Vietnamese girl in March 2017. Photo by Reuters
The Tokyo High Court rejected an appeal by Yasumasa Shibuya, the 49-year-old former head of a parents group at Mutsumi Daini Elementary School in Matsudo near Tokyo, over the murder of Le Thi Nhat Linh, who was a third-grader at the school.
Presiding Judge Masahiro Hiraki said investigators "illegally confiscated" the DNA evidence without a search warrant and criticized them for being "lazy."
But he said the evidence was still admissible as the illegitimacy was not so significant and the need to obtain a sample of Shibuya's DNA was necessary. There was no violation of third-party rights as a result of collecting the sample, the judge added.
The high court also rejected an appeal by prosecutors, who sought the death penalty for Shibuya, saying the murder was not premeditated.
According to the Chiba District Court ruling in July 2018, Shibuya abducted Linh while she was on her way to school on March 24, 2017. He then went on to sexually assault and strangle her before abandoning her body near a drainage ditch in the city of Abiko, Chiba Prefecture, two days later.
The district court sentenced Shibuya to life in prison on the basis that his DNA was found on the victim's body, while blood found in his car contained the girl's DNA.
But in an appeal trial that began in September 2019, the defense team argued cigarette butts used for DNA profiling should have been inadmissible as they were obtained without a search warrant from a garbage collection site at the condo where Shibuya lived.
They asked that the sentence be quashed and Shibuya acquitted.
Prosecutors had countered that the investigation method was legal as the cigarette butts had been discarded and were found among the defendant's garbage at an unlocked collection site.
In 2008, the Supreme Court ruled that there was no issue with police collecting garbage from a collection point on a public road as the owner had abandoned possession of it.