Hanoi's Top 5 Best Sports Pubs
The capital's best spots to enjoy a cold beer and cheer for your favourite sport team.
The excitement of sports is doubled when shared with friends. Here are some special picks to spend your sport night out in Hanoi city. Good time guaranteed!
1. The Ginger Mexican bar
We start the list with a newly opened space in the heart of Tay Ho District. If you're looking for a chill place to have a drink and a chat with friends, or just to sit back and enjoy a cold beer, look no more. At 46 lane 52 To Ngoc Van, The Ginger Mexican welcomes you with a cool venue with craft and bottled beers always available. Food can be ordered from nearby restaurants and delivered here.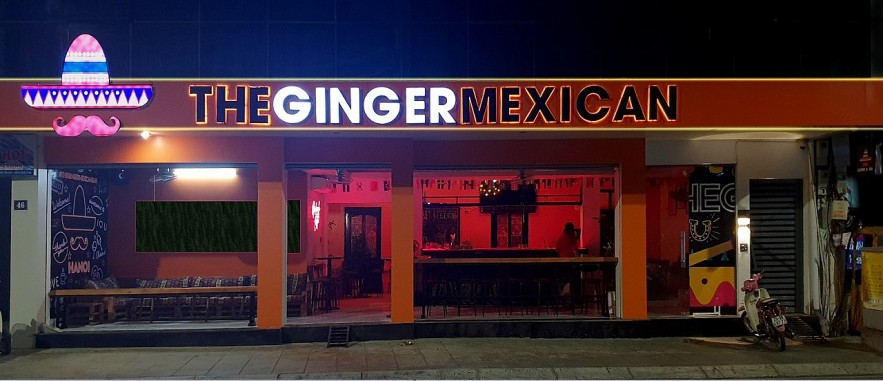 Photo: The Ginger Mexican Bar on Facebook
The bar have 3 large screens catering for the soccer matches from the Euros. So prepare yourself, come and enjoy the atmosphere, the drinks and the fabulous matches.
Location: The Ginger Mexican Bar, 46 Lane 52 To Ngoc Van Street, Tay Ho, Ha Noi
Signature food/drink: Co-vi Cocktail
2. Cây Restaurant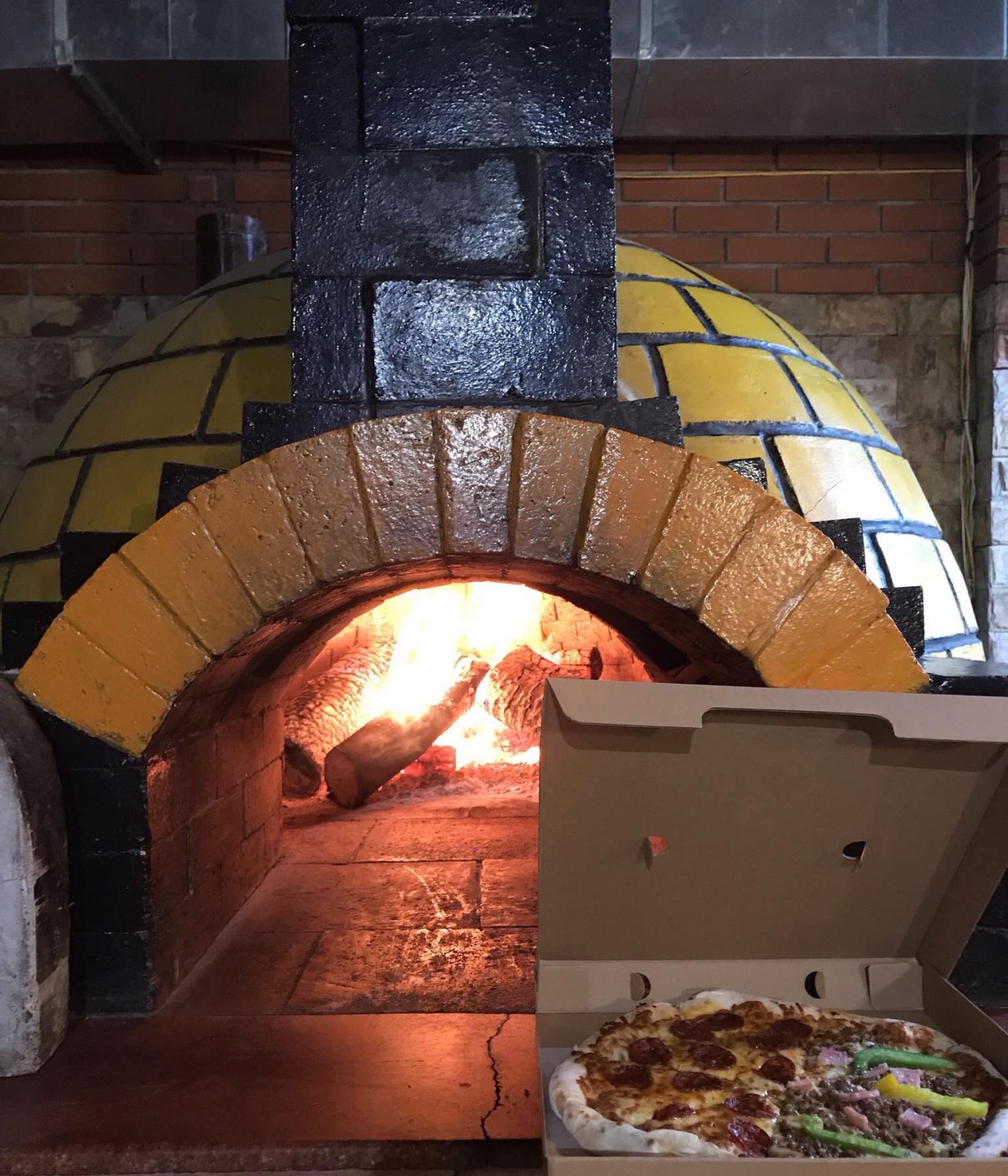 Hot wood stove pizza is customer's favorite. Photo: Cây Restaurant
For those who prefer a more private space to enjoy the league with a small group of friends while enjoying a feast, check out CÂY Restaurant.
This place is also located in Tay Ho district, with both indoor and outdoor seating. You can watch any sport match here on a large projector screen, just make sure to let the staff know beforehand.
The special is wood stove pizza, and you can also get creative with the topping choices. The restaurant caters to your private events like anniversaries or birthday parties. Live music in on every other weekend.
This is an ideal location for casual get-together because of its affordable price range.
Location: CÂY Restaurant - 10A Nuoc Phan Lan Street Tu Lien,Tay Ho, Ha Noi (Lane 124 Au Co)
Signature food/drink: Special Bun Cha-Fajitas
3. Tracy's
The burger here is very special, which helps Tracy's gains a lot of regular customers. People also come here for the sport spirit of like-minded hardcore fans. It has been in business for more than 6 years but the menu gets updated regularly. Tracy's also show great sense of humor in advertising itself as a Husband Day Care for busy wives.
Compared to the first two on the list, Tracy's has a much smaller space but a much more convenient location and food costs much cheaper. You can also grab lunch here as it opens at 10AM.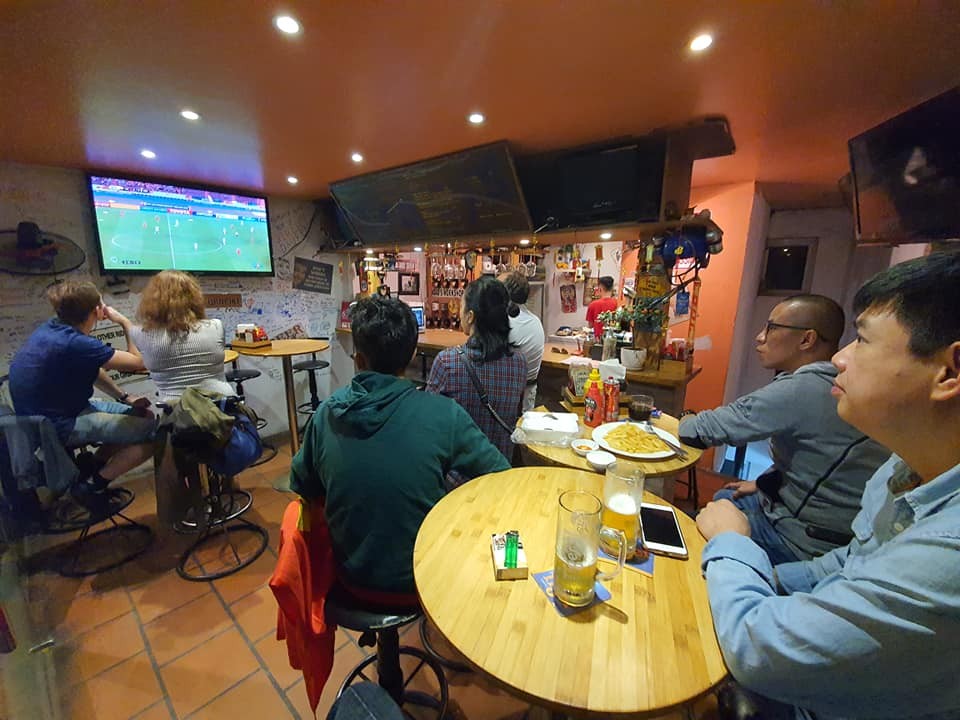 A famous spot for sport fans among both Vietnamese and expats. Photo: Tracy's Sport Pub and Burger
Location: Tracy's Sport Pub and Burger - 114 Xuan Dieu Street, Tay Ho, Ha Noi
Signature food/drink: Tracy's damn good burger
4. Paddy Tran's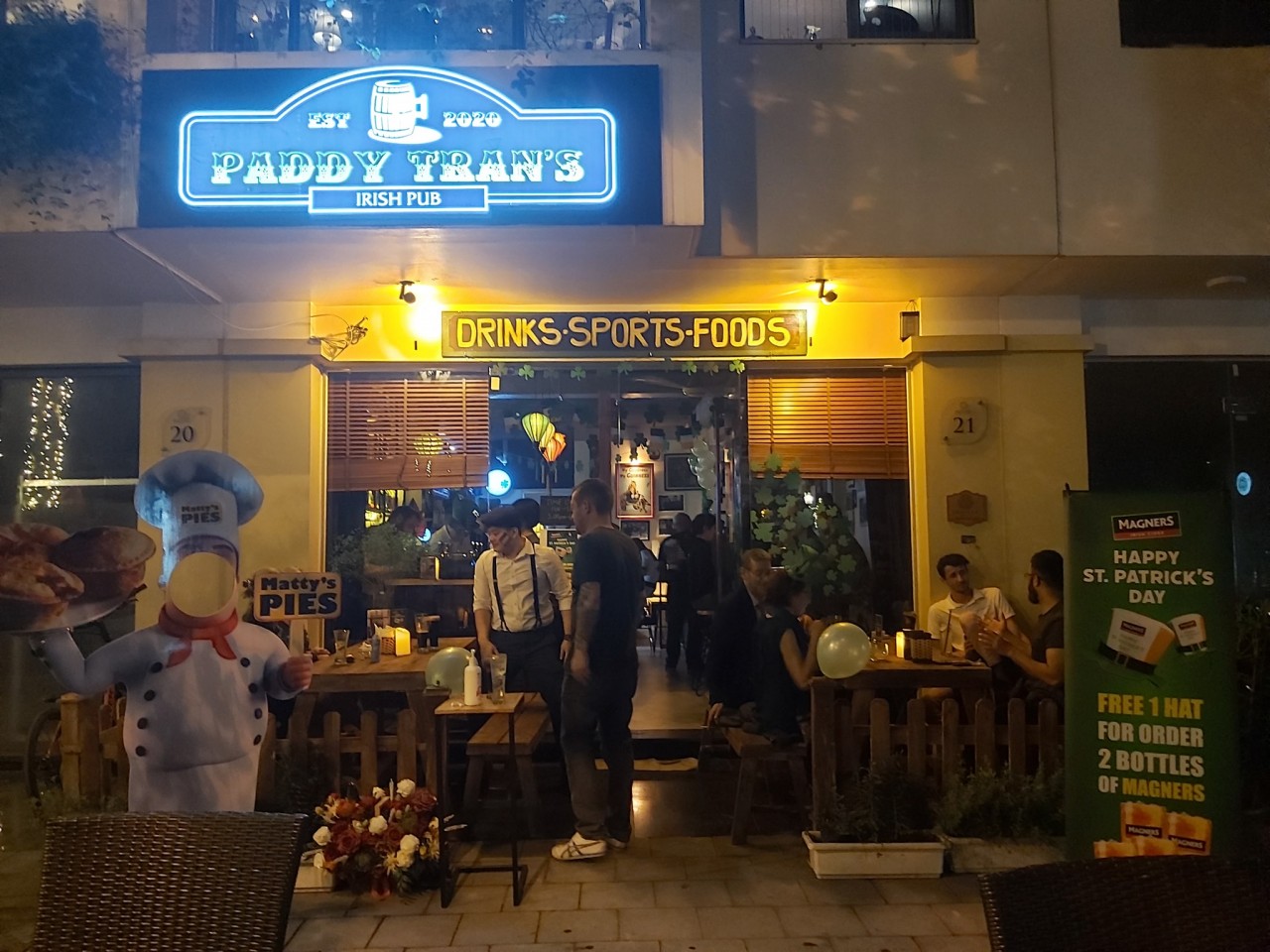 It is a Irish-Vietnamese pub with the green theme and hanging lanterns. Photo: Paddy Tran's
At Paddy Tran's, a small yet intimate and beautiful space, Ireland meets Vietnam. This is the first Irish pub located in Ecopark. It aims to be as authentic as possible with the owner being Irish.
The decoration also reminds you of typical Irish pub with the green theme. If you are in Hanoi looking for authentic Irish drinks, hold your expectation high because Paddy Tran's serves traditional drinks including Guinness and an Awesome Irish Stew. While you are here don't let yourself leave without trying delicious food menu too.
This spot is rather far away from the city central so make sure to drink responsibly if you plan to drive.
Location: Paddy Tran's.- 21 Pho Cuc Ecopark, Hung Yen Province, Hanoi
Signature food/drink: Guinness, Matty's pie
5. Evenstar Craft Beer Pub
What could be more satisfying than enjoying a cold beer and cheering for your favourite team after a long day at work. Get ready to join Happy Hour at Evenstar. From 4 to 6PM, get special offer for fresh beer for you and your friend.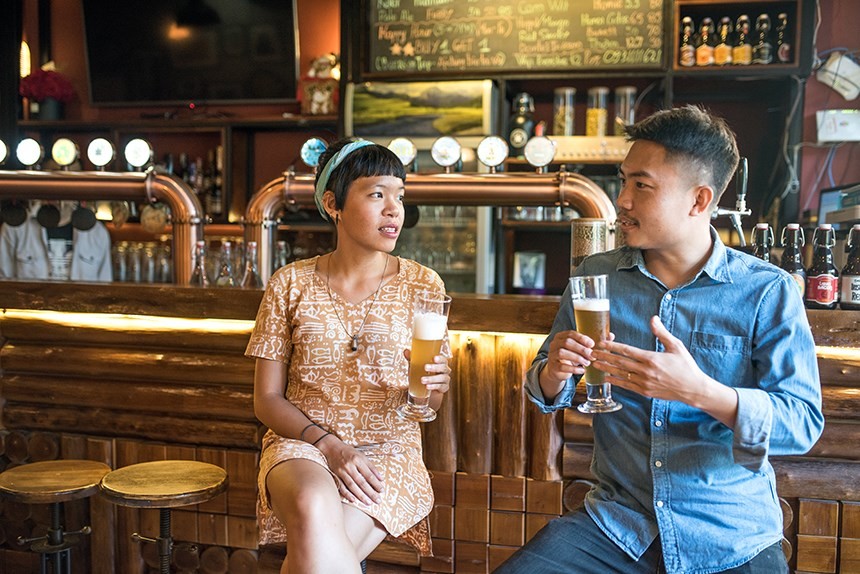 Evenstar has six local beers on tap and 20 more in bottles. Photo: Smile
Opened in 2017, Evenstar has offered six local beers on tap and 20 more in bottles. It wants to bring something new and revolutionary to the craft beer scene in Vietnam by using local ingredients to expand the range of this popular drink.
Evenstar aims to serve beer that suits Vietnamese and foreign taste. Try many different types, and the flavors might surprise you. You can also bond over great beer and sport conversations until late.
Location: Evenstar Craft Beer Pub - 157 Ba Trieu Street, Hai Ba Trung, Hanoi
Signature food/drink: Rivendell IPA 7.2
Have you tried any of these places? Which one is your favorite pub to watch sports?
'Hidden' bars in the heart of Hanoi

Rather than being crowded and loud, certain so-called "Speakeasy" bars in Hanoi offer a tranquil, private space where bar-goers can enjoy themselves while sipping on ...