Lingering fragrance of Pleiku
Photos: CAC TRUC, HUY TINH & NGOC HOANG
"A major city in the central highlands, Pleiku boasts spectacular scenery and top-quality coffee," wrote Cac Truc (The Guide VN).
It wouldn't surprise me to hear that someone travelled all the way to Pleiku just for a cup of coffee. Bursting with rural charm, the central highlands city is at its most beautiful in the spring, when all the coffee plants are blooming.
We landed at Pleiku just as the first breeze of spring began blowing over the mountains. As soon as we stepped off the plane we took in the signature fresh air from the forests and hills. While oceans smell like fish and salt, a mountain fragrance comes from leaves and resin.
After breakfast, we took a walk to a special coffee house, located on a footpath, as many are, with no signage to speak of. I jokingly told my friend that we might be asked to leave if we sat there for too long. Since the quality of its coffee is so good and it's always crowded, the owner has had to master 'the art of customer turnover', so there are always tables ready for new customers. That's what I'd learned, at least, from reading about Pleiku. But it's possible to spend the morning sipping slowly on a coffee and talking about whatever comes to mind. The owner welcomed us with a smile and farewelled us with a smile and a 'Come back next time, won't you?'
We decided to rent a motorbike and see what we could see, which turned out to be a great decision. The views, the fresh air, and the roads - everything was far more than just stunning. As we drove up and down along the mountainous countryside, passing through tree-lined roads to T'Nung Lake, or Bien Ho, which supplies water to Kontum and is known as 'the sea on the mountain', we were reminded yet again about how beautiful Vietnam can be. Nine hundred metres above sea level and recognised as a national landscape by the Ministry of Culture and Information in 1988, the lake has retained its primitive charm. The glittering light reflecting on the water looked as if there was gold hidden underneath its smooth surface. Even a ripple creates marvellous glints of sun. It's no wonder the lake is ranked among the most beautiful in the central highlands.
And yet one of the local people told us that if we really wanted to see something beautiful we should head to Bien Ho Che - Bien Ho's Tea Field - which is about 4 km from T'Nung Lake. Introduced as a combination of irrigation ponds and the immense tea farm with tender tea buds, from far away we could see giant old pine trees leading us to tea fields. As the sunset painted orange and red patterns on the tea leaves, the scenery took on a new appearance. The fragrance of the tea leaves mingling in the air give a stronger impression for the beautiful landscape.
The next morning, I decided to begin the day with a dish I'd never tried before: eel noodles with turmeric. In front of our hotel on Nguyen Tat Thanh Street was a small shop that sold eel noodles and porridge with turmeric. It was so crowded I felt I just had to see what all the fuss was about. Though a Google search on where to eat in Pleiku failed to show the restaurant, it probably offered the most delicious food in the city. On a chilly morning there's simply nothing better than a hot bowl of eel and noodles with turmeric.
We then hopped on the motorbike to continue our exploration, heading to Chu Dang Ya Mountain in Chu Pah district. You may have to stop several times to let Pleiku's 'special pedestrians' cross the street: nonchalant cattle that won't be hurried by any human desire to continue moving. After an hour on the bike we arrived at Chu Dang Ya, which means wild ginger in the local J'rai ethnic minority language. A dormant volcano, it's home to J'rai villagers and a million wild sunflowers. We arrived just after a wild flower festival had finished and just as the season of coffee flowers began. The mountain was filled with beautiful small gardens of white coffee flowers that smelled like jasmine. Walking through the plantation was like swimming among tiny clouds.
The joy of travelling in and around Pleiku is going up and down hills filled with exotic gardens of white coffee gardens and pristine scenery. So why not visit the sleepy rustic town this spring, start the day with a cup of the best coffee to be found, and then set out and explore./.
( VNF/The Guide VN )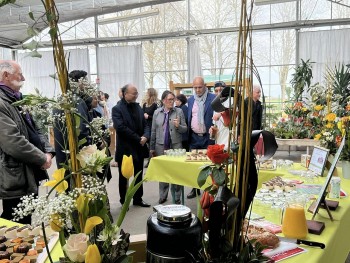 Overseas Vietnamese
Vietnamese Ambassador to France Dinh Toan Thang recently paid a working visit to Saintes, a city in southwestern France, to promote cooperation between the city and Vietnamese localities and attended the Vietnamese Culture Day, VNA reported.