Little Known Facts About Famous Destinations in Lào Cai
The northwestern province of Lào Cai attracts tourists with many scenic destinations that offer breathtaking natural landscapes, friendly villages, and thrilling trekking experiences. Each area in Lào Cai derives its name from local stories and legends.
Lào Cai
Lào Cai province is located in the northwestern region of Vietnam, about 300 km away from Hà Nội. Lào Cai used to have a street market called "Lão Nhai" (old street), then later opened another street market titled Tân Nhai (nowadays Phố Mới). Overtime, the name Lão Nhai was altered into Lào Cai. The province was established on July 12, 1907, adopting Lào Cai as its official name.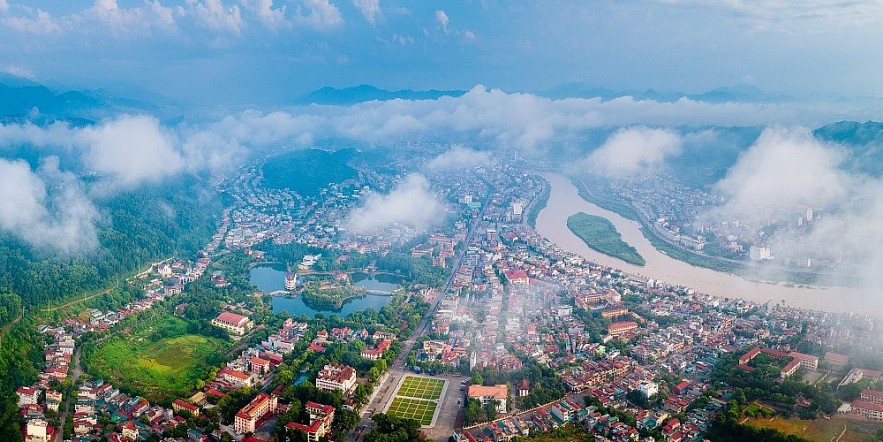 Lào Cai city. Photo: Bao Quoc te
Sa Pa
Just 30km away from the center of Lao Cai city lies Sa Pa, a famous tourism town lying 1,500 – 1,800m above sea level. The name Sa Pa originated from the Mandarin Chinese word "Sa Pả" (a sandy bank), indicating the bank on the right side of the bridge at the km 32 on the road from Lào Cai to Sa Pa. Before the town was established, locals often held regular market sessions at the bank, hence calling it Sa Pả. Upon the arrival of the French, Sa Pả was changed into Sa Pa as the Vietnamese tones were dropped. Sa Pa is also called Hùng Hồ (red creek) in the local language, referencing an extinct ancient spring with cloudy red water.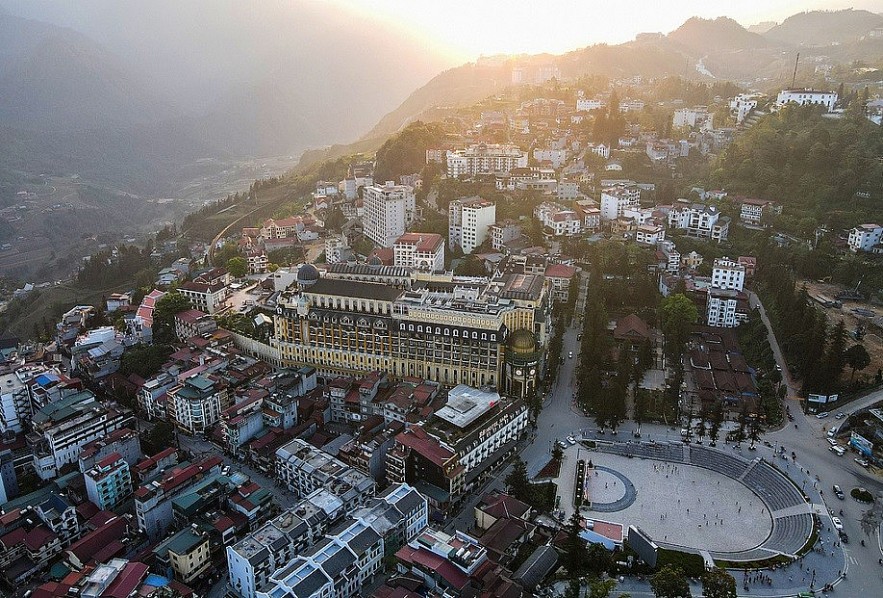 Center of Sa Pa looking from above. Photo:

Giang Huy
Fansipan
Fansipan, the highest mountain in the Indochina Peninsula, lies between Lai Châu and Lào Cai province, about 9 kilometers away from Sa Pa. Today, tourists can use the aerial tramway and mountain railway system to travel directly from Sa Pa to Fansipan in just 30 minutes, instead of two days. The name Fansipan evolved from the local word Hủa Xi Pan (the tottering giant rock).
On the top of Fan Si Pan, the highest mountain in the Indochina Peninsula. Photo: Local Vietnam
Bắc Hà
Bắc Hà is a mountainous district famous for its traditional fairs and breathtaking plum gardens in flowering season. The name Bắc Hà originated from the word Pạc Ha (a hundred pack of gianh, a local plant) in the languages of the Tay and Nung ethnic minority groups. Legend has it that bees used to inhabit the top of the Ba mẹ con Mountain, one of Bắc Hà's most iconic spots. To scare the bees away, locals had to burn gianh. During the French colonial era, Pạc Ha was transcribed as Pakha, which locals pronounced as Bắc Hà.
Bắc Hà during the plum flower season. Photo: Du lich Viet Nam
Bát Xát
Bát Xát district locates in northwestern Lào Cai, attracting tourists with Nhìu Cồ San, Vietnam's ninth-highest mountain, Y Tý – the cloud-covered commune or the Mường Hum valley where the Giáy ethnic group's villages are located. The name "Bát Xát" evolved from the Giáy's word Pạc Srạt, which can be understood either as one hundred weaved bamboo sheets or the mouth of a waterfall.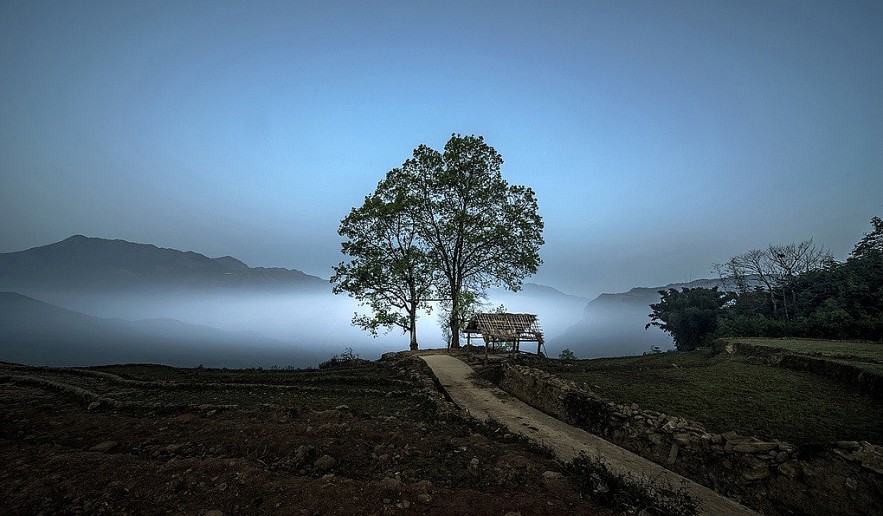 Y Tý's Choản Thèn village when night falls. Photo: VnExpress
Si Ma Cai
Si Ma Cai is a mountainous district, about 100km away from Lào Cai city. Coming to Si Ma Cai, tourists can enjoy the traditional H'Mông market, with horses tied at the market corners next to blacksmith shops. On the sides of the market are food stalls selling sugarcane, local bananas, traditional brocades and breeders.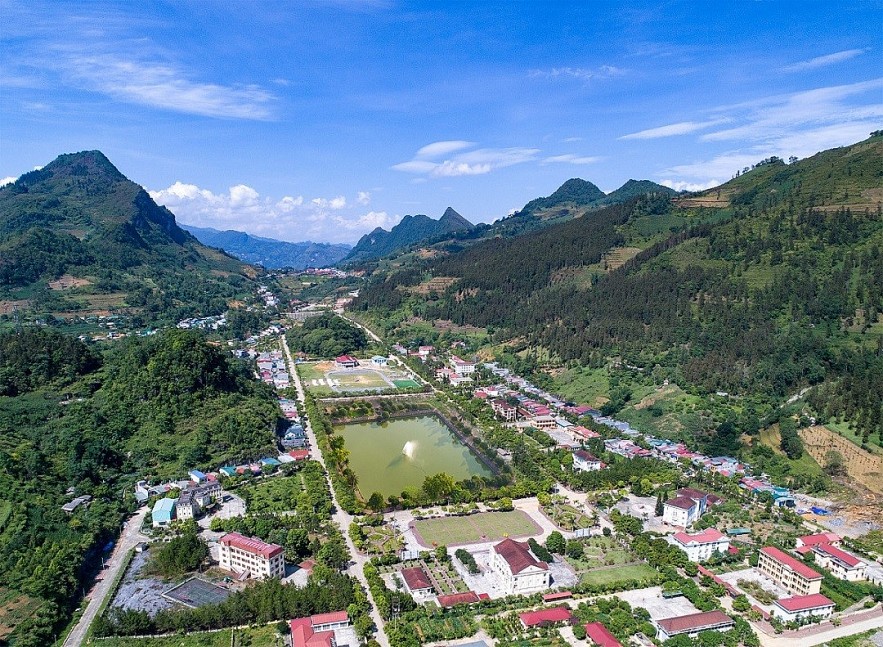 Center of Si Ma Cai district. Photo: Truyen hinh Si Ma Cai
Locals in Si Ma Cai used to hold market sessions every six days. To boost trade, the market was moved halfway across the mountain with more open space and a view of a vast mountainous area. To differentiate the new market from the old one, locals called it Xênh Mùa Ca, which means "the new horse market" in the H'Mông language. Over time, Xênh Mùa Ca evolved into Si Ma Cai and became the official name of the district.
Top 10 Best Campsites In Vietnam

There are many beautiful sites in Vietnam you can visit in the summer holidays, camping in nature and taking your time away from all the ...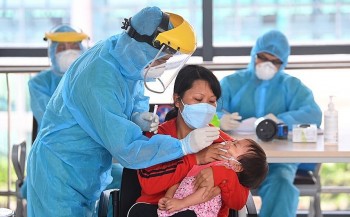 National
Nearly 72 million vaccine doses have been administered nationwide, with 20.7 million people getting their second shot.