Top 10 Best Campsites In Vietnam
There are many beautiful sites in Vietnam you can visit in the summer holidays, camping in nature and taking your time away from all the stress. Here are the top 10 best campsites in Vietnam.
Having a few days off from work, sleeping in a tent under thousand stars surrounded by verdant greenery might be a simple yet wonderful life that everyone has dreamt of. If you're wondering about the best places to go camping in Vietnam, you've just come to the right place. The article below narrows down 10 best campsites throughout Vietnam.
1. CampArt Lam Dong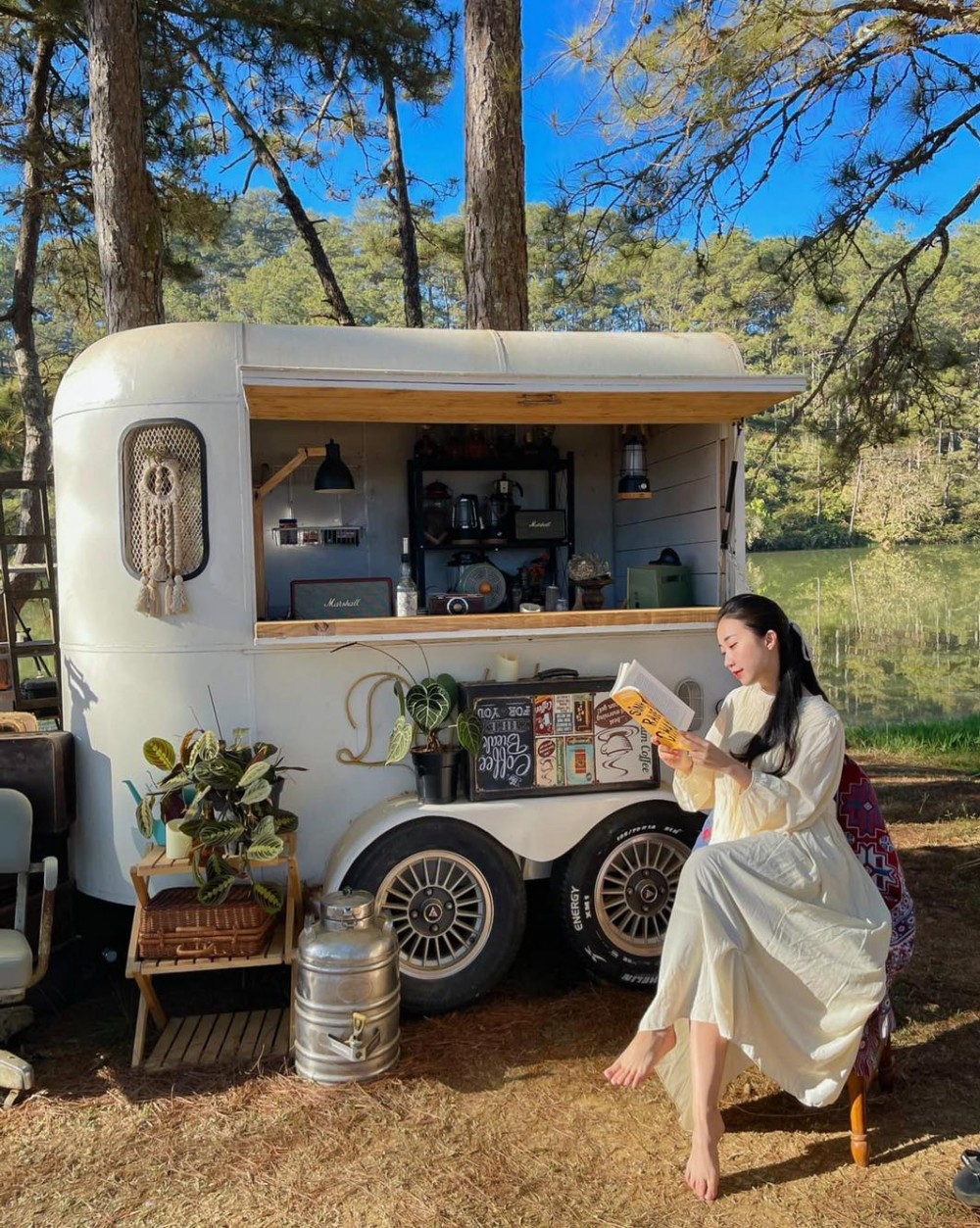 Photo: Phu Nu Online
Another popular glamping site is CampArt, a 2,000-square-meter area next to Suoi Vang Lake, around 15 km from downtown Da Lat, a popular chilly resort town in the Central Highlands province of Lam Dong.
Its capacity is limited to only 30 guests per day, with different kinds of tents surrounded by a pine forest and located far from one another for privacy.
CampArt Lam Dong defines a real glamping destination where fashionable tents are well-appointed with a full range of resort-style services amid lush pine forests. Visitors are served sumptuous European-styled dishes, great drinks, and have an intimate time bonding with friends and family.
CampArt prepares everything from tents, blankets, pillows, torches to food like steak, smoked goose breast, spaghetti, mushroom soup, drinks and breakfast.
Since the nights in Da Lat are typically cold, visitors should dress warmly and bear in mind the toilets are located at a distance from the campsite itself. The price for renting a tent is 890,000VND per person.
Location: CampArt Lam Dong is set in Lac Duong District, around 15km from Dalat Downtown.
How to get there: it's pretty straightforward to drive a car or motorbike from the city to CampArt Lam Dong. The site is close to Cu Lan Village and the 'Lonely Pine Tree'.
2. An away-from-it-all encampment in Hang Tien Cave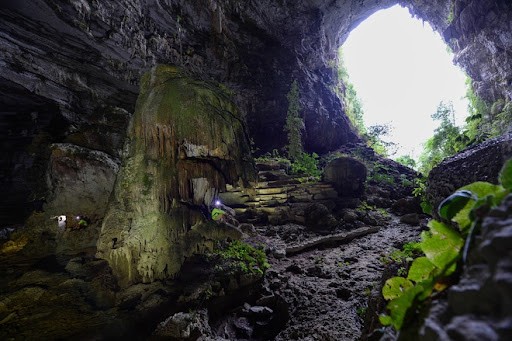 Photo: Phong Nha Cave Tour
Location: Cao Quang Commune, Tuyen Hoa District, 70km from Phong Nha - Ke Bang National Park, Quang Binh Province
How to get there: from Hanoi, you can book Camel Travel or Hung Thanh Bus at a price of around 260.000 VND/pax.
Among the top must-have camping experiences in the world, pitching a tent under the stars amid some of the most breathtaking sceneries is the wild and free camping experience that any nature lovers & explorers have ever dreamed of. Even if you have ever camped on dreamy beaches of the Caribbean islands or on snow-capped peaks of the Alps, the feeling of sleeping in the heart of tropical jungles right next to a million-year-old cave is like no other!
When traveling to Phong Nha, you might want to look at what to do in Phong Nha so that you would not miss out some fun and must-do activities. Make sure to check out one of top campsites in Vietnam and in Asia - the Hang Tien campsite, located just about 70km away from the Phong Nha – Ke Bang National Park, home to the world's largest cave Hang Son Doong.
Settled deep in the untouched jungles of Quang Binh province, Central Vietnam, the Hang Tien cave campsite is considered as one of the best campsites in the world owing to its majestic views and unique experiences that explorers will have while taking a break during their journeys to the majestic Hang Tien cave – a part of the marvelous Tu Lan cave system and one of the most astounding caves on Earth. Among other must-see beautiful caves in Phong Nha, Hang Tien cave stands out to be the preferable option for travelers as you can go camping here at the gorgeous Hang Tien campsite while camping is not available at other caves such as Paradise cave or Phong Nha cave.
3. Camping by the beach at Ho Coc
Photo: Huong Phong - Ho Coc Beach Resort
Location: Hung Ben - Xuyen Moc Commune, Ba Ria - Vung Tau Province, about 50km from Vung Tau City Center and 100km from Ho Chi Minh City.
How to get there: it takes only 2 hours to drive on easy roads from Ho Chi Minh City to the destination. Some buses running on this route are Phuong Trang, Thien Phu, and Hai Tram.
For a long time, Ho Coc is famous for its picturesque coastal road with beautiful sea and beach resorts as well as local restaurants hidden inside casuarina forest in Ba Ria – Vung Tau province.
Ho Coc is an off-the-beaten-track destination to hide away from the hustle and bustle of Ho Chi Minh City on the weekend. Campers can soak up marvelous sunshine while burying their feet in the soft sand. The feeling of sleeping inside the tent while listening to the murmur of the winds and waves will be unforgettable. In the proximity of Ho Coc, there are a lot of wonderful tourist attractions namely Binh Chau hot spring, Ho Tram Beach, and Vien Dong Ho Coc Tourist Site.
Half a decade ago, the route was still a sleeping beauty, pristine and secluded. Years later, the construction of coastal resorts began to develop, awakening the "lady". The earliest five-star resort was The Grand Ho Tram Strip, along with its brother Ho Tram Bluff golf course. They were striking landmarks standing alone by the massive beach that ignited the dream for a luxury holiday at that time (My dream came true 5 years later in a Fam Trip in the role of an editor working for a luxury magazine).
4. Sleeping out in Ta Dung
Photo: VietnamOnline
Location: Dak G'long District, Dak Nong Province
How to get there: Ta Dung is 170km from Buon Me Thuot City which is around 5 - 6 hours driving from Ho Chi Minh City.
Ta Dung lake, located in the two communes of Dak P'lao and Dak Som, Dak Glong district, is a freshwater lake with an area of about 22,103 ha. It is a manmade lake created during the construction of the Dong Nai 3 hydropower plant, from the damming of a branch of the Dong Nai river. Its average depth is around 20m. The lake is dotted with hundreds of green islands, large and small. This landscape is the reason Ta Dung lake sometimes is described as a miniature Ha Long bay in the Highlands.
Tourists usually go to Ta Dung from November to February. It's at the end of the rainy season and the high-level lake water and greenery makes Ta Dung lake a picture of wild and beautiful nature.
The morning at Ta Dung is one of the most beautiful scenes one can see in nature. Visitors will have the chance to witness and get lost in a sea of clouds. Clouds in all shapes and sizes are everywhere, in the yard, on the road, in coffee farms and on beds of wild flowers. At the Ta Dung Ecotourism Area, there is also a 50m long glass bridge for visitors to roam and enjoy this fairytale scene.
5. Practice survival skills at Ba Den Mountain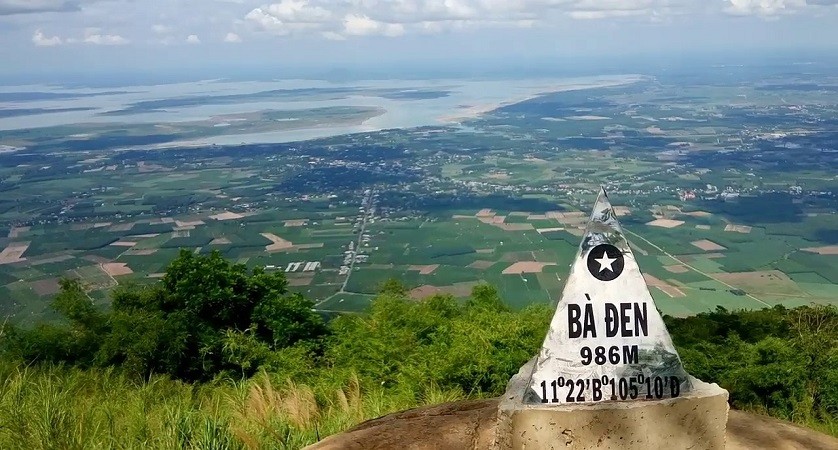 Photo: VietnamOnline
Location: Thanh Tan Commune, Tay Ninh City, about 100km from Ho Chi Minh City
How to get there: By car or motorbike following Highway 22. Buses from Ho Chi Minh City to Go Dau (Tay Ninh) are also available
Ba Den Mountain, dubbed the roof of southern Vietnam, is both an ideal weekend trekking destination and one that those on a holiday can explore during weekdays. It is not the easiest of treks, but it rewards visitors with heavenly views of floating clouds and unspoiled nature.
A bus or motorcycle will get you from Ho Chi Minh City to downtown Tay Ninh in a couple of hours, and from there to the foot of the Ba Den (Black Virgin) Mountain should take another 20 minutes.
From the foot of the mountain to Ba Pagoda, you can either take a cable car, which costs $7.50 for a return ticket, or climb up around 1,000 steps.
From the pagoda, a trail passes through lush forest, rugged roads, dark caves and streams before reaching the mountain peak at 986 meters above sea level. The crowning moment of this trip is sitting on a cliff that has been described as the 'turtle's head.'
The view is stupendous and unforgettable. Make sure you have a camera to capture some of the magic.
6. Luxury camping in Coco Beach Camp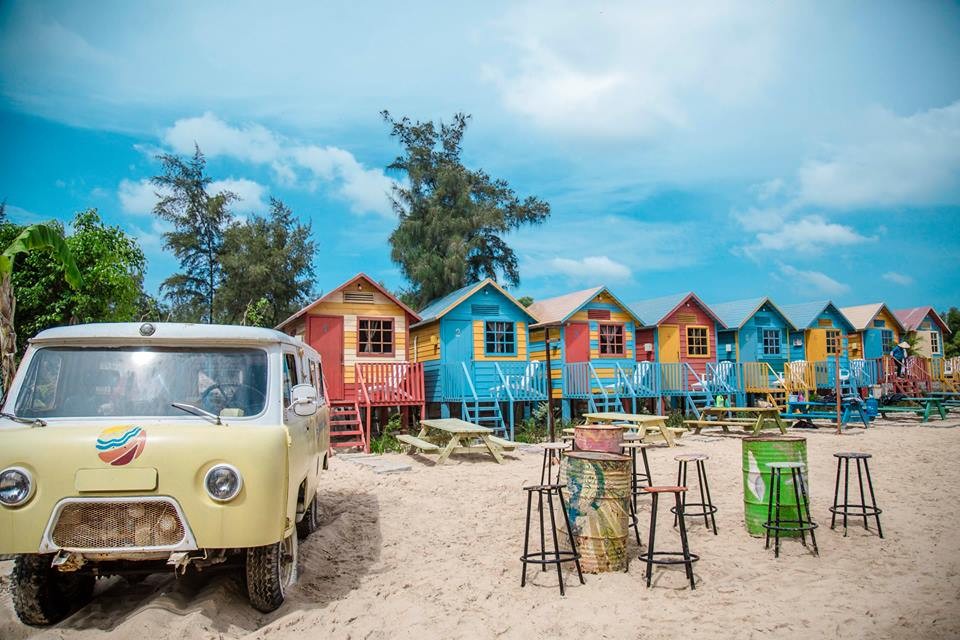 Photo: Coco Beach Camp Lagi Binh Thuan
Location: Lagi, Binh Thuan Province, 50km from Phan Thiet City
How to get there: Coco Beach Camp is only 160km from Ho Chi Minh City which takes around a 3-hour drive by bus or private car. If you're already in Phan Thiet City, you can use the pick-up transfer service namely Mr. Hieu (0903092492), Vinh Hoa Bus (0916475985), or Ngoc My Bus (0913825627).
Ticket price: depending on the room you choose, from 600.000 VND/room/night.
Why you love it:
Are you looking for an exciting camping experience while still enjoy creature comforts? Coco Beach Camp is one of the most favorite and high-end beach camps in the south that can match your expectation. All rooms here can accommodate families with children. You'll also be treated to a totally relaxing ambiance by the blue sea. Moreover, this glamping site offers an array of water sports like kite surfing, kayaking, diving, fishing, beach volleyball. The dining experience is also delightful with the freshest seafood.
7. Reach the wilderness in Van Village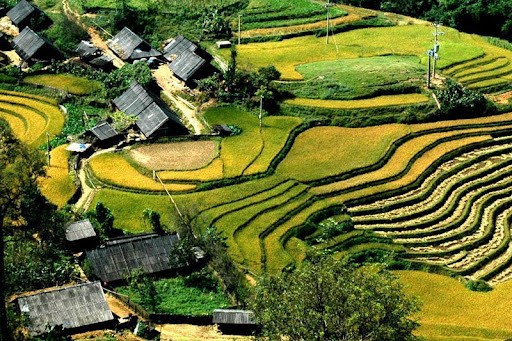 Photo: ZÉPHYR SUITES BOUTIQUE HOTEL
Location: Van Village is situated in Hoa Hiep Bac, Lien Chieu District, Da Nang City, sprawling right at the foot of Hai Van Pass.
How to get there: Van Village is isolated from the city center and can be accessible by boat. You can also drive along the railway to reach the village.
Located in Muong Hoa valley, Ta Van Commune is a favorite destination for those who are interested in homestay, community-based tourism and experiencing cozy atmosphere at houses of ethnic people.
The small village is home to various communities of ethnic people, including Hmong(nearly 45%), Giay (35%) and Dao people (20%). Also, the magnificent landscape with ancient rock fields, springs and terrace fields is another reason to attract huge numbers of travelers visiting this place annually.
To reach the village, visitors have to cross the suspension bridge over Muong Hoa spring. The first impression when coming here is the housing architecture, which reflects both courtesy and coziness. The houses are constructed with wood including three compartments: the middle one is used to place altar and to welcome guests, the right-side one is for the owners and the left one is kitchen with a garret to store food. In the middle of door, there is red amulet with yellow paper and a sentence in ancient Vietnamese script to prevent devil spirits.
8. Experience thrilling moments at Gieng Troi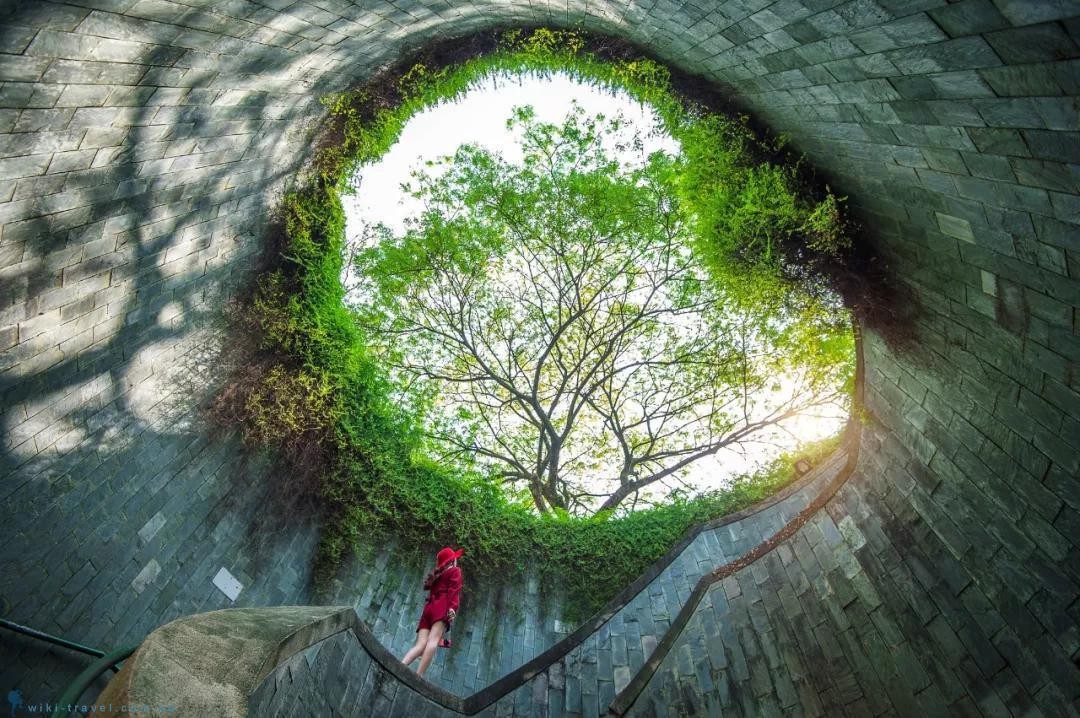 Photo: Instagram
Location: tucked away in the middle of dense jungle in Hoa Ninh Commune, Hoa Vang District, 10km from Ba Na Hills and 35km from Danang City Center heading west.
How to get there: adventure seekers have to rought it when they get deep into the forest. Because of several slippery and rugged paths, youngsters often choose to trek from Ba Na to Gieng Troi instead of riding motorbikes.
Located in a forest on the western side of Da Nang, Gieng Troi has been newly explored by the local trekkers. From the first site, you will thoroughly understand why so many people fall in love with this small pretty lake.
Currently, Gieng Troi has become a promising destination for all local and foreign backpackers visiting Da Nang. With its outstanding natural beauty, Gieng Troi appeals those who want to be deep in the scenic surroundings and discover the potential charm of nature.
A journey to Gieng Troi makes people feel as they are in a peaceful paradise away from the hustling city. To Gieng Troi, you can leave all your daily worries behind. After a long hard way to get there, you will be satisfied by the attractions of Gieng Troi where you can freely enjoy water activities, cooking by yourselves and have the unforgettable time with others.
If you plan to stay overnight, many interesting are things waiting for you there.
From the city center, you drive to Ba Na parking lot (use gg map to know the way to get to Ba Na). After parking your bikes there, you can walk to Gieng Troi. Note that it takes about 3 hours to get to Gieng Troi by walking. You need to have good health to follow the route.
In case you don't want to park your motorbike there, you can still drive to Gieng Troi even though it's not easy. Make sure your bikes are in good condition. If there is a problem with the route, it's hard to fix as this lake is away from the neighbourhood.
9. Pure camping at Ham Lon Lake Campsite
Photo: Campsite Direct
Ham Lon Mountain is located in Soc Son (Hanoi). From the lake to the mountain, there are a lot of pine forests, along with campsites operated by local people.
You should search the Google Maps for the way go to Ham Lon mountain. There is one way that is favored by Hanoi people. From Hanoi, you move in the direction of Thang Long – Noi Bai Expressway. At the intersection of Highway 2, turn left toward Vinh Phuc. On the way, there is road signs, just pay attention to follow it.
Need an outdoorsy detox for your family? Ham Lon Lake features a budget-friendly campsite. Without modern amenities, this back-to-nature retreat inclines towards natural wilderness where you can enjoy fresh air, challenge yourself with fishing and hiking experiences.
10. Chilling out at Ban Rom Ecological Tourist Zone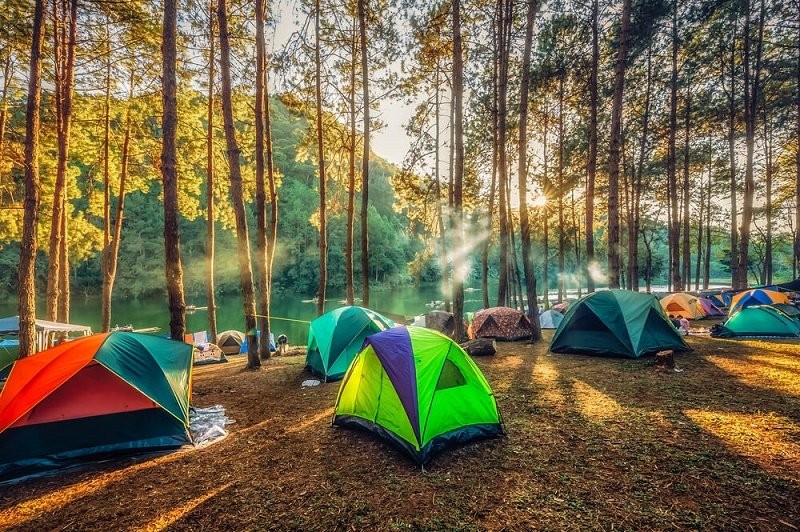 Bản Rõm Ecological Tourist Zone - Photo: thecharcoalsupplyco
Location: Quang Tien Commune, Soc Son District, about 30km from Hanoi City Center
How to get there: by private car/ motorbike following Nhat Tan Bridge - Noi Bai International Airport route to Soc Son District. There are also public buses No. 56 & 15 to this camping site.
Ticket price: 50.000 VND/ person
Why you love it:
Ban Rom eco retreat is all about wild camping. Acres of rugged hills are the best spots for you to pitch your own tent under the pine forest and feel reconnect to nature. You can also avail of tents, BBQ and other cooking facilities renting service to enjoy your trip with ease. The relaxing surrounding is ideal for participants to join team building activities and play interesting games like passing the tunnel, climbing or camping competition.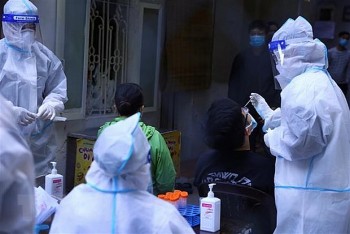 Focus
Vietnam's Covid-19 death toll is now 26,483, or 2 percent of total cases. More than 7,000 coronavirus patients nationwide are in serious condition, with 741 requiring invasive ventilation and 20 on life support.