Livestock, Vietnam's new export strength of billion dollars
With export turnover of 1.23 billion US dollars in 2020, livestock is the new export strength of Vietnam while the Covid-19 pandemic caused global trade bottlenecks and disruptions.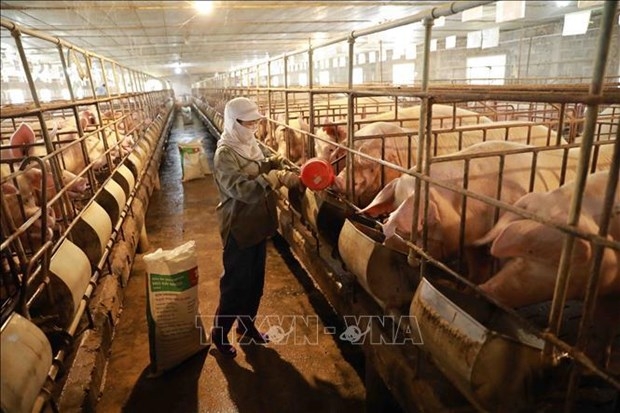 A model pig farm in Hanoi's Ba Vi district. Photo: VNA
Vietnamnet citied the latest report of the Department of Livestock Production under Ministry of Agriculture and Rural Development showing that in 2020, despite being affected by the Covid-19, African swine fever and natural disasters, the livestock industry still maintained growth.
Specifically, meat production increased by 4.8%; fresh milk production 1.09 million tons, up 10.2%; and buffalo meat production 1.6%, compared to 2019.
The total poultry herd was about 510 million heads, while the poultry meat production was over 1.42 million tons, up about 9.2%; and eggs 14.5 billion, an increase of about 9.5% compared to 2019. The pig herd in 2020 also recovered, pushing live pork production to 3.46 million tons, up 3.9% compared to 2019.
The report also said that in 2020, livestock products not only met domestic consumption but also served export. The export value of livestock products reached about 1.23 billion US dollars, double that of 2015 (about 620 million US dollars), including 28.5 million US dollars from fresh, chilled or frozen pork exports, 1.4 million US dollars from eggs, 71.3 million US dollars from natural honey, 25.1 million US dollars from fresh poultry meat and 28.1 million US dollars from processed meat products.
This was also the first year that the livestock industry achieved an export value of over 1 billion US dollars.
Last year, Vietnam successfully controlled African swine fever helping the pig production industry recover to about 3 million sows and 26 million pigs, reaching 85% of total volume before the African swine fever outbreak. In addition, the country boosted pork imports to make the pork price fall from the end of the third quarter.
Poultry production in 2020 grew by 10% to a record high of 500 million.
Meanwhile, there was a wave of large enterprises and corporations investing in livestock in 2020.
Many large poultry production companies like Minh Du, Cao Khanh and Dabaco expanded and upgraded breeding plants with an output of hundreds of millions of poultry each year.
Foreign-invested enterprises and other companies also made large-scale investments in the livestock sector, including Cargill, Japfa, Hoa Phat, Thaco, Mavin, Hung Nhon and Tan Long.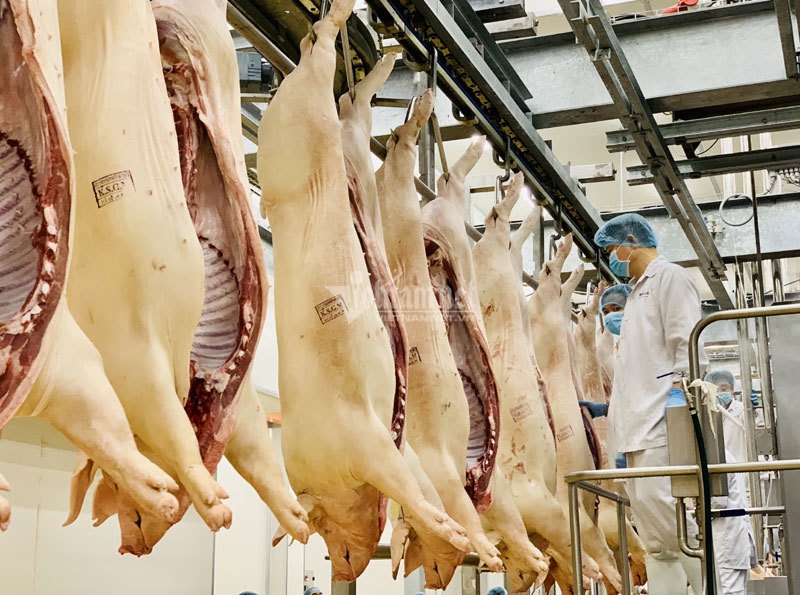 The total number of pigs last year was 26.17 million, up 5% year-on-year. Photo: BH
According to the Department of Livestock Production, to develop sustainably in the coming time, it is necessary to encourage investment in livestock based on the value chain, with national identifiers and product traceability; build large-scale livestock complexes, and apply high technology with enterprises playing the center role in linking production and consumption.
Enterprises that are considered as the core in value chains need to innovate the form of production and business organization, clearly identify the needs of the market, promote linkages with farmers, apply scientific advances and technology in production, using technology in traceability, standards like VietGap, GlobalGap, and ASEAN GAHP to provide high quality products that meet requirements of markets, and create pork, meat and poultry eggs as national products and a trading floor for agricultural products.
Deputy Minister of Agriculture and Rural Development Phung Duc Tien earlier asked the Department of Livestock Production to adjust the scale of the poultry flocks to be suitable for domestic and export demand, avoiding an imbalance of supply and demand.
Tien also proposed the establishment of a Steering Committee on digital transformation in the agricultural sector, a national database on livestock production, and IT solutions to ensure updating, management and exploitation of livestock data nationwide.
On the basis of aggregated data, it is possible to make realistic assessments and forecast production capacity and supply and demand of the livestock market to help regulate the production of businesses and breeders, Tien said./.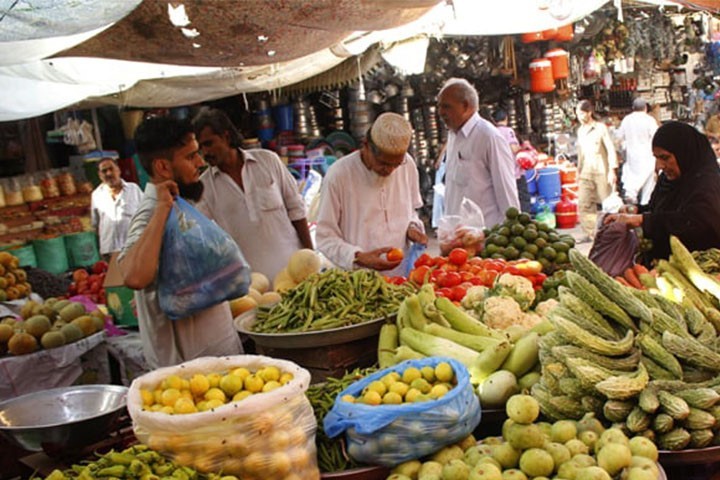 Economy
The finance ministry on Wednesday forecasted inflation to surge by 3-4 percentage points to 31 per cent in September compared to 27.4pc in the preceding month mainly because of a major increase in fuel prices.
October 04, 2023 | 07:00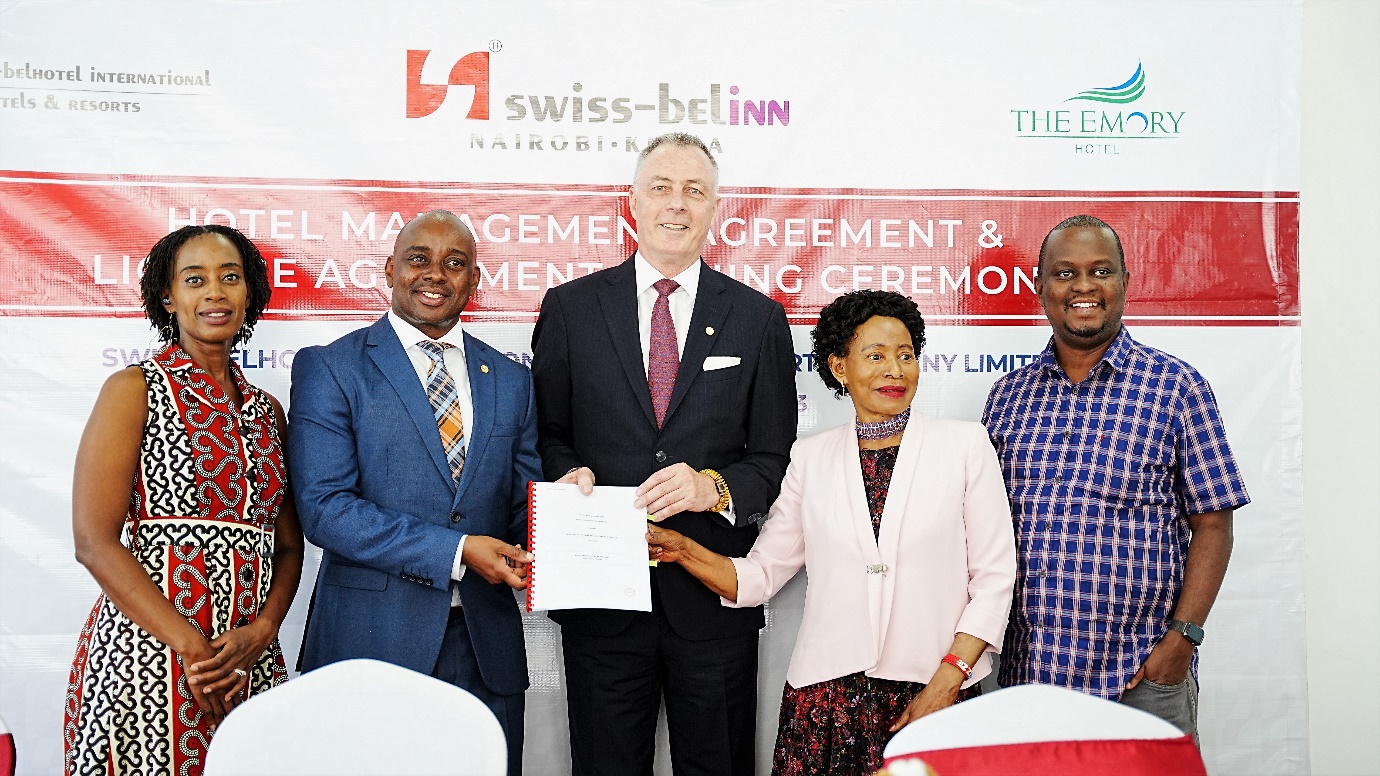 Economy
Swiss-Belhotel International, the rapidly growing global hotel management group, has signed an agreement with the NIBS Resort Company Limited to manage the Swiss-Belinn Nairobi, the group's first operating hotel in Africa. This collaboration underscores Swiss-Belhotel International's strategic expansion plans in Africa.
October 03, 2023 | 14:00