HCMC monks, Buddhists raise VND 1 billion for Covid-hit India
A group of Buddhists in the southern city have raised money to help India in its coronavirus battle
One billion VND will be presented to the Indian Embassy in Vietnam to support Indian Buddhist followers and people. Photo: VNA
Buddhist followers in Ho Chi Minh City raised VND 1 billion (43,380 U.S. dollars), which was presented to the city Vietnam Buddhist Sangha to support Indian Buddhists and people fight Covid-19.
Special prayers were offered to India, which has experienced a great deal of loss from Covid-19, at a ceremony held by the Culture Department of the Vietnam Buddhist Sangha's Ho Chi Minh City chapter in collaboration with the board of directors of the Sangha in the city's District 12 on May 15, according to VNA.
Earlier on May 5, HCMC Sangha called on Buddhist followers and benefactors to make donations to help India combat Covid-19.
Venerable Thich Tri Chon, head of Culture Board of the HCMC Sangha, said the candle offering and prayer aimed to call on Buddhist followers to turn their hearts to India, the cradle of Buddhism, and share difficulties with the Indian people in the fight against the virus.
One billion VND (43,380 U.S. dollars) was presented to the HCMC Sangha, which would later give it to the Indian Embassy in Vietnam in order to support Indian Buddhist followers and people to prevent the pandemic.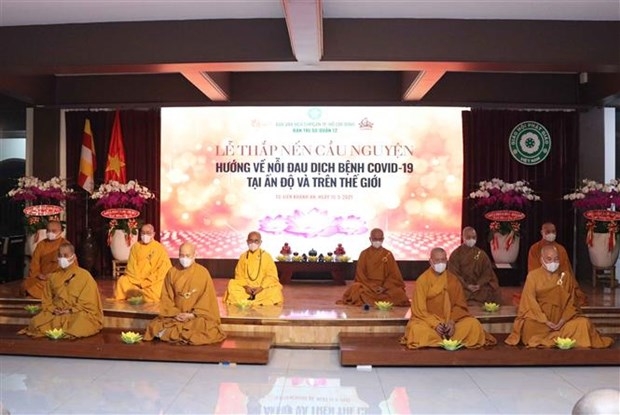 Vietnamese monks offer prayers to India. Photo: VNA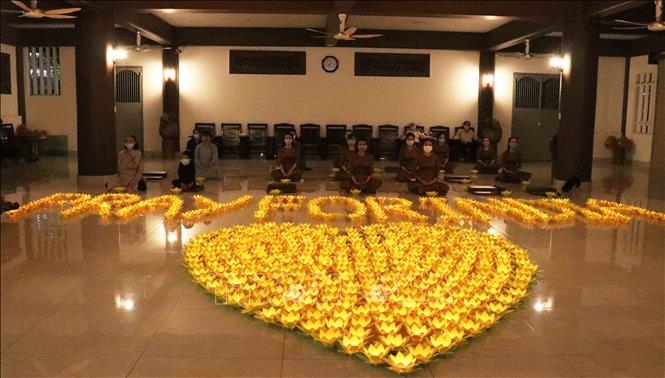 Buddhist followers in Ho Chi Minh City send their prayers to India. Photo: VNA
The ceremony was organised in accordance with social distancing requirement and was broadcast live on the HCMC Sangha's media channels, and social networks.
Last week, the Vietnam Buddhist Sangha also presented 100 ventilators and 50 oxygen concentrators worth nearly VND 14 billion to India. The Vietnamese Government presented medical supplies worth 70,000 U.S. dollars to India, while the Vietnam-India Friendship Association donated 100 ventilators.
India's Covid-19 active case count has decreased to 36,18,458, while the daily positivity rate dropped to under 17%, the Union health ministry said on Sunday. "A declining trend in the positivity rate is also observed which dropped to 16.98% on May 16 from 24.47% recorded on May 3," it said.
The Vietnam Buddhist Sangha's HCMC chapter has given a strong response on Covid-19 prevention and control. It has downsized many Buddhist activities to save money to support the purchase of Covid-19 vaccines in the city, and the fight against the pandemic in Vietnam and neighbouring countries.
To date, the chapter has provided the city's Covid-19 prevention and control fund with 1.5 billion VND to buy Covid-19 vaccines, and supported poor Buddhist followers and Vietnamese expats, who have been battered by Covid-19 in Laos and Cambodia.
Vietnam is home to diverse religions with more than 90% of the population following a belief or religion.