Local Cooperation - An Important Pillar in Vietnam-Japan Relations
According to Foreign Minister Bui Thanh Son, exchanges and cooperation between the localities of the two countries is an important pillar in the extensive strategic partnership between Vietnam and Japan.
On November 2, the Ministry of Foreign Affairs coordinated with the Japanese Embassy in Vietnam to organize Meet Japan 2023 on the 50th anniversary of diplomatic relations between Vietnam and Japan.
At the event, Foreign Minister Bui Thanh Son assessed that Vietnam-Japan cooperation is currently at its best stage of development in the history of bilateral relations. Both sides have achieved deep political trust, effective cooperation, and substantial collaboration in all fields.
Vietnam had the honor of being the destination of the first official foreign visit by Japanese Prime Ministers, such as Prime Minister Shinzo Abe in 2013 and Prime Minister Suga Yoshihide in 2020. Special visit to Vietnam of the Japanese Crown Prince and Crown Princess from September 20-25, 2023 has continued to increase the mutual understanding and the close affection between the people of the two countries, contributing to promoting the Vietnam - Japan extensive strategic partnership to achieve new levels.
Photo: Le Hong Nhung
In economic cooperation, Japan is always the most important partner of Vietnam. Specifically, Japan is ranking first in ODA (with nearly USD 30 billion, accounting for nearly 1/3 of Vietnam's total ODA loans), second in labor, third in investment and tourism, and fourth in trade.
With a stable political system, in the period of "golden population", a potential market, and the tendency to move production lines of developed countries into Southeast Asia, Vietnam always promotes its role as a leading investment destination in the region, attracting great attention from Japanese businesses.
According to research by the Japan External Trade Organization (JETRO), 70% of Japanese businesses investing in Vietnam intend to continue and expand operations in Vietnam - ranking first in Asia and Oceania, 88% expect revenue in Vietnam to increase in the future.
Meanwhile, nearly 500,000 Vietnamese people are living and working in Japan. This is the second largest foreign community in Japan, expressing the meaning of " Where there is a good land, the birds will come and settle". This is both a resource contributing to Japan's socioeconomic development and an important bridge for developing the Vietnam-Japan friendship.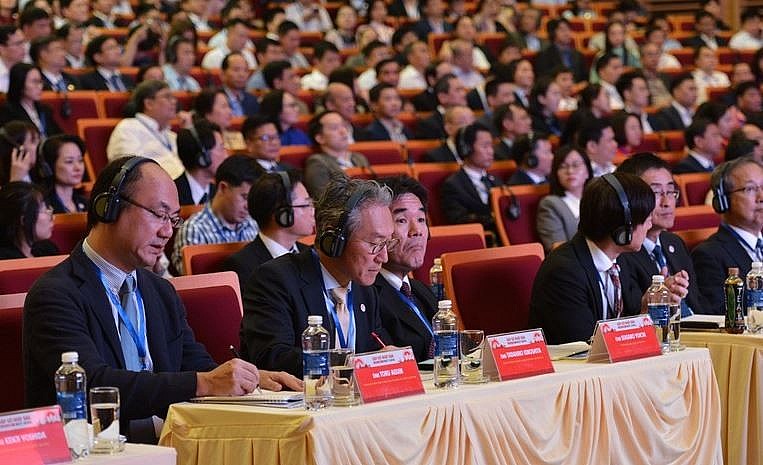 Photo: Le Hong Nhung
In his speech, Japanese Ambassador to Vietnam Yamada Takio said that this year is not only the 50th anniversary in terms of quantity but also an opportunity for the next generation to look back at the time when Japan-Vietnam relations made great strides toward the future.
Up to now, Vietnam - Japan relations are highest levels in politics, economics, and culture. In particular, in terms of economics, according to JETRO's most recent survey, Vietnam ranks second in the world (after the US) in Japanese companies that plan to expand their business in the future.
Ambassador Takio emphasized that there are 3 points that Japanese businesses focus on when choosing investment destinations, including investment environment, human resources, and information dissemination.
"We believe it is important to create a good environment where Japanese companies can confidently invest, for example, providing a stable power supply, developing infrastructure, communication, and simplifying investment licenses and procedures", said Ambassador Yamada Takio.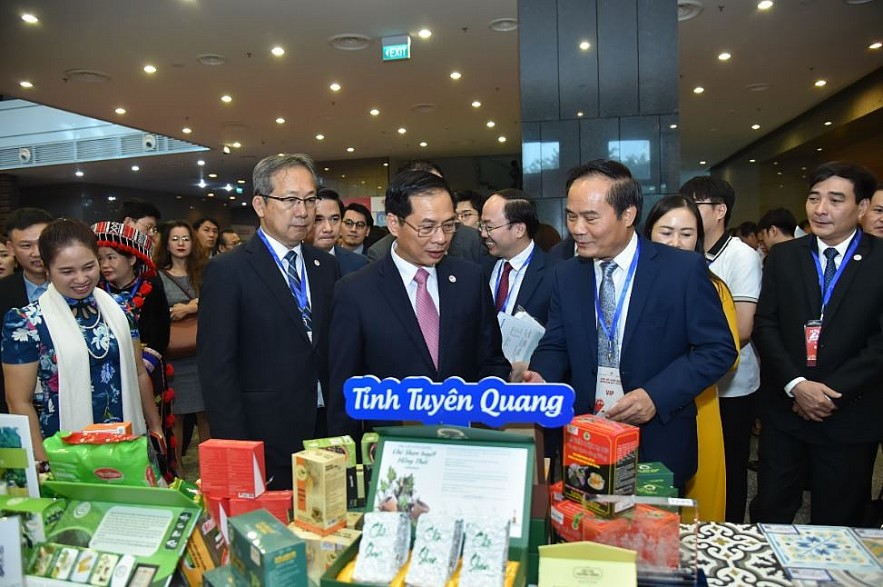 Photo: Chau Anh
Local cooperation is an important pillar in Vietnam-Japan relations
Minister Bui Thanh Son commented that along with the general development of the two countries cooperative relations, exchanges, and cooperation between localities in recent times have also developed strongly and substantially, increasingly deepening. This is an important pillar in the extensive strategic partnership between Vietnam and Japan.
Localities have established approximately 100 relationships and signed over 110 cooperative agreements in various fields, such as investment, trade, labor exports, human resources training, cultural exchanges, and people-to-people exchanges.
The Ministry of Foreign Affairs considers supporting Vietnamese localities to connect with Japanese partners as an important task.
Over the past 5 years, on average per year, the Ministry of Foreign Affairs has facilitated 15-20 delegations of provincial and city leaders to visit and work in Japan. In 2023, there have been 40 delegations. In this anniversary year, the Ministry of Foreign Affairs has also coordinated and supported many localities such as Thanh Hoa, Binh Dinh, Hanoi, Binh Duong, Khanh Hoa, and Hung Yen,… to organize engagement activities with Japanese partners.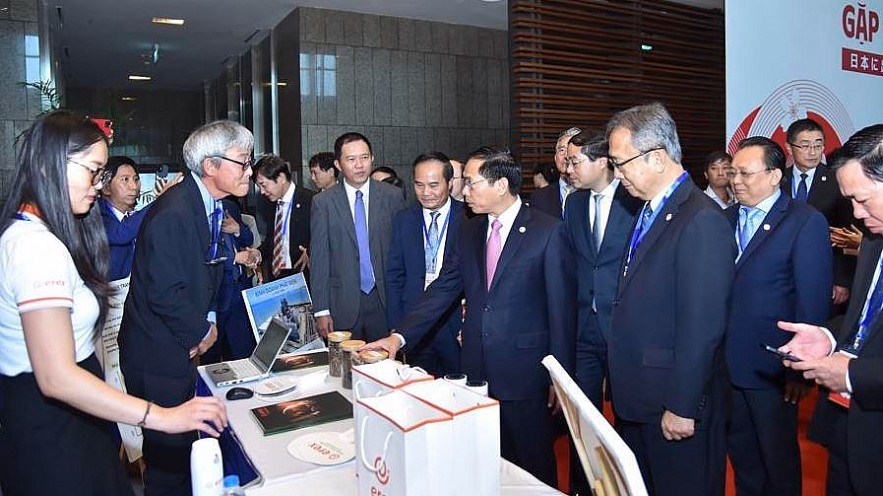 Photo: Chau Anh
According to Minister Bui Thanh Son, along with the Government's efforts, Vietnamese localities have remarkably changed in improving the investment environment, perfecting infrastructure, and mechanisms, proactively issuing investment incentives,;; and actively integrating and cooperating internationally, especially with big and important partners like Japan.
In particular, he went on, the two countries' economies currently complement each other, and the room for cooperation and exchange between localities is still very large, especially in the fields of trade, investment, education - training, human resource cooperation, cultural exchange, tourism, and people-to-people exchanges.
In the coming time, the Ministry of Foreign Affairs will continue to accompany, actively coordinate, and support Vietnamese localities to strengthen connections and expand friendship relations with Japanese partners in many forms and diverse aspects.
Two countries' leaders always emphasize that the two countries need to focus on promoting economic cooperation, trade, investment, labor, ODA, and human resource training; promoting local, cultural, tourism, people-to-people, and young generation exchanges of the two countries.
120 Japanese Enterprises Invest in Ha Nam

The delegation of Japan's Shiga prefecture emphasized that Ha Nam province is a potential market for businesses to invest in expanding production and business scale.