Local Friendship Unions Continue Supporting Others Amid Pandemic
Food assistance has been launched by local friendship unions for struggling locals and expats amid the pandemic in Hanoi, Khanh Hoa and Ben Tre Provinces.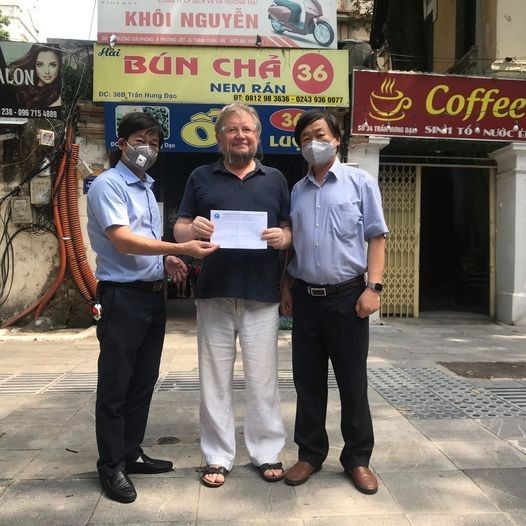 The Vietnam - Russia Friendship Association in Hanoi gives aid to unemployed Russian teacher due to the Covid.
Despite limited resources, the local friendship unions are sparing no efforts to support for the struggling locals and expats in locatilies amid the Covid-19 outbreak.
On the morning of Sep. 21, the Vietnam - Russia Friendship Association in Hanoi visited and presented gifts to Andrey Pavlovich Shulydin, Russian nationality. Andrey Pavlovich Shulydin is a Russian Teacher in Hanoi. Due to the Covid-19 pandemic, he is losing his job and facing many difficulties in life.
Vice Chairman of the Vietnam - Russia Friendship Association of Hanoi, Cao Vo directly visited and handed over VND 3 million (USD 132) to Shulydin.
Shulydin is a Russian teacher in Hanoi, due to the Covid-19, he has lost his job since March 2021 and currently has no other source of income. In the spirit of "leaving no one behind", realizing that this is a particularly case, the Hanoi's Vietnam - Russia Friendship Association decided to directly visited and encouraged the unemployed teacher.
Touched when receiving the gift, Shulydin was very happy and moved by the sum which would help him live through this difficult time. "The care and help of Vietnamese friends will be the subject of my stories that I share with friends when I return to Russia," he said.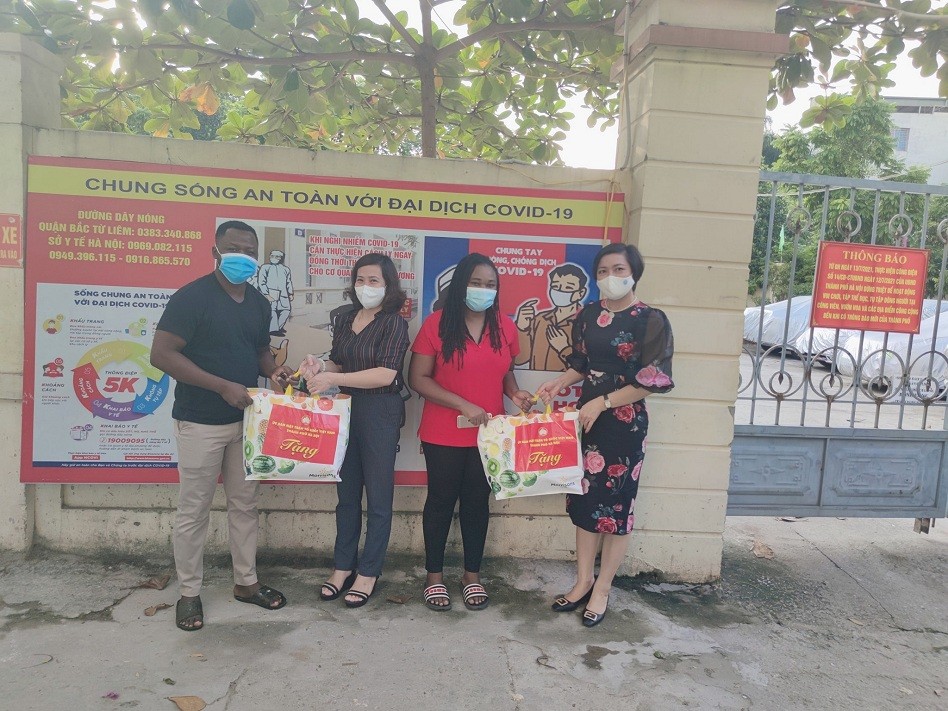 Last support packages in first round of emergency assistance handed over to needy expats in Hanoi.
In the beginning of this week, these last packages in the first round of aid-giving launched by the Hanoi Committee of the Vietnam Fatherland Front and the Hanoi Union of Friendship Organizations (HAUFO) have reached the hands of international friends who are living, studying and working in Hanoi, who are facing difficulties because of the ongoing pandemic.
From early September, the HAUFO has coordinated with Hanoi's Vietnam Fatherland Front Committee to hand over hundreds of gift packages, including food, necessities, medical supplies and VND 500,000 (USD 22) in cash to over 270 foreigners.
When handing over the much-needed supplies, Tran Thi Phuong, HAUFO vice president, said: "It is just a small gesture but we hope this has shown international friends the spirit of hospitality and care of the capital's authorities and people."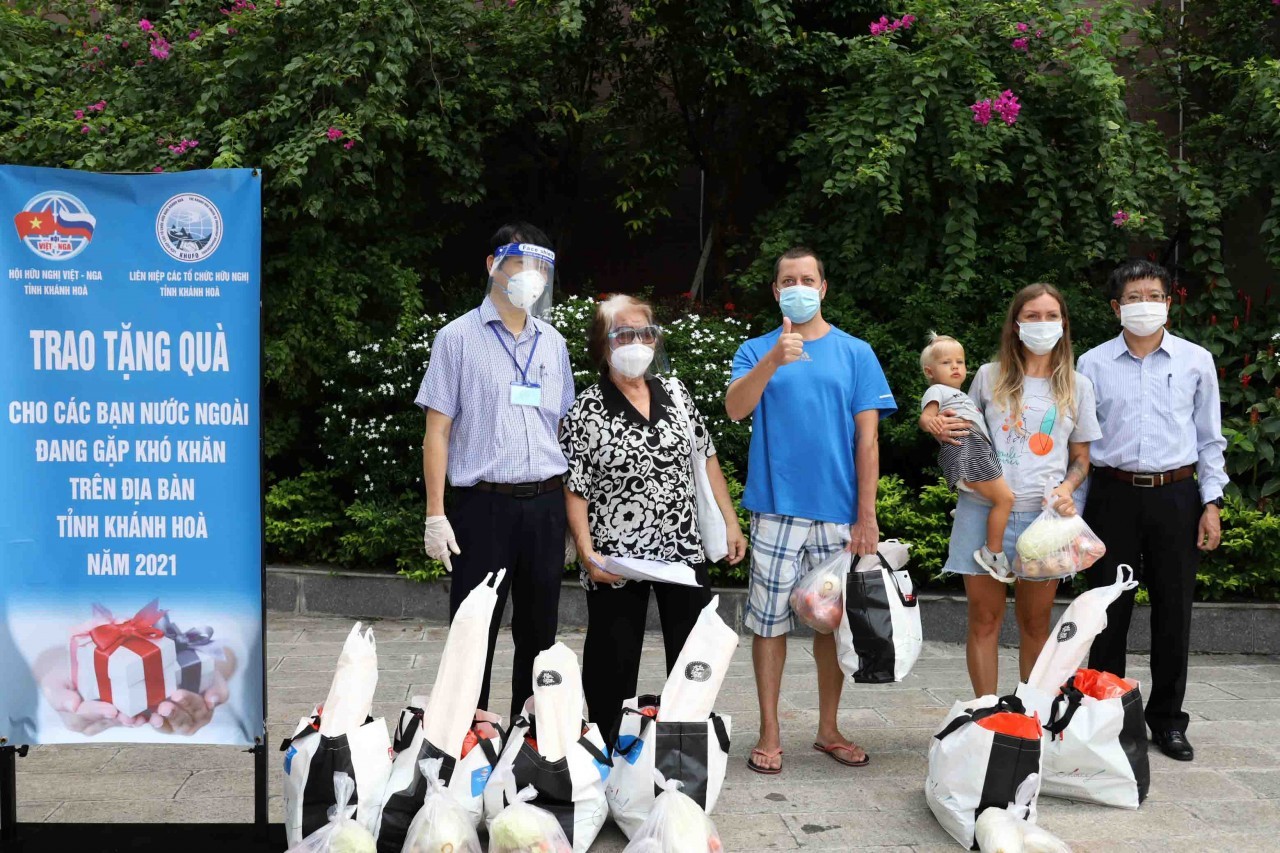 Local people have offered support and assistance in a bid to help Russian expats make it through these tough times.
Similarly, to help foreign friends overcome the difficulties, many organizations in the central province of Khanh Hoa have visited coastal communes and wards where Russians live to present them with essential goods. This expresses the kindness and sense of sharing among local people.
Leaders of the Union of Friendship Organizations of Khanh Hoa Province, the provincial Vietnam-Russia Friendship Association and the Department of Foreign Affairs on Sep. 21 have presented 80 gifts to Russian citizens living in Nha Trang city.
The delegation went to the communes and wards of Phuoc Dong, Vinh Ngoc, Vinh Thanh, Vinh Hoa, Vinh Hai, Vinh Phuoc, Phuoc Tan, Vinh Nguyen, Phuoc Long, Loc Tho, Tan Lap, Xuong Huan, Ngoc Hiep to hand over the gifts, includes cooking oil, flour, fresh milk, condensed milk, sugar, canned fish, spaghetti, melon, bread and vegetables.
These are gifts given by the Hanoi's Vietnam - Russia Friendship Association, along with a number of organizations and individuals in Khanh Hoa Province donated and supported through the Vietnam-Russia Association of Khanh Hoa.
About 780 Russians are living and working in the tourism and service sectors in Khanh Hoa, mostly in Nha Trang. Covid-19, however, had an adverse impact on their lives, especially the fourth wave and the social distancing restrictions that were introduced to curb its spread.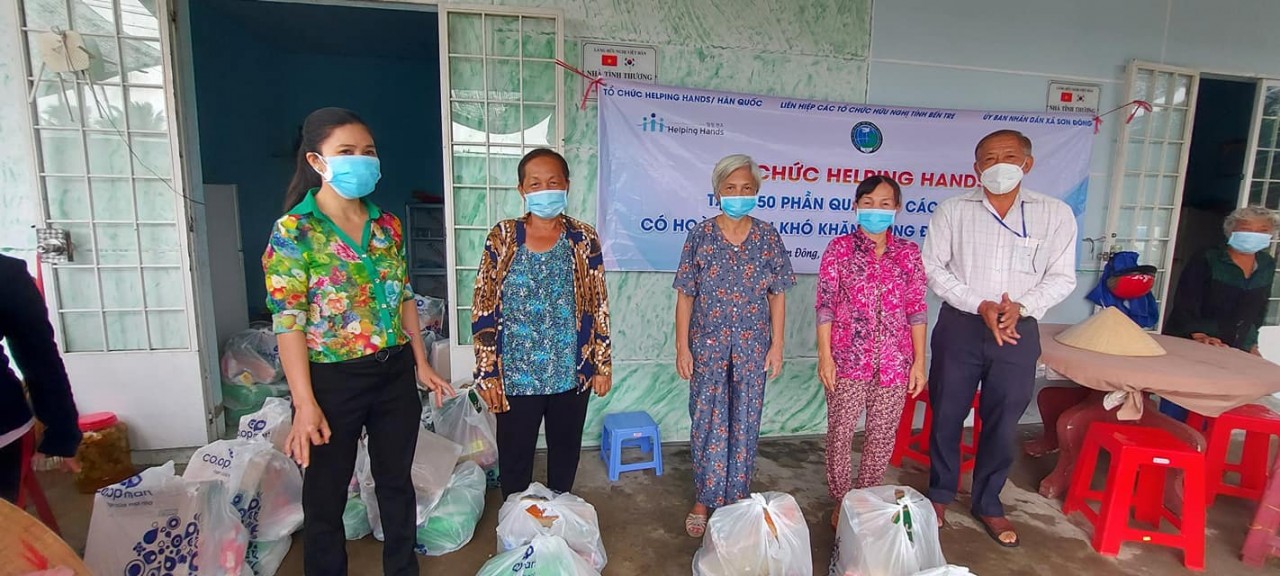 Strictly complying with regulations on pandemic prevention, the Ben Tre Friendship Union delivered the gifts to people in the hope of helping them alleviate difficulties caused by Covid-19.
Elsewhere, with the approval of the People's Committee of the southern province of Ben Tre, the provincial Union of Friendship Organizations recently in collaboration with the People's Committee of Son Dong commune handed over 50 essential good packages, worth VND 25 million (USD 1,100), including rice, spices, instant noodles, supported by Korea NGO Global Vision to disadvantaged households affected by the Covid-19.
An additional 9,472 Covid-19 infections, including 7 imported cases, in the past 24 hours to 5pm on Sep. 23, according to the Ministry of Health.
Ho Chi Minh City, which is the country's current largest pandemic hotspot, continued to report the highest number of infections with 5,052 cases, down 383 cases from the previous day. It was followed by neighboring Binh Duong Province (2,764, down 1,415 cases), Dong Nai (760, down 170 cases) and Long An (190). The capital city of Hanoi logged 5 cases during the day. In total, the country has to date logged 7278,435 cases.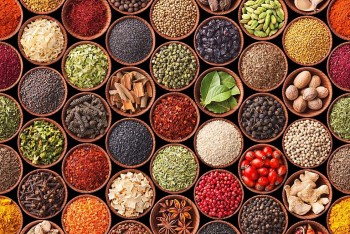 Vietnamese Herbal Tea
Antioxidants have been known since the 1990s and have been useful in fighting cancer, atherosclerosis, and many other chronic diseases.