Lonely Planet: Top 7 Best Road Trips In Vietnam
Visitors rate the 7 most amazing roads in Vietnam, weaving through mountains, jungles, and beaches, according to Lonely Planet magazine.
Lonely Planet travel magazine affirmed that Vietnam is the perfect country for backpacking trips. The road between Hanoi and Ho Chi Minh City is one of many epic trips that attract "explorers". With so many motorbikes roaming Vietnam's roads, backpackers will find good companions as they explore the country's wonderfully diverse landscapes, filled with repair shops, train stations, and gas and food stops along the way.
The trip between Vietnam's northern and southern capitals is just one of many epic road trips that call out to adventurers on four (or, more commonly, two) wheels. With more than 61 million motorbikes on Vietnam's roads, intrepid bikers will find themselves in good company as they explore the country's wonderfully diverse landscapes, with ample repair shops, gas stations and food stops along the way.
Whether you're thinking of hitting the road by car or motorbike, here's our pick of Vietnam's best road trips, from coastline freewheeling to dizzying spirals into the mountains of Vietnam's wild northwest, according to Lonely Planet.
1. Ha Giang Loop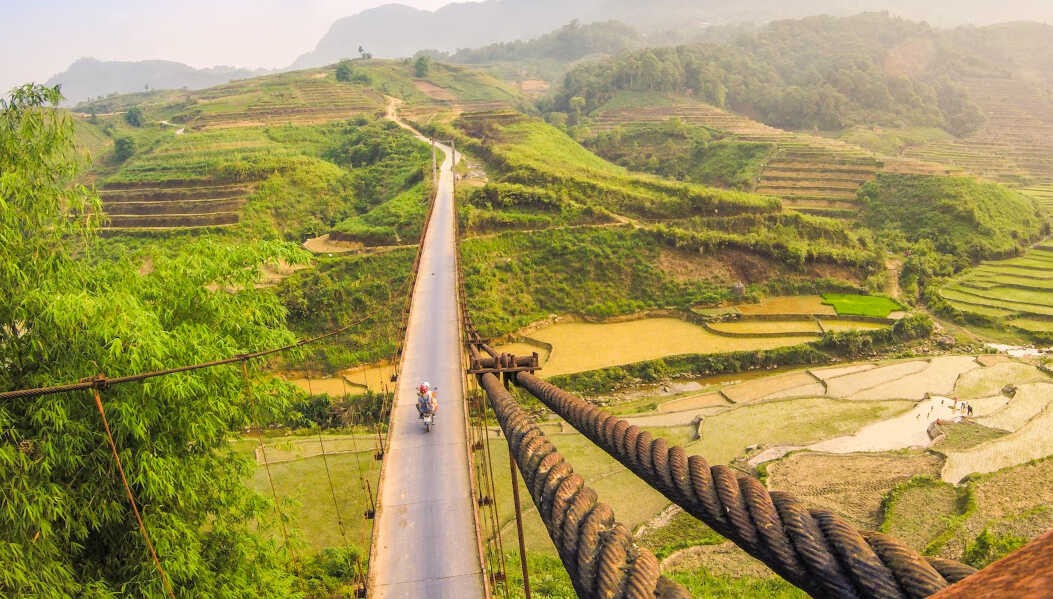 Photo: Getty Images
Ha Giang–Ha Giang; 350km (218 miles)
The soaring peaks and plunging valleys of Vietnam's northernmost province are best enjoyed at a leisurely pace, with plenty of stop-offs for revitalizing dips in waterfalls, roadside snacks (nothing keeps energy levels up like dried buffalo), and to snap photos of the rice and corn terraces tumbling down the valley's steep hillsides. Start the adventure in Ha Giang city, the gateway to a land of conical, forested peaks plucked straight from an antique scroll painting.
Ha Giang means "water and mountains" in Vietnamese, and you're never far from either when you tackle this loop through Yen Minh, Dong Van and Bao Lam, with gurgling streams and cascading waterfalls forming a major part of the scenery. Winding its way through communities of at least 10 different ethnic minorities, this rewarding multi-day drive offers plenty of opportunities for side trips and activities, including trekking, river-boating and caving.
A border province and official Frontier Area, Ha Giang lies in the remote far northern region of the country. To visit this province is to journey back in time and encounter some of Vietnam's most rugged and grand landscapes. Ha Giang is best experienced as a road trip on two wheels, soaking up the majesty of the landscape and the atmosphere of the remote towns and minority villages.
The Ma Pi Leng Pass is hands down the most scenic section of the drive, with jagged mountains surrounding the emerald Nho Que River. Remember to factor in a half-day for a quiet boat trip with a spot of swimming in its enticing waters.
2. Cao Bang to Ban Gioc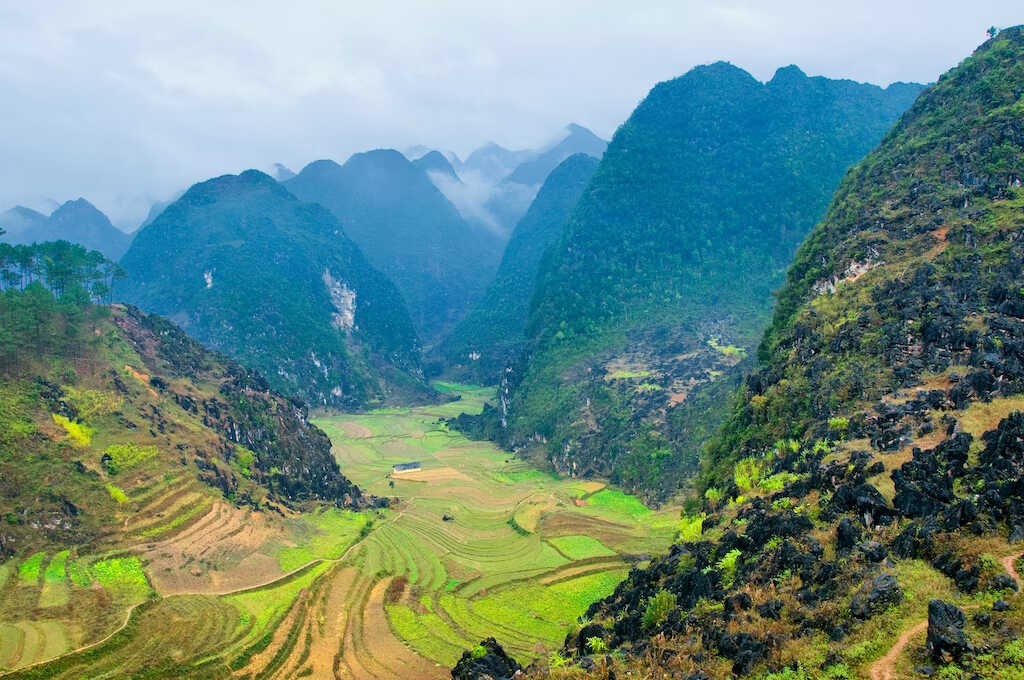 Photo: Getty Images
Cao Bang–Ban Gioc; 80km (50 miles)
The drive from Cao Bang to the churning Ban Gioc Waterfall, which straddles the China-Vietnam border, takes adventurers through some of Northern Vietnam's most pristine pastoral terrain. Lush farmlands, stilt villages and crystal-clear lakes are all on the itinerary. However, for driving enthusiasts, nature's creations might be outdone by a man-made wonder: the 3.5km-long Ma Phuc Pass, with its seven writhing bends offering gorgeous views of the terraced fields below.
For more natural highlights, consider a stop-off at the vast, stalactite-filled Nguom Ngao Cave, which extends for several kilometers underground, but save plenty of time for the road trip's primary focus. Fed by the Quay Son River, the Ban Gioc Waterfalls are located partly in China and partly in Vietnam, and they thunder dramatically over a series of greenery-draped shelves. Take in the falls from the viewing platforms or hop on a bamboo raft for a closer look at the impressive cascades, which fall over 30m (98ft).
Ban Gioc waterfalls are one of Vietnam's natural gems. As the largest waterfall in Southeast Asia, As Asia's answer to the Victoria Falls or Niagara Falls, Ban Gioc's pristine waters sit amidst insane natural beauty, making this a must-visit destination if you are in Northern Vietnam. Read on to discover the best way to visit this mesmerising spot!
While worth tackling as a standalone trip, this route is also a popular add-on to the Ha Giang Loop.
3. Dalat to Nha Trang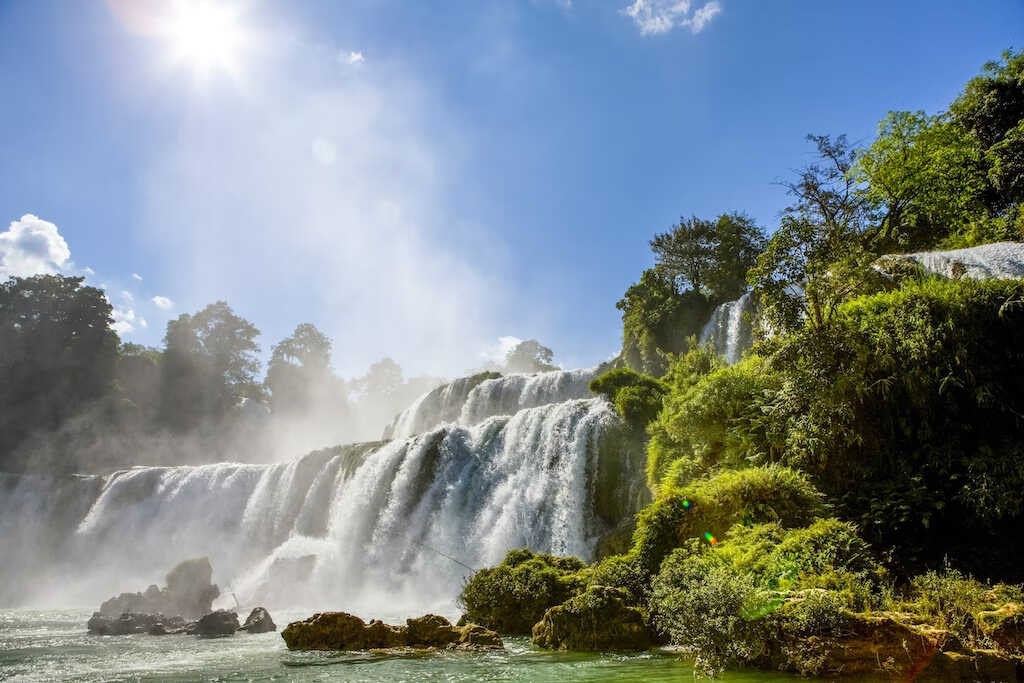 Photo: Shutterstock
Dalat–Nha Trang; 134km (83 miles)
From the cool climes of the highlands around Dalat to the sunny beaches of Nha Trang, this short and simple road trip is all about changing scenery and microclimates. Get an early start so you have time to appreciate the hilly terrain en route and the coastal views near the end of the drive.
Begin in the hillsides around Dalat, founded as a salubrious hill station where French colonists came to escape the oppressive heat of Saigon (now Ho Chi Minh City). This is a very unique area of Vietnam, where the scent of pine trees hangs in the air and farms cultivate strawberries, coffee and flowers instead of rice.
As you descend from the mountains and the humidity begins to return, things start to feel more conventional. The paved QL27C road unfurls around hills and snakes through tiny villages all the way to the coast, where a dip in the turquoise waters of Nha Trang Beach makes for a worthy close to this trip.
4. Hai Van Pass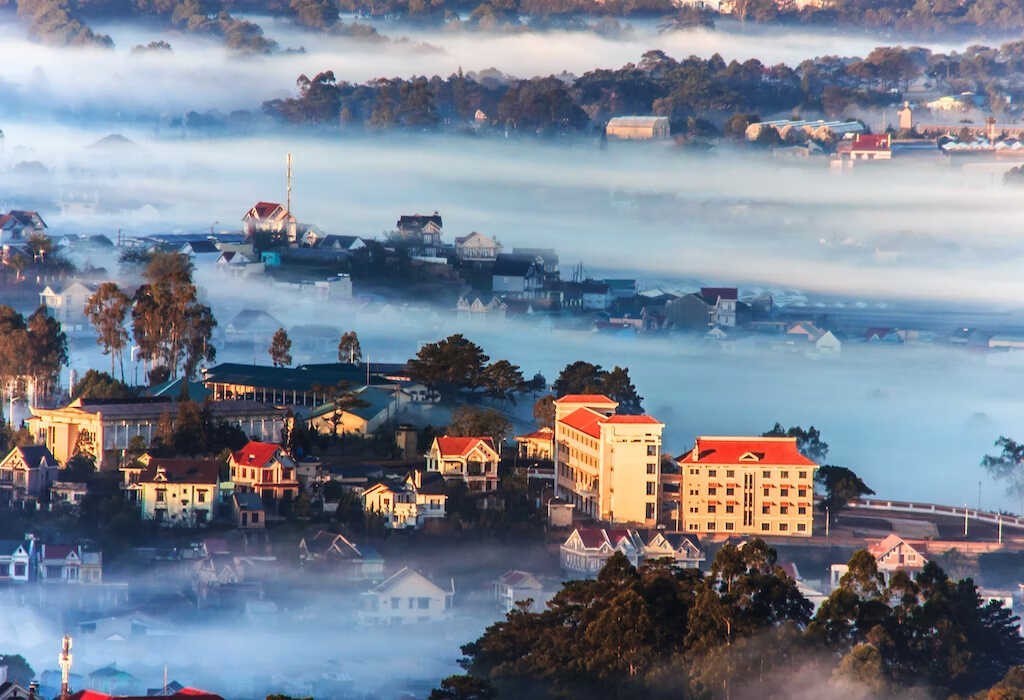 Photo: Khang Duong / 500px
Danang–Lang Co Beach; 20km (12 miles)
Before the Hai Van Tunnel was completed in 2005, just the thought of enduring the hairpin turns and blind corners of the Hai Van Pass was enough to send shivers down the spines of bus passengers traveling between Danang and Hue. Now with significantly less car traffic, this short but stunning ride is a manageable, memorable trip even for the novice driver.
Hai Van pass is an outstanding landscape on the north-south national route. It looks like a huge dragon and is located on Highway 1 between Thua Thien - Hue province and Danang City. This is Vietnam's highest pass (500 meters above sea level). This rugged pass marks the end of the Truong Son Range, which stretches all the way to the sea.
Stop at the mid-way point for a Vietnamese-style iced coffee and admire the Indochina-era Hai Van Gate and the remains of several French fortifications. While the pass officially ends at the windswept Lang Co Beach at its northern end, most travelers continue for another hour or so to reach the former imperial city of Hue to gaze at its palaces and timeless tombs.
5. Ho Chi Minh City to My Tho
Ho Chi Minh City–My Tho; 70km (44 miles)
The rice paper-flat Mekong Delta doesn't get much road trip love because its every-shade-of-green rice fields can turn from mesmeric to slightly monotonous as the miles mount up. However, once you get outside of sprawling, smoggy Ho Chi Minh City, you'll see the urban shrubbery give way to majestic palms, lush banana trees and glimmering waterways amongst the emerald rice paddies.
While the scenery here is certainly evocative, the best part of driving in the Mekong Delta is taking your foot off the gas and losing yourself in the tiny riverside laneways and byways, where life moves at a very different pace to the buzzing streets of HCMC.
When you eventually make it to My Tho – a town famed for its chewy noodle, pork and shrimp soup – further cultural experiences await, with the flower farms of Sa Dec a short drive to the west and Can Tho, home to the largest floating market in the Delta, located to the southwest.
6. Con Son Island
Photo: Shutterstock
Dam Trau–Ben Dam; 25km (15 miles)
The biggest island of Con Dao archipelago, and the only inhabited, Con Son island is famed for its pristine nature and the hospitality of people. Not only holding the nice bit, the island also carries the dark past of what is called "Hell on Earth" period.
Unlike other well-known tourism destinations such as Phu Quoc or Nha Trang, thanks to dodging travelers' radar for a long time, the island still retains a secluded, serene world that is waiting to be discovered. With mild scenery, cool weather, and limitless activities, Con Son can be a perfect island for your memorable trip.
Traveling to Con Son by plane can be considered the most comfortable means. There are direct flights from Hanoi, Hai Phong, Vinh, Can Tho, and Ho Chi Minh city to Con Son island, provided by Vietnam Airlines and Bamboo Airways. The average flight time is 2 hours. The airport is rather small with few trips a day, therefore, no need to wait, check-out time can be saved.
7. Ho Chi Minh Highway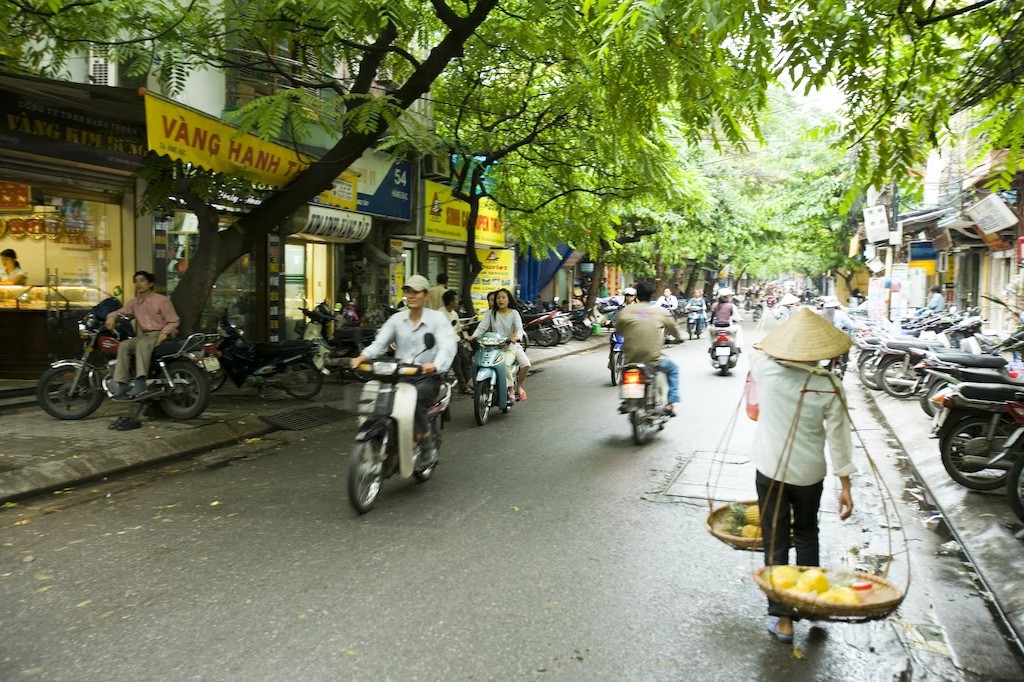 Photo: Lonely Planet
Ho Chi Minh City–Hanoi; 1880km (1168 miles)
There are several different routes between Vietnam's two biggest cities, depending on whether you like beaches, mountains or smooth highways, but for the best balance between driving time (about two weeks) and excellent scenery, hit the Ho Chi Minh Highway, part of which was once used to transport soldiers and supplies during the Vietnam War.
After exiting busy Ho Chi Minh City, follow the road along the Truong Son mountain range as it snakes its way past sleepy hamlets, where the smell of coffee from nearby plantations hangs thick in the air. This barren plateau gives way to forested mountains as you reach Central Vietnam, considered the most scenic stretch of this epic road trip.
Adventurers will want to stop at Phong Nha Ke Bang National Park, home to the world's largest cave, and Cuc Phuong, Vietnam's oldest national park, located in the Red River Delta, before joining the throng of traffic on the ancient streets of Hanoi.