Ma Thien Lanh: One name, two destinations boasting distinctive charm
Owning the same name, Ma Thien Lanh Valley in Tay Ninh (south-eastern Vietnam) and Ma Thien Lanh Peak in Kien Giang (Mekong Delta) boast the distinctive gorgeousness definitely delighting any adventure- lovers.
Ma Thien Lanh Valley, Tay Ninh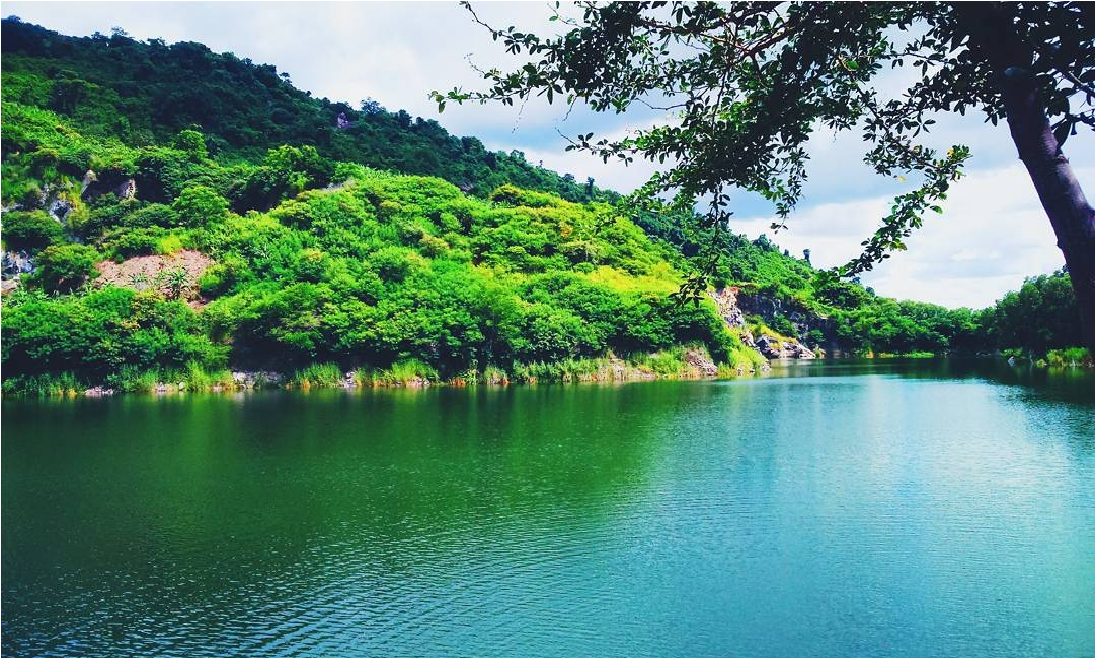 Photo: Petro Times
Ma Thien Lanh valley is located in the Ba Den mountain complex of Tay Ninh Province. It is formed by three famous mountains namely Ba Den, Phung, and Heo Mountain.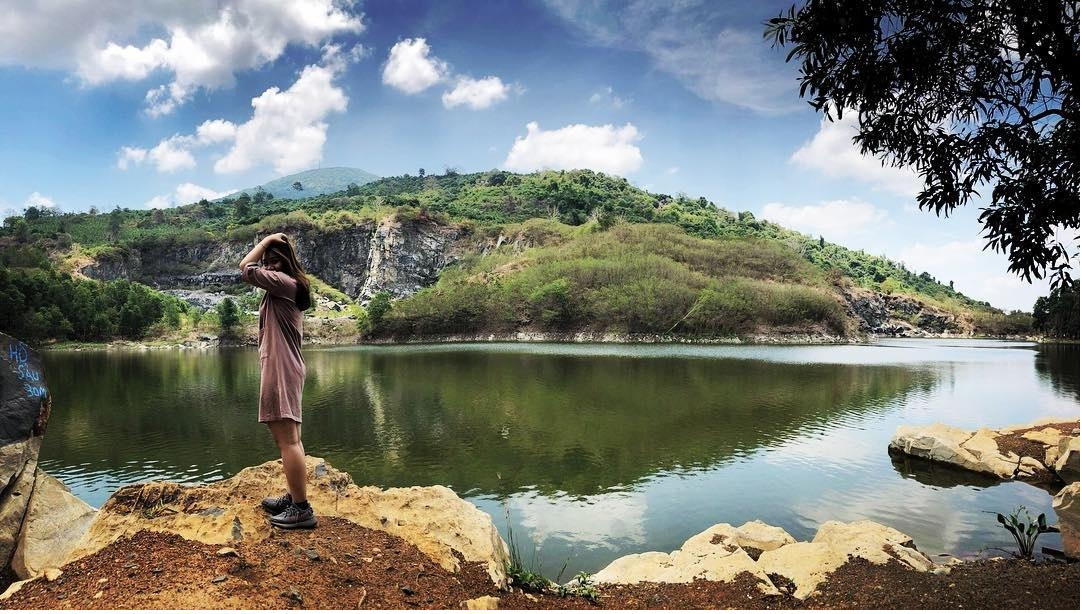 Photo: Petro Times
Ma Thien Lanh valley possesses a pristine natural landscape, majestic mountains, lush green forests, and a fresh air, Petro Times reported.
The fanciful clouds hovering over the mountain ranges create a paradisiacal beauty. This is the reason why it is dubbed as "Da Lat of the Southeast".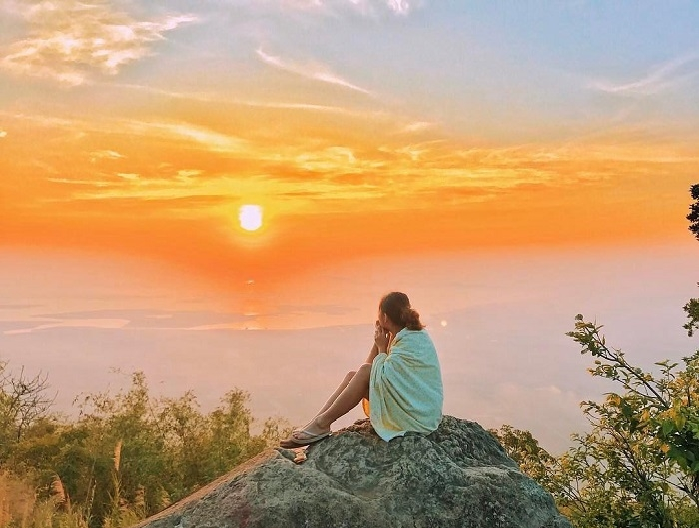 Photo: Petro Times
Just over a two-hour drive from Ho Chi Minh City, Ma Thien Lanh Valley has long been a magnetic destination for many backpackers.
The road leading to Ma Thien Lanh meanders through the magnificent passes bringing the feeling of getting lost in the Northwestern region. The valley retains untouched beauty since it has not been exploited by tourism.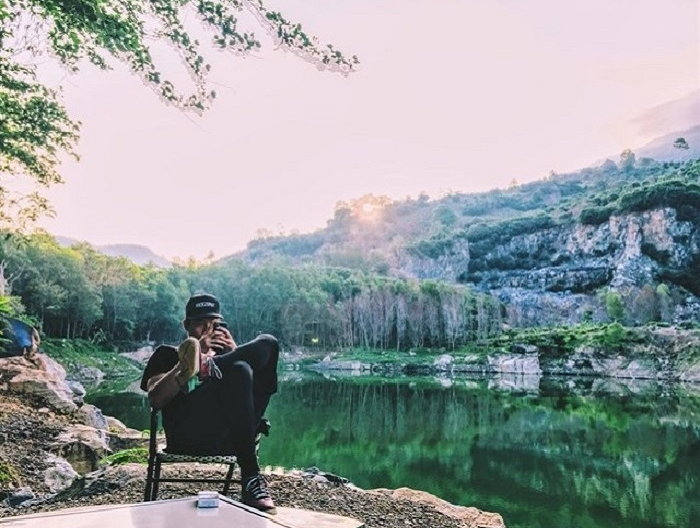 Photo: Petro Times
The "must-visit" place at Ma Thien Lanh Valley is the crystal-clear stream located at the bottom of the valley. The best time to travel the place is the spring when trees sprout and flowers fully bloom creating a picturesque beauty.
Tourists can traverse a trail amid the dense forest to reach Ong Ho Cave situated to the west of Heo Mountain. Conquering Ong Ho Cave is truly an unforgettable experience as tourists must ascend the craggy mountains and slippery boulders.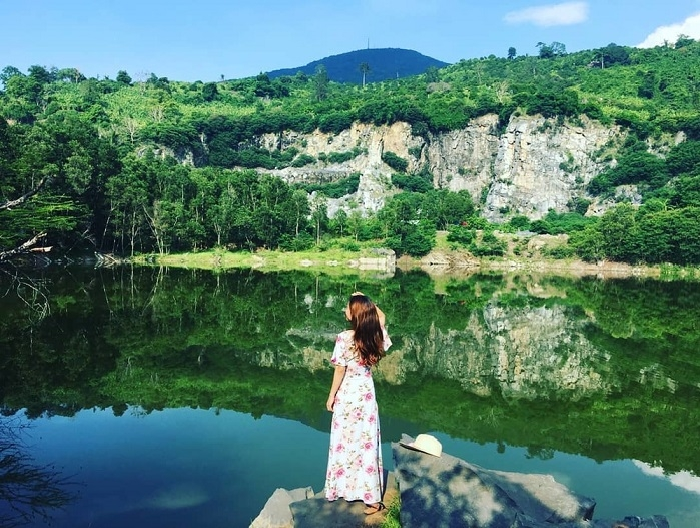 Photo: Petro Times
Ma Thien Lanh stone lake is also the place that cannot be missed when coming here. It is also known as May Nui Lake (Cloud and Mountain Lake) because every morning, the whole area is shrouded by thick mist and sea of clouds. The lake offers many perfect "check-in" corners to take photographs.
In addition, do not miss the opportunity to conquer the highest mountain in the Southern Delta - Ba Den Mountain.
Ma Thien Lanh Mountain Peak, Hon Son, Kien Giang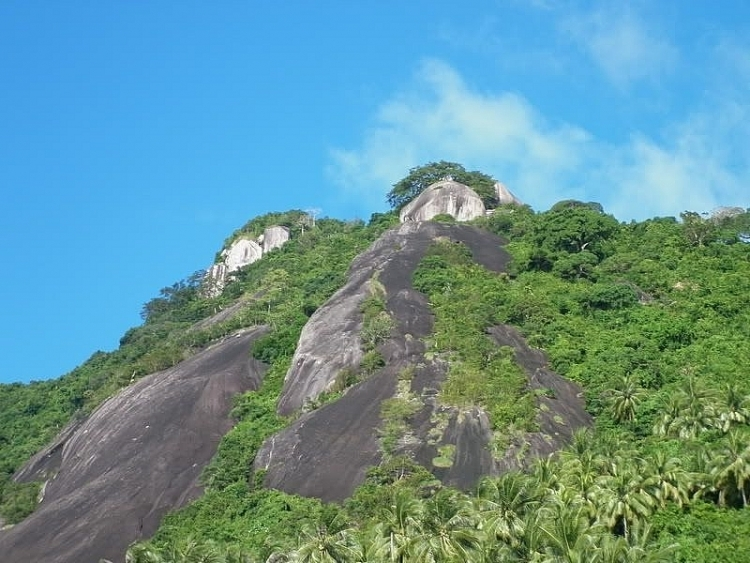 Photo: Petro Times
Located at the altitude of 450m above sea level, Ma Thien Lanh Peak boasts imposing and spectacular beauty which certainly delight any adventure lovers.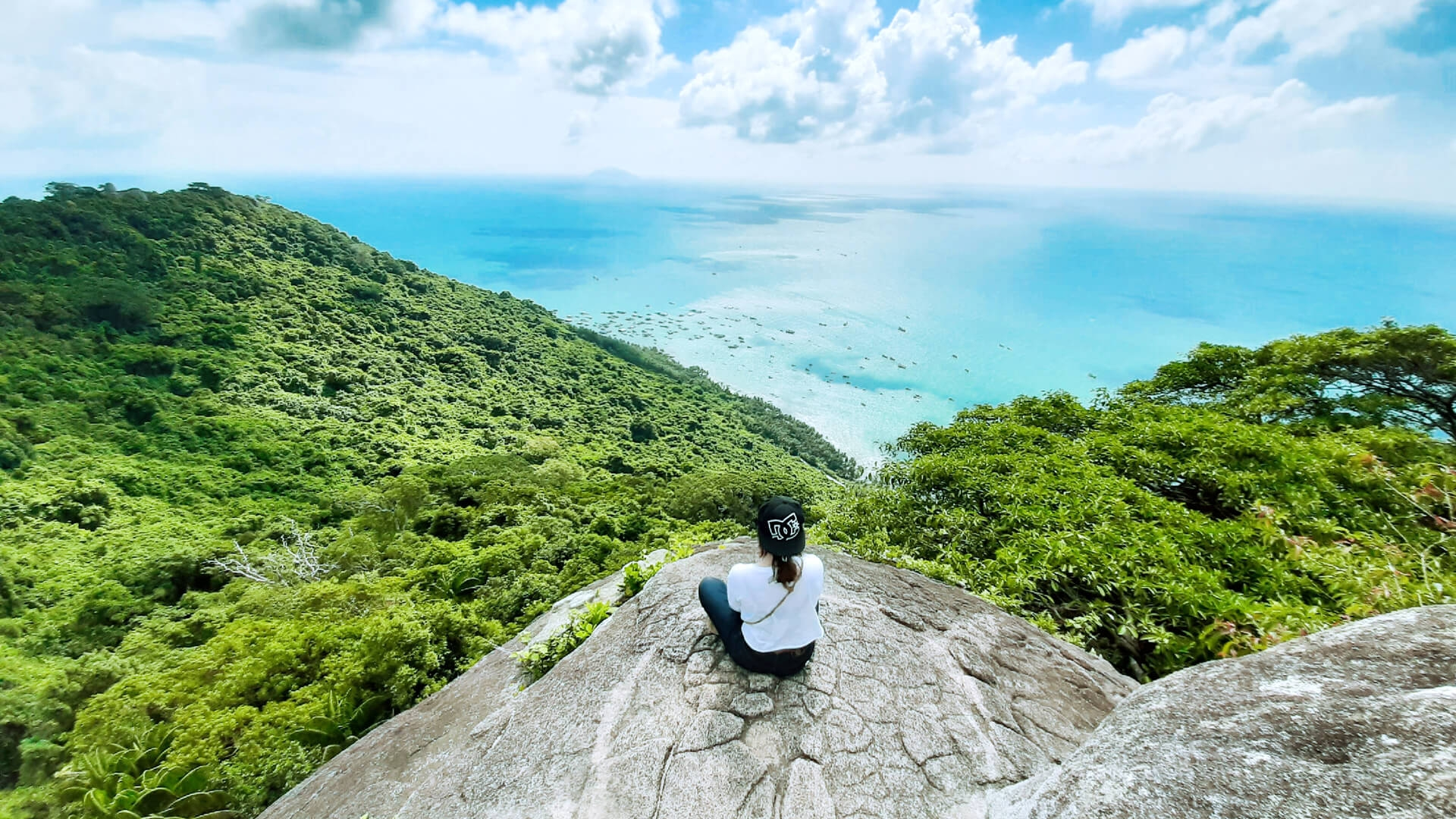 Photo: Petro Times
To reach Ma Thien Lanh Peak, from Bai Nha Wharf, travelers go further 1km towards Bai Bang, then taking a short walk, one will see the path on the left with steps leading up to the mountain.
The beginning road is accessible since it is made of concrete. The road is surrounded by fields where farmers cultivate many kinds of fruits such as bananas, mangoes as well as primeval forests.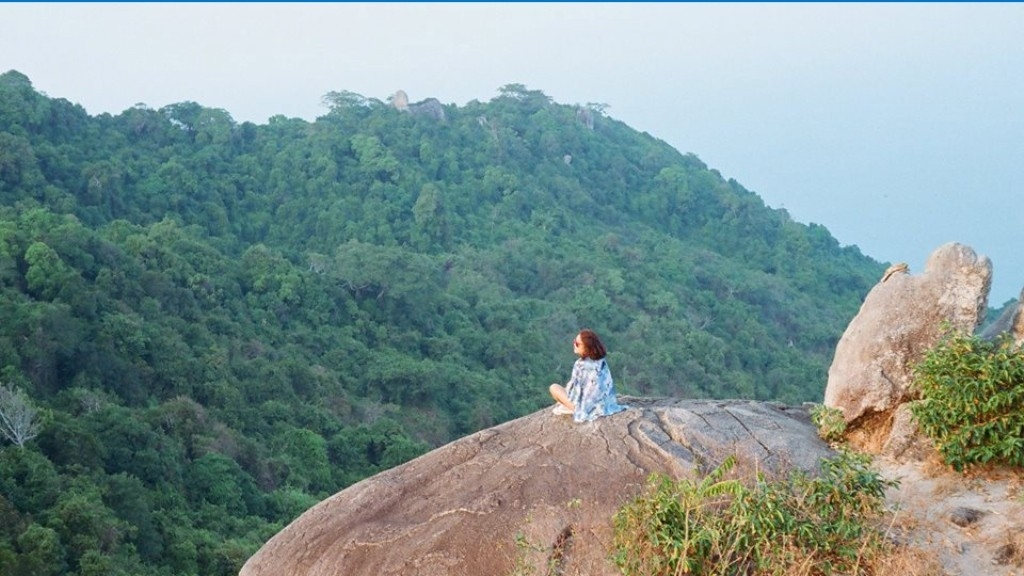 Photo: Petro Times
Crossing Phat Lo Thien Pagoda (or Pho Tinh Pagoda), the path turns into rougher as it is enveloped by dense forests along with the sounds of wild animals offering thrills to visitors.
Just follow the winding path and tourists will reach the stone cave. According to the locals, the cave is sometimes home to recluses. Some of their items like beds, tables, chairs, bookshelves made of rattan are still found in the cave.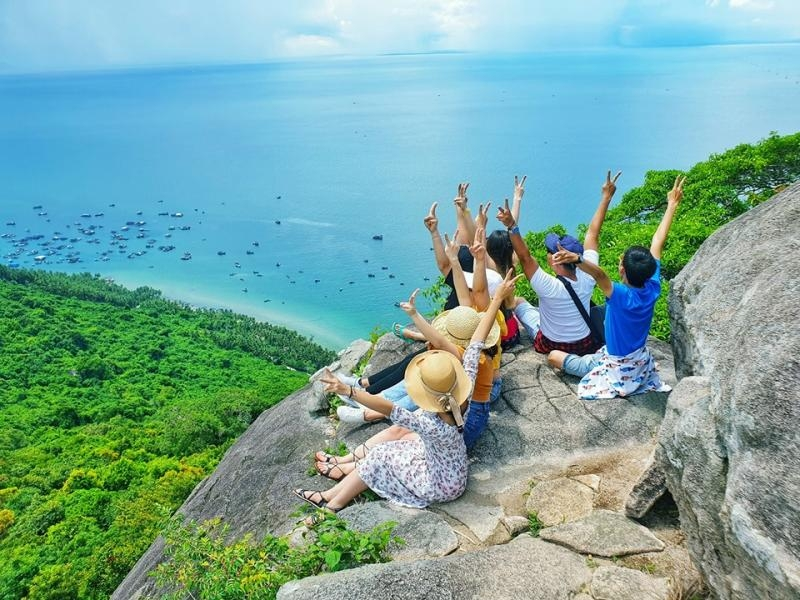 Photo: Petro Times
Stepping on the peak of Ma Thien Lanh, tourists will have the chance to capture in their eyes the immense space of mountains, forests, and blue sea.
San Tien is regarded as an ideal "check-in" point on Ma Thien Lanh Peak. However, the cliff is moss-covered and slippery, tourists need to be cautious.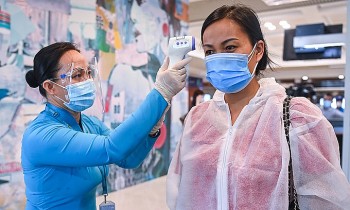 National
Vietnam News Today (October 20): Vietnam adds 3,034 Covid-19 cases to national infection tally; HCM City enhances cooperation with China's Shanghai; Thirty-two localities declare Covid-19 risk levels; Transport ministry mulls letting the unvaccinated fly.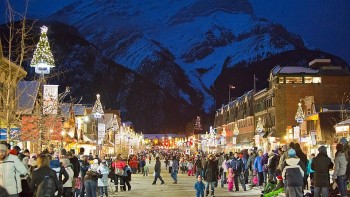 Travel
If you are looking to celebrate your Christmas somewhere else outside the country, then Canada can be the perfect choice for you with these 10 best and most idyllic places to have a wonderful Christmas holiday with your friends and families.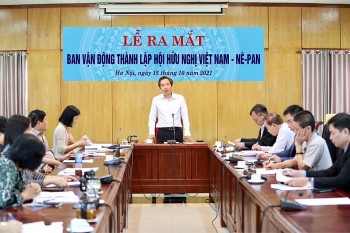 Friendship
The Advocacy Committee for the establishment of the Vietnam - Nepal Friendship Association was officially launched.