An image issued by the Malaysian Air Force showing one of the Chinese aircraft. (Photo: Royal Malaysian Air Force)
China conducts 'suspicious' activity, says Malaysia
Sixteen aircraft from the People's Liberation Army Air Force conducted a large-scale transport formation exercise over the South China Sea near Borneo on Monday and entered the airspace of Malaysia's exclusive economic zone (EEZ), the Royal Malaysian Air Force (RMAF) said in a statement on June 1.
Malaysia's air force says 16 Chinese military transport planes came close to violating Malaysian airspace after they were detected conducting "suspicious" activity over the South China Sea. The Chinese planes did not contact the regional air traffic controller despite being instructed several times, the air force said.
"This incident is a serious threat to national sovereignty and flight safety due to the air traffic density over the airways," ABC News quoted the airforce's statement.
The "suspicious" Chinese planes were detected flying at altitudes up to 27,000 feet and at a speed of 290 knots before being spotted near the East Malaysian state of Sarawak, the Royal Malaysian Air Force said in a statement late Tuesday. The Ilyushin II-76 and Xi'an Y-20 planes that Malaysia says threatened its aviation safety were then identified by an interceptor aircraft after they didn't comply with "several attempts" to direct them to air traffic control.
Map of incident and flight path. (Photo: Malaysian Armed Forces Image)
Malaysia takes on further protest & China's response
On June 2, the foreign ministry of Malaysia has said it would summon China's envoy to explain an "intrusion" by 16 air force planes into its airspace, after the country's military detected "suspicious" activity over the South China Sea.
According to Guardian, Hishammuddin Hussein, Malaysia's foreign minister, said he would issue a note of diplomatic protest and ask China's ambassador to explain the "breach of airspace and sovereignty".
"Malaysia's stand is clear -- having friendly diplomatic relations with any countries does not mean that we will compromise our national security," the foreign ministry said in a statement. "Malaysia remains steadfast in defending our dignity and our sovereignty."
The Chinese embassy said the aircraft "strictly abided by" international law while conducting routine training, the Straits Times reported, citing a spokesman. The person said that the pilots were training and were not targetting any country. "China and Malaysia are friendly neighbors, and China is willing to continue bilateral friendly consultations with Malaysia to jointly maintain regional peace and stability," a spokesperson said.
China's Ministry of Foreign Affairs did not immediately respond to a request for comment, said Bloomberg.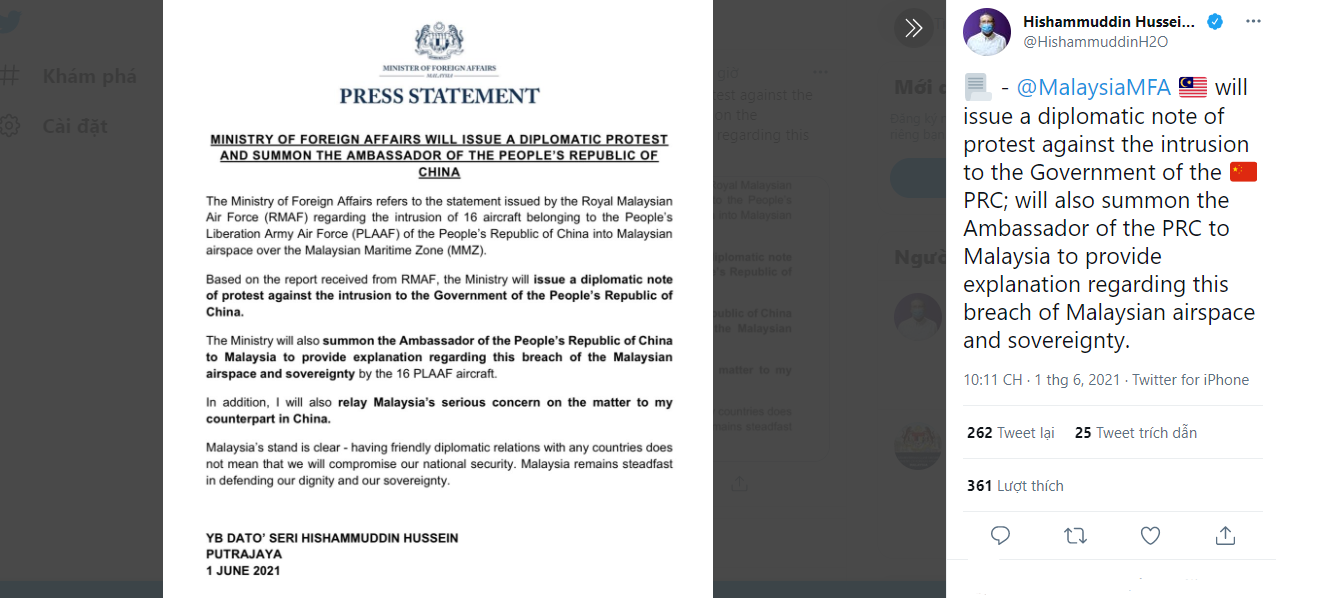 Hishammuddin Hussein, Malaysia's foreign minister said on Twitter. (Photo: Twitter)
Tensions rising on the South China Sea
Malaysia's move follows months of diplomatic protests by the Philippines over the presence of hundreds of Chinese fishing boats in its EEZ, which it says are manned by militia. China has largely ignored the complaints.
Australian Prime Minister Scott Morrison and New Zealand's Jacinda Ardern meanwhile jointly said on Monday they had "serious concern over developments in the South China Sea, including the continued militarization of disputed features and an intensification of destabilizing activities at sea."
Tensions in the disputed waters have escalated in recent weeks, with the Philippines repeatedly protesting and demanding that Chinese vessels leave areas it said are within its jurisdiction. On Saturday, it protested what it said was China's "incessant deployment, prolonged presence and illegal activities" around Thitu Island.
The Philippines has also objected to China's fishing moratorium in the South China Sea saying the annual fishing ban extends far beyond China's legitimate entitlements under the United Nations Convention on the Law of the Sea.
Regarding China's recent fishing ban, Vietnam strongly protests China's unilateral fishing ban in the South China Sea (called Bien Dong Sea by the Vietnamese) as it violates Vietnam's sovereignty over Hoang Sa (Paracel) Islands. Deputy Spokesperson of Vietnam's Ministry of Foreign Affairs Doan Khac Viet said the Chinese move violates international law, including the United Nations Convention on the Law of the Sea (UNCLOS) 1982, going against the spirit of the Declaration on the Conduct of Parties in the South China Sea (DOC) and the Vietnam-China Agreement on basic principles guiding the settlement of sea-related issues. He said Vietnam has a full legal foundation and historical evidence to back its sovereignty claims over Hoang Sa and Truong Sa (Spratly) Islands in the sea.
Valerie Mai