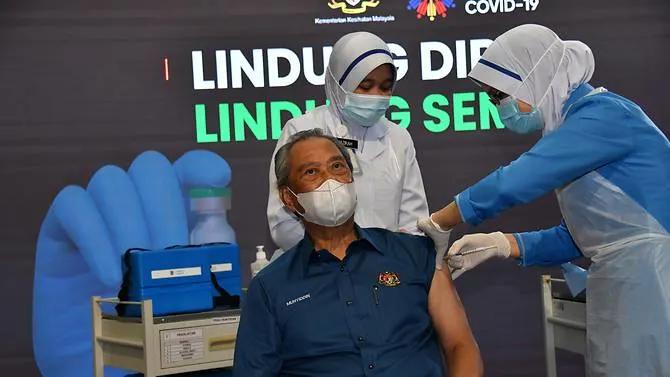 Malaysian Prime Minister Muhyiddin Yassin receives his first dose of Pfizer-BioNTech's COVID-19 vaccine on Feb 24, 2021. (Photo: Department of Information Malaysia)
Malaysian Prime Minister Muhyiddin Yassin received the first dose of Pfizer-BioNTech vaccine on Wednesday (February 24), kicking off the national COVID-19 immunisation programme.
Next in line to be vaccinated at the health office in Putrajaya were Health Ministry director-general Noor Hisham Abdullah and other medical frontliners, the CNA reported.
They have to undergo a 30-minute observation period following their jabs to watch for potential negative reactions.
Speaking after the observation period, Muhyiddin expressed his confidence in the vaccine, noting that he hardly felt any pain.
"I therefore urge all Malaysian citizens and those living in Malaysia, whom we've decided will be vaccinated for free, to come forward and register in MySejahtera (app), so that your turn to receive the COVID-19 vaccine can be set," Muhyiddin said.
The prime minister's second jab has been scheduled for Mar 17.
Muhyiddin had volunteered to be the first to receive the vaccine shots in order to build public confidence in the inoculation process, according to The Straits Times.
A survey by the Health Ministry in December last year showed one-third of Malaysians remained sceptical of vaccines and worried about side effects.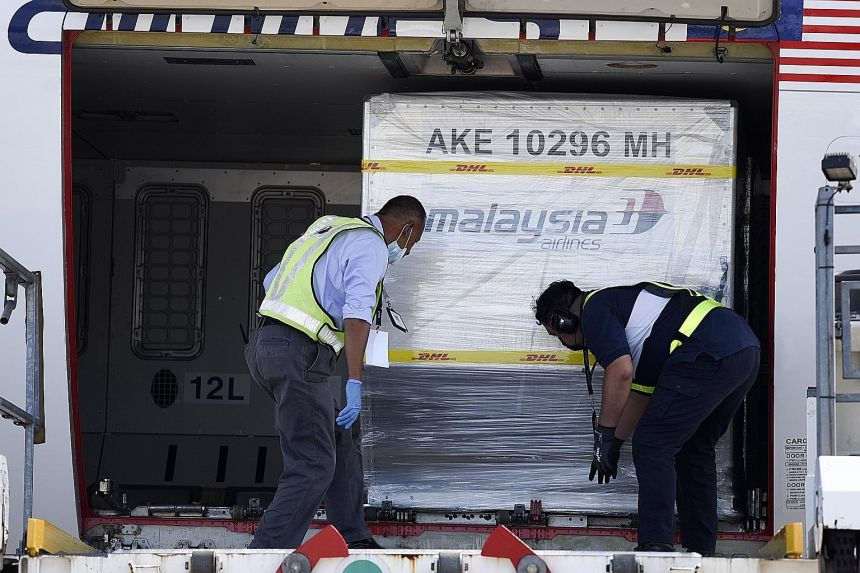 Containers carrying Pfizer-BioNTech COVID-19 vaccines being unloaded from a Malaysia Airlines plane at Kuala Lumpur International Airport. Photo: Malaysia's Department of Information.
Malaysia had initially planned to start its mass vaccination campaign on Friday, but with the vaccines arriving ahead of schedule on Sunday, the authorities brought forward the start date of the vaccination exercise, which is expected to last up to a year.
Malaysia aims to inoculate close to 83 percent of its 33 million population.
It will vaccinate elected representatives, healthcare workers and other front-liners in the first phase that is expected to last until next month.
The second phase will involve at-risk groups, such as individuals with certain existing illnesses, and those above the age of 65.
The country aims to begin administering vaccines to the general populace from May.
All vaccines will be made available for free, including for foreign workers, expatriates, refugees and undocumented migrants.
The first batch of vaccines from Pfizer-BioNTech, the United States-German collaboration, consisted of 312,390 doses which arrived on Sunday. Another 182,520 doses are scheduled to arrive on Wednesday.
The country has inked a deal to buy a total of 25 million doses of the Pfizer-BioNTech vaccine, which cover 39 percent of its population.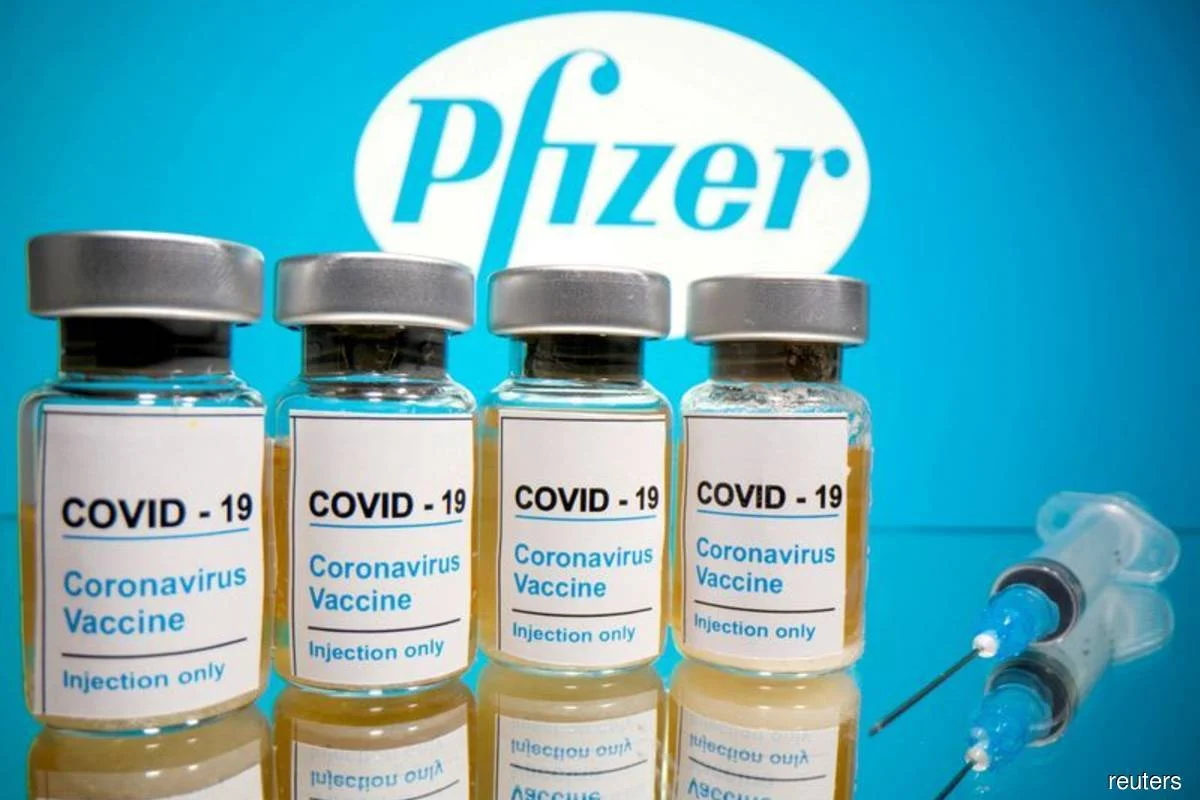 Malaysia has inked a deal to buy a total of 25 million doses of the Pfizer-BioNTech vaccine, which cover 39 percent of its population. Photo: Reuters
It has also ordered a total of 6.4 million doses from British-Swedish pharmaceutical firm AstraZeneca, signed a deal for 12 million doses from China's Sinovac, and another 6.4 million doses of Sputnik V vaccine from Russia.
The authorities said last week that they were in the final stages of talks with US company Johnson & Johnson to procure its single-dose vaccine, which it aims to use on the vulnerable population, such as undocumented migrants.
Malaysia will administer the two doses of the Pfizer-BioNTech vaccine 21 days apart, as recommended by the vaccine manufacturer.
The vaccine, which needs to be stored at temperatures of minus 70 deg C, will be administered to front-liners all across the country.
Malaysia had spent weeks preparing for the storage and delivery of the vaccine, with local energy firm Tenaga Nasional Berhad giving the assurance that there will be no power disruption at any of the vaccine storage facilities./.
Rosy Huong