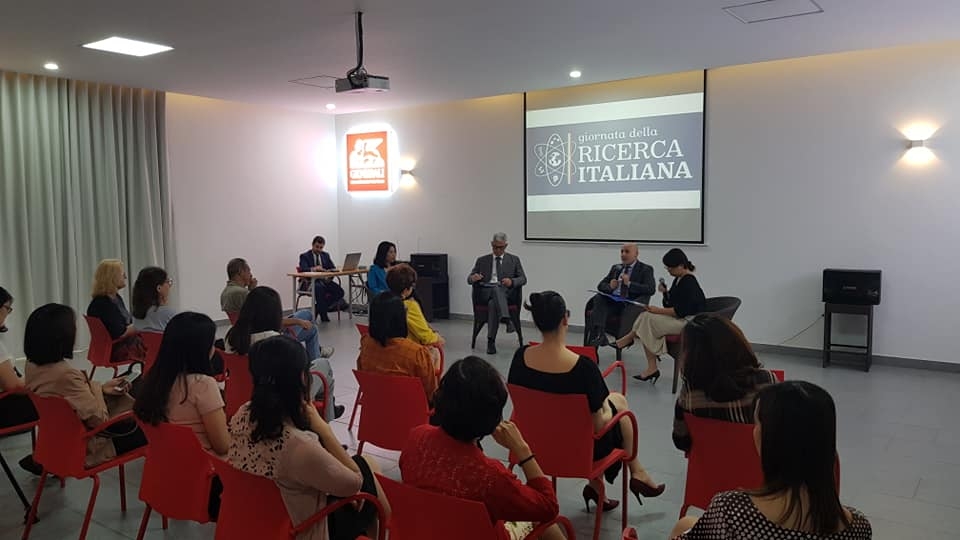 Italian Ambassador to Vietnam Antonio Alessandro speaks at a press conference to mark the Italian Research Day in the World.
At a press conference to mark the Italian Research Day in the World on April 15, Italian Ambassador to Vietnam Antonio Alessandro said the Italian Research Day in the World, which is observed annually on April 15, will take place in Vietnam from April 16-24.
April 15 also marks the anniversary of the birth of Leonardo da Vinci.
Vietnam and Italy have carried out more than 40 joint scientific research projects since 1992 when the two sides signed the first protocol on scientific and technological cooperation, said Alessandro.
He said that the projects have contributed to the development in various areas, serving the life of people in both countries.
A UniSmartItaly event, organized by the Conference of Italian University Rectors-CRUI and the Italian Trade Agency-ICE, with the support of the Embassy of Italy in Vietnam and Uni-Italia, the association promoting the Italian Higher Education abroad, will be held.
Through plenary sessions, thematic sessions and online B2B meetings, the participating Italian universities and companies offer visitors - students, parents, Vietnamese high schools, Vietnamese universities, Vietnamese companies interested in Italy - the opportunity to get to know the Italian higher education system and its opportunities for Vietnamese students; identify the right motivation to study in Italy; understand the added value of the connections between universities and the Italian productive world.
The closing event will take place on April 24, focusing on science and technology in bilateral cooperation, providing an overview of the existing opportunities and sponsorship programs in the country and in the country. practice.
The second initiative is the 'Vietnam - Italy Science and Technology Cooperation Workshop: Achievements and Prospects for sustainable development' to be held virtually in Hanoi on May 6.
The event will showcase the achievements of nearly 30 years of bilateral scientific cooperation between Italy and Vietnam, including seven executive protocols and more than 40 joint scientific research projects in areas such as cultural heritage, public information and communication technology, agriculture, water management, health and remote sensing.
A special issue published by Springer, entitled 'UNIPA series 2020: Innovations in land, water and energy for sustainable development of Vietnam', will be presented, including 18 scientific papers by Vietnamese and Italian scientists co-authored.
On the occasion of the Italian Research Day 2021, the Knighthood of the Order of the Italian Star was presented to Prof. Ta Hai Tung's contribution to Italy-Vietnam research and education cooperation./.
Hannah Nguyen