Map exhibition of Hoang Sa, Truong Sa held by MIC
The exhibition of: "Hoang Sa, Truong Sa of Vietnam - Historical and Legal Evidences" was organized by the Ministry of Information and Communications from October 19 to 21.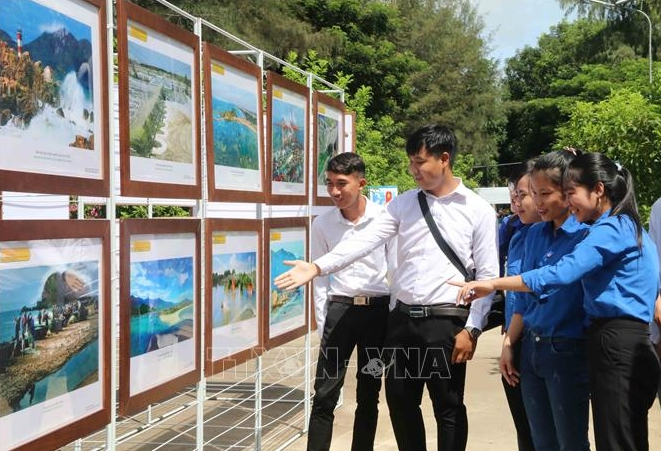 Tra Vinh University students visit the exhibition. (Photo: VNA)
The exhibition, which takes place at Tra Vinh University (Tra Vinh province), consists of 6 main groups:
(1) The drawing set "History of Vietnam" which summarizes the process of forming, building, developing, and defending Vietnam's sovereignty over the periods, from the reign of Kinh Duong Vuong to the Socialist Republic of Vietnam;
(2) Written materials of Vietnamese feudal dynasties;
(3) Maps related to Vietnamese sovereignty over the two archipelagos of Hoang Sa and Truong Sa;
(4) Documents about Hoang Sa, Truong Sa during the French colonial period and the puppet regime in Saigon;
(5) A number of documents, objects, and images related to the struggle to protect sovereignty over the sea and islands in recent years;
(6) 3D digital exhibition and e-documents.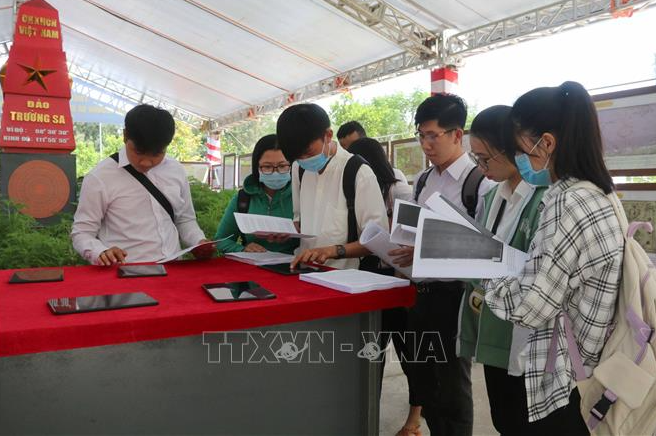 Students in the tablet-experience section of the exhibition. (Photo: VNA)
Mr. Vo Hoang Khai, Vice-Rector of Tra Vinh University, said that the map exhibition and document display is an activity. of great significance, contributing to proving Vietnam's sovereignty over the Hoang Sa and Truong Sa archipelagos in the Bien Dong Sea, which have been resided for generations by Vietnamese ancestors and governed the State of Vietnam through the period of establishing, building, and defending national sovereignty.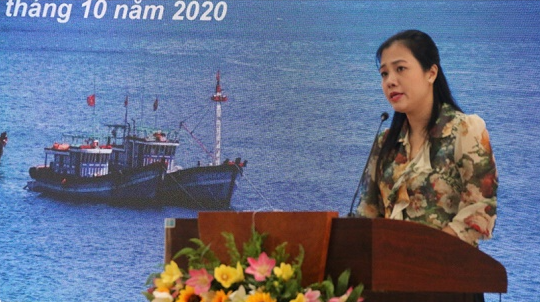 Ms. Tran Thi Quoc Hien delivered a speech in the opening ceremony. (Photo: Tra Vinh Government Newspaper)
Speaking at the opening of the exhibition, Ms. Tran Thi Quoc Hien, Deputy Director of the Regional Government Office, Ministry of Information and Communications affirmed that the sea and islands are an inseparable part of Vietnam. In the country's thousand years of history, the sea and islands have played a particularly important role in the process of building and defending the nation.
The exhibition will be held until October 21. At the end of the exhibition, the Ministry of Information and Communication will transfer all materials and exhibits displayed for the school to continue to propagate to its staff, lecturers, and students about the historical and legal evidence of Vietnam's sovereignty over Hoang Sa and Truong Sa.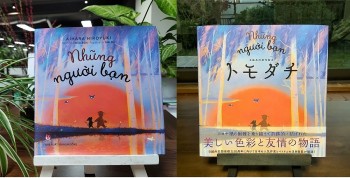 Viet's Home
The comic book Ehon "Friends" illustrated by local female artist Dom Dom has just been published by Japan's Sunny Side Publishing House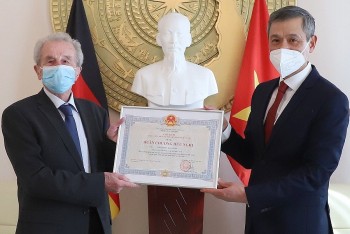 Friendship
The Vietnam-Germany relationship goes from strength to strength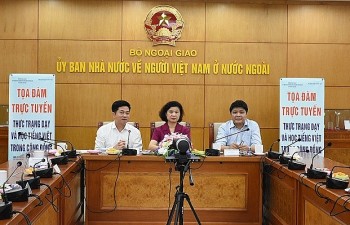 Overseas Vietnamese
The teaching of Vietnamese abroad continues to be strengthened despite the Covid-19 pandemic.