FM spokesperson: Paracel and Spratly Islands belong to Vietnam
Vietnam's affirmation of its sovereignty over the Hoang Sa (Paracel) and Truong Sa (Spratly) islands has been conveyed consistently, Vietnamnews reported, citing foreign ministry spokesperson Le Thi Thu Hang said on September 17.
Vietnamese foreign ministry spokesperson Le Thi Thu Hang. Photo: Foreign ministry
Questioned on the US Embassy in Hanoi's edits to a map of Vietnam on its Facebook post to no longer show the two island chains as part of Vietnamese territory, the spokesperson in a press briefing, remarked that the two chains are an "integral, inseparable part of Vietnam's territory".
Vietnam has sufficient legal basis and historical evidence to assert its sovereignty over the two archipelagos in Bien Dong Sea (known internationally as the South China Sea), Hang said, adding that its consistent stance has been expressed many times, including at the UN and has received support and respect from many countries.
Earlier on September 9, to mark the opening of the ASEAN foreign ministers' meeting, the US Embassy in Hanoi posted a review of 25 years of US-Vietnam partnership that included two graphics, including a map of Vietnam that originally had the Spratlys and the Paracels.
The post's graphics were later amended to no longer contain the two island chains, and the embassy has not explained or commented on the changes.
Currently, the US Embassy still posted the map of Vietnam without the two island chains on its Facebook page.
The Paracels, claimed by both Vietnam and China, are currently under Chinese control after it was seized by force from Vietnam in 1974. Meanwhile, the Spratlys are claimed and occupied – in entirety or parts – by Vietnam, China, Malaysia, Philippines, and China's Taiwan.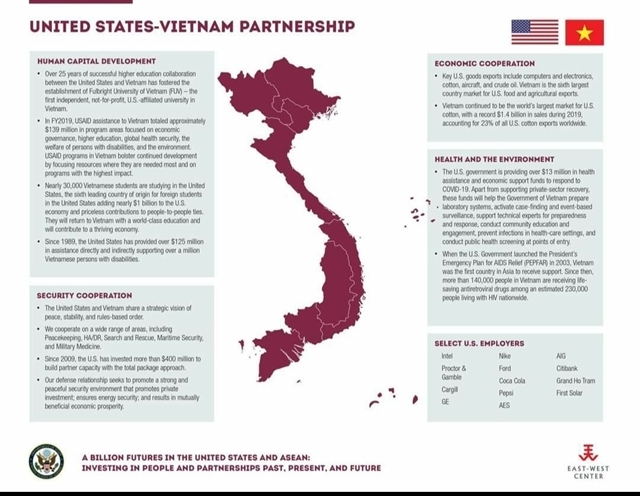 A screenshot of the original post on US Embassy in Hanoi showing a map of Vietnam with two archipelagos Hoang Sa and Truong Sa before they were removed. Facebook capture
In the ASEAN meeting with its partners, Chinese and American foreign ministers, Wang Yi and Mike Pompeo traded barbs over who is at fault for the escalation of tensions in the South China Sea, while ASEAN countries stressed that they did not want to "take a side" between either major power. The US has been a vocal opponent and challenger to China's expansive claims and China's aggression and bullying against other claimants in the South China Sea.
In July, US Ambassador to Vietnam Daniel Kritenbrink said the US would increase diplomatic activities with partners in the region, including ASEAN, help countries improve their maritime capabilities and develop the US's military capabilities, including activities to protect freedom of navigation at sea, in order to maintain stability in the South China Sea./.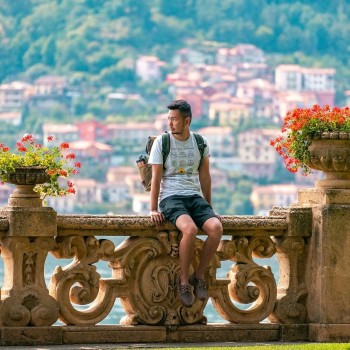 Travel
If you have the opportunity to visit Hoi An at the end of the year, these are some of the best recommendations for fun activities you can do from Peter R – a Thai travel blogger.