Measures to protect foreign brides from domestic violence: Korea Times
The Republic of Korea (RoK)'s men with criminal records will be banned from bringing marriage migrants to the country, and foreign brides who suffer domestic violence will be able to easily report to police through a multilingual app, the government announded on Friday (Nov 22).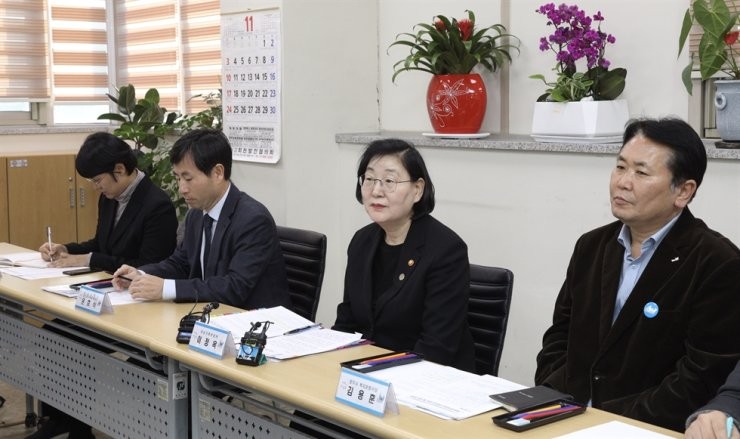 RoK's Gender Minister Lee Jung-ok, second from right, attends a policy meeting on abused immigrant women at Yangju, where a Vietnamese wife was recently killed by her Korean husband, Nov 20, 2019. Photo: Yonhap
In addition, the government will crack down on unregistered international marriage brokers, The Korea Times reported.
The RoK's Ministry of Gender Equality and Family announced sweeping measures to better protect foreign women from domestic violence. The policies were designed by a special taskforce of field experts and activists, formed shortly after a harrowing video showing a Korean man beating his Vietnamese wife went viral in July.
"Through these measures, we will help immigrant women settle down and demonstrate their full potential as members of society," Rok's Gender Minister Lee Jung-ok said. "We will also take stern action against illegal human rights violations by international marriage brokers."
First of all, RoK's men will be barred from sponsoring foreign brides for a marriage visa if they have a record of domestic violence, sexual assault or child abuse within the past 10 years, the minister said.
An app for reporting domestic violence will be set up and available in 13 languages. A telephone line is already in service. Social service workers who visit the homes of immigrant wives will be encouraged to report any signs of domestic violence to the police. The ministry will also expand counseling and legal aid centers for battered foreign brides.
As for the illegal marriage brokers that sexually objectify foreign brides in ads or postings aimed at older RoK's bachelors, the country's National Police Agency will cooperate with Interpol to shut down the brokers who operate their websites via foreign servers.
Ministry-funded support centers will also expand gender equality classes for multicultural couples.
Last week, VNA reported that tnternational marriages accounted for 9.2 percent of total marriages of 258,000 in the RoK in 2018, up 0.9 percent against the previous year, according to Statistics Korea.
Out of the total, couples made up of a Korean man and a foreign woman accounted for 67 percent last year, followed by foreign male-Korean female pairs with 19.6 percent and couples from naturalised Koreans with 14.6 percent.
Vietnamese brides took the lion's share of all international marriages at 30 percent in 2018. Chinese wives came in second with 21.6 percent, followed by Thai at 6.6 percent.
In comparison, Chinese men accounted for 9.4 percent of foreign males who got married with Korean women, followed by Americans at 6.2 percent and Vietnamese at 2.5 percent.
Media reports since 2007 show at least 22 foreign wives have been killed by their partners or in-laws over the last 12 years. Just last week, a 29-year-old Vietnamese wife was murdered by her 57-year-old partner in Yangju, north of Seoul, three months into their marriage. In July, a video went viral of a 36-year-old Korean man punching and kicking his Vietnamese wife in the presence of their two-year-old son. The violence left the woman with a broken rib and other injuries that require four weeks of treatment.
In a 2017 survey by the National Human Rights Commission, four in 10 immigrant wives responded they have experienced domestic violence.
Many immigrant wives do not report domestic violence, fearing they will not be able to renew residency visas without their husband's support. To allay this fear, the RoK's ministry will set up a special ombudsman panel of professors and lawyers to evaluate individual cases and grant citizenship to divorced foreign wives if they see the husband is to blame for the break-up.
The Vietnamese Ministry of Foreign Affairs (MoFA) has taken many citizen protection measures, including asking competent agencies and social organisations of the RoK to teach Korean language and culture, provide vocational training and create jobs for Vietnamese citizens married to Koreans.
Besides, it has established a cooperation mechanism with the RoK Migrant Women's Emergency Support Centre to exchange information and swiftly address emergency cases relating to Vietnamese brides in the country, while closely coordinating with the RoK Ministries of Justice, Foreign Affairs, and Gender Equality and Family to deal with incidents involving Vietnamese citizens married to Koreans./.