Message of Congratulations on the National Day of Hungary
On the occasion of the National Day of Hungary (August 20), top Vietnamese leaders have sent congratulations to the European nation as they commemorate St. Stephen's Day and the founding of the Hungarian state more than 1,000 years ago.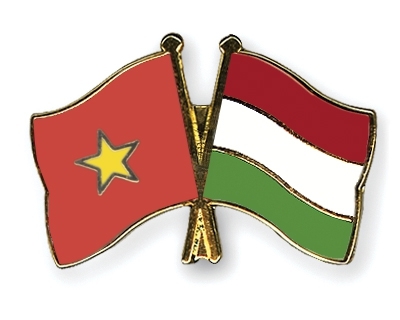 Vietnam sends congratulations to Hungary on National Day.
Party General Secretary and President Nguyen Phu Trong sent congratulations to Hungarian President Janos Ader while Prime Minister Nguyen Xuan Phuc extended greetings to his counterpart Viktor Orban.
Deputy Prime Minister and Foreign Minister Pham Binh Minh also sent a congratulatory message to Hungarian Minister of Foreign Affairs and Trade Peter Szijjarto.
Vietnam and Hungary set up diplomatic ties on February 3, 1950. Hungary provided Vietnam with valuable support and assistance during the latter's national defence and construction.
Over the past years, bilateral relations have seen very positive developments, with the exchange of delegations, especially at the high level, taking place regularly through the channels of parties, administrations, national assemblies, and localities. The two sides also have had effective cooperation at multilateral forums, particularly at the United Nations and within the framework of the Asia – Europe Economic Forum.
Hungary has considered Vietnam the most important partner in Southeast Asia. Over the past years, their economic and trade ties have increased sharply, with two-way trade exceeding USD 338 million in the firt five month of 2020.
As of January 2020, Hungary had 19 valid projects in Vietnam with total registered capital of USD 69.94 million, ranking 53rd out of 135 countries and territories investing in the country.
Besides, the two countries have made strides in cooperation on law-making, justice, national defence-security, health care, education-training and partnership between localities.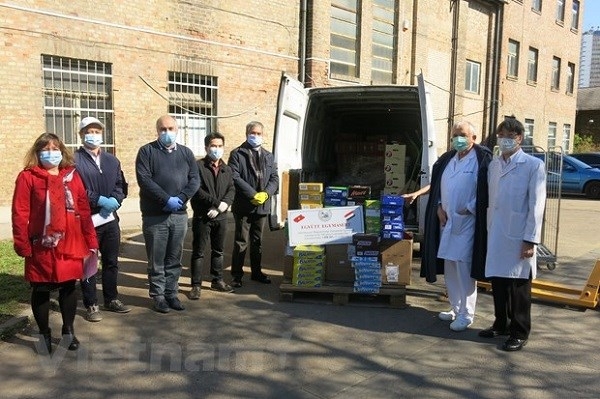 Gifts are handed over to the National Institute of Hematology and Infectious Diseases at the Southern Pest Medical Center, which is tasked by the Hungarian government to treat COVID-19 patients (Photo: VietnamPlus)
To date, the relationship between Hungary – Vietnam has lasted for 70 years (1950 – 2020). What could better demonstrate the strength of the relationship than willingness to help each other, especially when the entire world is facing a truly unprecedented situation arising out of coronavirus.
In April, the Vietnam–Hungary Friendship Association has donated 10,500 face masks to Hungary in an assistance to fight against the COVID-19 pandemic.
The Vietnamese community in Hungary has also joined hands with local authorities in the fight against the pandemic. Medical face masks, cloth masks, and protective gloves have been mobilised among overseas Vietnamese in Hungary to present to local hospitals and health centres.
In addition to the charitable activities initiated by the association, many Vietnamese people across Hungary have also supported the Hungarian authorities and people in the fight against COVID-19, which was noted and appreciated by local media and residents./.
Vietnam, Hungary step up all-round cooperation

Vietnam and Hungary have agreed to boost comprehensive collaboration across politics, economy-trade, science-technology, culture, tourism, finance, agriculture, and security-defence to mark the 70th anniversary of ...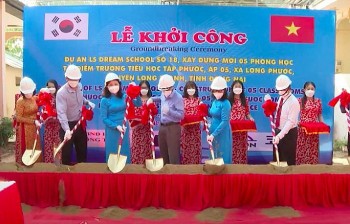 Friendship
The Union of Friendship Organizations of Dong Nai Province and COPION (Co-operation & Participation In Overseas NGOs) kicked off another LS Dream School project in the southern province.