The Most Beautiful Tourist Destinations You Can Visit This Summer
The natural beauty of Vietnam is alluring to the adventurers of the world. These locations offer something special for international and domestic travelers.
According to Zing's survey, the ticket prices for the trips can be changed, depending on the check-in time, departure hours, and the number of seats.
1. Dalat (Lam Dong)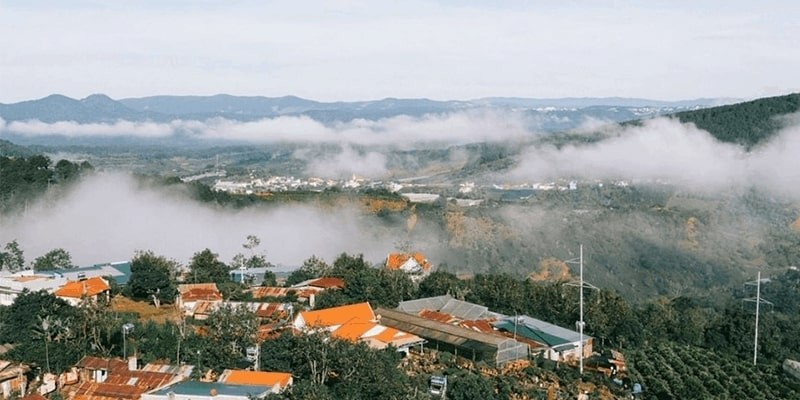 Photo: Vntrip
Dalat has always been considered the most ideal tourist destination for a holiday. The weather here is cool all year round, and each season brings its own distinctive characters and beauty.
How to get there:
Airplane: The cheapest round-trip fare is about VND1,200,000 (US$51.83)/ person.
Bus: Tickets range from 500,000 VND (US$21.59)/round trip/person. Travel time is about 6-7 hours, and you should choose to go at night so that you will have time to rest.
Where to stay: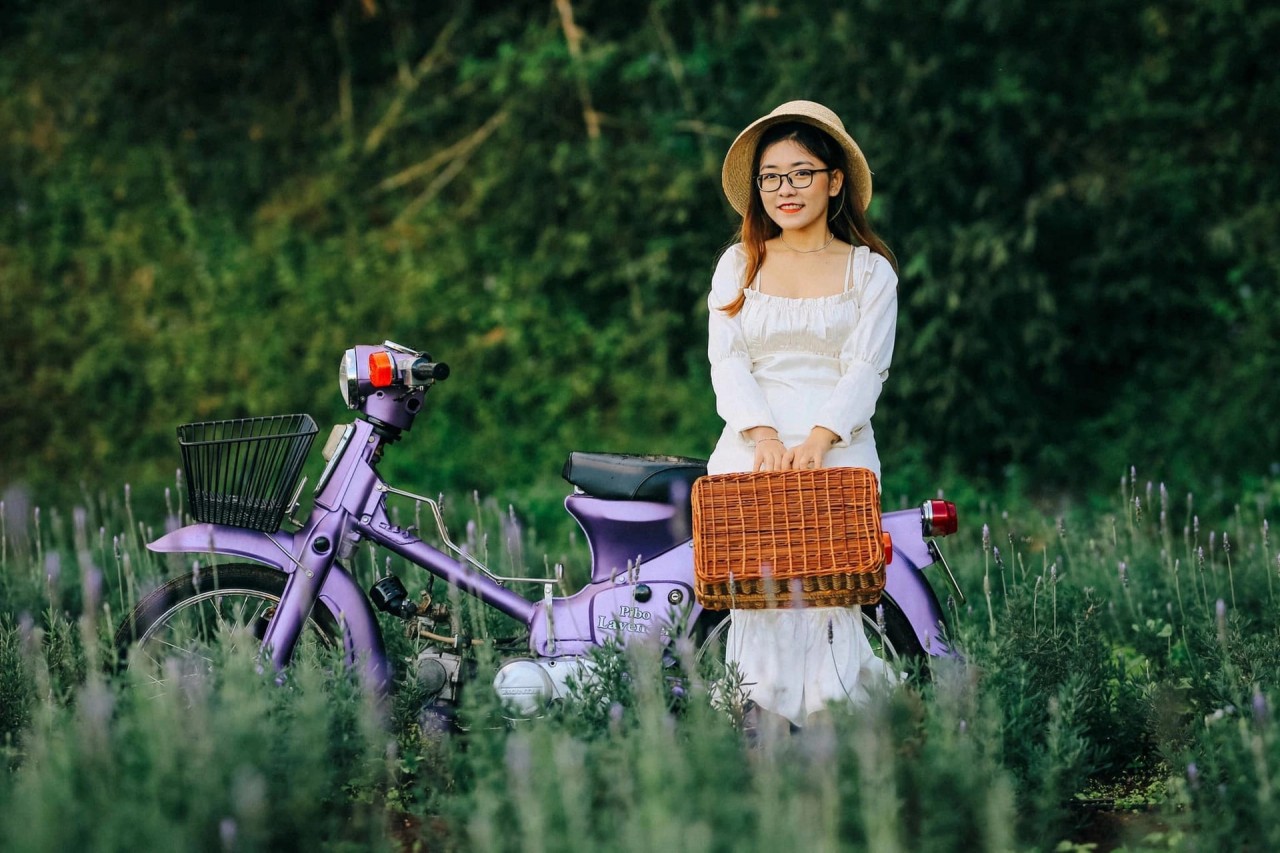 Photo: Lavender Tui Thuong Nho
Dalat has many pretty homestays that are suitable for relaxing and watching the dreamy city just outside the windows.
Tre's House brings the visitors sense of tranquility and rustic feelings. Many home and outdoor decorations are recycled, mostly made of bamboo and wood. The prices for the rooms range from VND600,000 (US$25.90) to VND1,200,000 (US$51.80) per night. During the holiday time, the prices are up to VND1,000,000 (US$43.17) – VND1,400,000 (US$60.47) per night.
LengKeng Dalat Homestay is located about 3 kilometers from the center city and offers a panoramic view of the valley, with a cozy and simple style. The prices of the rooms range from VND370,000 (US$15.98) to VND500,000 (US$21.59) per night.
Hai A has a beautiful view of the vast hills and mountainsides. The place is surrounded by nature, which is suitable for relaxation and rest.
Besides, tourists can stay at boutique hotels, which are located near Dalat's center city such as Le Récit Boutiqué Hôtel de Dalat, Banla Boutique Hotel, Lasol Boutique Hotel, etc.
What to eat: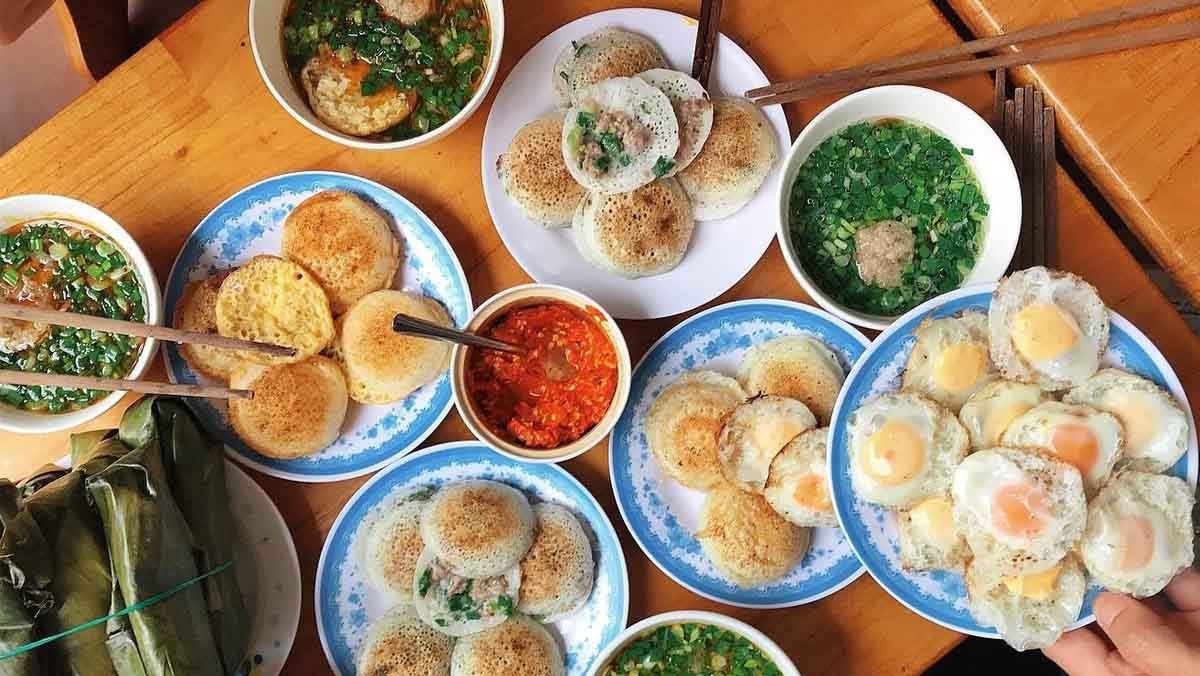 Photo: Dien may XANH
Can cake: Banh can Le (located on Yersin Road), banh can Doc Nha Lang (located on Nguyen Bieu Street).
Baked rice paper: Aunt Dinh (located on Hoang Dieu street), Banh trang nuong 61 (located on Nguyen Van Troi street).
Wet cake with chicken hearts: Trang restaurant (located on Tang Bat Ho street), Long restaurant (located on Phan Dinh Phung street).
Da Lat avocado ice cream: Thanh Thao and Phung avocado ice cream (located on Nguyen Van Troi street).
Beef hot pot: Ba Toa beef hot pot, Quan Go (located on Hoang Dieu street).
Where to visit: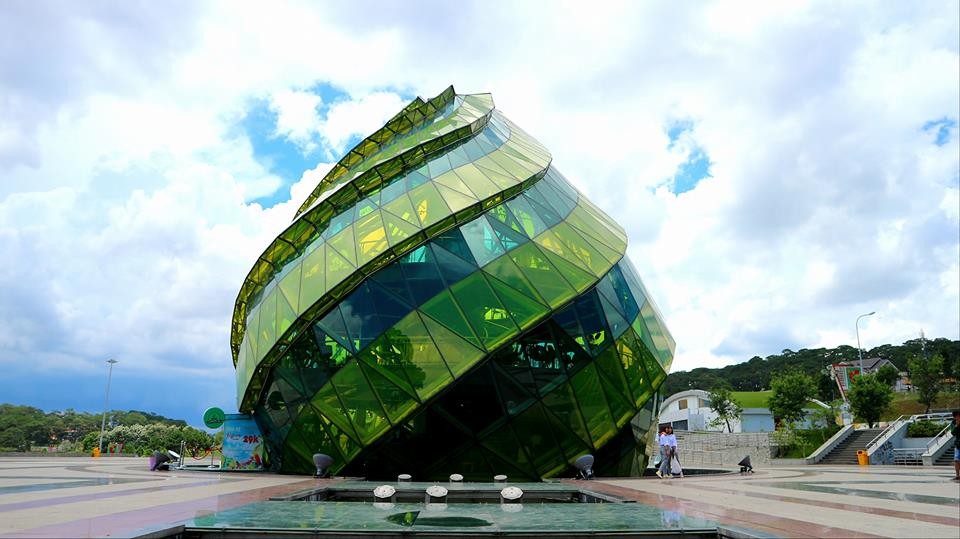 Photo: Phuot KCT
Tui Thuong Nho Lavender Garden was opened in 2021 and has attracted many tourists coming to explore, and has unique Instagram check-in pictures. The flower garden is located in Van Thanh, District 5, on the way to the center city to the Van Thanh flower garden.
Kombi Land – the land of cactus that is inspired by the dynamic and youthful style. Several creatively designed corners help you create impressive photos with amazing backgrounds such as the bright yellow bus, the wall of cactus, etc. The price for one ticket is VND90,000 (US$3.88) per person, including drinks.
Tourists should not miss other destinations such as Dalat station, square, night market, etc if they visit Dalat for the first time.
2. Sapa (Lao Cai)
How to get there: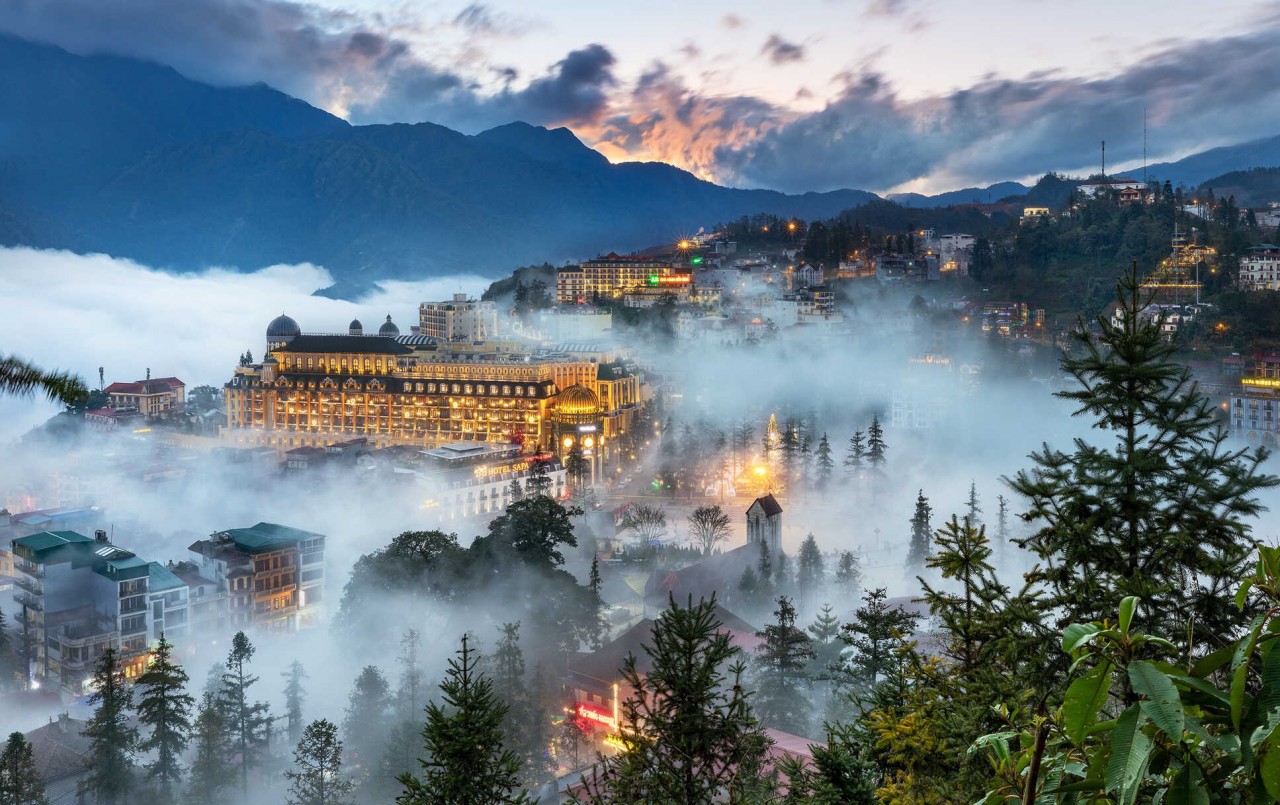 Photo: EMOI
Tourists from Ho Chi Minh City often choose to travel by motorbike to Noi Bai International Airport (Hanoi), then take the bike, car, or bus to reach Sapa.
Airplane: The cheapest round-trip ticket from Ho Chi Minh City to Hanoi is about VND2,400,000 (US$103.60)/ person.
Passenger car: Ticket price is VND180,000 (US$7.77)- VND450,000 (US$19.42)/person. You can choose bus companies such as Sao Viet, Hai Van, Sa Pa Group Bus, Eco Sa Pa Limousine, etc for your trip.
Where to stay: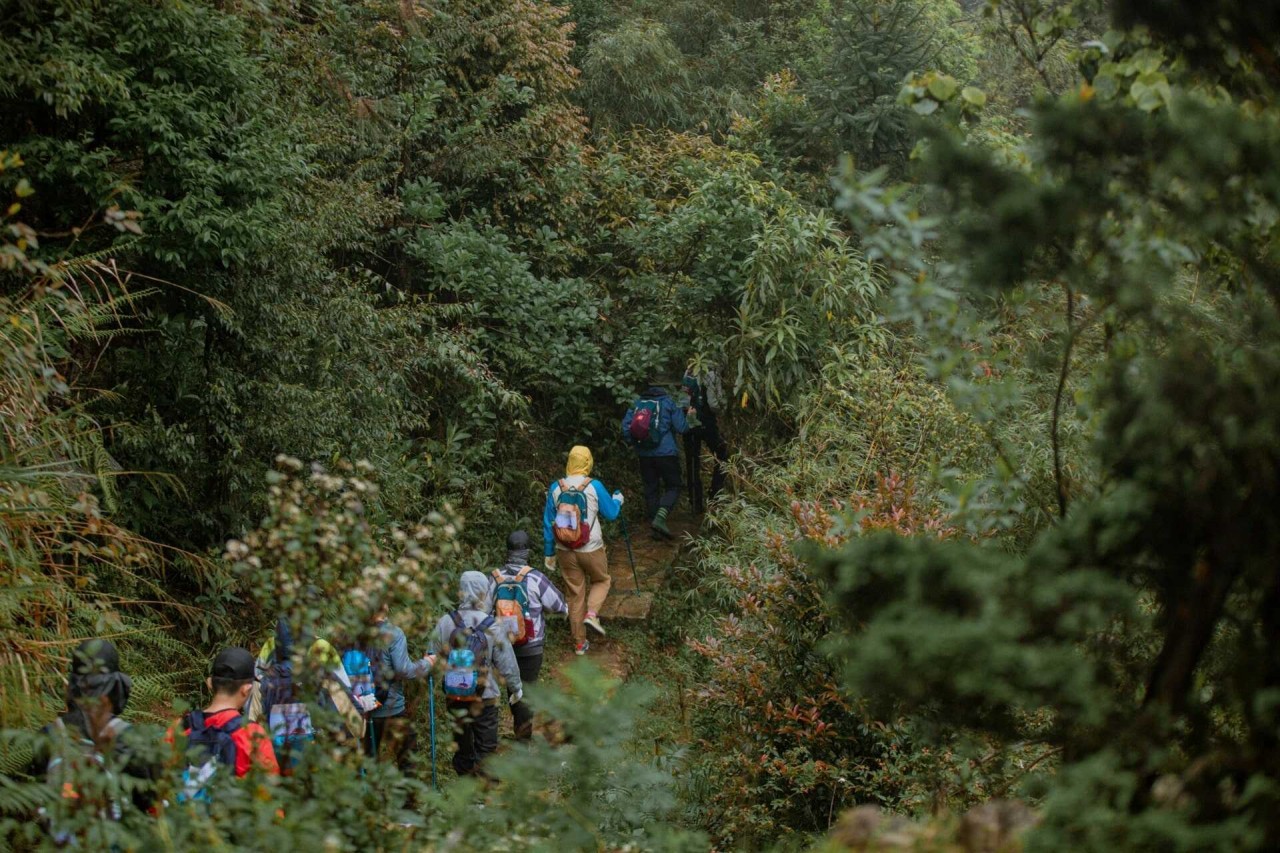 Photo: Giang Tieu San
Pao's Sa Pa Leisure Hotel is located near the cable car station near Fansipan Legend. From here, tourists can have easy access to the old church, Sapa lake, the center square, Ham Rong mountain, etc. The hotel has a total of 233 rooms, with the prices ranging from VND1,400,000 (US$60.43) to VND7,600,000 (US$328.08) per night.
Amazing Sa Pa hotel is located about 10 kilometers from the center city, with modern equipment and white color as the main theme, bringing a feeling of content for visitors. The prices range from VND2,000,000 (US$86.39) to VND5,300,000 (US$228.94) per night.
What to eat: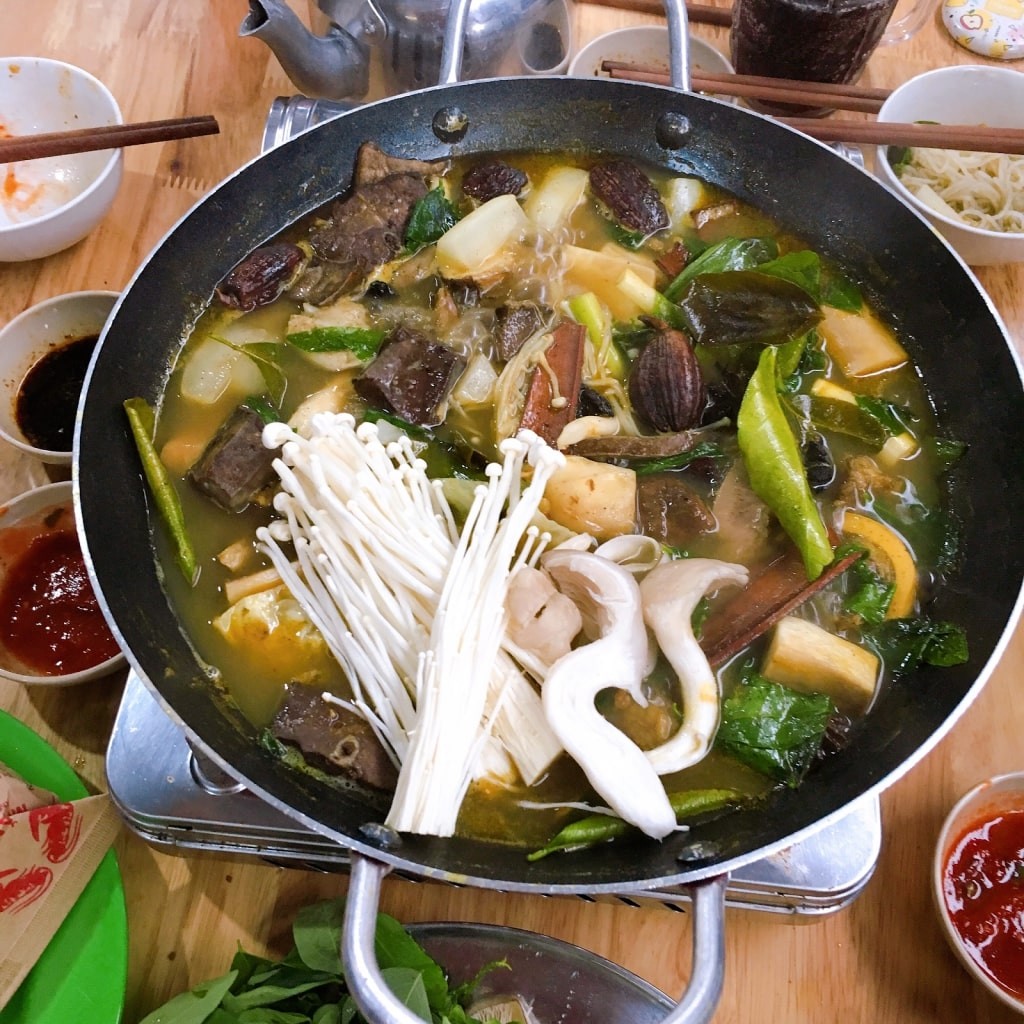 Photo: The gioi Combo
The specialties of the Northwest are quite rich and delicious, including traditional dishes such as Thang co, Lam rice, black chicken, grilled stream fish at A Quynh (located on Thach Son street), Hoa Dong Tien (located on Cau May street), Red Dao (Thac Bac street), King Salmon (located on Le Van Tam street), etc.
Tourists can also try some buffalo meat hung up in the kitchen, one of the most famous traditional food of the area, and buy it as a gift for their families and friends at home.
Where to visit:
Fansipan Peak, also known as "The roof of Indochina", is always the favorite destination that tourists can not miss coming to Sapa. The best time to travel to Fansipan is from September to April. For people who do not enjoy trekking, they can use a cable car with a ticket price of VND750,000 (US$32.38) per person.
Sapa love market opens every Saturday night, and this place is where young men and women meet and find their partners for life through love songs.
At Cat Cat village, tourists can experience walking on the rocky roads, rowing boats on the rivers, taking Instagram check-in photos of the gorgeous natural scenery, etc.
Despite a difficult and dangerous entrance, O Quy Ho possesses a view overlooking the majestic mountain scenery in the Northwest and becomes the most loved spot for nature lovers.
Ham Rong Mountain attracts tourists with impressive natural rock formations. The entrance ticket price is VND70,000 (US$3.02)/adult and VND20,000 (US$0.86)/child.
3. Ha Giang
How to get there:
Similar to Sapa, tourists often travel to Hanoi by plane before departing for Ha Giang.
Airplane: The cheapest round trip ticket from Ho Chi Minh City to Hanoi is about VND2,400,000 (US$103.60)/person.
Bus: The cheapest fare is about VND300,000 (US$12.95)/person/trip.
Where to stay: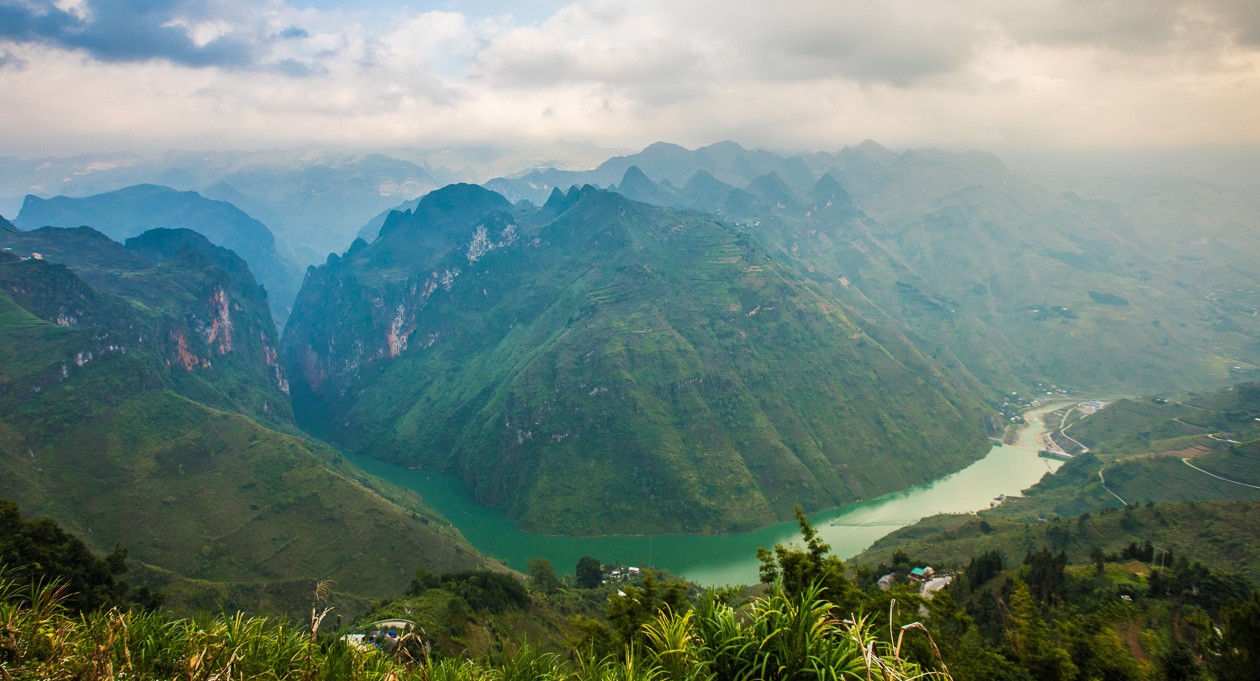 Photo: Vietnam Tourism
Pa Vi village of the Hmong ethnic minority group is the highlight of the most well-known tourist destinations in Ha Giang, where you can learn everything about the culture and history of the Mong people. This place offers a variety of accommodation and homestay types, such as A Kiet Homestay, Little Yen's Homestay, Meo Vac Clay House, Pa Vi Homestay, etc. The prices range from VND150,000 (US$6.47) to VND1,500,000 (US$64.78) per night.
Hoang Su Phi Lodge owns a prime location, with its back leaning against the foothills, giving you a panoramic view of terraced rice fields. The homestay area consists of many separate houses on stilts that are designed to be open, which is in harmony with nature. The price for one night stay is VND1,400,000 (US$60.49)/apartment/night.
Du Gia is famous for its winding pathways, rich villages, and a variety of homestays and tourism services. Du Gia Coc Pang Homestay, which is located in the middle of rice fields, is a favorite choice of many visitors. The prices for one night's stay range from VND100,000 (US$4.32) to VND220,000 (US$9.49) per night.
What to eat: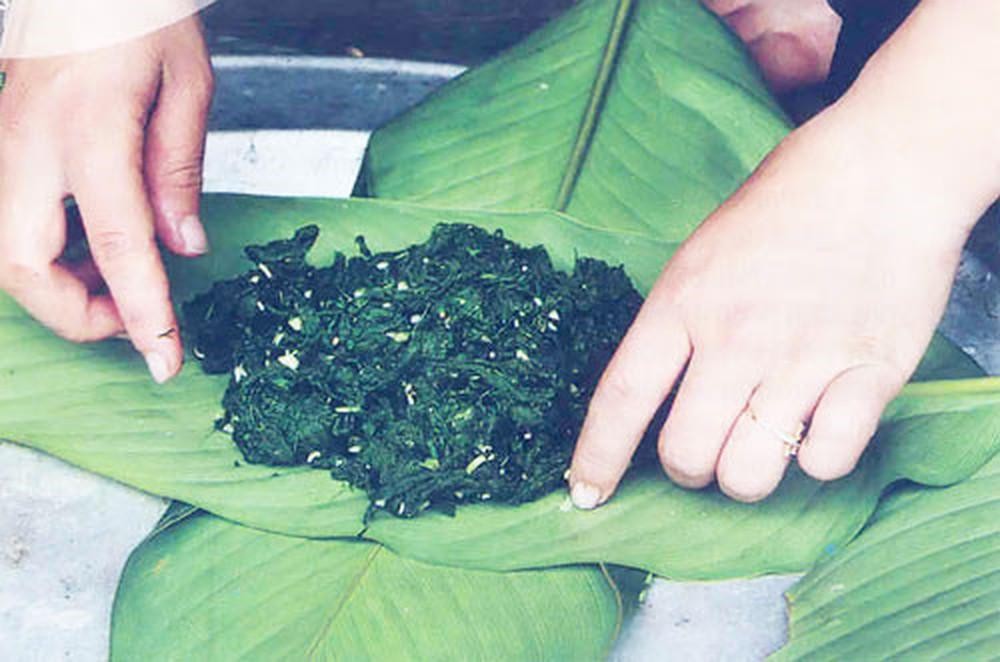 Photo: 24H
Au tau porridge: Ngan Ha restaurant (located on Tran Hung Dao Street).
Grilled moss: Pho Cao, Dong Van, and Meo Vac markets.
Egg rolls: Co Cuc, Ba Ha (Old Quarter), Ngan Nga (Sung Dung Lu).
Some restaurants serving specialties of Ha Giang that you can visit such as Com Dan Toc, Ca Song Lo, and Vuong Gia restaurants.
Where to stay:
Photo: Thao Ly
The most well-known tourist spot is the Lung Cu flagpole, one of the most sacred places in the country.
Dong Van is a small town located in the middle of a valley surrounded by rocks. The most picturesque part of Dong Van is the old town where many rundown clay houses built in the late 19th century are located. Dong Van market is held every Sunday. It is the perfect place to shop for local products made by ethnic minority people such as Mong, Han, Dao, Giay, and Tay people. On Saturdays, countless lanterns make the town a beautiful place to stroll around. You can explore attractions such as Dong Van Karst Plateau Geopark, Lung Cu Flag Tower, and Ma Pi Leng Pass from Dong Van town.
Ma Pi Leng Pass is one of the "four great mountain peaks" of the northern mountainous region of Vietnam. The pass is in Ha Giang province, about 20 km long, surpassing Ma Pi Leng peak. It is a mountain peak of about 1,200m in Dong Van Plateau, on the road named Hanh Phuc connecting Ha Giang, Dong Van city, and Meo Vac town. This is an ideal place for those who love adventure and like to conquer winding and rugged roads. How it is to enjoy the freedom and harmony with nature and the sky.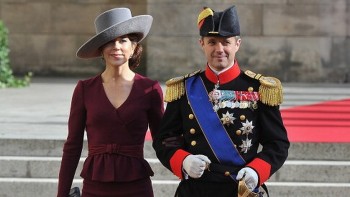 Friendship
Denmark's Crown Prince and Crown Princess will visit Vietnam to celebrate 50 years of diplomatic relations and promote green solutions.