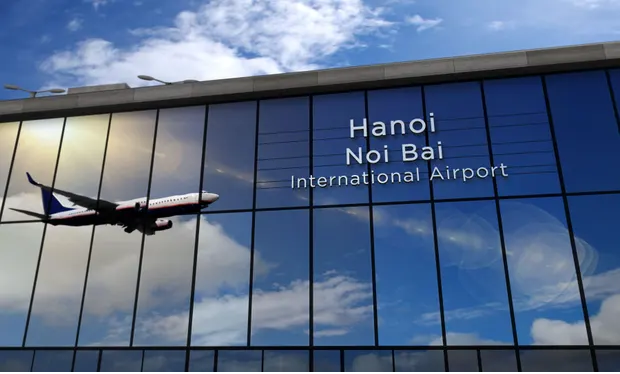 The twenty-seven Vietnamese nationals were flown from Birmingham to Vietnam. Photo: Skorzewiak/Alamy
Noting Vietnam's viewpoint on the reception of Vietnamese nationals returning from the UK, Vice Spokesman of the Ministry of Foreign Affairs Doan Khac Viet on April 29 said the reception has been carried out on the basis of the Vietnam-UK agreements, along with international law and practices, including the memorandum of understanding signed by the two governments on October 28, 2004, on migration issues, so as to ensure the citizens' rights and legitimate interests and accord with the countries' legal regulations.
Vietnam hopes that the UK side will always create favorable conditions for the Vietnamese community there to integrate and contribute to the prosperous development of the UK, and also to bilateral relations, he said, adding that the Vietnamese Government supports legal, safe, and orderly migration while resolutely preventing and fighting against illegal migration, the arrangement of illegal migration, and human trafficking.
According to the Vice Spokesman, the Prime Minister of Vietnam on February 9, 2021, approved a program on human trafficking prevention and control for the 2021-2025 period, with a vision to 2030, that includes the task of enhancing the combat against human trafficking in international migration.
Vietnam is also continuing efforts to achieve the targets of the Global Compact for Safe, Orderly, and Regular Migration under the plan issued by the Prime Minister on March 20, 2020, so as to create a transparent migration environment and protect the rights and legitimate interests of migrants, Viet added.
The country has been stepping up cooperation with countries and organizations, including the International Criminal Police Organisation (Interpol), to prevent, detect, investigate, and deal with illegal migration rings in line with the law.
Vietnam is ready to discuss and coordinate with other countries to handle related cases in a timely manner and ensure legal and safe migration for the sake of migrants' rights and legitimate interests, the Vice Spokesman affirmed.
Previously, the Guardian reported that twenty-seven Vietnamese nationals were removed on the flight, which took off from Birmingham. Fourteen were enforced returns and 13 were voluntary departures.
Six did not spend five working days in an immigration removal center (IRC) prior to the flight, where they would have had access to legal advice surgeries and instead were held in prisons or a short-term holding facility for part of that period, where it is more difficult to access legal advice.
Some Vietnamese nationals pay smugglers about £30,000 for a passage to the UK, said the Guardian.
Malie Nguyen