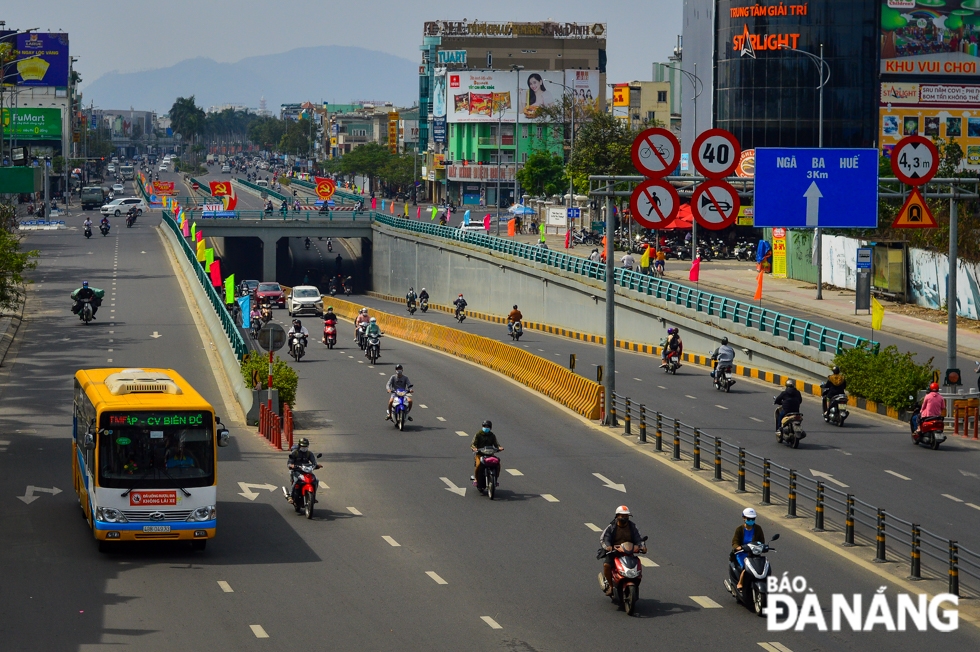 Da Nang was honoured with the Vietnam Smart City Award 2020. Source: Da Nang newspaper
Many outstanding achievements in Da Nang's economic diplomacy performances over the 2016 - 2020 period were highlighted at a recent meeting on the city's economic diplomacy jointly held by the municipal People's Committee and the Ministry of Foreign Affairs, Da Nang Today reported.
The event was co-chaired by Da Nang People's Committee Vice Chairman Ho Ky Minh and Nguyen Van Thao, the Assistant to Minister of Foreign Affairs cum Head of General Economics Department. Also present were representatives from several Vietnam-based foreign diplomatic agencies, along with departments, associations, and domestic and foreign businesses in Da Nang.
According to an overall report released at the event, economic diplomacy has harmoniously combined with political and cultural diplomacy, thus making a practical and effective contribution to Da Nang's socio-economic development and its international cooperation, and in harmony with Viet Nam's industrialisation, modernisation and its global integration over recent years.
Over the 2016 - 2020 period, Da Nang has established friendly and cooperative relationships with 45 localities of 20 countries and territories all over the world as well as joined international networks such as CityNet, Asia Pacific City Summit, and ASEAN Smart City Network . Many bilateral agreements have been signed and implemented with international financial institutions and business associations, foreign corporations in a bid to drive the city's growth, especially bilateral cooperation in investment, trade and tourism.
Many cooperation programmes have brought many highly practical benefits to Da Nang in such aspects as planning, urban construction, environmental protection, and sustainable development.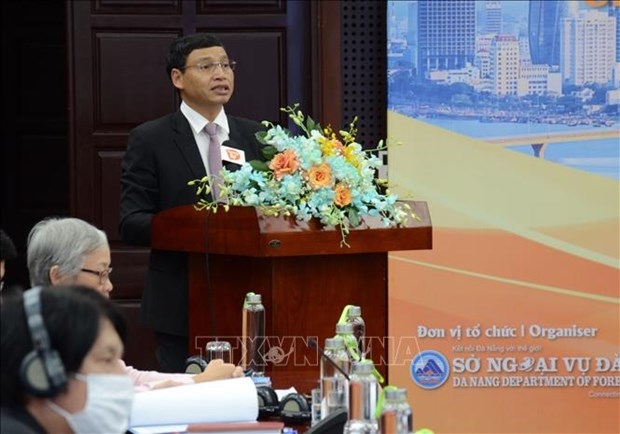 Vice Chairman of the municipal People's Committee Ho Ky Minh speaks at the meeting. Photo: VNA
The city attracted 530 FDI projects worth over USD 1.04 billion over the last five years, six ODA projects valued at VND 5.93 trillion (USD 256.36 million), and 351 programmes, projects, and non-governmental aid, with total funding of VND 598 billion (USD 26 million).
Da Nang's exports hit an estimated USD 7.62 billion, an average annual increase of 5.7%, whilst its imports reached over USD 6.5 billion, up 1.7% on a year-on-year basis.
'Made-in-Da Nang' exports made their presence in about 120 worldwide countries and territories.
Also encouragingly, the number of international tourists to Da Nang grew well, reaching an average annual growth of 29.15%.
Noticeably, Da Nang was the host of many international influential events such as the 2015 - 2016 Clipper Round the World Race, the fifth Asian Beach Games (ABG5) in 2016, the 2017 APEC Economic Leaders' Week, the Asia-Europe Foundation (ASEF)'s 37th Board of Governors (BoG) and related meetings in 2017, the sixth Assembly of the Global Environment Facility (GEF-6) in 2018, the ASEAN Senior Officials' Meeting (SOM) in 2020.
As for its economic diplomacy tasks set for the 2021 – 2025 period, Da Nang will press ahead with the research and forecasting of the world's political situation and new trends in global economic transformation to serve its development policy making.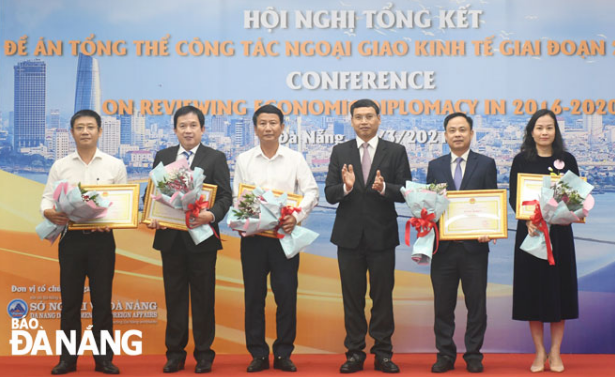 Da Nang People's Committee Vice Chairman Ho Ky Minh (third, right) presenting certificates of merit from the municipal government to organisations and individuals in recognition of their dedication and commitment for the city's economic diplomacy over the 2016 - 2020 period. Source: Da Nang newspaper
Vice Chairman of the municipal People's Committee Ho Ky Minh said Da Nang will put forth long-term plans, orientations, and key tasks for economic diplomacy between 2021 and 2025 in order to realise the city's socio-economic development plan by 2030.
It will also optimise the support of ministries and centrally-run agencies, use existing resources and advantages, and pay more attention to multilateral diplomacy to step up economic integration and exchange, and international trade in line with its development orientations, targets, and demand, while effectively utilising new-generation free trade agreements.
The city will also revamp methods of economic diplomacy and work to raise the efficiency of investment, trade, and tourism promotion activities in the new circumstances.
Da Nang will make efforts to improve the international integration capacity of local agencies, individuals, and businesses, and set up links with overseas Vietnamese, experts, enterprises, and foreign partners to spur the city's socio-economic development.
On the occassion, certificates of merit from Da Nang government were presented to six organistions and four individuals in recognition of their dedication and commitment for the city's economic diplomacy over the 2016 - 2020 period./.
Hannah Nguyen