More 20,000 AstraZeneca Covid-19 vaccine doses allocated to Hanoi, hospitals
Among 20,000 AstraZeneca Covid-19 vaccine doses dedicated to the National Expanded Program on Immunization in the second phase, Hanoi will be distributed the most by the Health Ministry.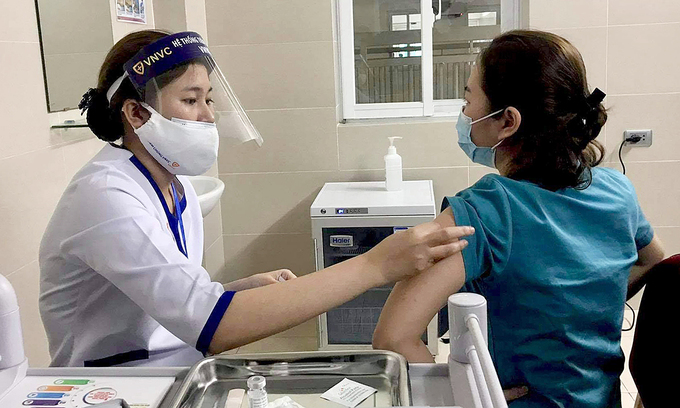 A medical worker in Hanoi's Thanh Nhan Hospital is vaccinated against Covid-19, March 9, 2021. Photo by VnExpress/Bao Loan.
The Hanoi Center for Disease Control will receive 12.880 doses. The remaining will be allocated to 6 hospitals, two universities, and 5 institutes of Hygiene and Epidemiology, Vnexpress reported.
In detail, Bach Mai Hospital will receive 1,500 doses; National Children's Hospital 800 doses; Hue Central Hospital 500 doses; Quang Nam Central General Hospital 300 doses; Da Nang Hospital C 300 doses; Cho Ray Hospital 1,500 doses.
Hanoi Medicine University and Hanoi University of Publ ic Health will be distributed 800 and 300 doses respectively.
National Institute of Hygiene and Epidemiology will receive 350 doses; the Central Highlands Hygiene and Epidemiology Institute 150 doses; Ho Chi Minh City Pasteur Institute 400 doses; Nha Trang Pasteur Institute 170 doses and Institute of Vaccines and Medical Biologicals 50 doses.
Earlier, on April 16, the Health Ministry adjusted the vaccine distribution. The Ministry doled out the majority to provinces across the country instead of the police and army forces.
There have been 50 provinces and cities receiving the vaccine in the second phase. The Health Ministry required the localities to accelerate the inoculation so that it could be completed before May 5.
As of April 20, more than 80.000 Vietnamese in 22 provinces and cities have been administered the AstraZeneca Covid-19 vaccine.
There have been 33% of recipients displaying commonly mild reactions such as swelling at the injection site, fatigue, mild fever, headache, and nausea. These reactions are normal which are also detected in other types of vaccines against measles, whooping cough, or tetanus.
There has been 1% of recipients experiencing severe reactions; however, they were timely treated and now are all in stable health conditions.
The post-injection reaction rate in Vietnam is lower than that announced by the producer.
Vietnam received 117,600 AstraZeneca vaccine doses through its order from the producer in late February and another 811,200 doses through Covax on April 1.
The country aims to secure around 150 million vaccine doses to cover 70 percent of its population by next year.