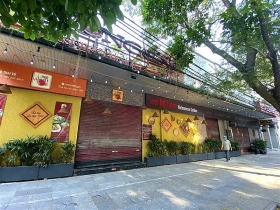 Many shops in Hanoi have shut down due to the impact of coronavirus. Photo: Tainguyenmoitruong
The warning was addressed a meeting on COVID-19 prevention and control.
Phuc also urged authorities at all levels to accelerate deployment of drastic measures to early detect and isolate stricken areas as the number of infections has increased quickly, from 17 on March 3 to 148 as of March 25.
Major cities like Ha Noi, Ho Chi Minh City, Hai Phong, Can Tho and Da Nang need to temporarily shut down all service facilities except for food, pharmacy, medical treatment services.
Phuc tasked the Ministry of National Defense to set up more quarantine facilities in the central region and southwestern border areas.
In an effort to improve public awareness of the fight against the virus, Deputy Prime Minister Vu Duc Dam on Wednesday called on each citizen to uphold the responsibility to protect the health and even life of himself and surrounding people as the current COVID-19 fight demands 'high-level of focus.'
The Deputy PM encouraged citizens to stay indoors as much as possible, keep distance from others and wear facemasks, wash hands regularly, clean house, and report medical status.
Vietnam has confirmed five more new Covid-19 infection cases including four people in Ho Chi Minh City and one in northern Quang Ninh Province, bringing the national tally to 153 on Thursday evening (March 26).

Among the five, two are foreigners entering Vietnam from March 21-23, who were quarantined upon entry. The other three cases are infected from other confirmed Covid-19 patients.
VNF/VGP