'Coronaburger' created by Hanoi's restaurant to calm the nerve
"Amid all the bad news about the COVID-19 pandemic, we decided to make this coronaburger to make people feel happier," said a baker with Pizza Home.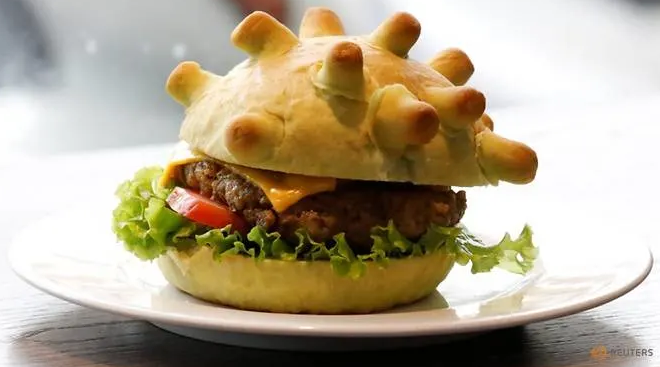 A burger shaped as coronavirus is seen at a restaurant in Hanoi, Vietnam March 25, 2020. REUTERS/Kham
Chef Hoang Tung and his team now spend their days moulding dozens of green-tea stained burger buns complete with little "crowns" made of dough to resemble microscopic images of the virus.
"We have this joke that if you are scared of something, you should eat it," said Tung, at the Pizza Home takeaway shop in downtown Hanoi.
"That's why the coronavirus isn't scary anymore after you eat a burger in the shape of the virus itself. That way of thinking spreads joy to others during this pandemic," said Tung.
According to Pizza Home, sweet leaves are crushed and turned into liquid. It is then mixed with flour to make a green coloured dough. Tiny pieces are carefully added to make the COVID-19 spikes. The buns are then baked until they are golden.
The most difficult part is to make the burger bun shaped like the virus, ensuring it both looks good and tastes like a traditional burger. They have to be very delicate from mixing and kneading the dough.
The shop has sold around 50 burgers a day, despite the growing numbers of businesses in Vietnam which have been forced to close because of the virus. The sales increased by up to five percent.
There are now 148 recorded cases of the virus in Vietnam, but no reported deaths, according to the health ministry.
Authorities in Hanoi and Ho Chi Minh City have ordered that all non-essential businesses should close although some food outlets, including Tung's takeaway shop, are still open.
Taking his grandson out for a Coronaburger, Dang Dinh Quy, viewed the luminous green burger as a morale-boosting treat.
"This coronavirus is very dangerous. But if we eat a burger in its shape, in our minds its like we are already victorious," Quy told Reuters.
"If you want to beat it, you've got to eat it first."
Tung is not the only people create a dish inspired by the coronavirus. At the Gelateria Infinito shop on the outskirts of Cremona - another area of the Lombardy region reporting many cases - customers can get a "Corona Cake", which features the typical crown-like spikes of the COVID-19 virus.
"We know that this is a serious issue, but problems can't be solved with sadness and fear," owners Andrea Schirali and his wife Daniela told the Repubblica daily.
"The important thing is to follow instructions and stay calm. If we eat a good ice cream in the meantime, it certainly can't hurt," they said.
A Moscow bar also began selling a colourful cocktail named after the rapidly-spreading virus.
Moscow's Razvedka Bar began selling its "coronavirus" cocktail on Mar 18. The cocktail is served in a glass with two medical syringes, one containing a bright red and the other a bright green liquid, though the bar's manager, Anton Zagariya, declined to identify the ingredients used.
Zagariya said the cocktail was designed to help Muscovites refrain from panicking as the country records an increasing number of cases of the virus.
"The idea of this cocktail came suddenly, just like the virus itself," Zagariya told Reuters.
"We decided... to try and lower the level of tension and panic, which is our worst enemy in this situation."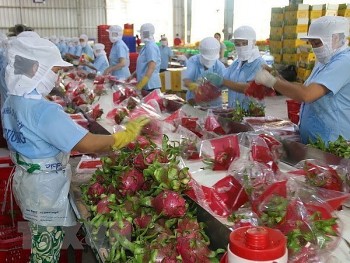 Make in Vietnam
Denmark and Vietnam strengthen cooperation in production, certification and management of organic products