Most Beautiful Places To See Pink Shower Trees Blooming In Summertime
Cat Tien National Park, Saigon Zoo and Botanical Garden, and Dalat are the three most famous natural destinations that attract tourists with their amazing and unique pink shower trees.
Summer is a wonderful time for relaxing and enjoying a lovely holiday with friends and family, and it is also an opportunity to witness the blooming of the pink shower flowers (also known as Cassia javanica) in the Southeast region and Central Highlands of Vietnam.
Cassia javanica, also known as Pink Shower Tree, is a flowering plant in the family Fabaceae. The species originates from the natural forests of Southeast Asia. In Vietnam, it is widely available in Central Highland provinces such as Gia Lai, Kon Tum, and Dak Lak and South Eastern provinces such as Tay Ninh and Dong Nai. In this summertime, tourists can come and visit these wonderful places below for these gorgeous flowers.
Dalat – The city of thousand flowers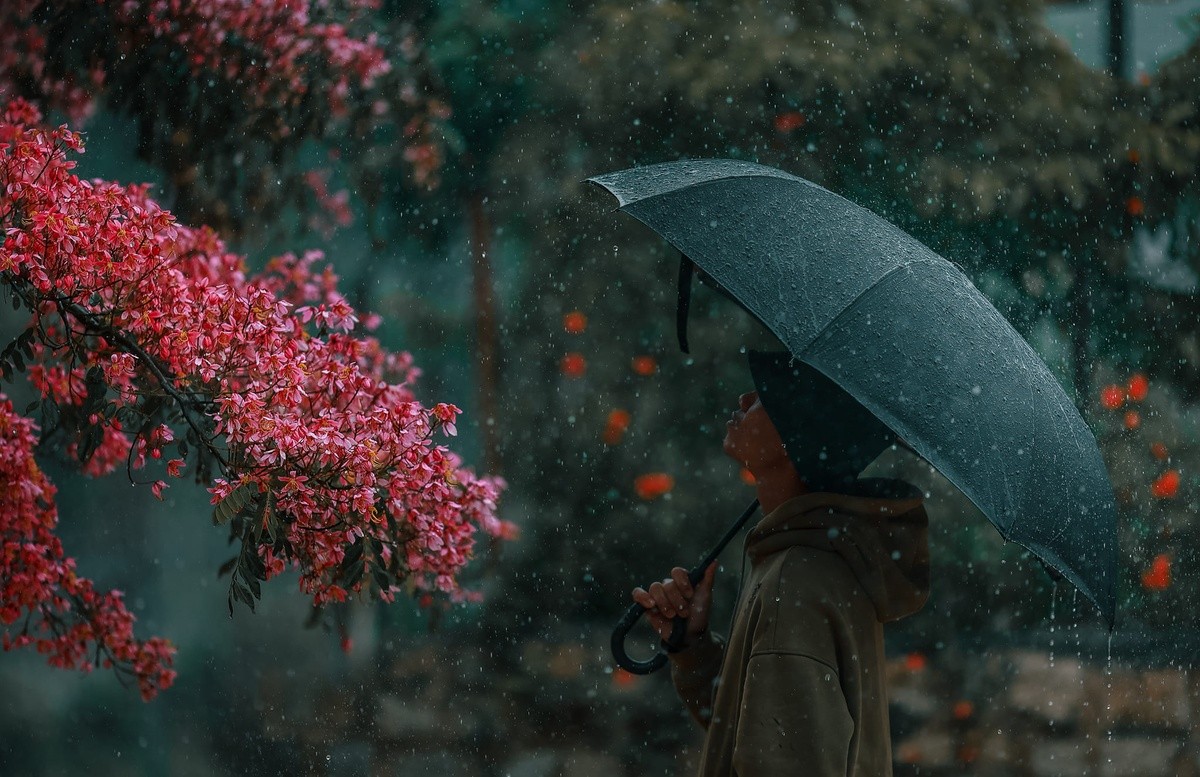 Photo: Sam Sam
Dalat is famous for its cool climate and comfortable atmosphere all year round. In each season of the year, this destination will be painted with the colors of different flowers blooming everywhere. If tourists arrive here during this time, they will also have a chance to see the unique pink shower trees covering the sky in a bright, significant shade of pink.
After the Prenn Pass is closed for upgradings, Mimosa Pass has become the alternative path for travelers to enter Dalat City. Since then, the pink shower trees growing along the Pass have attracted many photographers and young visitors with their amazing shades that become more vivid under the summer sun.
Photo: Sam Sam
Tourists can choose a favorite café to enjoy the amazing natural scenery and watch the flowers, and capture them with their camera lenses. Some of the most trending places include Giot Suong, Cafe Artista, and other check-in destinations.
Dalat is the city with the best climate in Vietnam. The climate is cool all year round, the average temperature does not exceed 20 -21 degrees Celsius including the hottest days. But another special thing is that Dalat is not too cold. During the winter months in Dalat, the temperature is not less than 10 degrees Celsius.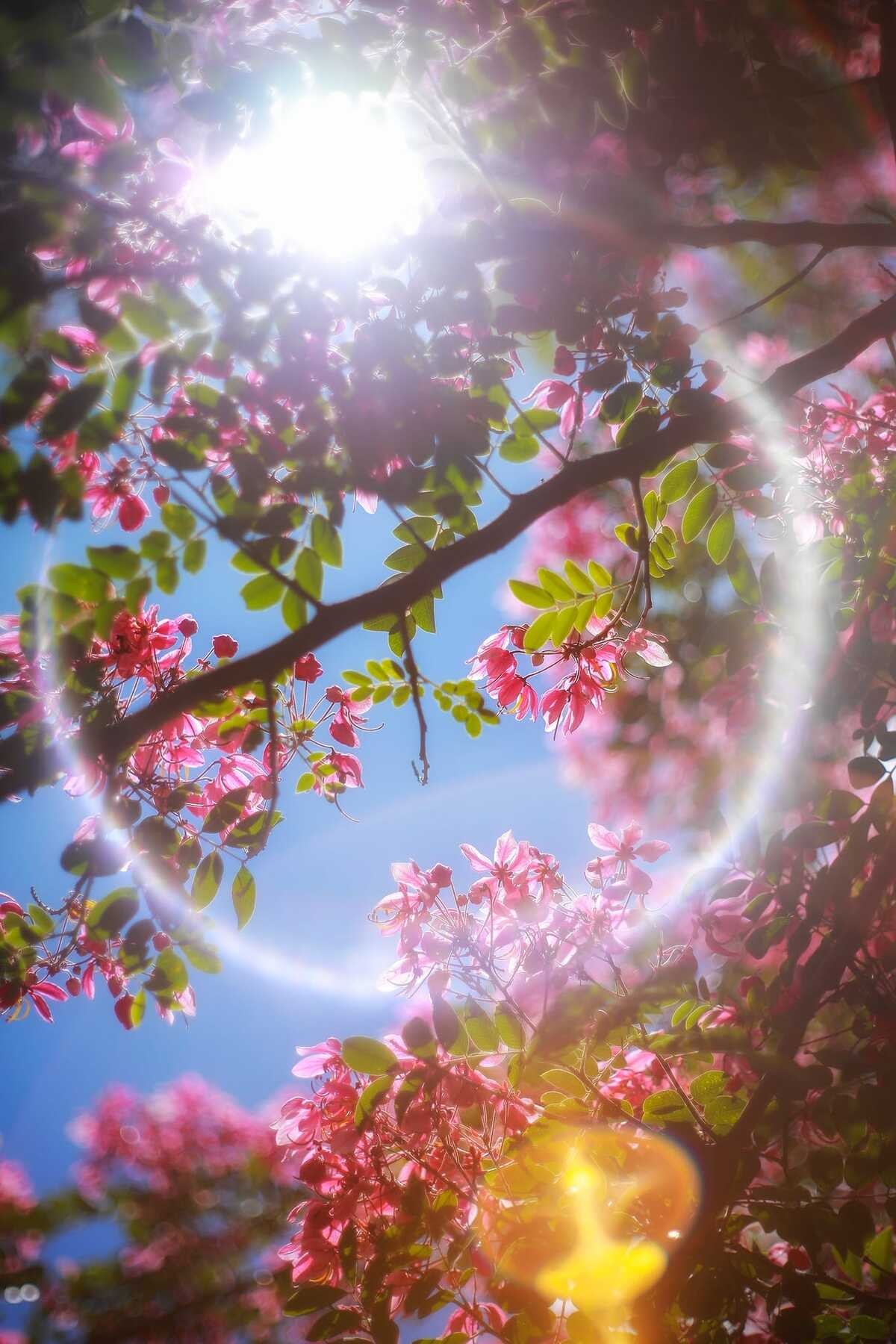 Photo: Sam Sam
Cat Tien National Park
Stretching across Dong Nai, Lam Dong and Binh Phuoc, Cat Tien National Park is a wonderful green land that is loved by many tourists. The best time to visit this destination is during May when the butterfly season is at its peak. It is also the time of blooming pink shower trees painting the whole park in a vivid and beautiful color.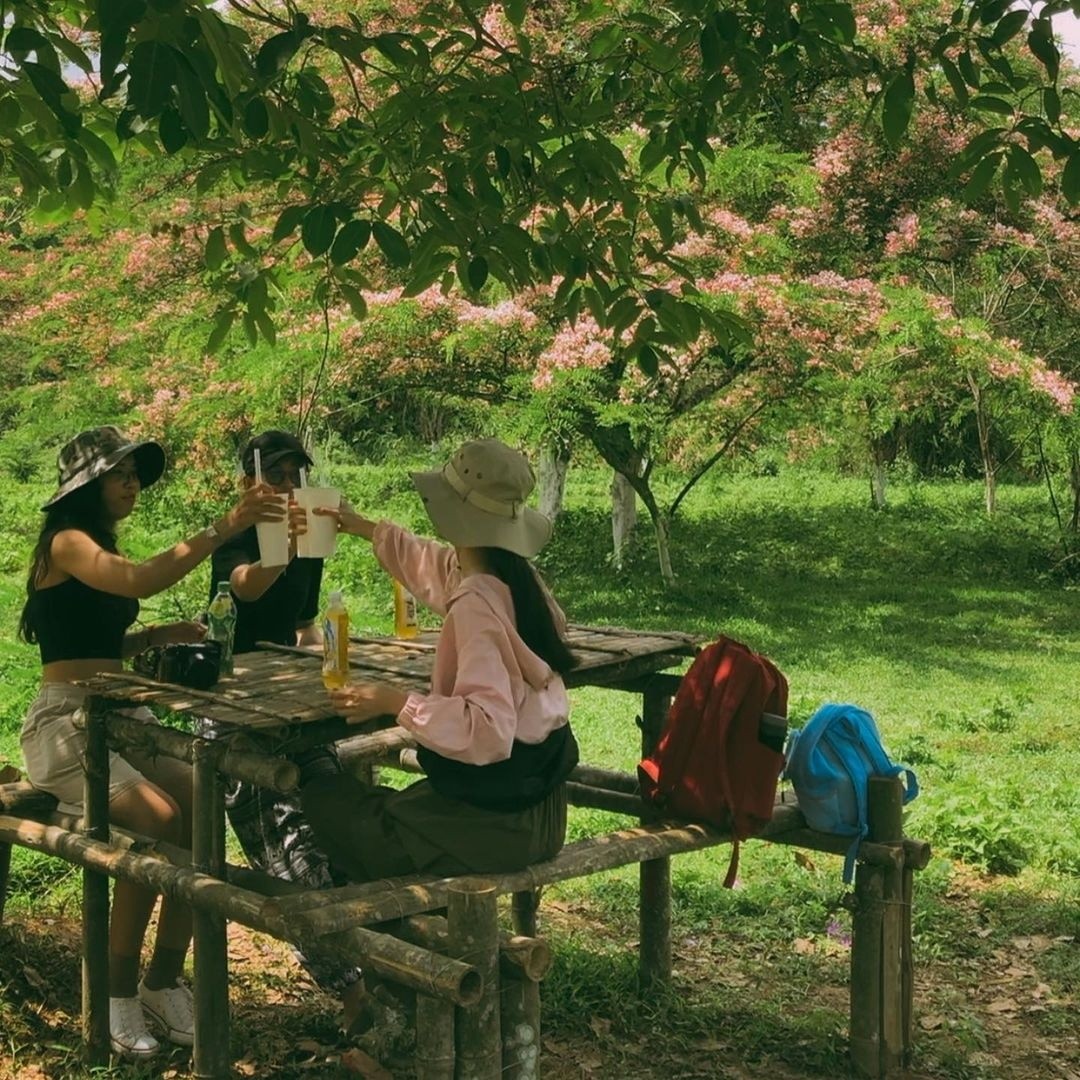 Photo: @myoi_my
My Tran, a tourist from Ho Chi Minh City, and her group of friends were lucky to have this experience when they visited this place. "The fact that I did not know this is the most beautiful time of the year makes this journey of mine even more perfect", she said.
There are many activities such as cycling or jogging in the woods, watching the colorful butterflies, listening to the whispers of the wind, and breathing in the fragrant smells of the pink shower flowers that will help you boost your energy and make you temporarily forget all the troubled thoughts.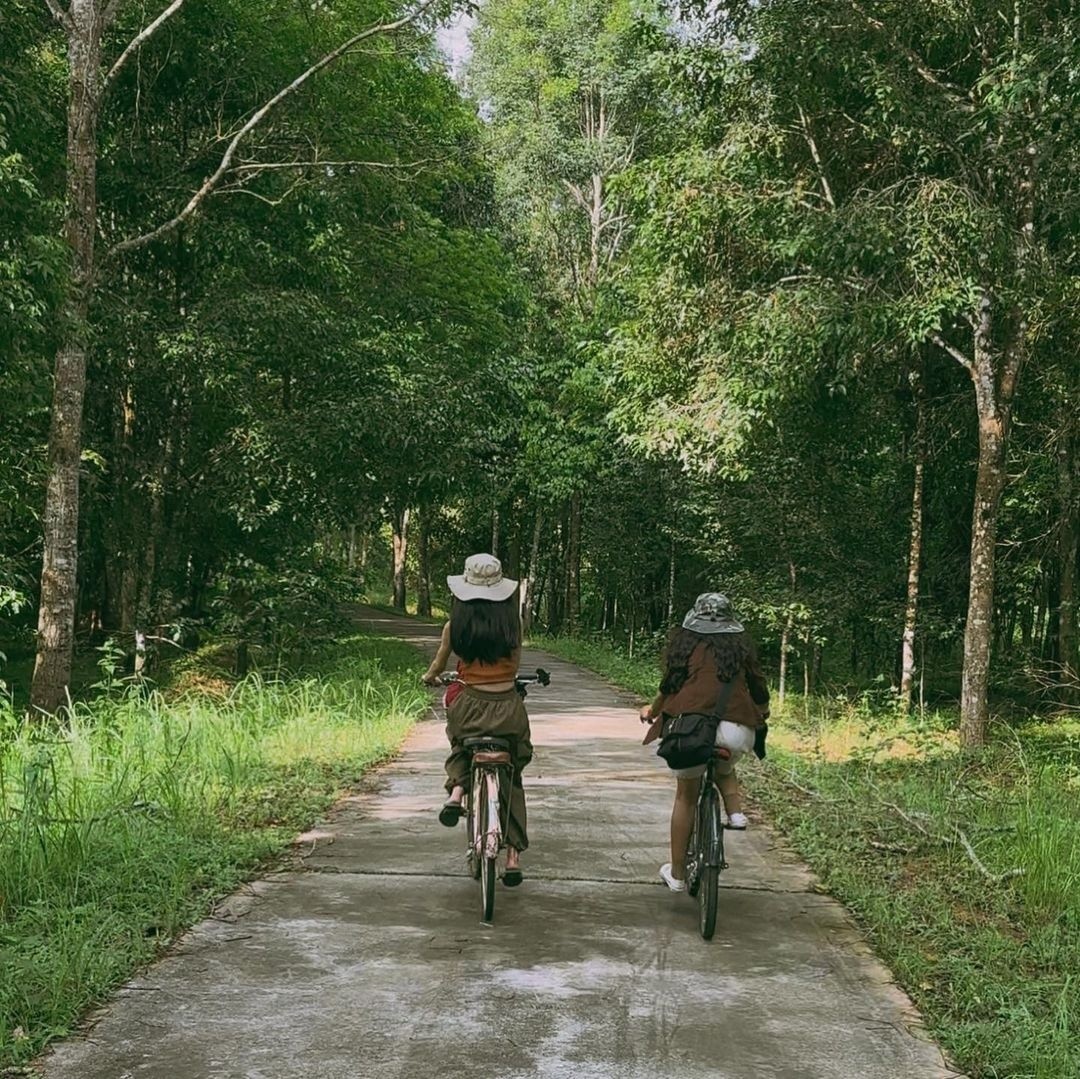 Photo: @myoi_my
Saigon Zoo and Botanical Garden
Saigon Zoo and Botanical Garden is the biggest zoo in Vietnam and one of the oldest zoos in the world. This botanical garden and zoo was established in 1864.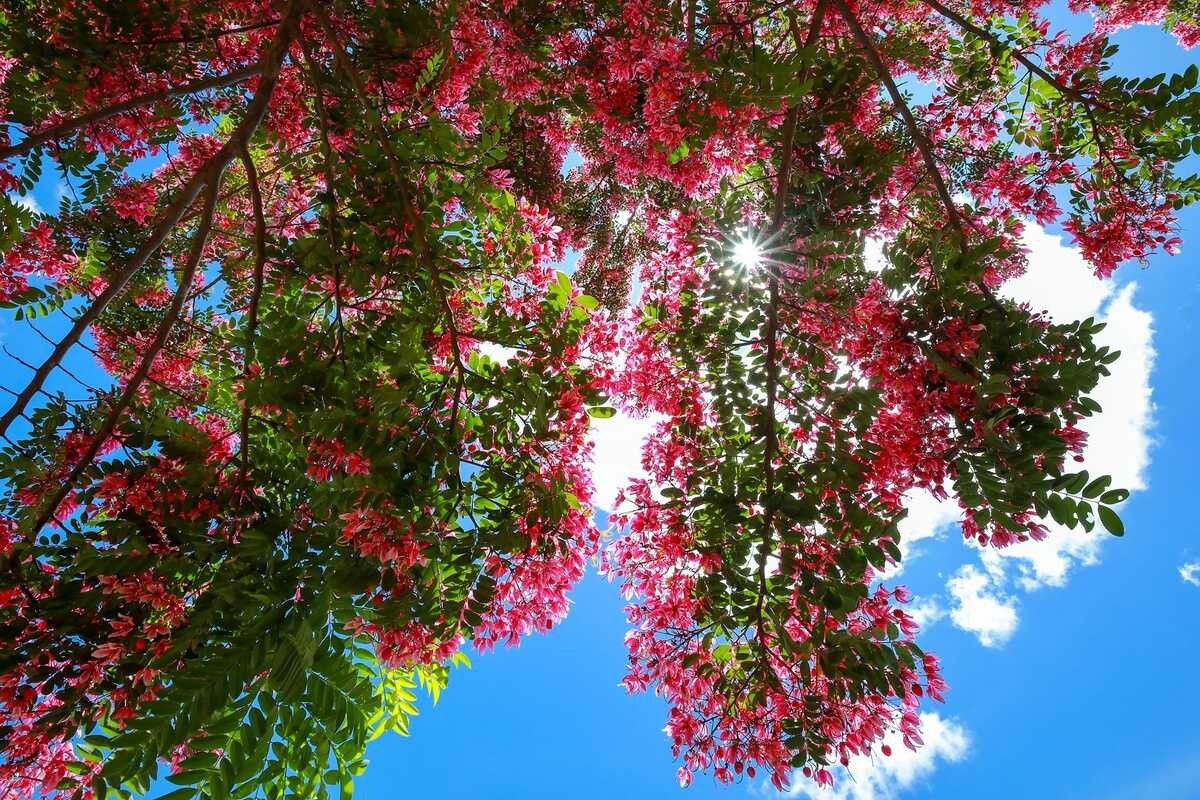 Photo: Sam Sam
This place is considered a green lung in the center of Ho Chi Minh City. Nestled next to the most modern architectural works, it still retains its natural beauty that attracts a lot of aspiring photographers, young adventurers, families, and foreign travelers coming here to admire the natural beauty, especially in the summertime. And it is also the time for the pink shower flowers here to bloom vigorously.
The flowers begin to bloom and show their beauty in the middle of May. These trees are decades old with long branches laden with large clusters of white and pink flowers that create a breathtaking scenery. When the petals fall, they cover the ground with a pink carpet.
These flowers attract a lot of butterflies. In addition, visitors can also learn and see more than 1,300 animals of 125 species, including many rare ones that are being nurtured and preserved here.
With a large and comfortable space, Saigon Zoo and Botanical Garden is the most famous entertaining destination loved by tourists, and are often crowded during the weekends and holidays.