Two Vietnamese's Destinations Voted As "Hidden Gems" In Asia By CNN
With more than 40 countries, it is clear that no one can summarize Asia in a few short lines. Among the best and most beautiful destinations in Asia voted by CNN, Da Lat City and Lan Ha Bay in Vietnam are called the "hidden gems" that are worth discovering.
There are many places in Asia that have become "classic" destinations – from the awe-inspiring architecture of Angkor Wat and the Taj Mahal to the bustling metropolises of Tokyo and Hong Kong (China), or the sunny and windy beaches of Bali and Phuket, all of which have something to please even the most discerning traveler.
But for visitors who are lucky enough to have time to explore a little more, they will have the opportunity to discover "jewels", hidden treasures that many people don't know about. In this list of 18 interesting tourist destinations, Vietnam has up to 2 places named.
Da Lat City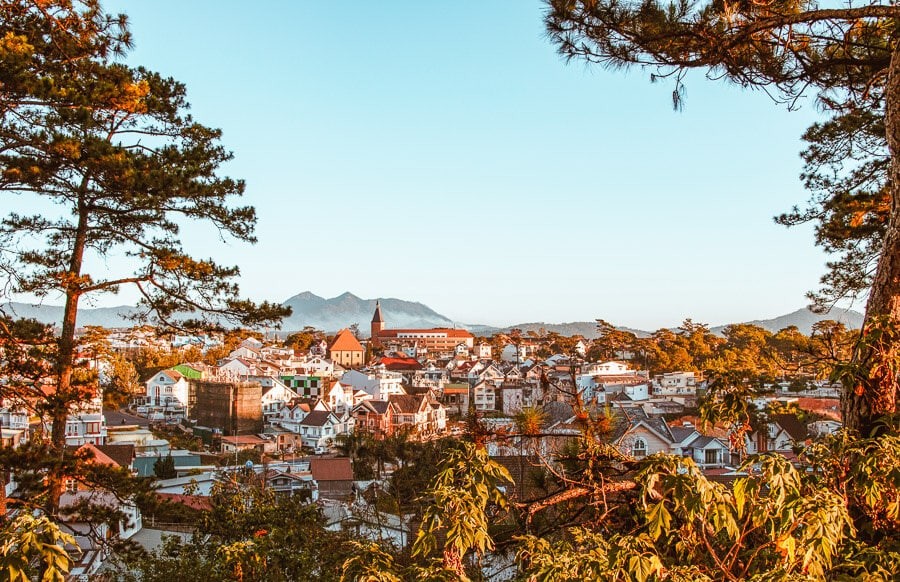 Photo: Wander-Lush
Hidden away in the Central Highlands, Da Lat plays the cooler cousin to Vietnam's seaside destinations. Famous for its countryside charm, Da Lat draws couples, wellness seekers, and outdoor enthusiasts. This mountain resort town was once a summer getaway for the French, who left their mark in the European-inspired architecture and countless lakes. Da Lat's main lake is the center of the action, but amazing natural wonders await in the hills all around.
Xuan Huong Lake is the focal point of Da Lat City. Nearby, the stalls of the central market are packed with fresh flowers and colorful produce. Colonial architecture abounds in churches, art-deco hotels, and the charming railway station.
At 5,000 feet above sea level, Da Lat's golf clubs feature hilly terrains and pine forests. Da Lat is home to one of the country's oldest courses, the Dalat Palace Golf Club. Opened in 1933, the 18-hole course remains an iconic experience.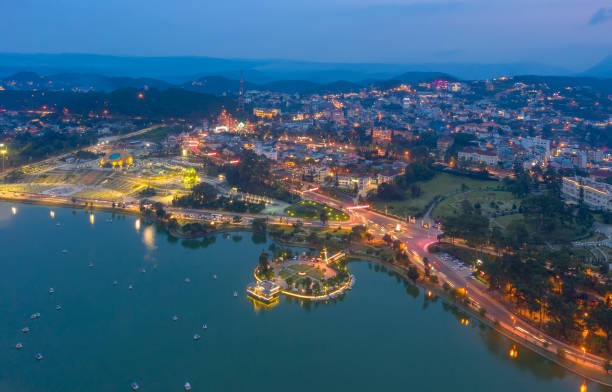 Photo: iStock
Da Lat is an adventure destination in its own right. The dramatic terrain lends itself well to hiking, mountain biking, and canyoning. Follow local guides to explore Bidoup Nui Ba National Park, or blaze your own trails on Lang Biang Mountain.
Coffee is an integral part of Da Lat's heritage and some of Vietnam's best coffee is grown on the slopes around the town and served in local cafes. Visit K'Ho Coffee for a full tour of their sustainable farm and roastery.
Though Da Lat's tracks no longer link up with Vietnam's north-south railway line, you can hop on a train out to Trai Mat for a visit to the spectacular, mosaic-covered Linh Phuoc Pagoda, taking in the scenery en route.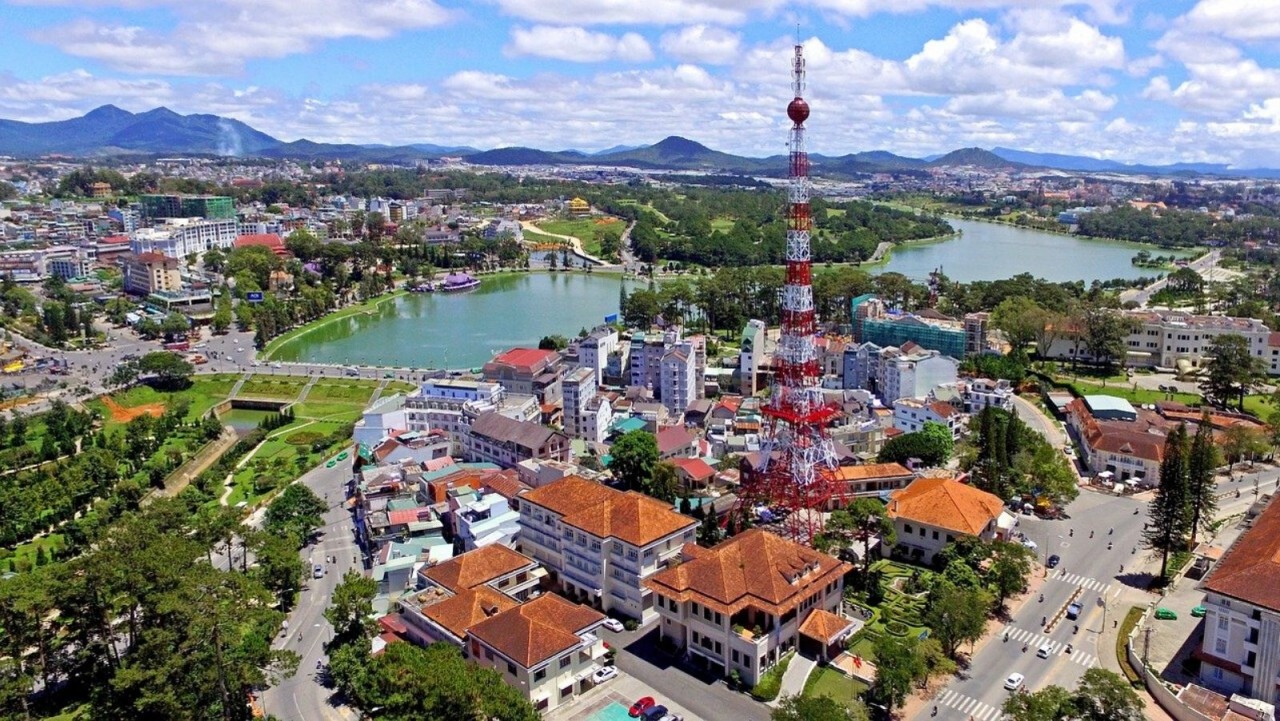 Photo: Map Trotting
Often referred to as the city of eternal spring, Da Lat's temperate climate is a highlight of every visit. Be sure to bring a jumper if you visit between November and January, and an umbrella for the rainfall from April to November. If you prefer a warmer stay, May offers the perfect window.
Da Lat's airport is located just 30km south of town and connects to major hubs from north to south. Sleeper buses will shuttle you from Ho Chi Minh City while neighboring Mui Ne and Nha Trang are just a few hours away by car or shuttle van. Adventurous travelers will enjoy touring by motorbike. Popular routes go to Elephant Falls, neighboring K'ho villages, or Tuyen Lam Lake. The town itself is easy to navigate on foot or by taxi.
Lan Ha Bay
Lan Ha Bay is made up of around 300 karst islands and limestone sea rocks and can be found southeast of Cat Ba Island. As a geological extension of Halong Bay, Lan Ha Bay is equally as beautiful although it is less visited, less inhabited, and therefore has the extra appeal of being a more peaceful place.
Photo: Halong Bay
This isolated paradise is an ideal beach location, with hundreds of undisturbed white sand beaches. While the beaches are fairly small, they are surrounded by towering limestone karsts that give visitors lots of privacy. Whilst relaxing at these tiny beaches visitors may see many butterflies and birds enjoying the many flowers and trees that sit around the edges of the sand. Lan Ha Bay is also a great place to take part in water-based activities such as snorkeling, kayaking, or scuba diving!
One unexpected activity that is possible in Lan Ha Bay is rock climbing! Some cruise operators offer the option to climb some of the ancient limestone karsts that are dotted around the bay, giving visitors the chance to see Lan Ha Bay from a very different perspective. Though it can be physically challenging, it is also extremely satisfying to climb your way to the top.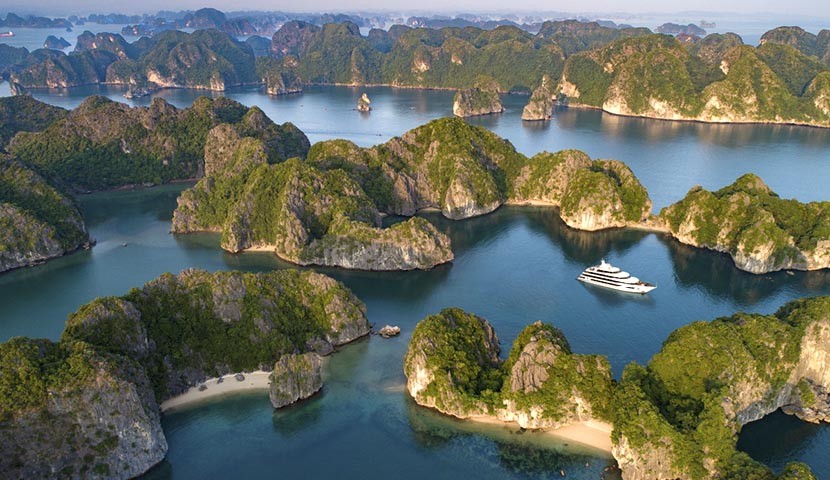 Photo: IZITOUR
Many visitors use Lan Ha Bay as a base for visiting the nearby fishing villages and floating villages that are an integral part of Halong culture. Viet Hai Fishing Village is one of Lan Ha Bay's top attractions where locals invite tourists to come and witness their traditional way of living. Visitors may be surprised to see that people who live in floating villages have guard dogs and even restaurants and a kind of Town Hall.