Museums in Ho Chi Minh City Cope with New Normal
Museum activities flexibly resume at Vietnam's southern metropolis.
Museums plays an important role in Vietnam cultural tourism. On Vietnam's Culture Heritage Day - November 23, many museum activities in Ho Chi Minh City experienced a revival of cultural tourism after being significantly impacted by the long lockdown period. They welcome visitors with many different flexible approaches.
Celebrating cultural heritage amidst the pandemic
Since June 2021, the Museum of History launched the project "Smart Museum 3D/360" to provide virtual and interactive tours for visitors. The museum also utilizes supporting technology applications and software, social networks page and website.
In October 2020, the Museum of Southern Women is the first in Ho Chi Minh City to adopt smart museum technology.
Digital images have been brought to life using the 3D holographic projection technology, allowing visitors to view objects from all angles and in great detail, and even displaying their smallest cracks and defects. During the pilot launch, a collection of 115 artifacts at the museum were chosen for holographic presentation. More objects are being added to the 3D collection.
the Museum of Southern Women staff prepared for smart museum exhibition. Photo: the Museum of Southern Women
In the spirit of Vietnam's Cultural Heritage Day, Vietnam Ao Dai Museum held a thematic exhibition "Needle and thread" in mid-November to honor dressmakers of Ao Dai - Vietnamese traditional attire.
Vietnam Ao Dai Museum recently celebrated the 7th anniversary of Nghe Tinh folk songs being recognized by UNESCO as world intangible cultural heritage. The museum organized a series of festivals with many diverse cultural activities from now til the end of 2021.
The highlight of the series is the performances of folk songs to help the audience, especially young audiences, better understand authentic Vietnamese traditional music. In the post-lockdown era, the museum aims to become an interactive space between artists and audiences.
Folk singer demonstrated traditional lullaby to visiors. Photo: Viet Nam Ao Dai Museum
On Nov. 21, a culture and cuisine fair market was successfully held at Vietnam Ao Dai Museum. Visitors traveled back in time to the Southern countryside, eating traditional food and watching folk performances of famous artisans.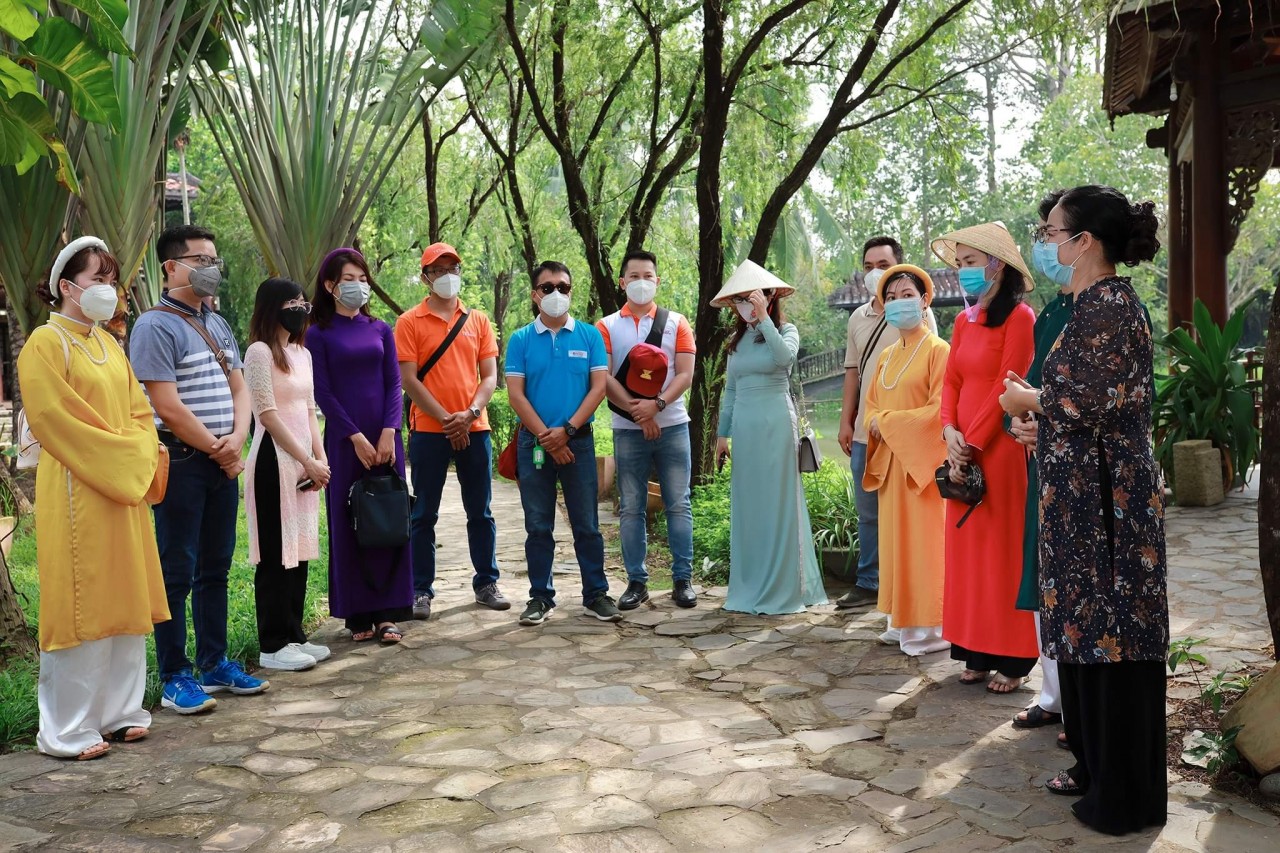 Museum activities strictly follow Covid-19 prevention rules. Photo: Vietnam Ao Dai Museum
Many challenges ahead
Flexible changes and fast updates by museums interact with visitors better. Photo: War Remnants Museum
Some facilities such as the Museum of Geology, located right in the city center (District 1) still struggles to make its name on the map for both foreign tourists and domestic visitors.
Currently, the project "Smart Museum 3D/360" of the Museum of History is in the experimental level.
"The current project fund will last until the end of December 2021.We continue to look for possible solutions for operating funding to run "virtual museum" project in the future," said the Director of the museum.
According to Ms. Huynh Ngoc Van, Director of the Vietnam Ao Dai Museum (Long Phuoc Ward, Thu Duc City), the consequences of the COVID-19 epidemic will persist in the following years and visitors still hesitate to come to crowded places. Besides, the demand have changed significantly over the years.
Museum experience must be enriched, showing display of monuments for their tangible and intangible values because visitors want to learn about the culture behind. Each museum needs to be accessible for visitors of all ages and conditions. Excited visitors come back again and again because they learned the value of the monument through specific activities that suits them.
Museums needs more detailed descriptions of the stories for the exhibits so that guests go on the tour on their own without a narrator, to limit contact between speaker and listener.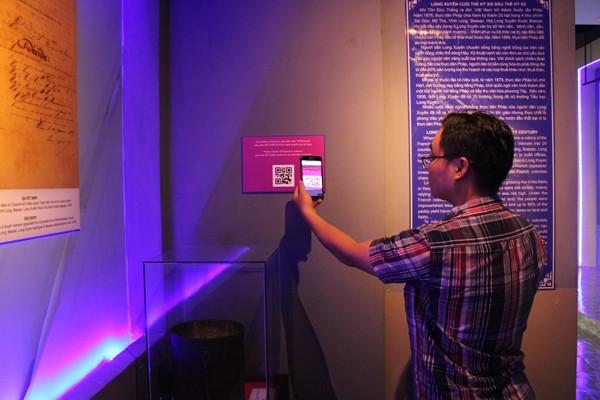 Ton Duc Thang Museum to limit contact between speaker and listener to cope with new normal. Photo: Khampha.vn
Vietnam is a proud country with distinct cultures and heritages. Improving museum experiences is an important task to preserve national cultural identity - the sacred values of this nation's ancestors. These attractions slowly resume but they still face many difficulties. In order to continue operating and preserving artifacts, it requires large funding in technology application and more tech-savvy human resources.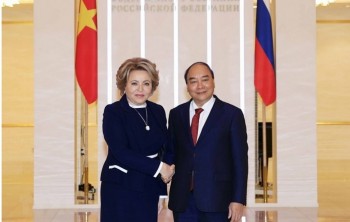 National
The nation always regards Russia as a top priority in the international relation policy and supports Russia with the country's greater role and voice in the region and the world.