Must-try Delicacies in Cao Bang Province
Not only famous for spectacular landscapes, Cao Bang also attracts tourists with its wide array of mesmerizing delicacies.
Roasted duck
Roasted duck is one of the most famous dishes in Cao Bang, which is marinated using 7 types of seasonings, including ginger, garlic, pepper, honey, tofu, dried shallot and Mac mat fruit.
To make the iconic delicacy, locals choose ducks of the right size and weight of between 1.8 – 2kg. After cleaning, the duck is put in boiling water briefly so the skin can be crispier when roasted.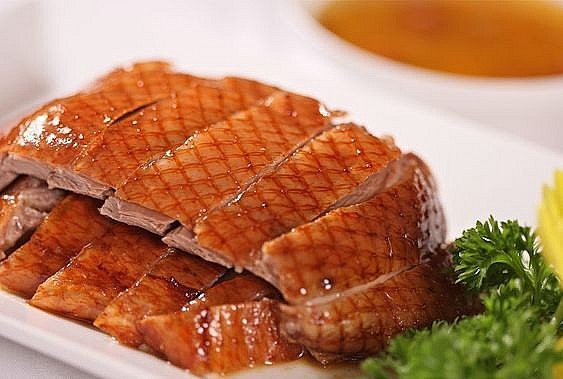 Cao Bang roasted duck. Photo: Ngoc Minh
The dish's most recognizable trait is the marinating process. Before applying to the duck, the seasonings are sauteed to bring out the aromas. Locals then pour the seasoning mixture inside the duck before close the duck's belly. Next, they pour honey and apply some vinegar over the skin before roasting.
Cao Bang roasted duck has flavorful, soft meat, attractive with the mesmerizing aroma from Mac mat fruit, and the duck skin is perfectly golden-brown and crispy.
Just one bite is enough to leave a lasting impression on those who taste it.
Ant egg cake
You can only find ant egg cake between early April to the end of May, or the end of February to the end of March in the lunar calendar.
Ant egg cake is also called Peng Ray in the local language. The main ingredients are the eggs of black ants, sticky rice and young fig leaves.
To gather black ant's eggs, locals must go deep into the forest and find ant's nests on Indian lilac, cinnamon or Indigoberry trees.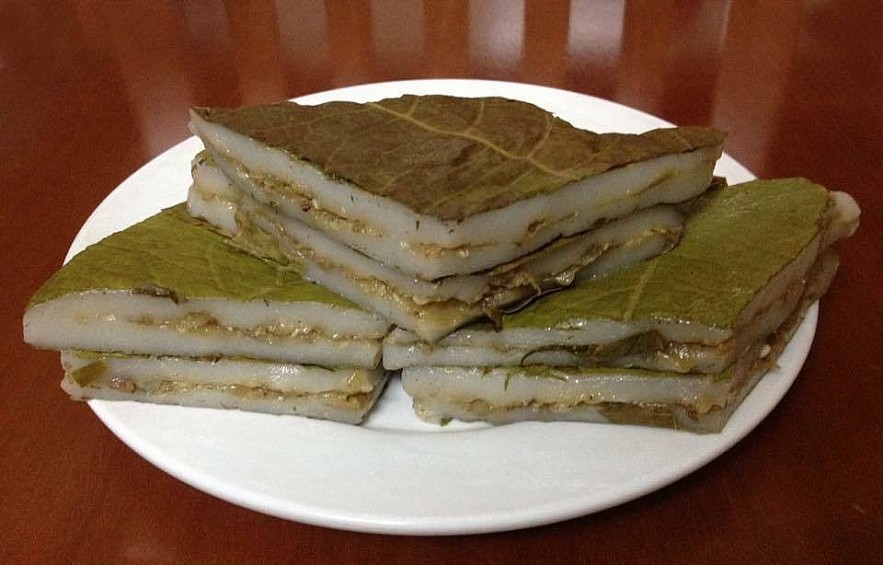 Ant egg cake is only available for 1 – 2 months in a year. Photo: CTCB
Black ant's eggs that resemble round, white, shiny grains of rice are mixed with dried shallot, minced pork, peanut, roasted sesame and other ingredients after being washed clean to make the fillings richer.
The skin is made from a mixture of sticky rice with normal rice. Locals first apply a thin layer of the rice mixture onto young fig leaves before adding the fillings, then applying another layer of rice mixture before steaming the cake.
To make the cake more appealing, locals cut it into square pieces before plating.
Trung Khanh chestnut
Chestnuts are grown in many localities, but the most famous and delicious type is that in Trung Khanh, a rural district 58 kilometers away from Cao Bang city.
The chestnut season in Trung Khanh falls in autumn around August or September in the lunar calendar. Trung Khanh chestnut has thick, hard outer shells that resemble rambutans and about 3 – 4 seeds inside each chestnut.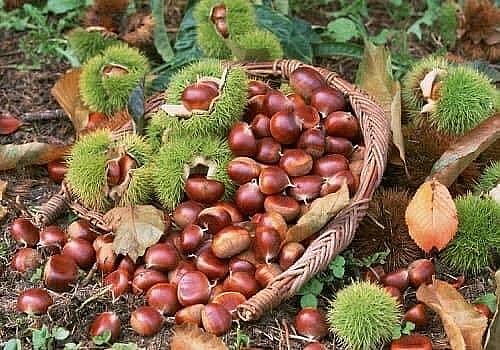 Trung Khanh chestnut. Photo: CTCB
Trung Khanh chestnut is much larger, nuttier and more aromatic than normal chestnut. After boiling the chestnuts, locals stir them with sand so the seeds can be thoroughly cooked without being burned.
Sticky rice with black canarium
Sticky rice with black canarium is a rustic traditional dish of Cao Bang locals, who start to harvest the fruit as autumn comes.
The main ingredients for the dish are, as its name indicates, sticky rice and black canarium. Although there are various types of canariums in Cao bang, tram nep, a special black canarium sub-type, is often chosen to make the dish as it is nuttier, softer and more flavorful than other canariums.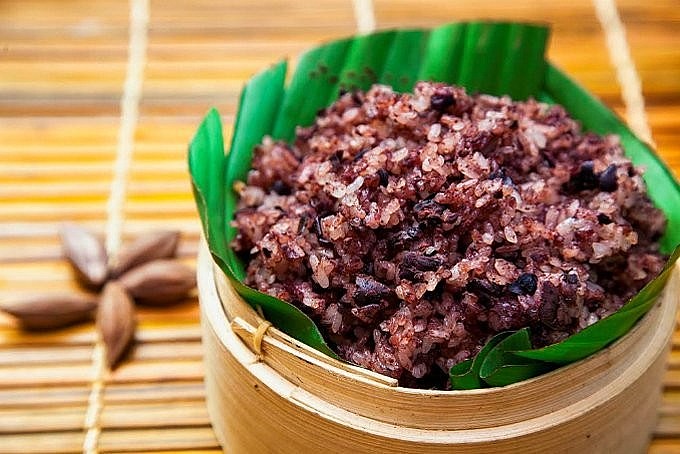 Sticky rice with black canarium. Photo: transviet
The black canarium used for xôi trám has to be ripe but fresh and dark purple. As the fruit is harvested, the tree sap still sticks on its stem. The fruit to be cooked must have shiny, smooth, and fairly intact skin and soaked in lukewarm water of about 25 – 30oC until soft.
After soaking the fruit in water, locals take out the flesh to mix thoroughly with cooked sticky rice.
Nutritious, nutty and uniquely flavorful, Cao Bang's sticky rice with black canarium tastes best when served with black sesame or Cao Bang sausage.
Pillow cake with duck fillings
Pillow cake with duck fillings is a popular snack in Cao Bang.
The cake's cover is made from a mixture of rice powder and mung bean, while the fillings are full of well-seasoned boneless duck. To fry the cake, locals wait until the oil is sizzling hot, then turn the cake inside hot oil frequently until golden brown on both sides.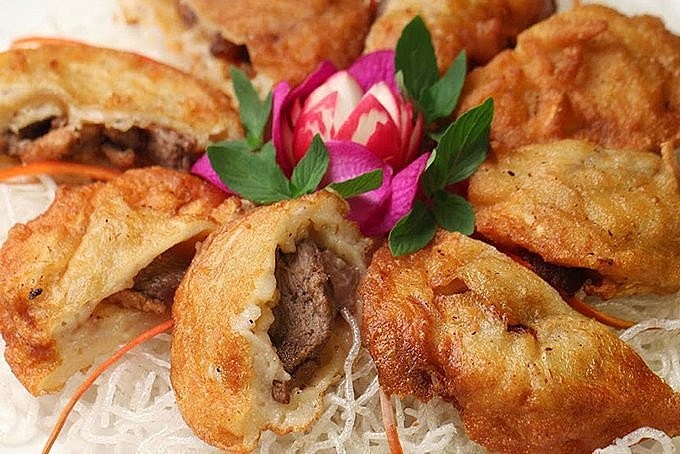 Pillow cake with duck fillings. Photo: CTCB
Cao Bang's pillow cake tastes best when eaten with sweet, tangy dipping sauce, fresh herbs and shredded green papaya. The crispy golden-brown skin complements the soft duck full of umami flavor to create one of the most memorable dishes in the northern mountainous province.
Phia Den black canna noodles
It would be amiss to talk about Cao Bang specialties without mentioning Phia Den black canna noodles.
Canna is grown in Phia Den, a mountain in Cao Bang province lying 1000m above sea level, from January to February in the lunar calendar and harvested in October and November.
Cao Bang black canna noodles. Photo: Vietnamnet
Phia Den black canna noodles are characterized by unrivaled umami flavor from the shiny, crunchy and stringent canna made with the artisan's meticulousness and age-old traditional methods and the clear, pure, cold water found in rivers and streams at the top of the mountain.
Phia Den black canna noodles have become well known throughout the country and are one of Cao Bang's most famous specialties.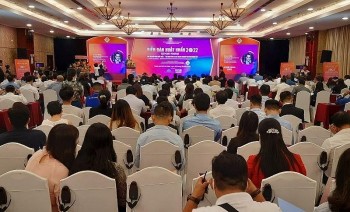 Focus
Vietnam News Today (Dec. 9): Vietnam - Singapore innovation centre helps firms transform production; HCM City among most searched destinations by travelers; Vietnamese digital technology industry's revenue estimated at 148 billion USD in 2022; Two Vietnamese films up for consideration at Oscars.