Myanmar: Fear and anger spreads through the country, military coup seizes control
Tension rises as military troops patrol on the streets of Yangoon in Myanmar, and military has seized control power over the country after detaining Aung San Suu Kyi and other democracy leaders, spreading fear and anger through Myanmar.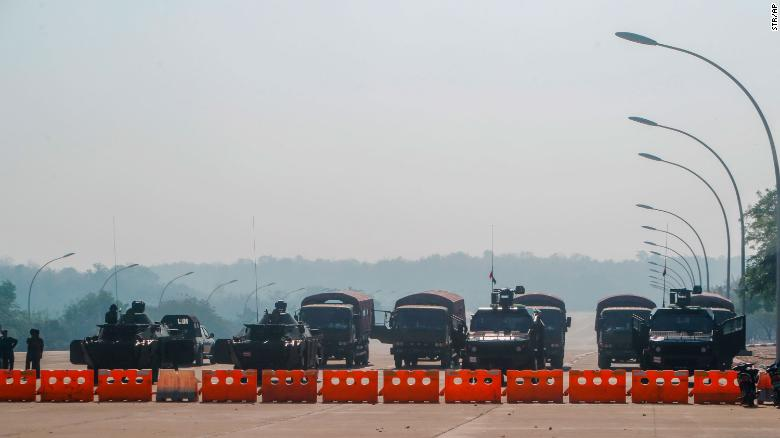 Myanmar's military stand guard at a checkpoint manned with armored vehicles blocking a road leading to the parliament building on Febuary 2, 2021, in Naypyidaw, Myanmar. (Photo: CNN)
The streets of Myanmar's largest city, Yangon, appeared outwardly calm Tuesday morning, as residents made their way to work a day after the military detained Aung San Suu Kyi and other democratically-elected leaders and seized control of the country.
But behind the business-as-usual facade, anxiety is growing among many as to what will come next. Memories of living under the brutal military rule of the past are seared into the minds and bodies of many Burmese people. Critics, activists, journalists, academics and artists were routinely jailed and tortured during nearly 50 years of isolationist rule.
There are now fears that Monday's actions could be a prelude to a wider clampdown. In all, the new ruling junta removed 24 minsters and deputies from government over allegations of election fraud and named 11 of its own allies as replacements who will assume their roles in a new administration.
On Tuesday, Health Minister Myint Htwe also announced on Facebook that he was leaving his post "as per the evolving situation."
Questions as to the exact whereabouts of, and who is in communication with, senior members of the formerly ruling National League for Democracy (NLD), including recently deposed State Counsellor Suu Kyi, remain unclear.
On the streets of the main city, Yangon (Rangoon), people said they felt their hard-fought battle for democracy had been lost.
One 25-year-old resident, who asked not to be named, told the BBC: "Waking up to learn your world has been completely turned upside down overnight was not a new feeling, but a feeling that I thought that we had moved on from, and one that I never thought we'd be forced to feel again."
Myanmar, also known as Burma, was ruled by the armed forces from 1962 until 2011, when a new government began ushering in a return to civilian rule.
Suu Kyi has not been seen since she was detained early on Monday morning. The statement ends with her name but is not signed, and it was unclear how Suu Kyi would issue a statement while in detention.
Analysts warned that social media accounts could have been hacked or taken over by bad actors in order to encourage actions that might provide a pretext for further military force.
The only demonstrations seen so far have been small-scale and from pro-military supporters. Suu Kyi, however, remains enormously popular, especially among the country's majority Bamar ethnic group.
Doctors working in hospitals across Myanmar have pledged to go on strike from Wednesday to protest the coup.
The Assistant Doctors group at Yangon General Hospital released a statement on Tuesday saying it would take part in the "civil disobedience movement."
The doctors say they will not work under a military-led government and called for Suu Kyi and Myint to be released.
Though her supporters have yet to take to the streets, many in Yangon have privately expressed anger over the military's actions, which they said disregarded the will of the people in what was considered to be a generally fair election.
Some have also questioned why the military would take over when they benefited from the previous legislative arrangement. The military, or Tatmadaw, as they are officially known, were constitutionally guaranteed 25% of seats in parliament and control over powerful ministries.
One Yangon-based reporter said he spent a sleepless night worrying about whether he would get a knock on the door and was scared that journalists would be targeted next.
"All the people now realize what the military are capable of. This is who they are and this is how they rule. You cant underestimate them. All Burmese people understand now, that, OK, this is the real situation -- the past five years, the freedom we got, is nothing," said the reporter, who didn't give his name due to the potential dangers.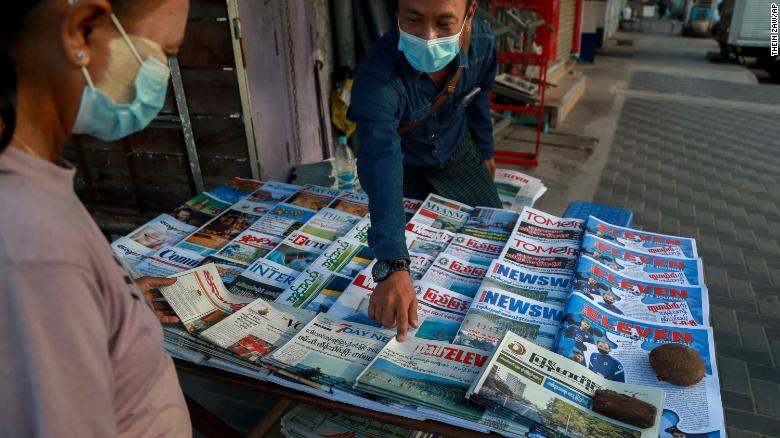 A newspaper seller points at a front-page of a newspaper in Yangon, Myanmar, Febuary 2, 2021. (Photo: CNN)
How the military disrupted the Internet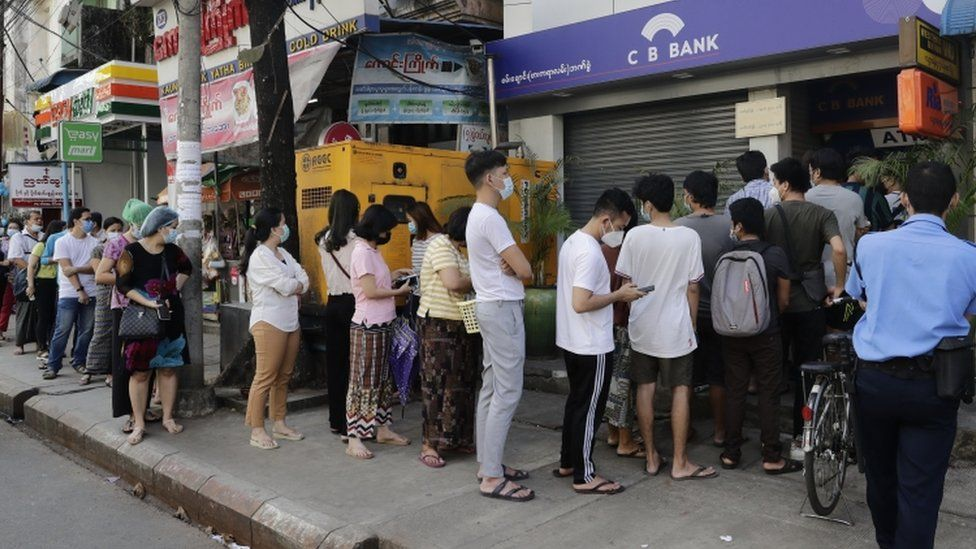 Queues formed at ATMs in Yangon and other cities (Photo: EPA)
As the Myanmar military took power over the weekend following their accusations of election fraud, internet disruption affected large parts of the country.
The full extent of the disruption only lasted a few hours, after which many services returned.
The restrictions to the internet were reported on Monday at 03:00 local time (20:30 GMT on Sunday).
Internet connectivity had dropped to 50% of normal levels by 08:00 local time as people were waking up and starting their day to the news of the military takeover.
"Army cut off the state media TV and radios, local phone line and internet getting disabled across the country," tweeted Burmese Reuters journalist Wa Lone.
Data from the internet monitoring service Netblocks shows disruptions on network operators, including state-owned Myanma Posts and Telecommunications (MPT) and an international operator Telenor.
Netblocks says its findings indicate a "centrally ordered mechanism of disruption...progressing over time as operators comply".
By midday, internet connectivity had returned to 75% of normal activity.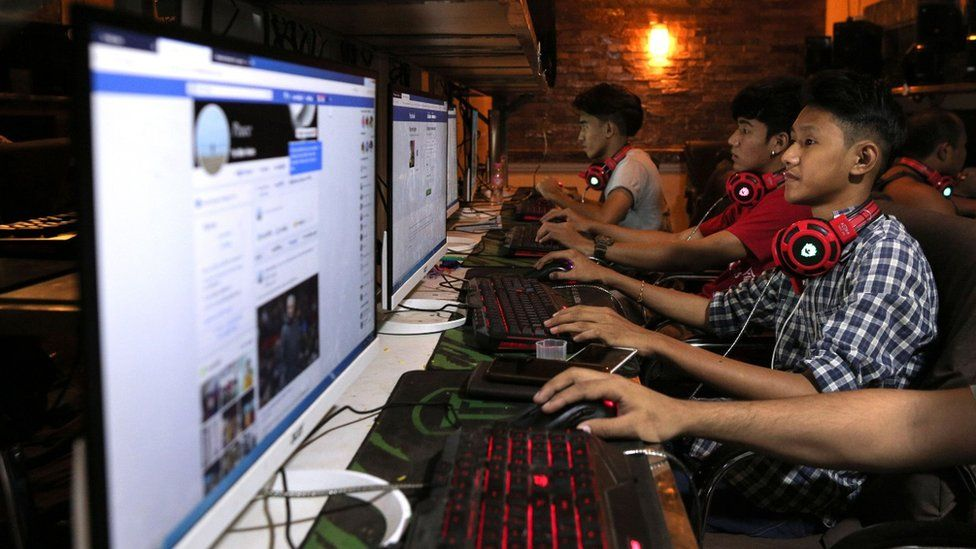 Facebook is popular in Myanmar, where internet usage has grown in recent years (Photo: Getty Images)
Some parts of Myanmar, also known as Burma, were more restricted than others.
Based at Monash University in Australia, the IP Observatory, which tracks internet connectivity around the world, found that some regions were severely disrupted.
Magway region was reporting zero internet connectivity at one point.
Yangon region, which includes the country's largest city, dropped in connectivity to about 50% compared to normal times. Restricting internet in the major cities is likely to be more difficult, as users will have access to a wider variety of providers that may implement restrictions at different intensities and at different times.
Most regions are now reporting an increase in internet connectivity.
The Myanmar government has restricted the internet before, especially in areas in Rakhine and Chin states, where the army is fighting local groups. Hundreds of thousands have been displaced by the conflicts.
Article 77 of Myanmar's Telecommunications Law, passed in 2013, is used by the government to cut off telecommunications during a national emergency.
However, human rights groups have called for the law to be amended to protect freedom of expression and have criticised the broad scope of the law.
There were also concerns that health information about Covid-19 was being restricted to some parts of the country, because of an internet shutdown in 2020.
A government can disrupt the internet by ordering internet service providers (ISP) to limit access.
This can include blocking particular sites, such as popular social media platforms. A message such as "server not found" or "this site has been blocked by the network administrator" will show up.
Another method is known as "throttling" - when the bandwidth to a website is limited, making the internet slow and frustrating to use.
Finally, telecoms providers can shut down all access to the internet.
In theory, a telecoms company could challenge a government order. But in countries where the government has a tight grip on the media and can threaten to revoke licences, the willingness to push back on such demands is limited.
The world's reaction over Myanmar
UN special rapporteur on human rights in Myanmar Tom Andrews on Monday called for the imposition of sanctions and an arms embargo on the country.
"Now, more than ever, we must act," he said on his official Twitter account.
The unfolding situation in Myanmar is also a big test for US President Joe Biden, who called on Myanmar's military leaders to relinquish power and threatened to review sanctions on the country.
The United States removed sanctions on Myanmar over the past decade based on progress toward democracy. "The reversal of that progress will necessitate an immediate review of our sanction laws and authorities, followed by appropriate action," Biden said in a statement.
There is evidence that the uncertainty over what's to come in the immediate aftermath of the coup is having an impact on international business.
On Tuesday, Japan's Suzuki Motor Corporation announced it has stopped production at its two factories in Myanmar to secure the safety of its workers following the coup. About 400 people work in the factories and the company's public relations officer Mitsuru Mizutani said they will restart when the security of their workers is ensured, though they do not know when that will be.
In the UK, Prime Minister Boris Johnson condemned the coup and Aung San Suu Kyi's "unlawful imprisonment".
China, which has previously opposed international intervention in Myanmar, urged all sides in the country to "resolve differences", while some regional powers, including Cambodia, Thailand and the Philippines, said it was an "internal matter".
Who is Aung San Suu Kyi?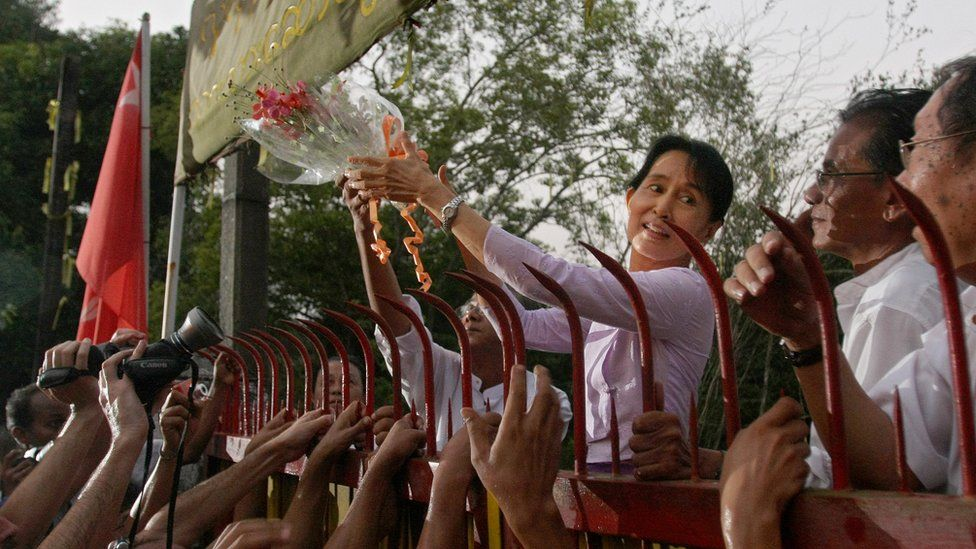 Huge crowds greeted Aung San Suu Kyi on her release from house arrest in 2010 (Photo: AFP)
She was once seen as a beacon for human rights - a principled activist who gave up her freedom to challenge the ruthless army generals who ruled Myanmar for decades.
In 1991, Aung San Suu Kyi was awarded the Nobel Peace Prize, while still under house arrest, and hailed as "an outstanding example of the power of the powerless".
In 2015, she led her National League for Democracy (NLD) to victory in Myanmar's first openly contested election in 25 years. But she was deposed by a coup in 2021 when the military took control and arrested her and the political leadership around her.
While her image had suffered internationally due to her response to the crisis that befell Myanmar's mostly Muslim Rohingya minority, she remains hugely popular with the country's Buddhist majority.
Ms Suu Kyi spent nearly 15 years in detention between 1989 and 2010. Her personal struggle to bring democracy to then military-ruled Myanmar (also known as Burma) - made her an international symbol of peaceful resistance in the face of oppression.
Despite her landslide victory in 2015, the Myanmar constitution forbade her from becoming president because she has children who are foreign nationals. But Ms Suu Kyi, now 75, was widely seen as de facto leader.
Ms Suu Kyi is the daughter of Myanmar's independence hero, General Aung San.
He was assassinated when she was only two years old, just before Myanmar gained independence from British colonial rule in 1948.
In 1960 she went to India with her mother Daw Khin Kyi, who had been appointed Myanmar's ambassador in Delhi.
Four years later she went to Oxford University in the UK, where she studied philosophy, politics and economics. There she met her future husband, academic Michael Aris.
After stints of living and working in Japan and Bhutan, she settled in the UK to raise their two children, Alexander and Kim, but Myanmar was never far from her thoughts.
When she arrived back in Yangon in 1988 - to look after her critically ill mother - Myanmar was in the midst of major political upheaval.
Thousands of students, office workers and monks took to the streets demanding democratic reform.
"I could not as my father's daughter remain indifferent to all that was going on," she said in a speech in Yangon on 26 August 1988. She went on to lead the revolt against the then-dictator, General Ne Win.
Since becoming Myanmar's state counsellor, her leadership has been partly defined by the treatment of the country's mostly Muslim Rohingya minority.
In 2017 hundreds of thousands of Rohingya fled to neighbouring Bangladesh due to an army crackdown sparked by deadly attacks on police stations in Rakhine state.
Myanmar now faces a lawsuit accusing it of genocide at the International Court of Justice (ICJ), while the International Criminal Court is investigating the country for crimes against humanity.
Ms Suu Kyi's former international supporters accused her of doing nothing to stop rape, murder and possible genocide by refusing to condemn the still powerful military or acknowledge accounts of atrocities.
A few initially argued that she was a pragmatic politician, trying to govern a multi-ethnic country with a complex history.
But her personal defence of the army's actions at the ICJ hearing in the Hague was seen as a new turning point for her international reputation.
At home, however, "the Lady", as Ms Suu Kyi is known, remains wildly popular among the Buddhist majority who hold little sympathy for the Rohingya.
During her time in power Ms Suu Kyi and the NLD government also faced criticism for prosecuting journalists and activists using colonial-era laws.
While there was progress in some areas, the military continued to hold a quarter of parliamentary seats and controlled key ministries including defence, home affairs and border affairs.
In August 2018, Ms Suu Kyi described the generals in her cabinet as "rather sweet" and Myanmar's democratic transition, analysts said, appeared to have stalled.
The 2021 military coup came as the country was facing one of South East Asia's worst Covid-19 outbreaks, putting new strains on an already impoverished healthcare system as lockdown measures devastate livelihoods.
Yet Ms Suu Kyi remains popular. A 2020 survey by the People's Alliance for Credible Elections, a watchdog, found that 79% of people had trust in her - up from 70% the previous year.
Derek Mitchell, former US Ambassador to Myanmar told the BBC: "The story of Aung San Suu Kyi is as much about us as it is about her. She may not have changed. She may have been consistent and we just didn't know the full complexity of who she is.
"We have to be mindful that we shouldn't endow people with some iconic image beyond which is human."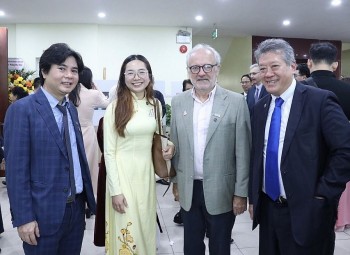 Friendship
Agreeing that the young generation is an important force to promote the friendship between Vietnam and France, many members of the Vietnam-France Friendship and Cooperation Association hope that the Association will hold practical activities to attract the young in its coming term.