Friendship Association hands over COVID-19 aid to Myanmar Embassy
A representative of the central Vietnam-Myanmar Friendship Association has handed over VND 540 million (over USD 23,000) and medical equipment to the Myanmar Embassy to help the country's people fight against COVID-19.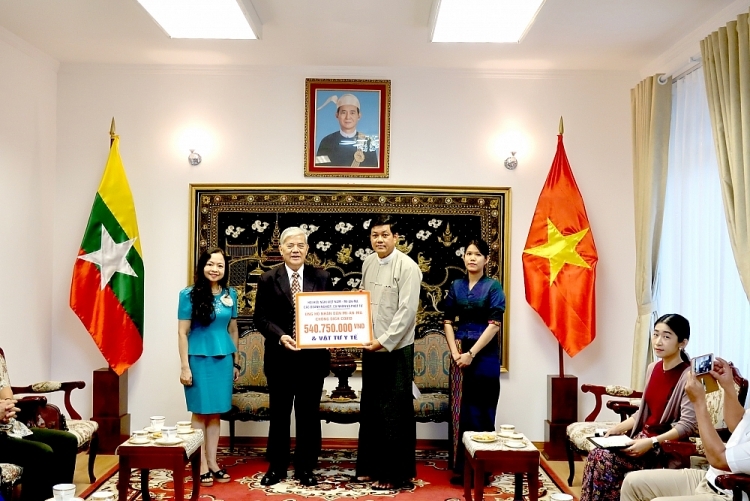 The money and equipment was donated by organisations, businesses and individuals through a donation campaign launched by the Vietnam-Myanmar Friendship Association. Photo: VNT
Faced with the widespread COVID-19 epidemic and complicated developments in many countries around the world, including Myanmar, the Vietnam-Myanmar Friendship Association had quickly and promptly launched a call to donate to support Myanmar people.
The campaign received an enthusiastic response from many organizations, individuals, collectives, businesses, who once studied, worked in Myanmar and loved this country.
After 10 days of campaigning, there were many Vietnamese people, including those who have never visited Myanmar, enthusiastically supported. The collected amount is over VND 540 million and medical supplies including 20,500 medical masks, 26,600 antibacterial fabric masks; 600 bottles of antibacterial hand gel and five antibacterial sprayers.
Speaking at the ceremory, Chairman of the Vietnam - Myanmar Friendship Association Chu Cong Phung said that the amount of money and medical supplies was not much but it is the sincere heart of the Vietnamese who love Myanmar and want to support and help its people.
The association wishes to join hands and contribute a small part of its resources with the aim of assisting the people of Myanmar to have more means of protecting their health and minimizing the impact caused by COVID-19.
Myanmar Ambassador Kyaw Soe Win thanked Vietnamese people for their valuable support, and noted Vietnam's success in COVID-19 containment creates a source of encouragement for Myanmar's fight against the pandemic.
Myanmar wants to learn from Vietnam's experience and boost cooperation on public health and community-based health care, said the ambassador.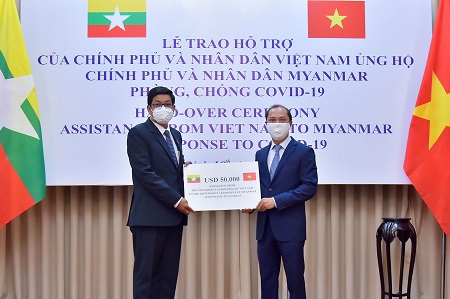 Deputy Minister of Foreign Affairs Nguyen Quoc Dung (right) symbolically hands over USD 50,000 to Myanmar Ambassador to Vietnam Kyaw Soe Win on April 10, 2020. Photo: VNA
Though Vietnam has done exceptionally well in quickly containing COVID-19, the pandemic has taken unprecedented toll on its economy.
However, since the beginning of the pandemic, many friendship associations under the Vietnam Union of Friendship Organizations have shown solidarity with international friends in combating COVID-19, by mobilizing funds from individials and businesses in Vietnam to purchase medical supplies as well as raising cash donations.
Vietnam's Ambassador to Myanmar Ly Quoc Tuan on July 13 presented USD 50,000 as a gift of the Vietnamese Government to help Myanmar combat the COVID-19 pandemic, at the handover ceremony held at the headquarters of the Myanmar Ministry of Health and Sports in Yangon.
Last week, in a message of sympathy to State Counsellor and Foreign Minister of Myanmar Aung San Suu Kyi and Union Minister for International Cooperation Kyaw Tin on the recent complicated developments of COVID-19 pandemic with rising infection cases recorded in the country, Deputy Prime Minister and Foreign Minister Pham Binh Minh also informed that the Vietnamese Government will deliver the second batch of medical supplies to Myanmar to help the nation overcome current challenges.
Myanmar is experiencing a second wave of COVID-19 infections, with the number of cases having risen sharply since August 16, when the country's first domestic transmission in a month was detected in the Rakhine State capital, Sittwe.
As of October 12 morning, Myanmar had reported a total of 27,974 COVID-19 cases including 646 deaths and 9,742 recoveries.
Between August 16 and October 11, Myanmar reported 27,600 cases including 640 deaths, compared with 374 cases and six deaths from March 23 to August 16.
The Health Ministry said cases have been reported in 205 townships across 14 regions and states in the country with only Kayah State reporting no coronavirus cases.
Currently, around 1,000 to 2,000 new COVID-19 cases and between a dozen and four dozen deaths are being reported per day in the country./.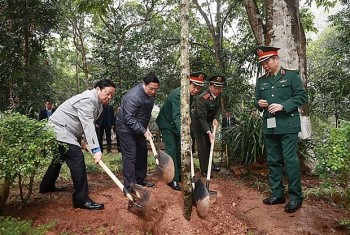 National
The Prime Minister launches a tree planting festival in Ba Vi on New Year of Cat.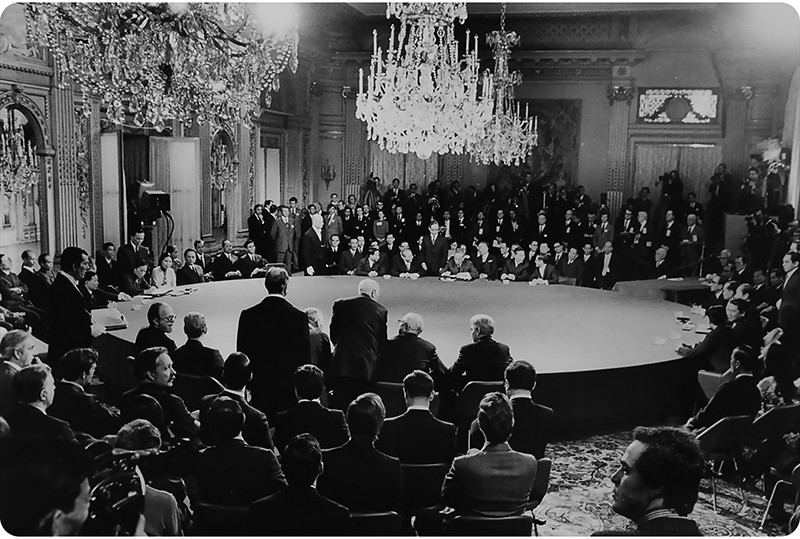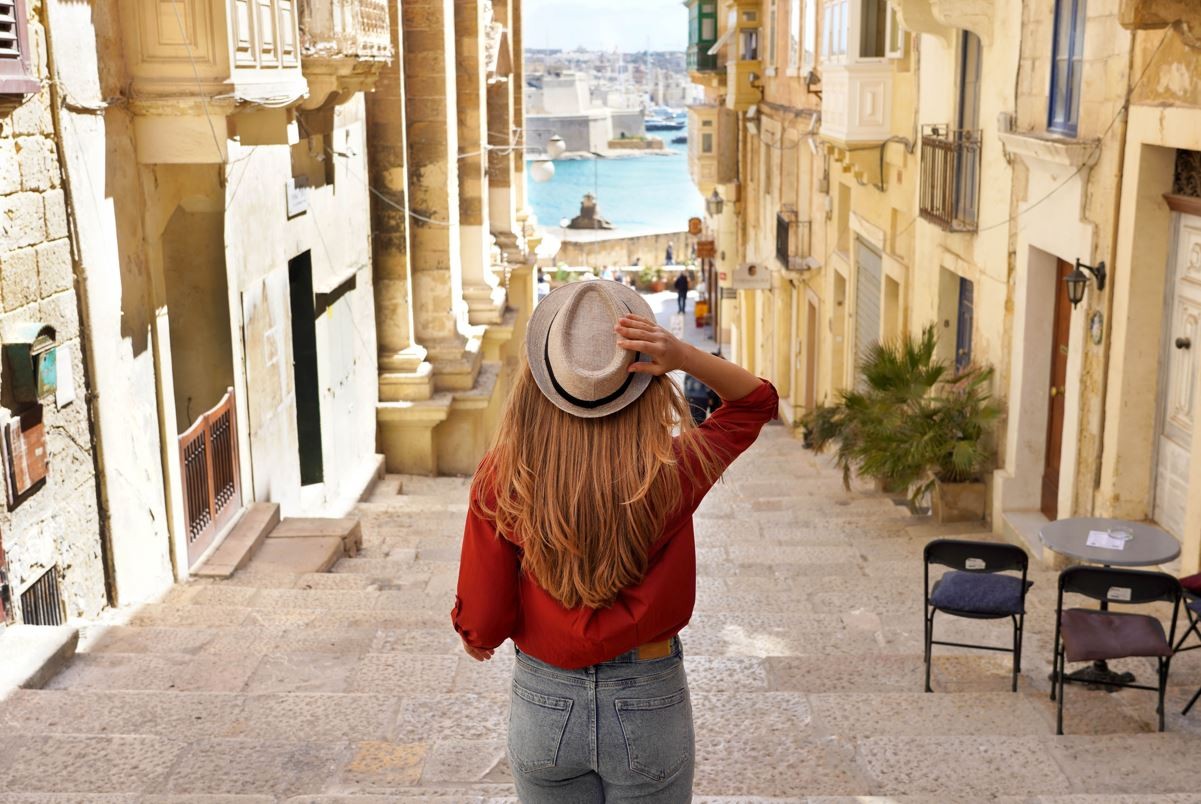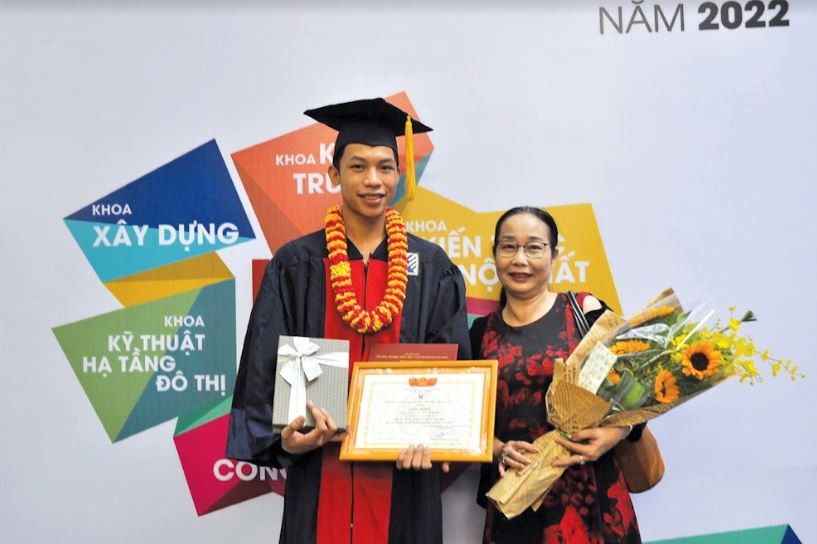 Focus
The "Sowing the Seeds of Friendship" program has helped strengthen the trust, solidarity, friendship and comprehensive cooperation between Vietnam and Cambodia, while educating the youth of the two countries on the bilateral relations, enhancing their sense of responsibility in preserving and reinforcing the long-lasting traditional solidarity and friendship between the two nations.
January 23, 2023 | 10:38
Friendship
With a strong determination to innovate in both thinking and action, the Vietnam Union of Friendship Organizations system from central to local levels has united to overcome unprecedented difficulties, deployed synchronized, comprehensive work tasks, and achieved good results in many fields. On the celebration of the Year of the Cat, the Vietnam Times introduces 10 outstanding results in the Vietnam Union of Friendship Organizations (VUFO) work in 2022.
January 23, 2023 | 06:15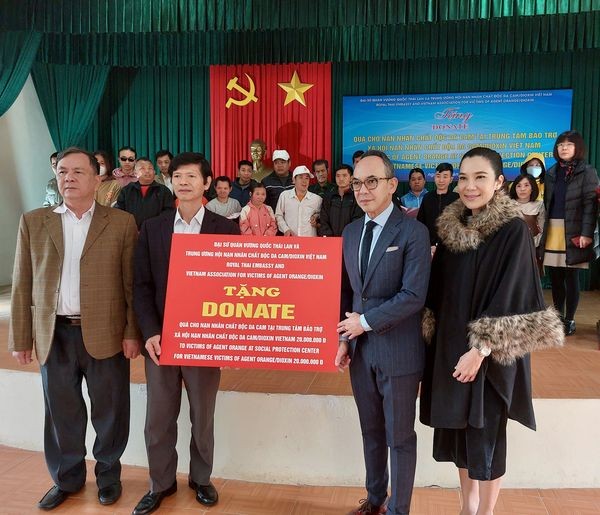 Friendship
Foreign ambassadors extended Lunar New Year wishes to Vietnam's people.
January 22, 2023 | 20:58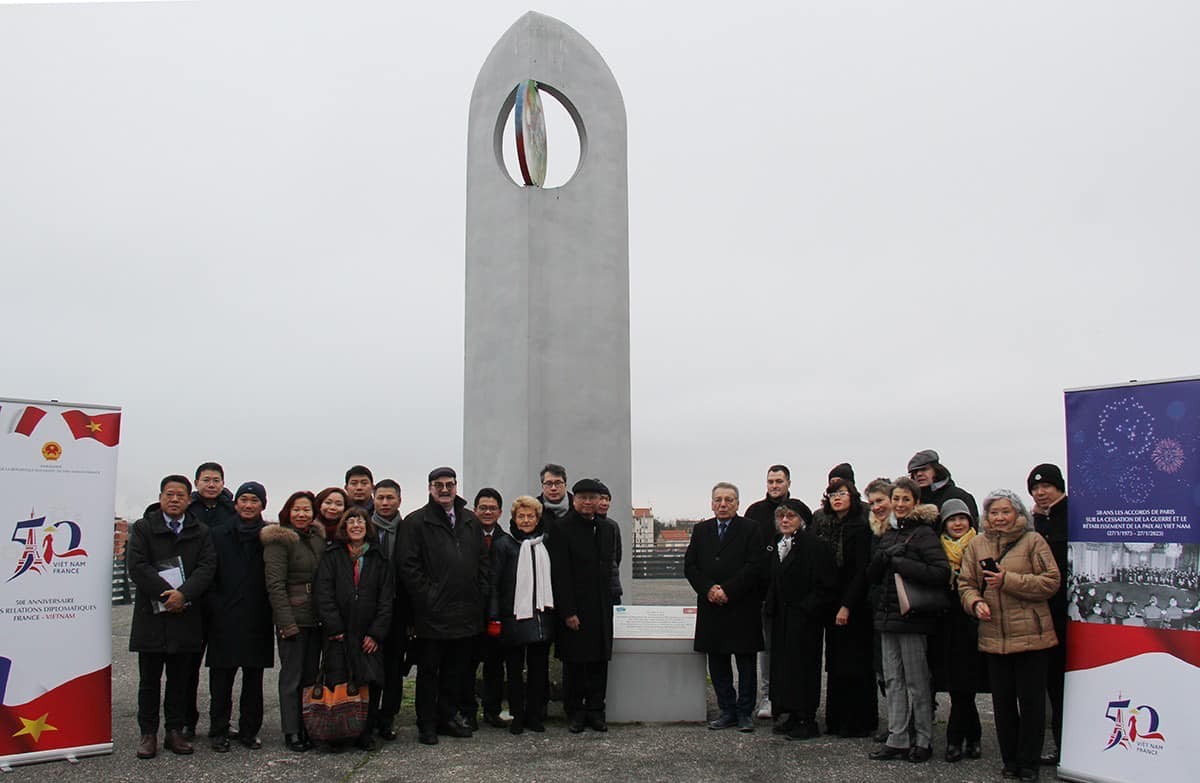 Friendship
During the years of negotiating the Paris Peace Accords, the local government, along with the members of the French Communist Party and the people of Choisy-le-Roi city of France, gave their affection and support, both spiritually and materially, as well as accommodation for the Vietnamese delegates.
January 22, 2023 | 08:23