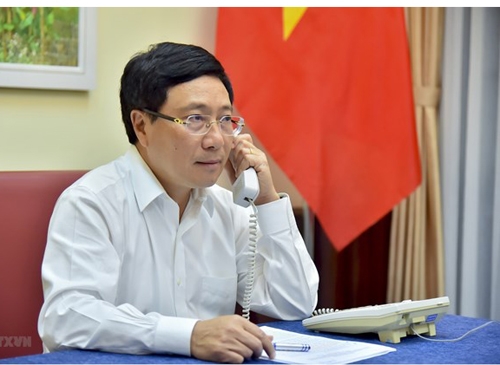 Deputy Prime Minister and Foreign Minister Pham Binh Minh. Photo: VGP
Minh cabled a message of sympathy to State Counsellor and Foreign Minister of Myanmar Aung San Suu Kyi and Union Minister for International Cooperation Kyaw Tin on the recent complicated developments of COVID-19 pandemic with rising infection cases recorded in the country.
In the message, he stressed that in the spirit of traditional friendship and comprehensive cooperative partnership, the two nations will work together and offer mutual support in the fight against COVID-19.
He informed that the Vietnamese Government will deliver the second batch of medical supplies to Myanmar to help the nation overcome current challenges.
The number of COVID-19 cases in Myanmar has reached over 21,000, the Ministry of Health and Sports reported on October 8.
Dr. Zaw Wai Soe, vice-chair of the country's COVID-19 Prevention and Treatment Coordinating Committee, said that of about 7,000 patients taking treatment in COVID-19 treatment centres, between 5%and 10% of them are being treated under intensive care.
Between 6,000 and 7,000 are being monitored closely and about 5% to 10% have to be given oxygen in ICU and HDU. All out efforts are being made to treat these patients by using medicines of international standard so as to reduce the number of deaths.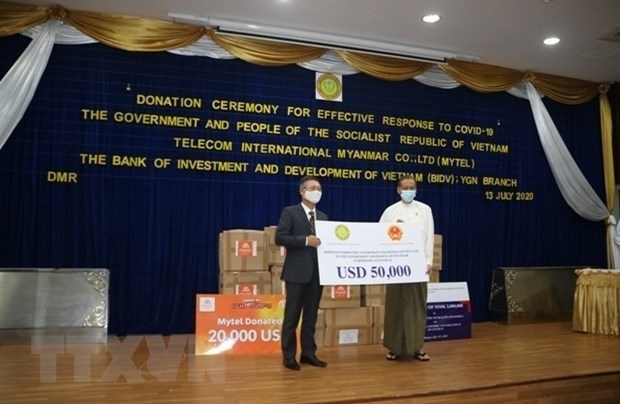 Vietnam Ambassador to Myanmar Ly Quoc Tuan on July 13 presented the fund to Prof. Dr. Zaw Than Htun, head of the Myanmar ministry's Department of Medical Research. Photo: VNA
Dr. Thar Htun Kyaw, Director General of the union minister's office, Ministry of Health and Sports, said there are over 6,700 patients taking treatment in eight COVID-19 treatment centres, and preparations are underway to build four more centres to accommodate over 3,600 patients.
Vietnam's Ambassador to Myanmar Ly Quoc Tuan on July 13 presented USD 50,000 as a gift of the Vietnamese Government to help Myanmar combat the COVID-19 pandemic, at the handover ceremony held at the headquarters of the Myanmar Ministry of Health and Sports in Yangon.
The fund was made official in April in Hanoi, in a ceremony in which Deputy Foreign Minister Nguyen Quoc Dung, on behalf of Prime Minister Nguyen Xuan Phuc, symbolically handed over the financial assistance as gift to the Ambassador of Myanmar to Vietnam Kyaw Soe Win.
On this occasion, representatives of some Vietnamese businesses also presented medical equipment and supplies as well as cash donation to Myanmar's Ministry of Health and Sports.
The aid illustrates Vietnam's continued willingness to assist other countries on a bilateral and multilateral basis to the best of its abilities even as it continues to remain cautious about managing its own coronavirus challenge at home./.
Hannah Nguyen