Nanocovax proves immunogenic on all volunteers on 2nd trial phase
All volunteers involving the second phase of Vietnam's Nanocovax vaccine generates high immunity against Covid-19 after fully vaccinated.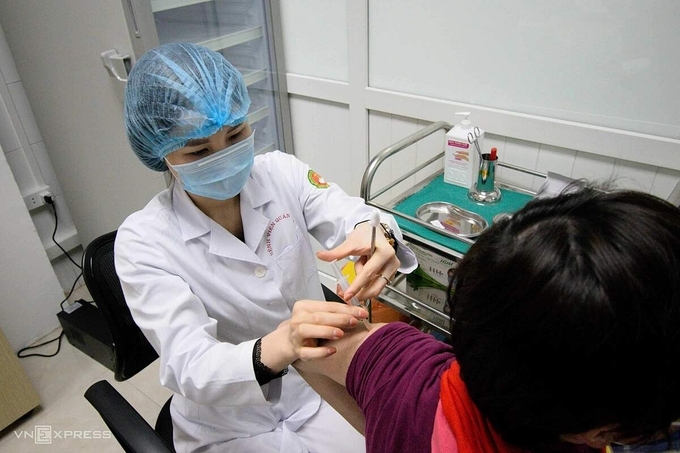 One volunteer getting the second jab of Nanocovax in Hanoi in March (Photo: VNE)
Initial results showing all 556 volunteers, who got injected with the 25, 50 and 75 microgram vaccine doses in groups, produced the same level of immunogenicity, researchers at Vietnam Military Medical University revealed on April 25 evening.
As per standard rule, the research team will choose the lowest dosage to proceed with the third phase in case all dosages generate on par immunity level. Therefore, the 25 microgram dosage group is decided as the proposed optimal dose for use in Nanocovax's next human trial phase which is set to kick off on May 5 and ended in late June on over 1,000 volunteers.
Official results for the second phase are expected to be reported to the Ministry of Health on Tuesday. On completion of human trials, Nanocovax is expected to seek emergency approval for community distribution, according to VNE.
Vietnam is having four potential vaccines on hand. The vaccines are studied and produced by Nanogen, Vabiotech, Polyvac and the Institute of Vaccines and Medical Biologicals (IVMB), all have completed the laboratory production process.
Nanocovax Covid-19 vaccine, studied and developed by Nanogen biopharmaceutical company, is the first Covid-19 vaccine candidate in Vietnam to enter human trials. To date, it has completed its second phase with promising results. Of the 556 volunteers, 108 are elderly people, some with underlying health issues. Certain mild reactions post-injection have been reported with symptoms include mild fever, soreness at injection sites. These side effects, however, wore off within several hours. No serious side effects reported.
Nanocovax is priced at VND120,000 ($5.17) per dose.
Along with injections, Vietnam's COVID-19 Nanocovax vaccine will also be developed in the form of eye-drop and nasal spray for special subjects.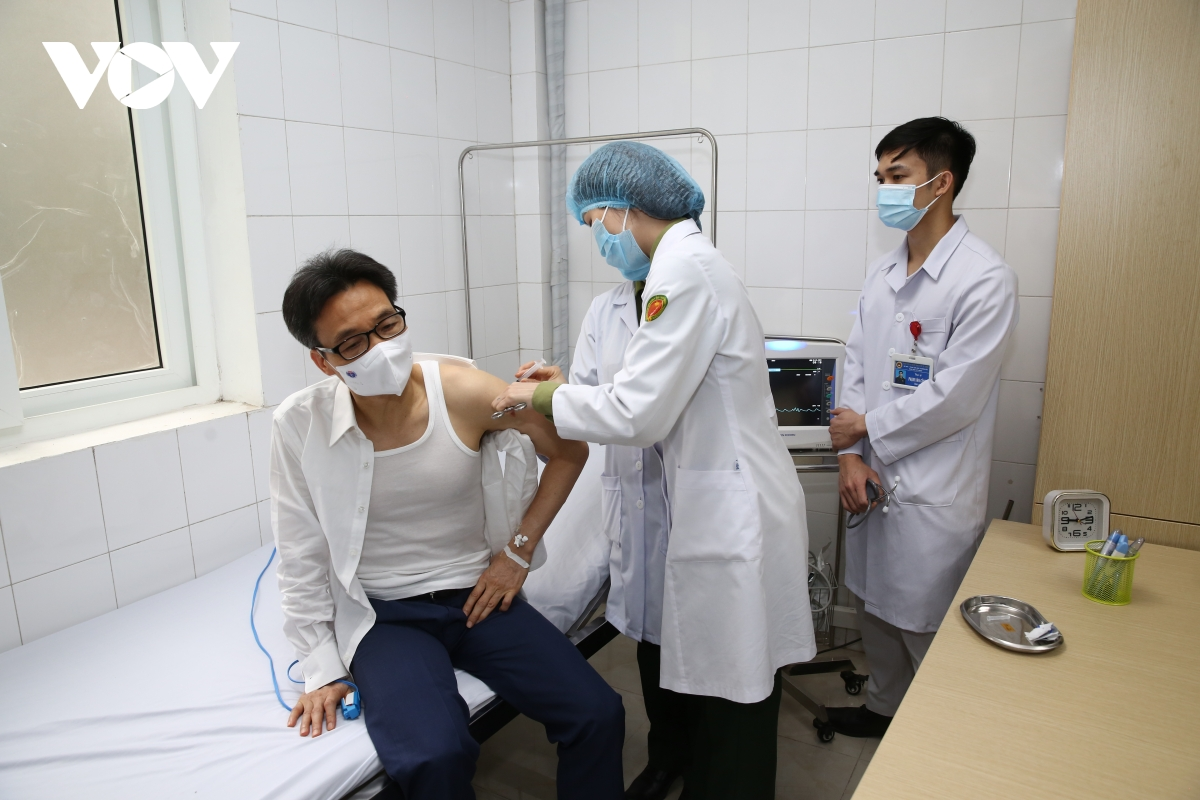 Deputy Prime Minister Vu Duc Dam gets the second shot of made-in-Vietnam NanoCovax COVID-19 vaccine. Photo: VOV
Meanwhile on April 20, Vietnam kicked start the second trial jabs of another homemade Covid-19 vaccine named Covivac developed by the Institute of Vaccines and Medical Biologicals (IVAC). One shot of Covivac is proved effective on the British and South African variants of nCoV, which have emerged several months ago and are more dangerous than the original variant.
IVAC earlier announced one dose of Covivac is priced at VND 60,000 (US $2.6). The Institute has a production capacity of 6 million doses per year. The number could be raised to 30 million doses per year, it added.
On April 26, Vietnam recorded 10 imported COVID-19 cases, all Vietnamese citizens, in the past 12 hours to 6 pm on April 25, said the Ministry of Health (MoH). The new patients, who were put under quarantine upon their arrival in Hanoi, Khanh Hoa province, and Da Nang city. On the morning of April 26, 3 more imported cases were reported.
Health Minister Nguyen Thanh Long on April 25 morning said Vietnam was highly vulnerable to imported cases and the next wave might be more disastrous than the previous.
"The health sector has prepared for all scenarios, including when the epidemic goes widespread, or it recurs in localities, especially the Southwestern region," the Minister stressed.
Long further stressed that one of the lessons learned from Vietnam's successful Covid-19 containment is the country's unanimous effort and activeness. However, as no community infections reported over the past month, many people are letting their guard off. He is calling for all Vietnamese people to strictly abide by anti-pandemic regulations, especially the mask mandate and hand sanitizing.
The Health Ministry is quickly implementing vaccination, calling for those on the prioritized list to get fully vaccinated. All localities are tasked to strengthen surveillance to early detect new cases.