With the hope of building to a green, clean and beautiful Vietnam, Nestlé Vietnam and La Vie have joined hands with leading companies in the field of consumer goods and packaging to establish the Vietnam Packaging Recycling Organization (PRO Vietnam) in June 2019 aiming to promote a circular economic model by facilitating a more accessible and sustainable collection and recycling of product packaging, according to VGP.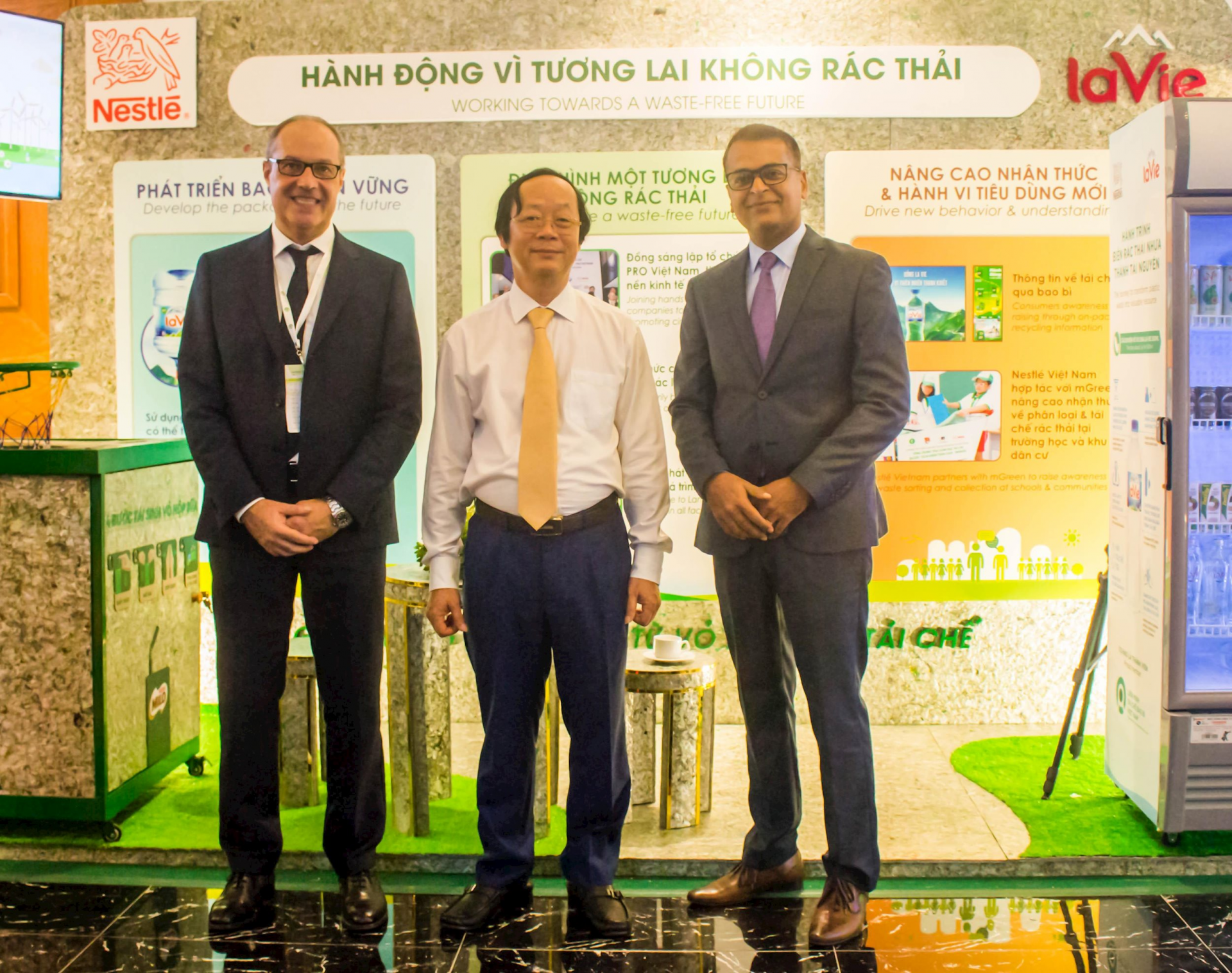 Nestlé Vietnam CEO Binu Jacob (right), La Vie Vietnam CEO Fausto Tazzi (left) introduce to Vietnam's Deputy Minister of Natural Resources and Environment Vo Tuan Nhan (middle) diverse applications of recycled packaging Photo: Vietnam Investment Review
Mr. Binu Jacob, General Director of Nestlé Vietnam said "Nestlé Vietnam has always linked its production and business activities with the goals of sustainable development and environmental protection. The open cooperation with the community of businesses in the same field and government agencies has enabled consumers to change the behavior and habit of using plastic waste, Nestlé Vietnam wishes to play a part for a greener, cleaner, and more beautiful Vietnam".
Nestlé Vietnam, La Vie along with members of the Nestlé Group have implemented a series of specific actions to materialize the commitments that they will use 100 percent of recycled and reused packaging by 2025, along with the vision for a zero-waste future, concentrating on three fields: developing sustainable packaging, shaping zero-waste future, and enhancing consciousness and new consumer behavior.
To materialize the target of sustainable packaging development, early in 2020, Nestlé Vietnam's instant milk products including Nestlé Milo Breakfast Cereal and Nestlé Nesvita have pioneered in using paper straws to protect the environment, minimizing the discharge of millions of plastic straws into the environment.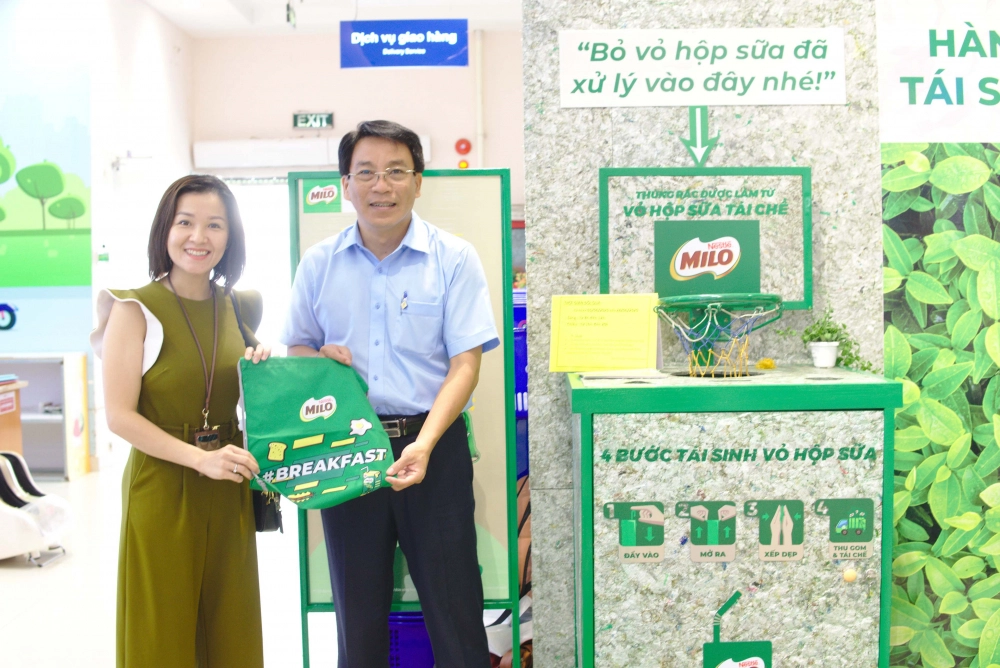 Nestlé Vietnam and La Vie join forces for zero-waste future Photo: Doi Song
As for La Vie Company, a series of innovations in packaging have been carried out to reach the target all the packaging could be recycled or re-used by 2025. The innovations consist of shifting into using laser printing technology not to affecting the quality of plastics after recycling, launching a glass bottle for the first time, and promoting investment in modern technology to produce reusable packaging products. The La Vie Company has made lots of efforts to turn plastic waste into resources, besides increasing the use of reusable packaging, added VGP.
Annually, Nestlé Vietnam and La Vie organize volunteer activities to clean up beaches, canals, and markets that attract the participation of hundreds of company employees and local volunteers.
In factories, Nestlé Vietnam and La Vie have successfully implemented the goal of zero emissions to the environment during the production process, meanwhile creating values from waste. Specifically, the solid waste is treated by modern heat recovery technology. Radiant heat is recovered and reused for numerous purposes.
Nestlé Vietnam and La Vie join forces for zero-waste future Photo: Tuoi TreThu Do
In order to raise awareness and new consumer behavior for a zero-waste future, Nestlé Vietnam and its Saigon Co. Op have just launched a series of activities in green consumption month 2020 called "Green Journey of Recycling Milk Cartons" at Co. Opmart and Co. OpXtra supermarkets.
Nestlé Vietnam also signed a cooperation agreement with the Ho Chi Minh Communist Youth Union to construct 30 dynamic Vietnamese playgrounds nationwide by recycled materials from milk cartons. These playgrounds hope to help teenagers to enhance their physical health and height as well as raise their awareness of environmental protection.
Confronting challenges caused by the COVID-19 pandemic, Nestlé Group and its members in diverse markets are joining hands with their local partners to quickly recover the economy, simultaneously continuing their efforts for the attainment of the ultimate goal of shaping a zero-waste future, according to VGP.
Malie Nguyen