New novel rebuts Western perspective on American war in Vietnam
Nguyễn Phan Quế Mai, PhD in Creative Writing from Lancaster University, will publish her second book in English, Searching for Earth Cakes and Sky Cakes, in 2018 with Benchmark Education while her debut novel in English, The Mountains Sing, is due for release in spring 2019 by prestigious publisher Algonquin. She spoke to Le Huong about her work.
Nguyễn Phan Quế Mai, PhD in Creative Writing from Lancaster University, will publish her second book in English, Searching for Earth Cakes and Sky Cakes, in 2018 with Benchmark Education while her debut novel in English, The Mountains Sing, is due for release in spring 2019 by prestigious publisher Algonquin. She spoke to Le Huong about her work.
Writer Nguyễn Phan Quế Mai. (VNS Photo Đinh Bích Thảo)
Inner Sanctum: Can you tell us a bit about your first novel in English?
I am delighted that my debut novel in English, tentatively titled The Mountains Sing, will be published by Algonquin Books in the spring of 2019. The novel begins with the American bombing of Hanoi in 1972. The brutal force of such bombings pushes the reader back to the root cause of the war through the eyes of Grandma Diệu Lan and Hương, who tell us what happened to them and their family as Vietnam experienced the French domination, the Japanese occupation, and the terror of the American War. But more than wars and terror, The Mountains Sing is about human kindness, compassion, hope, forgiveness, and the value of peace.
The Mountains Sing is my attempt to rebut Hollywood movies and novels written by Westerners who continue to see our country as a war and Vietnamese people as those who don't need to speak, and when we do, are portrayed as very simple, naïve, cruel, or opportunistic. And instead of having a typical male character, it is time to pay tribute to women and children, who suffer most from the consequences of wars, but who must hide their sorrow, to become pillars for returned soldiers.
Inner Sanctum: It sounds like a very moving story. Is there anything in particular that inspired it?
In 2012, a friend of mine told me that when the American bombs fell on Hanoi in 1972, he was a small boy and living with his grandma. The bombings were so horrific that years later, he refused to travel on an airplane. The sight of an airplane and its noise would bring him immediately back to the bombing raids. He had to see a psychologist.
The night, after listening to my friend's story, I went into my writing room. It was late and I was very tired, but I had to find out more about the bombings of Hanoi. I googled and watched You Tube videos. I was in tears. I switched off the internet and started to write a scene. The scene was to become the first chapter of The Mountains Sing.
For the next two years, I researched and crafted the novel as part of my master's degree in Creative Writing at Lancaster University, where I received tremendous support from my supervisor – the novelist Sara Maitland – as well as other teachers and co-writers. I graduated with a decent draft of the novel and for the next few years, I kept working on it, wanting to make it the best it could be. I revised it hundreds of times. I knew it would be hard to find a publisher because I don't write like a native English speaker. I grew up in Bac Lieu – a small town dangling at the tip of the Mekong Delta - and didn't have the chance to study English until I was well into my secondary school. Yet I couldn't help but write. I write because the untold stories from Vietnam demand me to.
Inner Sanctum: How did you learn English and what is it like to write in your second language?
Back in the 1980s, my school in Bac Lieu didn't have any English teacher. My family was too poor to afford private English lessons. One day, rumors came that there was a teacher from another province who was settling down in Bac Lieu and offering free English classes. I went there immediately, not believing that it was true. But my teacher – Mr. Trương Văn Ánh – was true in every sense. He infused in me the love for English through songs and books. He taught with compassion and dedication. He gave me the belief that people could be kind to each other. A few years later, a scholarship from the Australian government took me to Australia where I studied business and communications for four years. I chose to live with an Australian family to get a better grasp of the English language.
I was so thirsty for the English language. I wanted to feel it, to taste it. Even today, I am still learning, by devouring English books, by using the dictionary, and by experimenting with new ways of expression. English has opened the door to the world to me, and through my writing in English, I want to open the door into Vietnam and our culture and history. For that purpose, I do use Vietnamese in my novel, together with Vietnamese idioms and proverbs. In that sense, writing in English has been exhilarating.
Inner Sanctum: How did your novel find its way to Algonquin Books? What has been the feedback on your novel so far?
In a journey, sometimes you'll meet people who reinforce your self-belief and who make everything possible. First, it was Việt Thanh Nguyễn, author of The Sympathizer and winner of the 2016 Pulitzer Prize, who read the synopsis of my novel and thought it sounded like a compelling book. He forwarded the synopsis to Julie Stevenson at Massie & McQuilkin Literary Agency who knows a lot about American War literature as she had helped sell The Sympathizer.
Julie asked me to see my novel. I sent it right away and heard nothing during the next months. I thought it would never happen but on March 7th, this year, an email arrived from Julie. It said: "Dear Que Mai, I finally had a chance to read your novel, and I found it extraordinarily moving and memorable. It is an epic story that covers so much of Vietnamese history, and it does so with a powerful voice and utterly engaging, unforgettable characters. I didn't want to put the novel down for a moment, even though so much of it was painful to read. I think it's a remarkable accomplishment."
Julie and I signed an agency contract and less than two months later, she helped me reach a deal with Algonquin Books, a publisher recognised for high quality literary books, many of which are bestsellers. Algonquin only publishes five novels a year. I am honoured to be working with Betsy Gleick, editorial director of Algonquin Books who told me she loves my book because "as a novel, it serves as a compelling look at the history of the war for American readers, but told from the point of view of a Vietnamese citizen, which makes it both original and important. It is also, quite simply, a lyrical and moving story."
Mai is the author of eight books of poetry, fiction and non-fiction in Vietnamese. Her first international publication, The Secret of Hoa Sen (poems, BOA Editions, 2014) received a Lannan Award. She won the Poetry of the Year 2010 Award from the Hanoi Writers Association, and the First Prize in a Poetry Competition About 1,000- Year-Hanoi. She has received grants and fellowships from the Lannan Foundation, the University of Lancaster, and the Prince Claus Fund for Culture and Development.
VNF/VNS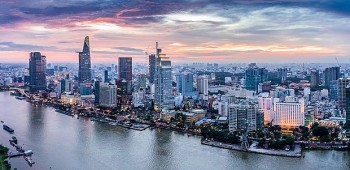 Economy
Japanese investors have been interested in the property market in Vietnam.