New small banknotes hunted for New Year lucky money in Vietnam
While Tết holiday (Lunar New Year) is just around the corner, exchange services for new small banknotes are booming ahead one month in Vietnam.
The exchange services for new banknotes are flooding
People usually prepare new, small face banknotes and put them in a red envelope to give lucky money, which is a tradition associated with Tết.
Small banknotes of VNĐ500 ($0.02), VNĐ1,000, VNĐ2,000, VNĐ 5,000, VNĐ10,000, and VNĐ20,000 denominations are widely used for giving lì xì on the first days of the lunar year, which represent fortune and prosperity.
According to Vietnamnet, the exchange services for new banknotes are flooding the Internet, with a common exchange rate at 2 per cent for each banknote denomination.
New one-dollar and two-dollar bills are also being hunted for use as lucky money, with one-dollar bills being exchanged for VNĐ30,000 ($1.3).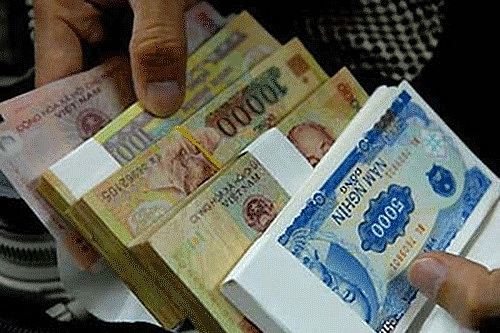 Small banknotes of VNĐ1,000, VNĐ2,000, VNĐ5,000, VNĐ10,000, and VNĐ20,000 denomination are widely used for giving lì xì on the first days of the lunar yearthat represents fortune, wealth, and prosperity. Photo: Vietnamnet
Apart from local currency bills, unique banknotes featuring imprinted buffalo, the lunar year's zodiac animal, are on sale for lucky money collections, including banknotes from Zimbabwe, Nepal, Laos, and South Sudan. The Japanese five yen coin, which is considered a lucky charm in Japan, are sold at VNĐ40,000 ($1.7).
The State Bank of Vietnam late last month announced that new banknotes with denominations lower than VNĐ5,000 would not be issued for Tết. This is the eight consecutive year that the bank has not printed new small notes to meet demand of new note exchange during Tết.
Lucky money transfer via e-wallets has emerged as a popular choice among young people.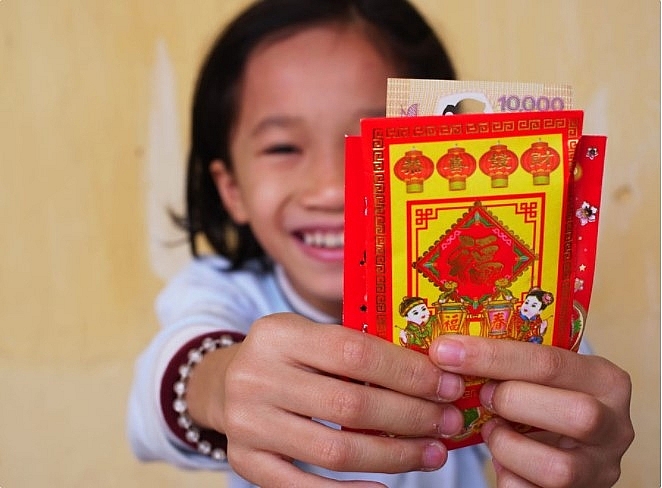 Children always receive lucky wishes every Tet holiday. Photo: alp.seb
How does the Lunar New Year money-giving tradition work?
The origin of lucky money
There are different myths to explain the genesis of the custom. The most common myth says that once upon a time, there were many gods to protect human life from evil spirits who always wanted to harm people, reported Vietnam Culture.
Nevertheless, on New Year's Eve, the gods had to come back to heaven to receive new tasks from the highest deity. The ghosts took that opportunity to go out, rub children's heads, and make them cry, sick or mad. After that, several gods transformed into coins wrapped in red cloth by parents next to the children. When the ghosts came, the coins suddenly lit up and scared them away.
Therefore, coins covered in red material were imagined to keep children safe from ghosts. The method was soon practiced widely and caused the custom.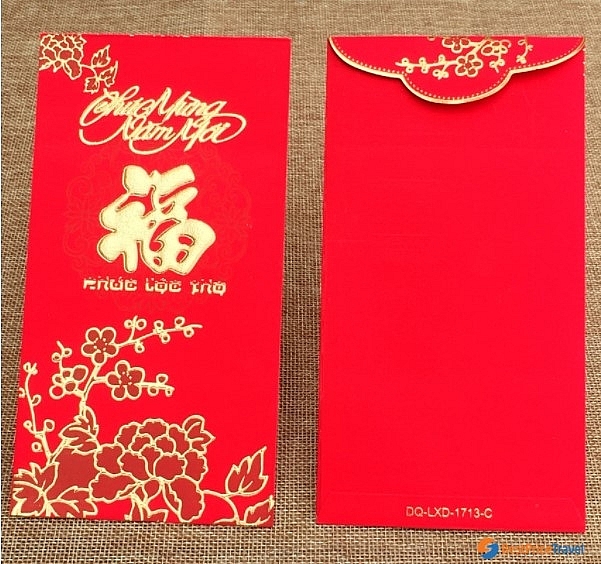 Traditional Style Red Envelope. Photo: Best Price Travel
The meaning of lucky money
According to USA Today, people of Chinese, Vietnamese, Korean descent — to name a few — often give children money and honor ancestors during the festivities of different lengths. In China, the Spring Festival lasts up to 15 days, while Vietnam's Tết Nguyên Đán goes for up to a week. Lunar New Year in South Korea, known as Seollal, runs for three days.
Those small red envelopes with cash inside. Called lì xì in Vietnamese or "hóng bāo" in Mandarin, adults give the packets to children in exchange for New Year greetings. Children typically receive envelopes from parents, grandparents, aunts and uncles, but sometimes receive from their parents' friends, too.
Li xi is a way of wishing good luck, health and happiness for both children and elders during Tet, Da Nang Today reported.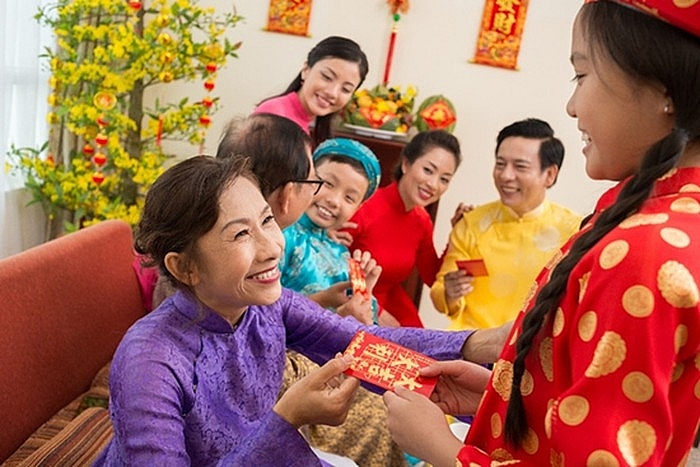 Giving Lucky Money. Photo: Vietnam Culture
On the 1st day of the Lunar New Year, this year beginning on January 28, children line up to recite New Year wishes to their parents and grandparents.
In return they are given brand-new banknotes, usually of small face value, in a red envelope, symbolizing good luck and the power to ward off evil spirits.
The lucky money is also given to elders in the family as a way of wishing them longevity and health for the rest of the year.
Overseas Vietnamese
Vice President Vo Thi Anh Xuan had meetings with several Thai leaders and high-ranking officials within the framework of her visit to Thailand to attend the Global Summit of Women (GSW) 2022.