Traditional recipe of young ribs braised with pineapple for Tet Holiday
With an eye-catching look and distinctive fragrance, young ribs braised with pineapple is a favorite dish of many people at weekends or Tet Holiday. This article will provide you a perfect recipe to make this delicious dish.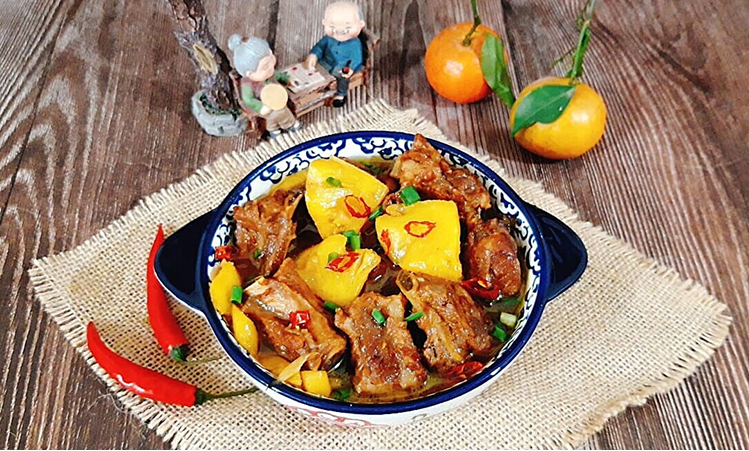 Photo: Bui Thuy/ via VNExpress
Ingredients (for 5-6 eaters)
About ribs and marinated ingredients:
- 800 grams of young ribs (choose small ribs with bright color. It is better to choose ones containing cartilage)
- 3 tablespoons of fish sauce
- 1 teaspoon of salt
- 1.5 tablespoons of "nước hàng" (melted sugar)
- 1 teaspoon of brown sugar (to your liking)
- 1/2 teaspoon pepper
- 1/4 teaspoon monosodium glutamate (optional)
- 3-4 garlic cloves
- 4-5 purple onions
- 4-5 spring onion stalks (cut the white part to marinate ribs).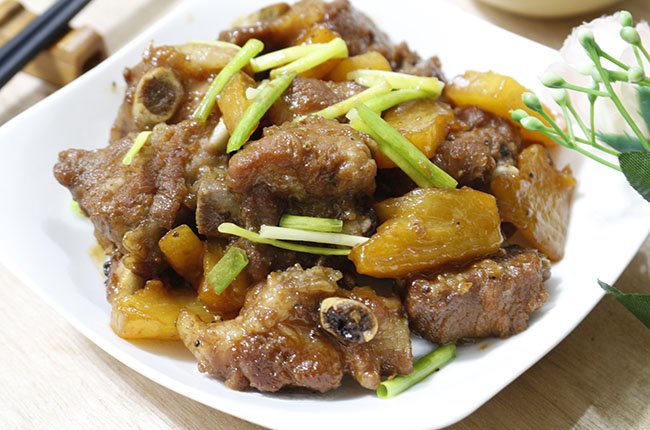 Photo: 24h
About pineapple:
- 2/3 of a ripe pineapple (choose pineapples with big eyes and natural aroma)
- 1/2 tablespoon of sugar for sweeter pineapple (to your liking)
Other ingredients:
- 2 - 2.5 cups of fresh coconut water
- Vegetable oil
- Salt, crushed ginger
- Scallion
- Chili
How to make?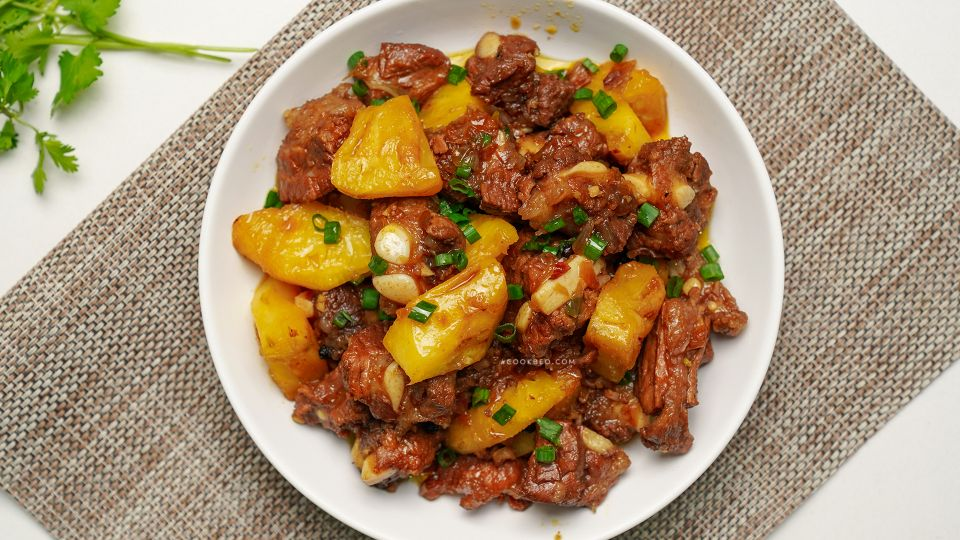 Photo: Monngonmoingay
- Wash young ribs. Boil a pot of water and put ribs, a little salt, and crushed ginger inside. Then, take them out and wash them again.
- Use a mortar and a pestle to bray salt, garlic, purple onion, and the white part of scallion. Add fish sauce, brown sugar, pepper, monosodium glutamate, and stir.
- Put ribs in a large bowl, pour the mixture in step 2 on, and squeeze so that ribs can be fully infused. Ribs should be marinated for at least 20-25 minutes. Ribs are more delicious if being marinated overnight.
- In a pan, fry the onion and garlic, put pineapple and a little sugar if you like sweet flavor. After about 3-5 minutes, when the pineapple turns clear, turn off the heat.
- Put marinated ribs in a pan and stir fry for a few minutes. After that, put ribs and sauce in a pot to braise. It is better to braise in a clay pot. Add fresh coconut water. Lower the heat, braise for 40-50 minutes until the ribs are soft.
- Add pineapple and braise for more 3-5 minutes so that pineapple can be deeply soaked in sauce.
- Put ribs, pineapple, and sauce in a bowl. Add spring onion, pepper, and chili. This dish is the best when served with hot rice.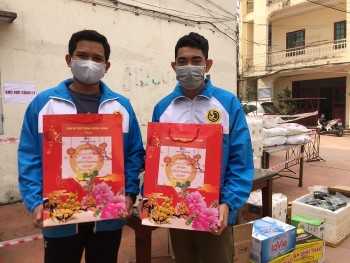 Expats in Vietnam
Vietnam is sending affection to Lao and Cambodian students who stay back in the country for Tet, the traditional New Year holiday which is an occasion for family reunion.